Serving Las Vegas Visitors and Residents Since 1999
Welcome to the Insider Vibe! This is the official newsletter ofáAccessVegas.Com. We talk about the Las Vegas activities you really care about.
---
AccessVegas.com Quick Info Menu:
Las Vegas Essentials

Featured Shows

Photos and Wallpaper
Newkirk's Notes – comments on Las Vegas from AccessVegas.Com publisher Ted Newkirk:
Hello From Las Vegas! No question we are in a different climate zone than most of the U.S. Our own I.T. guy Robert works out of Northwest Alabama and is expecting a winter wonderland. Snow may stretch from the deep south up through New York, Boston, and beyond. Here in Las Vegas? We're looking at temps in the 70's (F) for the week and finally (hopefully) a break in the partly cloudy weather we've had most of February.
Dixie's Dam Bar Re-Opens At Hooters – We continually hear your feedback loud and strong. You have no interest in going to an ultra-club and paying hundreds of dollars for a bottle of booze just to be able to sit at a table and look impressive for a few hours. Hooters Hotel Casino agrees!
Taking a page out of Coyote Ugly, the bartenders are called "Dixie's Dancing Divas" andáboth pour the booze and dance to tunes from the jukebox. No bottle service but you can buy a mini-keg of beer for your table. Tables and booths are first come, first served and they note you better check your attitude at the door. There is a $20 cover. Worth it? We'll tell you first-hand in a couple of weeks as we're getting ready to do a photo-feature on the place.
No $15 Martini's Or $90 Steaks Here – So says the owners of the brand new M Resort Casino opening in the very south part of Las Vegas over the weekend. Although the M is very much a Strip resort caliber property, it is family owned and they have been emphatic that they are going to do things old-school Vegas when it comes to both prices and customer service.
Their staff was hired on the basis of friendly, out-going personalities. Prices even at their high-end restaurants are going to be moderate. (Think more in terms of downtown pricing, not Vegas strip even though their rooftop fine-dining venue will have one of the best views in town). Drink stations throughout the casino promise complimentary coffee and soft drinks to everyone.
Is it worth checking out? We'll let you know soon. Mark is headed down to do a photo-feature which should run in the next couple of weeks. We'll find out if they have a free shuttle to and from The Strip as well. If they hold to their promises, everyone should make a point to visit and do some gambling and eating just to reward them for getting back to reasonable prices and a focus on the customer.
Cook E. Jarr Still Going Strong – Every once in a while, we get asked if Las Vegas legend Cook E. Jarr is still playing. Yes, still playing and yes, still worth checking out. Catch him at Harrah's Carnival Court on Friday and Saturday Nights from 6-8 PM. Jimmy Kimmel once said "If you haven't seen Cook E. Jarr, you haven't been to Vegas." I agree. More info at cookejarr.com
Hugo's Cellar – A recent review of this venerable long-time Las Vegas fine dining establishment at the Four Queens brought it to my mind for the first time in years. Hugo's Cellar has received raves from visitors for decades. With the demise of the Center Stage restaurant (Plaza) and The Burgundy Room (Lady Luck), Hugo's Cellar soldiers on as an excellent slice of Las Vegas the way it used to be.
Cheap? Not really (check out their menu). But well worth it. Fine dining downtown on more of a budget? Check out The Flame Steakhouse (formerly Roberta's) at the El Cortez.
Party Like A Local, With The Locals – Blue Martini in Town Square (about a mile south of Mandalay Bay) is offering local industry professionals a 50% discount from 11 PM to 5 AM, 7 nights a week. Jobs are tough to find, but if you live here (or are hell-bent on moving here despite the economy), getting a job is often all about who you know. This ongoing promotion is open to everybody (must be an industry professional with ID get the 50% off). Might be a good place to start networking.
Get Out Of Town! – Many of you have been reading our newsletter and visiting Las Vegas for years, and you've always thought about taking the day to see some of the gorgeous Desert Southwest scenery.
If coming in the next 2-3 months, this is the perfect time to do it! Temps will be neither too hot nor too cold and if you get lucky, you'll catch the desert in springtime bloom. (No, we can't predict when that will happen. It varies each year due to weather conditions).
Even if you only want to spend half a day, see Red Rock Canyon or Hoover Dam. Both are less than 45 minutes from The Strip. Hoover Dam is amazing. Even if you have seen it on TV and think you have no interest, you'll be blown away. Pictures don't to the size and scope of it justice.

Zion National Park
Have a full day? Zion National Park in Utah is about three hours away and will take your breath away. Take a virtual ride via Google. Closer to Las Vegas, the Valley Of Fire state park will make you feel like you are driving across the surface of Mars.

Valley Of Fire State Park
You don't need to rent a car for your entire stay. Crack open the phone book in your hotel, and you'll find that many of the major car rental companies have locations in hotels (and you avoid paying the airport taxes and fees when you rent).
Enjoy This Issue!
Ted Newkirk
CEO/Managing Editor
Associate Editor: Amy Rayner-Cooley
News Researcher/Editor: Mark Jacobs
---
Las Vegas Is On Sale!
Get Great Rates At All Hotels:

Aliante from $25,

Boulder Stn from $29,

Fiesta H from $28,

Green Valley from $80,

Palace Stn from $25,

Red Rock from $90,

Sunset Stn from $50,

Texas Stn from $29,

Wild Wild W. from $23,
More Savings At All Vegas Hotels!
---
Rock Icon Paul McCartney To Headline Grand Opening Weekend At The New Joint At Hard Rock Hotel & Casino Las Vegas – The legendary Paul McCartney will headline grand opening weekend of The New Joint at Hard Rock Hotel & Casino Las Vegas on Sunday, April 19. (Tickets) "I'm looking forward to Rockin' The Joint!" said Paul McCartney. "We are honored to have the multi-Grammy award winning artist and rock legend, Paul McCartney, launch us into a new era of rock 'n' roll at the all new Joint concert venue scheduled to open at the Hard Rock Hotel & Casino in April," said Randy Kwasniewski, President and COO of Morgans Hotel Group Las Vegas and Hard Rock Hotel & Casino. Click to Read The Full Story …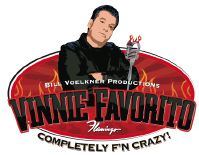 Comedian Vinnie Favorito Ups The Ante At Flamingo Las Vegas – Favorito Extends His Run With A Three-Year Contract – After continued success performing at Flamingo Las Vegas, comedian and celebrity roaster Vinnie Favorito has announced that he will extend his run for an additional three years. (Tickets) Favorito's edgy, in-your-face style of comedy has made him a favorite among Las Vegas locals and tourists alike. "Anyone coming to Vinnie's show should check their humility at the door, no one and no topic is off limits in his theater," said Don Marrandino, President of Flamingo Las Vegas. "Vinnie never does the same show twice and audience members will never forget their turn in the hot seat, it's a wild show." Click to Read The Full Story …
Country Rock Legend Kenny Chesney To Play The New Joint At Hard Rock Hotel & Casino Saturday, April 25 – Country great Kenny Chesney will be bringing his Sun City Carnival 2009 Tour to Las Vegas this spring and will be joined by Miranda Lambert & Lady Antebellum. (Tickets) Chesney will play The New Joint at Hard Rock Hotel & Casino on Saturday, April 25. Following his Poets & Pirates Tour – the most attended tour in any genre of music for 2008 according to Pollstar – the man who's already sold out the home of the New England Patriots, Boston's Gillette Stadium, in less than 10 minutes is looking to pick up the tempo, rock a little harder and increase the fun, friends and music. Click to Read The Full Story …
The OASIS Smooth Jazz Sunday Brunch – The Oasis Smooth Jazz Sunday Brunch is back every Sunday, 11a to 2p, at Panevino Ristorante. (Sunset Road one block of Las Vegas Blvd. literally 5 minutes from Mandalay Bay with a nice view of The Strip in the distance). Treat yourself to a glass of Korbel California Champagne, a delicious brunch and live Smooth Jazz! Call Panevino Ristorante for reservations at 222-2400.
"Hit Man: David Foster And Friends" In Concert At Mandalay Bay Events Center Saturday, May 9 – Back by popular demand, a concert celebration featuring musicÆs premier songwriter and producer David Foster will take place Saturday, May 9 at the Mandalay Bay Events Center (Tickets). The event will pay tribute to the 15-time Grammy winner and will feature Philip Bailey from the chart-topping band Earth, Wind & Fire, Brian McKnight, Peter Cincotti and Oprah WinfreyÆs protÚgÚ, Charice. Foster also will perform some of the hits he has written or produced during his 40-year musical career.. The event is scheduled to begin at 8 p.m.Click to Read The Full Story….
Junior Welterweight Championship Fight To Take Place Saturday, May 2 At MGM Grand – Two of boxing's biggest stars will meet in the ring for what could be the year's biggest pay-per-view event. Five-division world champion MANNY "Pac Man" PACQUIAO and Ring Magazine and IBO World Junior Welterweight champion RICKY "The Hitman" HATTON, will fight for Hatton's World Junior Welterweight titles Saturday, May 2 at the MGM Grand Garden Arena. (Tickets) These two boxing artists will have a 20′ x 20′ canvas on which to paint the black and blue masterpiece that the world has been waiting to watch. Click to Read The Full Story …
---
Members Mania – We Love Our Readers!
Our last issue garnered a couple of very different responses, both of which have merit. For review: I've been quite emphatic over the past few months regarding the overblown national and international news accounts that would suggest that Las Vegas is on the verge of demise as a tourist destination. I culminated last week with a published report that Las Vegas was still the #1 U.S. visitor destination and would likely continue.
Responses ranged from those who say "OK, your point is made, move on" to those sharing their excitement about Las Vegas and plans to continue to enjoy the destination. What follows are two very divergent letters in response to last week:
---
I absolutely love your newsletter for all the information that it provides and all of your insights. However, I do have a little bone to pick with you. You do not have to constantly remind us of how great Las Vegas is and that we should all ignore the gloom and doom that is in the news media. You are preaching to the choir. We get, and read your newsletter because we are interested in the goings on in LV. Stop cheerleading for LV. People will come because we like it there.
If the economy is terrible, well, people will still come, maybe just not as many. LV doesn't have to be #1 to make it fun to come to. Too much of your editorial is spent on making sure that everyone knows that LV is great and that anybody who says it's not doesn't know what they are talking about. Yeah us!!! We get it. Please keep up the great work in informing us of the goings on in Vegas.
There is not a better source available on the web.
Kip Abelson
Ted Responds:
Your point is very well taken and I appreciate the constructive criticism. And we will be moving some of the "how is Las Vegas doing" to the new segment at the end of the newsletter. W
Yes, we have many long-time loyal readers are already sold on Las Vegas and very appreciative of the continued support of our newsletter. But, please keep in mind that we have a churn of readers with new readers all the time, many planning their first visit (or considering planning a visit here). They are truly under the impression that Las Vegas is a dying destination and perhaps they aren't sure if they want to visit.
Yes, many you would visit regardless of how popular the city is as a destination. But… many first-time visitors (which are the backbone of tourism growth here) visit because Las Vegas is #1 and popular and feel that they should check it out if that many other people are interested in it. Similar to a restaurant or book or popular music artist that people check out because of the buzz. Because the restaurant got a top grade or the book or music artist is #1.
I've also emailed journalists and posted on blogs which have propagated the Vegas is dying stories to educate them on how tourism numbers have little to do with the local housing situation (or even our stagnant population growth). I've been somewhat of a lone voice on this, but am pleased to report that these types of stories have greatly diminished in the national media and I'd like to think that I played a pretty significant role in that.
Bottom Line: I do appreciate the patience you and other readers have shown with this. The nice thing about our newsletter is you can scan right over a section that isn't of interest to you, but the continued Vegas is still #1 has obviously been reaching the targeted readers (new visitors and journalists).
As winter turns into Spring, we're already headed out stronger than ever with our traditional coverage of all that Las Vegas has to offer and back to a 100% focus on the fun and the deals.
Once again, thanks for reading and thanks for the input.
---
I found this newsletter about a year ago and I really enjoy to read all the news about Las Vegas every time!
At the end of may I will visit Las Vegas again for 3 weeks! I try to do this every year (to be honest, it's the only reason for me to go to work). We had the first snow this year October 31st and today it's still snowing. We do have tons and tons of snow and even can't go outside with the car. Also the last few 'summers' were not the best. The last really great summer we had was back in 2003.
I usually travel alone (nobody else stays for 3 weeks in Vegas) and my friends from Switzerland visit me and then travel to other places. This year my boss is in San Francisco and will drive with the car to Vegas for one week. And later another couple visits Vegas for 3 days and we will meet.
Last year I was staying at the Luxor in a tower room. It was so great there that I will stay there again this year. It's also never a problem to book for such a long time. People here in Switzerland usually stay for 3-4 days in town and then drive or fly away. Back at home they jump in another airplane a travel to a Greek or Spain island and lay in the sun at the beach. That makes no sense for me. I can do all this in Vegas too. The pool areas are so great and relaxing.
Of course I was on several islands in Europe too, but when I went to Vegas the first time in 1998 it was clear for me: that's the town I will return as often as I can, and it's every time the best time of the year I have.
I can't tell you how much I look forward to may 28th when the plane starts!!! There are so much more things to do in Vegas than the Casinos. I travel with empty suitcases and buy as much as I can carry. Then the Motorspeedway is a must too! We also like to walk a lot or drive to Arizona or Utah and visit the National parks. This area is also very interesting. Sometimes I think 3 weeks is not enough…. 😉
Barbara Eichhorn from Switzerland
Ted Responds:
Thanks for the great letter! Sometimes, new readers (who have never been to Las Vegas) will write and say "We are coming for three days… what should we see?" I politely tell them that they could stay for a month and not run out of things to do or see as there is plenty for almost every interest. Simply reading our newsletter is the best way to find out what is currently happening.
May is a great month to be here as our 100 degree (F) temps generally have not hit yet, but it no longer gets cold at night. Every day is a perfect day to hang out by the pool or go see some of the amazing scenery of the beautiful Southwest U.S. and every night is perfect for strolling in the neon or taking in a show.
Thanks again for reading and telling your friends. We have a very loyal international readership base (about 25% of our readers) and are very appreciative of the time and effort it takes to visit us regardless of what part of the globe you transverse to get here.
---
We love to hear from you, and value your feedback! Here's how to participate:
Drop us an email at allvegastv@aol.com – We read them all!
Call our recorded comment line at 702-507-0055. We listen to every call.
---
More Las Vegas News – Concerts – Events
Coming Hot Holidays – The following dates are huge times to be in Las Vegas, and rooms are in high demand. Booking in advance is the best way to save. Visit our friends at Las Vegas Hotel Deals and spend one of the following hot dates having fun in Las Vegas:
St. Patrick's Day March 17
Easter Sunday April 12
Cinco de Mayo May 5
Mother's Day May 10
Father's Day June 21
Canada Day, Canada July 1
Independence Day July 4
Civic Holiday, Canada August 1-3 (3 day weekend)
Labor Day, U.S September 5-7 (3 day weekend)
Labour Day, Canada September 5-7 (3 day weekend)
Jewish New Year September 19
Halloween October 31
Veteran's Day November 11
Thanksgiving Day, U.S November 26-29 (4 day weekend)
Hanukkah Dec. 2 – Dec. 9
Christmas December 25
New Year's Eve-Day December 31 – January 2 (3 day weekend)
Martin Luther King, Jr., Day, U.S (Observed) January 18-20 (3 day weekend)
Lincoln's Birthday, U.S February 12
President's Day, U.S (Observed) February 13-15 (3 day weekend)
Chinese/Lunar New Year February 14
Valentine's Day February 14
Washington's Birthday, U.S February 22
Link To Us! – Have a home page, web page, or blog? Link to us, and give yourself and your friends a quick link to find us from your site. Simply link to http://www.accessvegas.com and name the link Access Vegas!
RSS Feed – We now have an RSS/XML feed! Most RSS programs let you visit AccessVegas.com and automatically pull the feed. For those who want to enter it manually, the feed is:
http://www.accessvegas.com/xml/whats-hot.xml
Share the info: Click to Email this newsletter to a friend!
---
For comments or questions regarding our content
or this newsletter write us at
allvegastv@aol.com
.
New to the list? See our Newsletter Archives for back issues and subscription info. Don't hesitate to forward this newsletter to friends and associates.
All contents copyright 2008 Ted Newkirk. All Rights Reserved.
Hotel Rates Published Accurate At Time Of Publication


February 25, 2009 ISSN: 1529-2770 About Us Privacy Policy