Welcome to the Insider Vibe! This is the official newsletter of AccessVegas.Com. We talk about the Las Vegas activities you really care about.
---
AccessVegas.com Quick Info Menu:
Las Vegas Essentials

Featured Shows

Photos and Wallpaper
Newkirk's Notes – comments on Las Vegas from AccessVegas.Com publisher Ted Newkirk:
Hello From Las Vegas! The ONLY July 4'th fireworks on The Strip appears to be at Mandalay Bay this year following a performance by the band Vertical Horizon at about 10:30 PM. Since they will occur over Mandalay Beach, best bet to see them is somewhere south of the hotel (down by the Welcome to Las Vegas sign). No word on displays from The Stratosphere or Hilton (who have traditionally done a show).
Bad Move. Whenever July 4 falls on a Friday or Saturday night, the LVCVA (Visitors Authority) should spend a couple hundred thousand shooting off fireworks from selected casinos (a la New Years Eve). Station Casinos is doing such with their own private money at a number of their local casinos just for locals. Go figure!
Fireworks will be happening all over most of the Las Vegas Valley (way out in those suburbs). My advice? There will be fireworks in Henderson (Southeast), Anthem (South) and a bunch in the Northeast part of town. If you are on a higher floor with a view in those directions, you should be able to see various displays between about 9 – 10:45 PM.
Elvis is close to getting a star on the Las Vegas Strip if the local Viva Las Vegas Club can finish raising the needed cash. (The stars themselves or their fan clubs must fund the placement). They are only $2000 short according to local columnist Norm Clarke. More info on the effort and how to contribute at http://www.astarforelvis.com
We found some great photos from a couple of months ago that never made it up. If you are between Las Vegas visits (and a little longer between visits than you'd like to be because of the U.S. economy or you simply can't make it here soon), these should help keep you going!
Las Vegas Strip including Wynn Las Vegas construction, the site of Frontier implosion (future Echelon Place, construction on the Mirage volcano and some surprises:
We've also added new photos to our Stratosphere Tower Las Vegas section:
Click on both of the above photos to enjoy their respective photo sets. We have some amazing brand new photos coming over the next few weeks!
Southwest Airlines is bucking the trend by maintaining their level of service to Las Vegas! They are bucking the trend of airline service cuts (especially to tourist markets) and will continue their strong presence here. Because they are profitable, Southwest has a history of picking up the ball when other airlines have to cut service. This is great news U.S. residents who are missing Las Vegas! Keeping the level of air service here helps mute continued airfare increases.
Now if the casino bean counters would get their heads out of their hindquarters and realize that Las Vegas was built for decades on loose slots, cheap rooms and cold (frequent) beverage service. They think "tighter slots equal more revenue" when the reality is "tighter slots drive people away from playing."
Speaking of… I think one of our readers got a letter to the editor of our local paper published. Mary Huber of Archibold, Ohio wrote the letter Soaking Tourists (click the link and scroll down to that letter).
The MTV awards are headed back to Los Angeles after playing The Palms last year (the show that an infamously pudgy and "out of it" Britney Spears opened, seemingly sinking what was left of her career). No word on why the move, although the awards have generally rotated between New York and Miami.
Tropicana is advertising "A Real Pool Party For Real People" with DJ's, live entertainment, dancing, and food/drink specials from Noon until 11 PM (evidently daily) at their pool. I'm guessing this is a pool event where you it is OK to NOT dress and act like the latest "in trouble" celebrity.
Jay Leno raised around $200,000 during his two benefit shows (mentioned last issue) for Iowa flood victims. ALL proceeds went to those affected as The Mirage donated the room. Our thoughts and prayers continue to go out to not just those in Iowa but all affected by these weeks of Midwest weather and flooding related disasters.
Enjoy This Issue!
Ted Newkirk
CEO/Managing Editor
Associate Editor: Amy Rayner-Cooley
News Researcher/Editor: Mark Jacobs
---
Can't Make It To Vegas?
Get Tickets To Your Favorite Event!
Madonna, American Idols Live, Dave Matthews Band, The Eagles, Tina Turner, Jonas Brothers, Jimmy Buffett, Tom Petty and the Heartbreakers, James Taylor, Kenny Chesney, Elton John, Iron Maiden, Rascal Flatts, Rush, Chris Rock, 3 Doors Down, ColdPlay, Janet Jackson, Van Morrison, Carrie Underwood, Nine Inch Nails, Maroon 5, Trace Adkins, NASCAR, Baseball, NFL Football, College Football, All Major Concerts and Events
---
Featured Review:
Blue Man Group Las Vegas – A Show With No Rules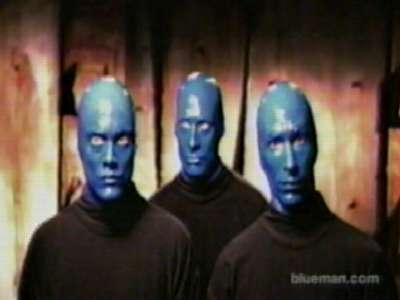 by Mark Marino
Before any performers take the stage at the Blue Man Group Theatre, there is a looming sense that this kind of show can go anywhere at anytime. Even the theater itself is shell of mystery waiting to come to life. After some mood lifting jokes grab the audiences' attention, the pulse of the room is jolted with masterful live drums. The first real glimpse of the Blue Man Group in the spotlight brings the audience into their funky universe of light, humor and music. The front few rows might feel the drums raining in their laps as each hit triggers both a sound and a splash of bright colorful liquid. A theme of messy fun makes itself known here whenever possible.
The show is consistently funny, but there is a great wealth of entertainment in Blue Man's grip of the unexpected. The Blue Men introduce their talent of weaving together rhythms of both music and comedy with lively finesse. It isn't long into this show that the audience is bracing for the next act with equal parts laughter and exhilaration.
Click to Read Entire Blue Man Group Las Vegas Review…
---
Featured Review:
Gordie Brown – A Las Vegas Evening With A Lifetime Of Celebs
by Erika Bayer-Polak
If you are looking for a lively fast-paced show filled with music, comedy and impersonations, Gordie Brown is a sure bet for an enjoyable evening. And even though his show is at 10 p.m., he keeps his act rather clean by late show standards. Unless you are an austere puritan, walking away from this show offended is impossible.
Brown manages to seamlessly morph his solid voice to correspond to a wide variety of performers, from Chris Isaak to Roy Orbison, from Willie Nelson to Tracy Chapman, from M.C. Hammer to 4 Non Blondes. Brown also seems to make a point in impersonating performers who had their heydays in the 1950s to performers who are presently at the top of their game. Covering such an assortment of acts is certainly a sure way to appease all generations in the audience.
Click to Read Entire Gordie Brown Las Vegas Review…
---
The National Hockey League (NHL) Returns To Las Vegas As The Los Angeles Kings Face The Colorado Avalanche In "Frozen Fury XI" At MGM Grand Saturday, September 27
– The National Hockey League's (NHL) Los Angeles Kings return to Las Vegas for "Frozen Fury XI" when they host an NHL pre-season game against the Colorado Avalanche Saturday, Sept. 27 at the
MGM Grand Garden Arena
.
(Tickets)
Game time is scheduled for 7 p.m. "Frozen Fury XI" plans to feature a line-up of NHL all-star players from both rosters including Kings players Anze Kopitar, Dustin Brown and Jack Johnson. Avalanche all-stars scheduled to appear include Paul Stastny and Ryan Smyth.
Click to Read The Full Story …
Criss Angel Believe – A New Show By Cirque du Soleil At Luxor – Tickets on sale for preview and regular performances of CRISS ANGEL Believe, the new Cirque du Soleil production set to open at Luxor Las Vegas. CRISS ANGEL Believe starring Criss Angel will open for preview performances September 1 and hold its Gala Premiere September 12, 2008. Criss Angel is recognized as one of the most provocative artists in the world today. In an attempt to pay homage to the late/great Harry Houdini, Criss chose "Believe" as the title for this unprecedented live experience. Click to Read The Full Story …
Unwind With An Unbelievable Happy Hour On The Patio At Dick's Last Resort – The Strip's Most Outrageous Outpost Offers Daily Happy Hour – As summer sets in and the temperature in Las Vegas heats up, The Strip's wackiest watering hole, Dick's Last Resort, celebrates the season with a spectacular new Happy Hour. From 2 p.m. – 6 p.m. daily, Dick's invites guests to its Strip-side patio to enjoy all-you-can-drink Bud Light drafts for $20. Dick's patio features a full-service bar, flat screen TVs and misters to keep cool while kicking back and catching all the action of the Las Vegas Strip. Famous for its deliciously messy cuisine, zany decor, rowdy wait staff, live music and let-loose atmosphere, Dick's Last Resort provides a new level of fun in the city known as the "Entertainment Capital of the World." Come get your kicks at Dick's!
World Poker Tour« Returns To Bellagio For Bellagio Cup IV July 2-17 – The World Poker Tour« (WPT) kicks off Season VII next month when it returns to Bellagio July 2-17 for Bellagio Cup IV. The two-week event begins Wednesday, July 2 and consists of seven no limit hold 'em tournaments ranging from $2,000-$5,000, along with seven, $1,500 super satellite no limit hold 'em events. The WPT main event, which requires an entry fee of $15,000, begins Friday, July 11 with the final table scheduled for Thursday, July 17. The WPT main event champion will receive the first place prize money as well as a $25,000 seat in the April 2009 WPT World Championship at Bellagio. Click to Read The Full Story …
---
Las Vegas Is On Sale!
Get Great Rates At All Hotels:

4 Queens from $36,

Bally's from $69,

Flamingo from $63,

Gold Coast from $34,

Planet H. from $89,

Rio Suites from $60,

Sahara from $31,

Strat. from $35,

Tropicana from $45,

Tuscany from $49,
More Savings At All Vegas Hotels!
---
Members Mania – We Love Our Readers!
This section will return next issue. Because of new software installs that will bring major improvements to AccessVegas.com and our sister sites in the next few weeks, I'm running behind this week.
---
We love to hear from you, and value your feedback! Here's how to participate:
Call our recorded comment line at 702-507-0055. We listen to every call.
Drop us an email at allvegastv@aol.com – We read them all!
---
More Las Vegas News – Concerts – Events
Coming Hot Holidays – The following dates are huge times to be in Las Vegas, and rooms are in high demand. Booking in advance is the best way to save. Visit our friends at Las Vegas Hotel Deals and spend one of the following hot dates having fun in Las Vegas:
Canada Day, Canada July 1
Independence Day July 4-6 (3 day weekend)
Civic Holiday, Canada August 2-4 (3 day weekend)
Labor Day, U.S August 30-September 1 (3 day weekend)
Labour Day, Canada August 30-September 1 (3 day weekend)
Grandparent's Day September 7
Jewish New Year September 30
Columbus Day October 11-13 (3 day weekend)
Thanksgiving Day, Canada October 11-13 (3 day weekend)
Halloween October 31
Veteran's Day November 11
Thanksgiving Day November 27-30 (4 day weekend)
Hanukkah Dec. 22 – Dec. 29
Christmas December 25
New Year's Eve-Day December 31 – January 1
Martin Luther King, Jr., Day, U.S (Observed) January 19-21 (3 day weekend)
Chinese/Lunar New Year January 26
Lincoln's Birthday, U.S February 12
Valentine's Day February 14
President's Day, U.S (Observed) February 14-16 (3 day weekend)
Washington's Birthday, U.S February 22
St. Patrick's Day March 17
Easter Sunday April 12
Cinco de Mayo May 5
Mother's Day May 10
Father's Day June 21
Link To Us! – Have a home page, web page, or blog? Link to us, and give yourself and your friends a quick link to find us from your site. Simply link to http://www.accessvegas.com and name the link Access Vegas!
RSS Feed – We now have an RSS/XML feed! Most RSS programs let you visit AccessVegas.com and automatically pull the feed. For those who want to enter it manually, the feed is:
http://www.accessvegas.com/xml/whats-hot.xml
Share the info: Click to Email this newsletter to a friend!
---
For comments or questions regarding our content
or this newsletter write us at
allvegastv@aol.com
.
New to the list? See our Newsletter Archives for back issues and subscription info. Don't hesitate to forward this newsletter to friends and associates.
All contents copyright 2008 Ted Newkirk. All Rights Reserved.
Hotel Rates Published Accurate At Time Of Publication


June 25, 2008 ISSN: 1529-2770 About Us Privacy Policy