Serving Las Vegas Visitors and Residents Since 1999
Welcome to the Insider Vibe! This is the official newsletter of AccessVegas.Com. We talk about the Las Vegas activities you really care about.
---
AccessVegas.com Quick Info Menu:
Las Vegas Essentials

Featured Shows

Photos and Wallpaper
Newkirk's Notes – comments on Las Vegas from AccessVegas.Com publisher Ted Newkirk:
Hello From Las Vegas! Highs in the 90's (F), low humidity, warm evenings this past week, what more can you ask for? Those of you who have been able to visit the past couple of months couldn't have hit a more perfect time. Great weather, record low room rates (for the modern era), plenty of food and booze deals, show deals (see sidebar), the dollar went a long way. But…
The Word Is Getting Out – The economy never went into depression (and probably wouldn't have gone into such a hard recession if our politicians didn't scare us to death with the "end of the world" talk that made everyone stop spending). Then, the word started getting out about what a bargain Las Vegas currently is. March saw 3.2 million visitors. Bookings are up (and our web traffic and newsletter subscriptions are on the rise). Which means…
If you want to visit, plan and book now. Rates will probably stay pretty low for the hot summer months, but fall is prime time here and rates are expected to really start ticking upward.áVisit our friends at Las Vegas Hotel Deals, poke around to check out some fall or even winter dates during which you can swing some time off, and really consider locking things up at current prices.
Same with show tickets. As things pick up, you'll stop seeing some of the discounts like the ones our sponsors are offering. Similar with airfare: Oil prices seem to be ticking up, which will result in higher airfare. Lock up your fall visit now or pay more later.
Danny Gans Memorial Service will be later this month at Encore and by invitation only. An autopsy did not reveal the cause of his death. Hence, it will be a few weeks before toxicology and similar test results are available. Everyone is still pretty stunned a week later.
Lance Burton broke his foot about 15 minutes into a recent show. The show must go on and he finished it (his first on-stage injury in 15,000 shows over 30 years), but will miss 19áshows. Tickets may be refunded through point of purchase. We wish him well in his recovery.
New Feature: Easy Vegas Deals – debuts in this issue. Every week, we scan every source we can to find specials and deals. This will be a regular feature we know you'll enjoy.
Perl Software Person Needed – No, I'm not talking about The Pearl at The Palms. We have a legacy (Perl/CGI) software that lets us run our contests. It "broke" when we upgraded servers a while back. We have the original software and need someone with Perl experience to re-install it and get it running properly so we can get back to doing all the great giveaways we were once famous for.
The person who can help us will be fairly and generously compensated (plus thanked by our tens of thousands of readers so we can start giving stuff away again)! Contact us at allvegastv@aol.com
Enjoy This Issue!
Ted Newkirk
CEO/Managing Editor
Associate Editor: Amy Rayner-Cooley
News Researcher/Editor: Mark Jacobs
---
Las Vegas Is On Sale!
Get Great Rates At All Hotels:

Bally's from $49,

El Cortez from $33,

Fitzgeralds from $33,

Hooters from $25,

Orleans from $40,

Riviera from $54,

Sahara from $42,

Stratosphere from $44,

Tropicana from $45,

Tuscany from $37,
More Savings At All Vegas Hotels!
---
This week, we feature reviews of two recently opened shows at Planet Hollywood:
Peepshow – The Transformation From Nice To Naughty
by Denise Almas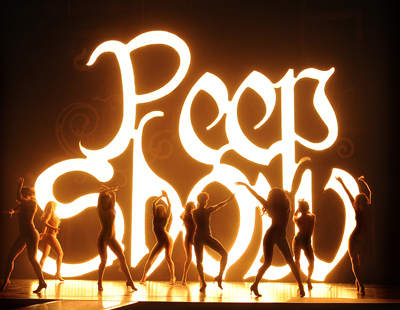 Scantily clad, the performers of Planet Hollywood's Peepshow bring high energy to an array of sexual fantasies. At the start of the show, we see a short video about a young woman who comes home to a dog and an empty house. As she falls to sleep, she is enveloped by the sexual fantasies of her dreams and her quest to find a man.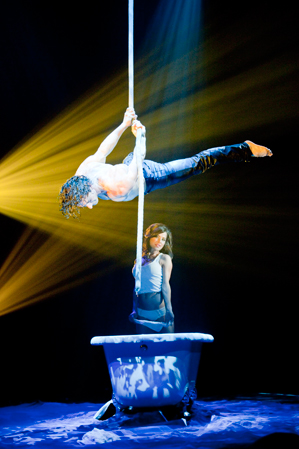 The cast, currently led by former Spice Girl Mel B and Kelly Monaco, bring these fantasies alive through dance and song. Throughout the show, the performers are careful not to bare it all. Instead, they attempt to tease audience members by showing just enough flesh to augment the fantasies they are portraying.
---
Viva Las Vegas! Experience The Elvolution
by Nicole "Niko" Acevedo
Hip-shakin', heel-tappin', finger-snappin', and smooth-talkin'. Trent Carlini is back on his hog and ridin' into town with an all new ôElvolutionö show for Elvis fans of every generation. On my left sat a sweet couple delighting in Carlini's vibrant tribute of the Elvis they once knew, reminiscing of the good ol' times after the show. Elvis once shined under Las Vegas lights, performing at the International Hotel (currently the Las Vegas Hilton). Now with his slicked back jet black pompadour and waaaay cool sideburns, Trent Carlini keeps the ladies screaming with excitement and stealing kisses from him all night long.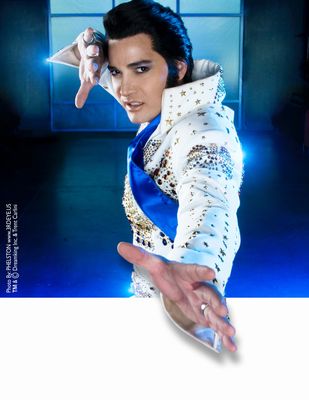 Elvolution highlights Elvis' successful musical career starting with the classic rock n' roll tunes of ôBlue Suede Shoesö, ôDon't Be Cruelö and ôShake, Rattle & Rollö. Carlini's voice is strong and wide-ranging, his movements engaging. With every sway of the hip the audience can't help but dance in their seats and clap to the beat.
Elvolution Las Vegas Tickets: 702-777-9974
---
These are only a few of the many Easy Vegas Deals we find each and every week. For a complete and constantly updated listing:
Bookmark and Visit EasyVegasDeals.com daily (Monday – Friday) or

Enter

http://www.easyvegasdeals.com/feed/

into your RSS feed list (for those of you who use RSS/XML feeds) or
---
Members Mania – We Love Our Readers!
My husband and I saw Danny Gans last year. He was one of the best shows we're ever seen. He repeatedly thanked the audience for coming to his show. He was humble, happy and so talented. Even when we went to pick up our tickets, the woman at the window told us what a nice person he was and how we would love his show. She was right. We were looking forward to seeing him again. Love and prayers to his family…
Carol from Trumbull, CT
I was so saddened to hear of his passing. I have seen him 3 times and he was such a wonderful entertainer. I can't agree more with what you said about him. He will be sorely missed.
Doris Osborne
---
Hi Ted and Crew: Love your news letter. We are Canadians and just love Vegas. Have visited 4 times in the last two years. Coming back again in July to experience your summer Heat. We have been asked why not go to Mexico, Cuba or the Dominican instead. We have experienced why. Please let all our Canadian friends know why Vegas is the ultimate Holiday experience.l
Thanks
Brian and Judy from Regina Saskatchewan, Canada
---
First in response to Barbara from Switzerland (previous issue): Amen that a month is not long enough! My mother in law has been going to Vegas twice a year since 1991 but would only stay 3 to 5 days. Two years ago we convinced her to stay a week and she loved it! It was my husbands first time going and he was like a kid in a candy store, we have already booked our trip for this September.
We are going for his birthday, if we ever get the chance we will some day live in Vegas, the people are friendly and there are so many great things to do. It is ever changing, and its very easy to miss something, thats why we keep coming back for more!
Love, love, love the newsletter. Keep the news coming!
Tina Holmes in Ohio
---
We got back from Vegas in March. We saw the show The Rat Pack is Back and have to say it was fantastic. If anyone is looking for a decent show to see this is the one. Also wanted to say that it didn't seem to me that the economy was hitting Vegas tourism too hard. We were there M-F and it seemed like Monday was a little slow (it was also cold) but the rest of the week picked up a lot.
We stayed downtown at the Plaza in a suite (if you can call it that) definitely not worth the price upgrade. For our next trip we will probably stay somewhere else. Although the Fremont Street view rocked. Keep up the good work and can't wait to get back to Vegas.
Crystal in Colorado
Ted Responds:
Thanks for the report! Plaza is planning for room upgrades once the economy turns around. They were just about to go forward with them last year.
Everyone raves about The Rat Pack show. Probably a best kept secret! Everyone can check out our review here: Indeed, The Rat Pack Is Back In Las Vegas
---
I am coming to Vegas for the 6'th time in May. I was reading some of your letters and tips. I would love to go downtown at night but I did this once before and I was a bit intimidated by some of the people hanging around. Is it safe as we are two women on our own without husbands with us? I love Vegas and I don't mean to be rude about the place but i was told not to walk about at night down town. Would we be able to get a cab back to the MGM from downtown? Thank you.
Margaret
Ted Responds:
If you stay on the Fremont Street Experience (the main part of downtown) and go down in the evening (not late night), you will find no safety issue.
Yes, you can get a cab to anywhere in Las Vegas (including the MGM) from virtually all of the downtown hotels(at their cab stands).
Hope this helps and thanks for telling your friends about our newsletter!
---
---
More Las Vegas News – Concerts – Events
Coming Hot Holidays – The following dates are huge times to be in Las Vegas, and rooms are in high demand. Booking in advance is the best way to save. Visit our friends at I4Vegas Discount Las Vegas Reservations and spend one of the following hot dates having fun in Las Vegas:
Memorial Day, U.S May 23-25 (3 day weekend)
Father's Day June 21
Canada Day, Canada July 1
Independence Day July 4
Civic Holiday, Canada August 1-3 (3 day weekend)
Labor Day, U.S September 5-7 (3 day weekend)
Labour Day, Canada September 5-7 (3 day weekend)
Jewish New Year September 19
Halloween October 31
Veteran's Day November 11
Thanksgiving Day, U.S November 26-29 (4 day weekend)
Hanukkah Dec. 2 – Dec. 9
Christmas December 25
New Year's Eve-Day December 31 – January 2 (3 day weekend)
Martin Luther King, Jr., Day, U.S (Observed) January 18-20 (3 day weekend)
Lincoln's Birthday, U.S February 12
President's Day, U.S (Observed) February 13-15 (3 day weekend)
Chinese/Lunar New Year February 14
Valentine's Day February 14
Mardi Gras February 16
Washington's Birthday, U.S February 22
St. Patrick's Day March 17
Easter Sunday April 4
Cinco de Mayo May 5
Link To Us! – Have a home page, web page, or blog? Link to us, and give yourself and your friends a quick link to find us from your site. Simply link to http://www.accessvegas.com and name the link Access Vegas!
RSS Feed – We now have an RSS/XML feed! Most RSS programs let you visit AccessVegas.com and automatically pull the feed. For those who want to enter it manually, the feed is:
http://www.accessvegas.com/xml/whats-hot.xml
Share the info: Click to Email this newsletter to a friend!
---
For comments or questions regarding our content
or this newsletter write us at
allvegastv@aol.com
.
New to the list? See our Newsletter Archives for back issues and subscription info. Don't hesitate to forward this newsletter to friends and associates.
All contents copyright 2008 Ted Newkirk. All Rights Reserved.
Hotel Rates Published Accurate At Time Of Publication


May 6, 2009 ISSN: 1529-2770 About Us Privacy Policy