Serving Las Vegas Visitors and Residents Since 1999
Welcome to the Insider Vibe! This is the official newsletter of AccessVegas.Com. We talk about the Las Vegas activities you really care about.
---
AccessVegas.com Quick Info Menu:
Las Vegas Essentials

Featured Shows

Photos and Wallpaper
Newkirk's Notes – comments on Las Vegas from AccessVegas.Com publisher Ted Newkirk:
Hello From Las Vegas! Wow… we are getting some lucky (and nice) fall weather with highs still in the 70's F and cool (but not cold) nights. If you are starting to regret not planning that fall visit, we'll do our best as we are a "virtual vacation" in every newsletter!
Plaza Doing Major Upgrades? – Downtown's Plaza Hotel and Casino is 30 years old and despite the economic downturn, owners are looking a possible major upgrades to the 1000+ rooms in the property. If you are one of the very few who have ever staggered up to the third floor of the property, you've seen the huge convention area they have that sits virtually unused all year long.
If they can secure financing for the $10,000,000 in room upgrades, they hope to compete with other mid-level properties for conventions that want to be at aánice hotel, but don't need the size of bigger convention venues.
Sahara Hotel Casino Photos – We've loaded some new interior shots to our Sahara Las Vegas Hotel Casino photo gallery. If you are feeling the economic pinch and want to save a few bucks on your next stay, The Sahara really isn't a bad choice. Lots of lower limit gaming and slots, a casino that was upgraded not that many years ago and is in good shape, and a monorail stop right at the hotel can have you almost anywhere on The Strip within about 15 minutes. Check out Sahara Hotel Casino Discount Reservations
Is The Las Vegas Club Scene Over? – Not quite, and as long as there is a Las Vegas, there will be plenty of nightlife catering to every segment of society. However, clubs simply aren't paying sums in the tens of thousands of dollars to second-tier (to put it politely) celebrities just to show up for the night like they used to. We also understand that "bottle service" (paying hundreds of dollars for a bottle of liquor in able to secure a nightclub table) isn't quite as popular as it used to be.
We have readers of all ages and our feedback (even among those in their 20's) has been "Las Vegas needs to bring back more live music in the lounges" instead of questions about clubs. Maybe Las Vegas gaming win is down in part because the tried-and-true formula of letting people gamble, drink, watch some great free music (then repeat this pattern all evening long) has faded away at many casinos.
September Visitor Numbers Down – If you were here during September (lucky you as the hot days were winding down), you may have noticed more elbow room than usual. Visitor numbers were down 10% fromáSeptember 2007. No surprise there. Many of you plan your visits weeks (or months) in advance and this summer brought very high advance airfare.
The good news? Those of you who felt "priced out of Las Vegas" are seeing the return of some very affordable prices. I did an airfare and hotel search for January 11-14 and found the following:
$250 airfare from American's heartland (I used Indianapolis, IN as a reference… some cities are even cheaper) and plenty of $40 a night hotel rooms both on The Strip and downtown through our hotel partners Las Vegas Hotel Deals. $660 total for two people, four days in Las Vegas, air and hotel. Yes, times are tight. But if you are of the mindset that a Vegas vacation is going to set you back thousands, time to go back and do the math!
Not Everyone Likes The New Games – An op-ed piece to our local paper regarding all the automation and lack of interaction on many of the newer casino games made some great points. Sounds like it may have even been written by one of our readers:
During a stopover in Reno 25 years ago, my wife and I discovered Nevada-style gambling — and absolutely loved it. Just as suddenly, on a summer trip to Las Vegas and Laughlin, we admitted the thrill is gone. Since when did the gaming industry rob Nevada of its uniqueness, conspiring to remake its casinos into video arcades?
Most recently, the Excalibur in Las Vegas brags about replacing its live poker room with electronic poker tables. Again, what happened to the state that believed in character — the state that made gambling real? In the old days, even when the games were "electronic," at least the money they paid was real. Certainly, if the sound and feel of money were not important, why does every ticket machine go "clink! clink!" Click to read full storyáInteraction, winning give way to gadgets, losing
Enjoy This Issue!

Ted Newkirk
CEO/Managing Editor
Associate Editor: Amy Rayner-Cooley
News Researcher/Editor: Mark Jacobs
---
Las Vegas Is On Sale!
Get Great Rates At All Hotels:

Boulder Station from $25,

Fiesta H from $29,

Green Valley from $85,

Red Rock from $90,

Santa Fe Station from $50,

Sunset Station from $40,

Texas Station from $28,
More Savings At All Vegas Hotels!
---
Stone Temple Pilots To Perform At The Pearl At The Palms January 2
– Rockers Stone Temple Pilots return to The Pearl Concert Theater inside the
Palms
on Friday, January 2, 2009 at 8:00 p.m.
(Tickets)
Stone Temple Pilots, commonly called STP, hit the rock scene in the early '90s with their debut album Core. The band quickly gained a large fan base with hits like "Sex Type Thing," "Creep" and "Plush," which subsequently won them a Grammy for "Best Hard Rock Performance."
Click to

Read The Full Story …
Larry The Cable Guy Returns To The Orleans Arena On December 13 – Popular for coining the catchphrases "Git-R-Done" and "Lord, I Apologize," Larry the Cable Guy, returns to the Orleans Arena on Saturday, December 13, 2008 at 9 p.m. (Tickets) Known to some as Daniel Whitney, Larry the Cable Guy has showcased his talent, comedy act and characters on stage, television and in film. Larry's one-liner filled act earned him appearances on "Evening at The Improv," "Comic Strip Live" and the nationally syndicated "Bob and Tom Show." His success with radio continued when he became a regular on "Jeff Foxworthy's Country Countdown." Click to Read The Full Story …
Ring In 2009 With Kid Rock At The Pearl Concert Theater 12/31/08 – The infamous rocker with the bad ass attitude is bringing the party this New Year's Eve with a spectacle of a show inside The Pearl Concert Theater at the Palms on Wednesday, December 31, 2008, at 10:30 p.m. (Tickets) Grammy award-nominated Kid Rock released several successful albums including Devil Without A Cause in '98 which includes smash hits, "Bawitdaba," "Cowboy" and "Only God Knows Why" in addition to becoming Diamond Award certified by RIAA with more than 10 million copies sold. Click to Read The Full Story …
Spice Up Thanksgiving With A Little "Mojo" From Sushisamba Strip – Why slave away in the kitchen this Thanksgiving when you can feast on an artful blend of tasty holiday concoctions at Sushisamba Strip? Join SUSHISAMBA strip on Thursday, Nov. 27, for this gracious holiday festivity. Dinner serving begins at 5 p.m. through 2 a.m. For starters, experience the "Mojo" Marinated Turkey ($28) with cornbread-linguica stuffing, organic fall vegetables and roasted pan gravy to warm the cockles of friends and family. Click to Read The Full Story …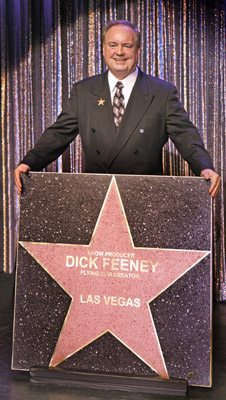 Producer Dick Feeney Receives His Star On The Las Vegas Walk Of The Stars Becoming The 31st Recipient – Las Vegas Producer Dick Feeney was acknowledged for his creativity and talents Oct. 17 by becoming the 31st recipient of Las Vegas Walk of Stars. The Las Vegas Walk of Stars, located from Russell Road. to Sahara Avenue., honors those who have contributed outstanding service to their community in several different categories: show business, literary, pioneers; and civic, humanitarians, sports and military in association with the rules set by Clark County. Feeney's star, located in front of the New York New York Hotel & Casino, name was added among Wayne Newton, Bobby Darin, Sammy Davis Jr., Rich Little, Siegfried and Roy, John Stuart, Trini Lopez, Frank Marino, Tony Sacca, Liberace and Elvis. Please refer to www.lasvegaswalkofstars.com for more information. Click to Read The Full Story …
Gambling Talk: Limit and Pot Limit Omaha High Low Split – with Victor H. Royer. Join our own ôVegas Vicö in the seventh of a series of poker instruction brought to you via streaming video! This week: Limit and Pot Limit Omaha High Low Split (broadband)
---
Members Mania – We Love Our Readers!
Hello!! Is there a local bar or hotel downtown just to go and tilt back a couple and shoot some pleasure billiards? (Not looking for competitive-type, that's for sure).
Shelley
Ted Responds:
Jillian's in Neonopolis has a room dedicated to pool tables called the 9 Ball Billiard Lounge. First come, first served. Before 4 PM, $6.00 per person per hour (Monday-Friday Billiards are complimentary with your meal). After 4 PM, $5.00 per person per hour. Odds are you'll find other visitors just in to have fun like you are!

---
We, four 22/23 year old guys, are trying to determine whether to come to Vegas over Thanksgiving (Thurs, Friday, Saturday night) 2008, or over Martin Luther King Jr. Weekend (Friday, Saturday, Sunday night) 2009. Basically, we are looking for the best time to party (clubs/hotels/etc) for the best value. Flight prices seem cheaper over MLK weekend, but hotel rooms look more expensive. Can you give us some advice on when to experience Vegas? Thanks for your help.
Lance
Ted Responds:
There really aren't any badáweekends for many of the clubs. Thanksgiving extended weekend draws more international visitors. To a lessor scale, some families use Thanksgiving weekend as a time to gather in Las Vegas, but once Thursday is over, extended families spend the rest of the weekend doing typical Vegas stuff.
Thanksgiving offers tons of football betting (college and pro) all four days. It will offer slightly warmer weather than MLK weekend (although not pool weather). Also, MLK weekend does fall in that "dead zone" between New Years Eve and Superbowl Sunday.
If you are looking for crowds, football betting, and visitor variety, I'd look at Thanksgiving. If looking for a slower time when lines might not be so long, and club prices (admission, bottles) not so stiff, lean toward MLK.

---
We come to Vegas every year and this year we are staying for one month. As far as gambling goes we are not in the 'upper' bracket but still contribute to the area's economy. As well as having some fun we have made very good friends and look foreword to 'partying' with them.
Over the years Vegas has changed dramatically, not always for the better. As you have mentioned 'bean counters' have a place in business BUT they should be monitored and tempered by experienced persons who understand the psychology of gambling, not just the 'bottom line'. Remember, Vegas is not built on winners, but a good winner is good for the promotions.
On our first visit, Sam's Town was still 'in the desert'. If Vegas did not exist, no one would have the twisted imagination to invent it. We love America, with all its faults, we have found the people to be genuine, with all their foibles, and only serious old age or being destitute will stop us visiting. Perhaps this year we will win, or, break even.
Best wishes,
Wolf and Jean from Coventry, England
Ted Responds:
Couldn't agree with you more. The guys running the casinos used to be gamblers themselves and understood the psychology of it. These new guys may be financial wizards (or maybe not judging by how gaming companies are doing), but they should be on Wall Street, not making the decisions on how to best get people to enjoy gaming.

---
Thanks again for this marvelous newsletter – we couldn't make it to Vegas this year – but as I am turning 40 next year our USA-trip -including Vegas- has been arranged now. We are looking forward to come over in February '09.
Greetings from Germany
Ollie and Diana
Ted Responds:
Great to hear from you and happy that you are still reading and keeping up on Las Vegas. I passed 40 just over three years ago… you'll have great fun celebrating it here!

---
Love the newsletter and all the great information. I have been a subscriber for years and watched your changes and have gotten so much useful information for our frequent visits. Its so nice to be kept "in the know" on what is happening, or has happened or will be happening. I especially enjoy the Q & A column in your news letter from readers… it truly is the inside scoop and I admire your honesty.
Thanks, great job!
S. Pomplun from Eagan, MN
---
We love to hear from you, and value your feedback! Here's how to participate:
Drop us an email at

allvegastv@aol.com

– We read them all!
Call our recorded comment line at 702-507-0055. We listen to every call.
---
More Las Vegas News – Concerts – Events
Coming Hot Holidays – The following dates are huge times to be in Las Vegas, and rooms are in high demand. Booking in advance is the best way to save. Visit our friends at Las Vegas Hotel Deals and spend one of the following hot dates having fun in Las Vegas:
Thanksgiving Day November 27-30 (4 day weekend)
Hanukkah Dec. 22 – Dec. 29
Christmas December 25
New Year's Eve-Day December 31 – January 1
Martin Luther King, Jr., Day, U.S (Observed) January 19-21 (3 day weekend)
Chinese/Lunar New Year January 26
Lincoln's Birthday, U.S February 12
Valentine's Day February 14
President's Day, U.S (Observed) February 14-16 (3 day weekend)
Washington's Birthday, U.S February 22
St. Patrick's Day March 17
Easter Sunday April 12
Cinco de Mayo May 5
Mother's Day May 10
Father's Day June 21
Canada Day, Canada July 1
Independence Day July 4
Civic Holiday, Canada August 1-3 (3 day weekend)
Labor Day, U.S September 5-7 (3 day weekend)
Labour Day, Canada September 5-7 (3 day weekend)
Jewish New Year September 19
Halloween October 31
Veteran's Day November 11
Link To Us! – Have a home page, web page, or blog? Link to us, and give yourself and your friends a quick link to find us from your site. Simply link to http://www.accessvegas.com and name the link Access Vegas!
RSS Feed – We now have an RSS/XML feed! Most RSS programs let you visit AccessVegas.com and automatically pull the feed. For those who want to enter it manually, the feed is:
http://www.accessvegas.com/xml/whats-hot.xml
Share the info: Click to Email this newsletter to a friend!
---
For comments or questions regarding our content or this newsletter write us at allvegastv@aol.com.
New to the list? See our Newsletter Archives for back issues and subscription info. Don't hesitate to forward this newsletter to friends and associates.
All contents copyright 2008 Ted Newkirk. All Rights Reserved.
Hotel Rates Published Accurate At Time Of Publication


November 12, 2008 ISSN: 1529-2770 About Us Privacy Policy