Serving Las Vegas Visitors and Residents Since 1999
Welcome to the Insider Vibe! This is the official newsletter of AccessVegas.Com. We talk about the Las Vegas activities you really care about.
---
AccessVegas.com Quick Info Menu:
Las Vegas Essentials

Featured Shows

Photos and Wallpaper
Newkirk's Notes – comments on Las Vegas from AccessVegas.Com publisher Ted Newkirk:
Hello From Las Vegas! Lots of newsáfeaturing a few very well known Las Vegans so we'll jump right in: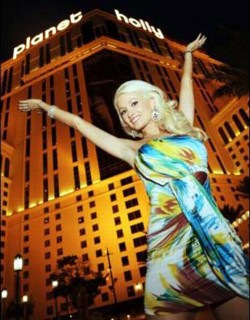 Holly Madison Peeping Through Fall Of 2010 – No one will fault Holly Madison's work ethic or love of Las Vegas. Since moving here after her reality show "breakup" with Hugh Hefner, she's turned herself into Miss Las Vegas. Many performers who come for a run here (whether a few months or a few years) often do their show but otherwise have no real interest or involvement in the community. In fact, at least one very prominent Las Vegas headliner is reputed to fly in for each show and flies right back out again the same evening (and does this multiple nights per week).
Others seem to embrace and enjoy Las Vegas. Celine Dion and her husband Rene Angelil were known for not only settling here (in Lake Las Vegas, about 17 miles southeast of The Strip) but were pretty active in the community and local charities. Celine was even spotted a couple of times shopping at the Henderson Wal-Mart!
Holly Madison has even stepped it up a notch from that. It isn't "where has she been seen" but where "hasn't" she been seen. Baseball games to bikini walks to charity events… she is seeminglyáeverywhere. (Holly can still usually go out without being mobbed. We aren't making trying to compare her activities to Celine, who would have been mobbed walking down The Strip). Every writer who has interviewed her, both big and small, has glowed at the access she gives and how down-to-earth she is.
Disclaimer: I have a soft spot for her because we are both native Oregonians and both studied psychology at Portland State University (a few years apart… she's just turning 30… and that number is firmly in my rear view mirror).
Madison has now signed on to continue her "Bo Peep" roll in Peepshow at Planet Hollywood through fall of 2010, both an indication that Peepshow will continue to enjoy a long, successful run here and that the love affair between Las Vegas and Holly Madison might have an equally long run as well.
Vince Neil Ink Opens This Weekend At The Rio – Vince Neil (infamous lead singer of Motley Crue) moved to Las Vegas not long after I did, and hasn't exactly been a stranger himself.
This weekend, he's opening his second Vince Neil Ink Tattoo Shop at The Rio (the original is at O'Sheas) in partnership with rock star chopper builder Danny Koker (known as Count) of CountÆs Kustoms. The whole thing kicks off this Saturday evening with a free Vince Neil concert at 8:30 PM in the Masquerade Village, and the tattoo shop opening to the public at 11:00 PM.
We were able to get our own tour over a week ago, and got a great photosáof the shop, Vince Neil memorabilia, and the bikes on display. All can be viewed in our new Vince Neil Ink Tattoo Rio Las Vegas 2009 photo set.
Speaking of Mr. Las Vegas – According to Norm! of the Review-Journal, Wayne Newton is back in negotiations to be a permanent headliner at the revamped Tropicana in 2010. Given that the Trop is a quick and easy 6 mile drive from Newton's Casa de Shenandoah and current rumbles that Newton could use the cash (plus the fact that both the hotel and Newton are embedded in the legacy of Las Vegas), I'd bet we'll see this deal happen.
One Cool Photo – Leaving The Rio and Vince Neil Ink, we captured the following picture:
It is now my computer wallpaper and I want you to enjoy it as yours also (obviously at no charge). Instructions are simple:
Click on the above photo which will take you to our photo gallery for this specific photo.
On that page under the image is a small link that says Full View. Click that link.
The full size photo will fill your browser. (It might appear too big… don't worry about that).
Right-click your mouse on the photo. A menu will pop up. Choose "Set As Desktop Background" (Vista only: use the "Stretch" option in the drop down menu).
Mac users: I have no clue how to do the above on a Mac, but since you guys are smarter than us Windows users, I'm sure you already have it nailed.
Enjoy This Issue!
Ted Newkirk
CEO/Managing Editor
Associate Editor: Amy Rayner-Cooley
News Researcher/Editor: Mark Jacobs
---
Las Vegas Is On Sale!
Get Great Rates At All Hotels:

Bally's from $39,

El Cortez from $9,

Fitzgeralds from $21,

Hooters from $25,

Orleans from $35,

Riviera from $27,

Sahara from $17,

Stratosphere from $26,

Tropicana from $35,

Tuscany from $33, ,
More Savings At All Vegas Hotels!
---
Lion King Las Vegas – Truly A Spectacular Event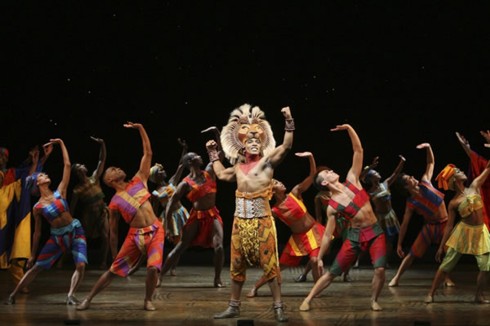 "The Lion King" is truly a unique addition to Las Vegas. By bringing this award winning show to a town that is not always "kid friendly," Disney has given visitors and locals alike an opportunity for a truly unforgettable night with the entire family. It is also an excellent choice for a romantic night out.
As the story progresses, we see young Simba fall into trouble as his evil Uncle, Scar, would like to be king. Scar readily admits that he is no physical match to Simba's father, Mufasa; however, he insists that he got the brains in the family and should be the rightful king. Unfortunately for Scar, Simba's birth meant that he would never have the opportunity.
---
R&B Superstar Jamie Foxx To Take Over The Colosseum At Caesars Palace
– Jamie Foxx will bring his Blame It Tour to The Colosseum at
Caesars Palace
for an evening of live music on Friday, October 9. With Intuition, Foxx's newest musical release, he sought to create a state-of-the-art R&B album that will solidify his place among music's elite.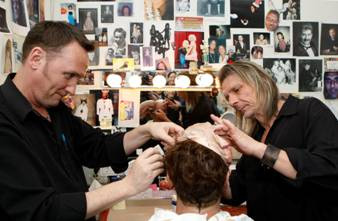 Photo Credit: Jacob Andrzejczak
Phantom Fans Week – Don't Miss Out On The Chance Of A Lifetime To See Phantom Up Close And Personal – In less than a month Phantom Fans from all around the globe will gather in Fabulous Las Vegas to take part in the first ever Phantom Fans Week. Don't miss this once-in-a-lifetime opportunity to experience the most well known musical masterpiece of all time like never before. Phantom fans from all over the world will join together September 16 û 20 at The Venetian Resort-Hotel-Casino and enjoy the production, get exclusive access to the show at special Insider Sessions and hear from the biggest names in the Phantom world, including honorary guest and legendary director, Hal Prince.
---
These are only a few of the many Easy Vegas Deals we find each and every week (many of which happen too quickly for newsletter deadline). For a complete and constantly updated listing:
Bookmark and Visit EasyVegasDeals.com daily (Monday – Friday) or

Enter

http://www.easyvegasdeals.com/feed/

into your RSS feed list (for those of you who use RSS/XML feeds) or
---
Members Mania – We Love Our Readers!
Members Mania is the last thing I do before sending this out. I had some great letters and answers to send out today… only to wake up to a house without water! The water company was reading my meter and noticing it was using 6 gallons of water per minute. Which would only make sense if you were filling a swimming pool.
So… I spent much of the day dealing with the preparations to locate and fix the leak. Finding the leak is complicated by the fact that with our sandy/rocky soil, water doesn't saturate and end up bubbling out of the ground. It simply seeps down and down and down into the earth.
I don't want to delay this issue as we have so much great news and info (plus some of you will want to hit the free concert at The Rio on Saturday).
Since I don't have any water coming out of my taps… I guess I'll have to go look for something else to drown my sorrows in. This section should return next week.
---
We love to hear from you, and value your feedback! Here's how to participate:
Drop us an email at allvegastv@aol.com – We read them all!
Call our recorded comment line at 702-507-0055. We listen to every call.
---
More Las Vegas News – Concerts – Events
---
Coming Hot Holidays
– The following dates are huge times to be in Las Vegas, and rooms are in high demand. Booking in advance is the best way to save. Visit our friends at
Las Vegas Hotel Deals
and spend one of the following hot dates having fun in Las Vegas:
Jewish New Year September 19
Halloween October 31
Veteran's Day November 11
Thanksgiving Day, U.S November 26-29 (4 day weekend)
Hanukkah Dec. 2 – Dec. 9
Christmas December 25
New Year's Eve-Day December 31 – January 2 (3 day weekend)
Martin Luther King, Jr., Day, U.S (Observed) January 18-20 (3 day weekend)
Super Bowl Sunday February 7
Lincoln's Birthday, U.S February 12
President's Day, U.S (Observed) February 13-15 (3 day weekend)
Chinese/Lunar New Year February 14
Valentine's Day February 14
Mardi Gras February 16
Washington's Birthday, U.S February 22
St. Patrick's Day March 17
Easter Sunday April 4
Cinco de Mayo May 5
Mother's Day May 9
Memorial Day, U.S May 29-31 (3 day weekend)
Father's Day June 20
Independence Day July 4
Civic Holiday, Canada July 31-August 2 (3 day weekend)
Labor Day, U.S September 4-6 (3 day weekend)
Labour Day, Canada September 4-6 (3 day weekend)
Link To Us! – Have a home page, web page, or blog? Link to us, and give yourself and your friends a quick link to find us from your site. Simply link to http://www.accessvegas.com and name the link Access Vegas!
RSS Feed – We now have an RSS/XML feed! Most RSS programs let you visit AccessVegas.com and automatically pull the feed. For those who want to enter it manually, the feed is:
http://www.accessvegas.com/xml/whats-hot.xml
Share the info: Click to Email this newsletter to a friend!
---
For comments or questions regarding our content
or this newsletter write us at
allvegastv@aol.com
.
New to the list? See our Newsletter Archives for back issues and subscription info. Don't hesitate to forward this newsletter to friends and associates.
All contents copyright 2009 Ted Newkirk. All Rights Reserved.
Hotel Rates Published Accurate At Time Of Publication


September 9, 2009 ISSN: 1529-2770 About Us Privacy Policy