Serving Las Vegas Visitors and Residents Since 1999
Welcome to the Insider Vibe! This is the official newsletter of AccessVegas.Com. We talk about the Las Vegas activities you really care about.
---
AccessVegas.com Quick Info Menu:
Las Vegas Essentials

Featured Shows

Photos and Wallpaper
Newkirk's Notes – comments on Las Vegas from AccessVegas.Com publisher Ted Newkirk:
Hello From Las Vegas! Sleigh bells ring, are you listening… In Las Vegas, snow is glistening! I kid you not… as I write this on Wednesday, I've been looking at constant snowfall out of my window. And… it is sticking. And sticking. For hours and hours now.
TV news just showed people having snowball fights… at the Welcome To Las Vegas sign (just south of Mandalay Bay). Except for those hit with flight delays, I have to think that even our visitors who usually expect constant sunshine here are realizing how rare and special it is to be part of this. (If you were here this week, don't worry: We'll turn the sunshine back on for you next time you visit).
I realize those of you from cold weather climates are yawning and going "what's the big deal?" Trust me… snow in a desert resort town when we are more used to 110 degree temperatures all summer is amazing. Just a couple of weeks ago, we were having highs highs in the 70's. This is truly monumental.
We'd been having some unusually cold and wet weather. We took a few photos the previous few days, thinking we had captured some pretty cool stuff: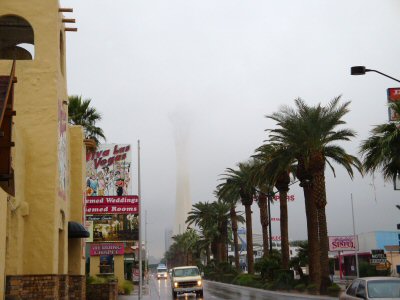 Stratosphere Hotel Casino enveloped by clouds and fog on December 15, 2008.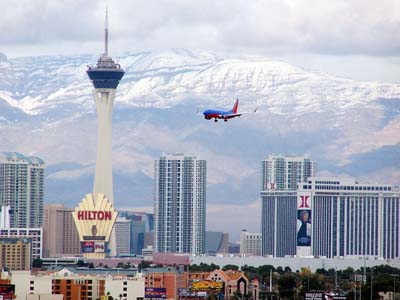 Snow on the mountains surrounding Las Vegas on December 16, 2008.
However… that didn't begin to prepare us for today (as I write), December 17, 2008. A couple of photos taken from various staffers and writers homes: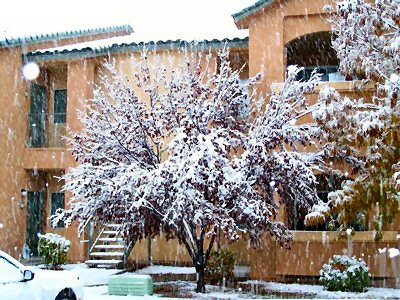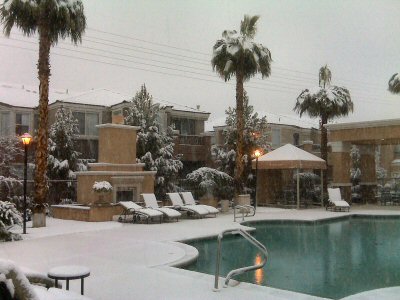 Not quite exactly pool weather today. For those interested, we'll put a few more photos at the end of this newsletter.
Bonus Issue Coming: Treasure Island Sold plus Las Vegas Snow Photos – We'll have a special edition in a few days talking about the sale of Treasure Island to financier Phil Ruffin (former owner of The Frontier here in Las Vegas).
Anyone can tell you that the news happened. I'll tell you what it means to your future visits and the Las Vegas experience as a whole. In that special edition, I'll also include a bunch of spectacular photos of the mountains surrounding our desert valley all covered with snow plus all the snow-related stories and video. Stay tuned and don't miss the next issue!

Photo Courtesy Las Vegas Review-Journal
What Will That Cocktail Waitress Be Wearing? – Look… let's not pretend that no one (especially the men) notice that cocktail server bringing the drinks while you gamble. The recent gaming convention brought out some new looks you may expect to see in the next year. Story with photos: Suit Up – The latest cocktail lounge uniforms.
P.S. The cocktail server theme of this newsletter was pure happenstance. The news and photos pour in, we report it. We'll see if we can do a male revues issue before long for you ladies.
Least Family Friendly City – Las Vegas has been named the least family friendly city… to live in. They determined the average family income and then the cost to raise a family and found the following for Las Vegas:
Median Annual Family Income: $58,672,
Average Annual Family Budget: $48,058,
Budget as Percent of Income: 82%.
Hey, at least hotel rooms are dirt cheap right now. (As always, check out our friends and sponsors Las Vegas Hotel Deals ). Maybe better to visit than live here right now!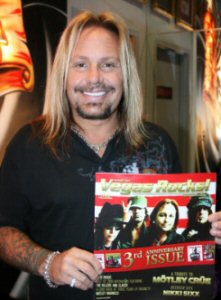 He's The One They Call Dr. Feelgood – Vegas Rocks! magazine has announced that Motley Crue's (and long-time Las Vegas resident) Vince Neil is opening a local bar here in early 2009 called Dr. Feelgood's. The report notes that the "club will also have a restaurant with killer food and a smokin' vibe." Vince Neil Band and Slaughter (band… from Las Vegas… remember "Up All Night, Sleep All Day") guitarist Blando will be entertainment director. Photo courtesy Vegas Rocks Magazine.
So That's Where Your Money Is Going – We've been vocal critics of the proposed 3% room tax raise. Times are tight and Las Vegas needs to return to the "value" roots of the past where you know you could come here and get a nicer room and better food deals than you may find in other resort cities.
The latest insult is the CEO of the Las Vegas Convention and Visitors Authority spending $25,000 of the organization's money (basically money already raised from visitors) on an out-of-state charitable group that turned around and gave him a humanitarian award.
The LVCVA was taking huge credit for the boom Las Vegas experienced in years past (ignoring the contribution of everything from publishers like myself to the massive celeb coverage generated by hotels like The Palms). Yet, they are slow to take any blame for why their $200+ million budget can't help keep visitors coming, especially in light of the dirt-cheap rooms and falling airfare.
Side Note: Yes, the economy is bad. But in past bad economies, Las Vegas has stolen visitors from other resort destinations. Gentlemen… where's your plan to do that? You still have a massive budget to work with. And zero results with chunks of that money seemingly (according to local media sources) unaccounted for. We're waiting…
Cheap Vacation Condo? – If you were thinking about buying a vacation condo in Las Vegas but were put off by price tags in the hundreds (sometimes many hundreds) of thousands of dollars in the past, the Monterey Country Club condos are starting at $99,000 and are literally in the back yard of the Las Vegas Strip. Click to read Monterey country club condos start at $99,000.
PS If it makes you feel any better, many of those over-priced high-rise condos pretty much have sat empty (and unsold). Whoever thought that people would pay that kind of money for a small high-rise when a great hotel suite is just a couple hundred dollars was insane.
$67,000 – The number of a new jackpot? No… that was a number recently reported on the local PBS Nevada Week In Review program that the average person in the hotel/casino industry makes. Don't come rushing to Las Vegas… casinos aren't doing much hiring right now. But not a bad chunk of change.
More "I Told You So" – I've been touting the great shows like Blue Man Group, Jersey Boys, Phantom Las Vegas and (the soon to end) Mamma Mia! plus have been a big proponent of going downtown for the kind of great food and looser gambling that made Las Vegas famous.
A survey of local cab drivers highlighted that manyáhave been doing these exact things (and enjoying them): Cab, limo drivers take pulse of tourists
Enjoy This Issue!
Ted Newkirk
CEO/Managing Editor
Associate Editor: Amy Rayner-Cooley
News Researcher/Editor: Mark Jacobs
---
Las Vegas Is On Sale!
Get Great Rates At All Hotels:

Boulder Stn from $30,

Fiesta H from $29,

Green Valley from $90,

Red Rock from $90,

Santa Fe Stn from $50,

Sunset Stn from $38,

Texas Stn from $25,
More Savings At All Vegas Hotels!
---
Hard Rock Open Bar
– Are you following our
EasyVegasDeals.com
on a regular basis? If you are, you know that the Hard Rock Hotel and Casino had an open bar event open to the public on Wednesday evening. That's right… for two entire hours (7-9 PM), every bar was serving free drinks. To all the public. No VIP admission, no gimmick, no slot club membership needed.
As you know, we cram this newsletter full of information. But… there is so much more incredible fun (not to mention cheap and free deals) that happen here in town that doesn't get included because of deadlines and our publishing schedule.
This is why we've started our Easy Vegas Deals blog. We update is almost daily with all of the latest news on great casino and dining promotions that are available to the public. We have three ways for you to keep abreast of the latest and hottest Las Vegas deals and specials:
Bookmark

EasyVegasDeals.com and check it every day for the latest.

RSS Users:

You can add our feed http://www.easyvegasdeals.com/feed/

Subscribe to our separate Easy Vegas Deals email list

by going to Easy Vegas Deals Sign-Up Page Note: List debuts January 5, 2008. You'll only receive emails when we add new deals.
Hard Rock hotel Las Vegas cocktail servers dressed in sexy Santa's helper outfits during Christmas December of 2008. Photo credit Hard Rock û Erik Kabik.
$1 Any Drink – The last time I remember $1 drinks for any significant amount of time was downtown at The Plaza hotel. The South Point (run by the same family that used to own The Plaza) is bringing this back in a big way, for a short time: Between now and Christmas Eve, ALL drinks at ALL casino bars at The South Point are only $1.00. 24/7 and the information we received had no fine print to it.
We don't want to encourage drinking and driving, especially since the South Point is a ways from The Strip. However, if you are a local who wants to blow off some steam for a night or a tourist looking for a good place to stay during the next couple of weeks (with a free shuttle to The Strip for hotel guests), check out our South Point Hotel Casino Las Vegas Discount Rates
Tickets For Terry Fator And His Cast Of Thousands Are On Sale – Tickets for celebrity impressionist, singer, comedian and ventriloquist Terry Fator at The Mirage Las Vegas are on sale. Winner of NBC's 2007 season of "America's Got Talent," Fator and his cast of thousands have entertained millions across the country and will make The Mirage their new home in early 2009. "In what seemed like all of a sudden, it took me 25 years to become an overnight sensation. Ever since that life-changing night on 'America's Got Talent,' I feel like I am truly living the American dream," said Terry Fator. Click to Read The Full Story …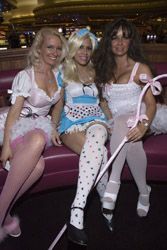 Stratosphere Casino Hotel And Tower Announces "Cocktail Server Blackjack Tournament" Winners – The Stratosphere Casino Hotel and Tower recently held the first annual "Cocktail Server Blackjack Tournament. Winning first place and $500 each in the "Creative Costume Contest" were Sommer Horris, Brenda Magiros and Melissa Merrick, all cocktail servers from the Stratosphere Casino Hotel and Tower. 37 teams of cocktail servers representing the MGM Grand, Mandalay Bay, Venetian, Palms, Blackjack Lodge, Big Dog's and many others competed for the first place trip to Hawaii and $1,500 in the "Creative Costume Contest," announced American Casino & Entertainment Properties officials. Click to Read The Full Story …
Missed our original photos from this event? Click on over to Stratosphere Cocktail Servers BlackJack Tournament 2008 Photos
Gambling Talk: Poker Tournaments Part 3: Keys To Success – with Victor H. Royer. Join our own "Vegas Vic" in the tenth of a series of poker instruction brought to you via streaming video! This week: Poker Tournaments Part 3: Keys To Success (broadband)
---
Members Mania – We Love Our Readers!
My husband and I get to Vegas at least once a year. Generally we see a show and gamble and relax. My son graduated high school this past June and instead of a party, he wanted to come to Vegas and see Kevin James. So, we were there the beginning of October.
Although I always have a good – no make that great – time while I am there, this time proved to be even better. Since my son is older but not of gambling or drinking age, we found other things to do. While my husband likes to stay in the casino – which is OK with me since he won 2 progressive jackpots on the draw poker machine within 24 hours – my son and I went around the strip. We went to the wax museum. Had an absolutely fantastic time. I never would have thought I could have so much fun there.
Another site we took in was the Secret Garden at Mirage. The animals are beautiful and fun to watch. Fortunately for us, some of the trainers were out there with the dolphins and the lion cubs. We went to the Stratosphere where my son went on all 3 rides at the top. I was in a slot tournament. Although I have been invited numerous times to participate, this is the first time I was able to join.
Of course, the reason we came was to see Kevin James who happened to be with Ray Romano. It was non stop laughter from the time the opener started. After the show, we were hanging around the Mirage and happened to see Martin Lawrence. My son approached him and asked if he could have a picture with him and autograph. Martin was very accommodating, and talked to my son for a couple minutes. I wouldn't normally bother a celebrity while they are out in public, but we did. Martin was the nicest person. Very friendly. It was good to see a celebrity who will still act like a human being and remember who their fans are. Now, my son is figuring out when he can get back there!!
Some of the other letters you received recently showed some negativity of Vegas. I still saw the brilliant city, service and great attractions that make us come back every year.
Thanks,
Donna from Melrose Park, IL
---
Editors Note: This was not addressed to us, but to the Editor of the Review-Journal. However… it echoes much of what you write to us, and we couldn't agree more:
Bring Back Winning:
For decades, the conservatives have taunted that reducing the rate of taxation can result in government revenues increasing. This strategy could also be applied to Las Vegas visitors and gambling, thus resulting in more guests and providing a timely reversal to the gaming industry's financial ills.
If players felt they could actually win, then hotel room occupancy might increase.
In years past, the wonderful high spirit of Las Vegas included the sound of constantly exploding jackpots…
Continue to read Bring Back Winning (forth letter down on that page)
---
We love to hear from you, and value your feedback! Here's how to participate:
---
More Las Vegas News – Concerts – Events
Coming Hot Holidays – The following dates are huge times to be in Las Vegas, and rooms are in high demand. Booking in advance is the best way to save. Visit our friends at I4Vegas Discount Las Vegas Reservations and spend one of the following hot dates having fun in Las Vegas:
Hanukkah Dec. 22 – Dec. 29
Christmas December 25
New Year's Eve-Day December 31 – January 1
Martin Luther King, Jr., Day, U.S (Observed) January 19-21 (3 day weekend)
Chinese/Lunar New Year January 26
Lincoln's Birthday, U.S February 12
Valentine's Day February 14
President's Day, U.S (Observed) February 14-16 (3 day weekend)
Washington's Birthday, U.S February 22
St. Patrick's Day March 17
Easter Sunday April 12
Cinco de Mayo May 5
Mother's Day May 10
Father's Day June 21
Canada Day, Canada July 1
Independence Day July 4
Civic Holiday, Canada August 1-3 (3 day weekend)
Labor Day, U.S September 5-7 (3 day weekend)
Labour Day, Canada September 5-7 (3 day weekend)
Jewish New Year September 19
Halloween October 31
Veteran's Day November 11
Thanksgiving Day, U.S November 26-29 (4 day weekend)
---
Bonus Photos:
Snowfall In Las Vegas December 17, 2008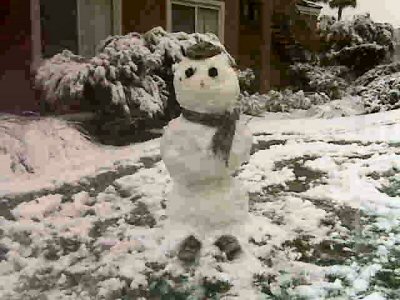 Frosty visits Las Vegas. No word on how his luck was at the tables. (Hard to see, but his arms were made from small fallen palm frawns).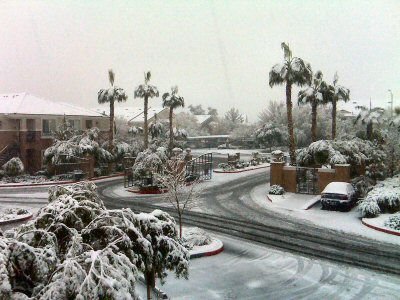 Palm trees with branches weighed down from the snow. Word is that many of them all over the city may be damaged beyond repair. We hope not. We love our desert palm trees!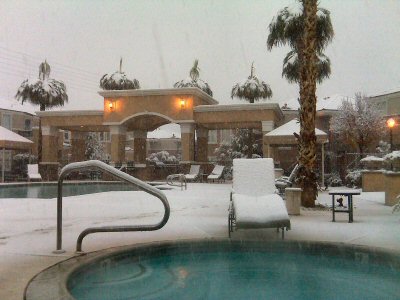 Not exactly "lounging by the pool" conditions as the chaise lounges are covered with snow and the jacuzzi sits empty.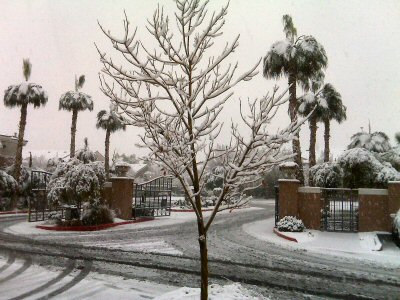 Who says the trees don't lose their leaves here!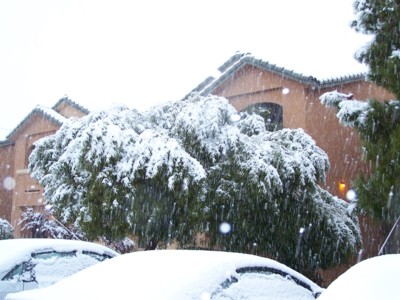 Cars and trees covered with snow. Extremely rare site in Las Vegas.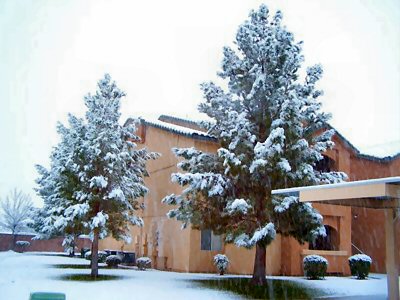 All that these trees need are some lights and decorations!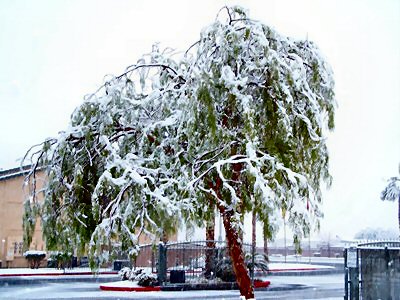 This poor tree isn't used to branches weighed down like this.
Link To Us! – Have a home page, web page, or blog? Link to us, and give yourself and your friends a quick link to find us from your site. Simply link to http://www.accessvegas.com and name the link Access Vegas!
RSS Feed – We now have an RSS/XML feed! Most RSS programs let you visit AccessVegas.com and automatically pull the feed. For those who want to enter it manually, the feed is:
http://www.accessvegas.com/xml/whats-hot.xml
Share the info: Click to Email this newsletter to a friend!
---
For comments or questions regarding our content
or this newsletter write us at
allvegastv@aol.com
.
New to the list? See our Newsletter Archives for back issues and subscription info. Don't hesitate to forward this newsletter to friends and associates.
All contents copyright 2008 Ted Newkirk. All Rights Reserved.
Hotel Rates Published Accurate At Time Of Publication


December 17, 2008 ISSN: 1529-2770 About Us Privacy Policy