Welcome to the Insider Vibe! This is the official newsletter of AccessVegas.Com. We talk about the Las Vegas activities you really care about.
---
AccessVegas.com Quick Info Menu:
Las Vegas Essentials

Featured Shows

Photos and Wallpaper
Newkirk's Notes – comments on Las Vegas from AccessVegas.Com publisher Ted Newkirk:
Hello From Las Vegas! Highs in the 90's (F) and lows around 70 make this time of year oh-so-perfect. If you are starting to feel a chill in the air where you live, you may want to plan a Las Vegas getaway in October while we still have pool weather.
Can You "Believe" That Criss Angel's Show Is Actually Going To Start? – After numerous start dates being pushed back, it actually looks like Criss Angel: Believe is ready to launch at The Luxor. We have tickets available starting for October 3, 2008 – Criss Angel: Believe Tickets. This is probably the most anticipated show opening in some time given the soft economy and flat visitor volume. We'll let you know how early reviews go and have one of our writers report on it once the show is in full swing.
If You Haven't Been To The El Cortez Lately – Then you really have not been to the El Cortez. We were pretty blown away by a recent visit. This once somewhat run-down hotel has been improved and returned to all the glory it once held. Worth checking out when you are downtown and a decent place to stay for the money. My tip? Try Roberta's Cafe for dinner. Upscale dining steak and seafood style atmosphere but served with "old school" reasonable Las Vegas prices.

Click either photo for complete El Cortez photo set
Wynn Las Vegas and Encore Continue Seeking Applicants – (from Wynn Las Vegas) Despite the escalating unemployment rate in Nevada and nationally, Wynn continues to accept applications for 5,300 newly created job opportunities, as it prepares to unveil Encore, the new signature resort in the Wynn collection. Wynn and Encore began accepting applications in July and have already received more than 65,000 job inquiries.á
SaysáStephanie Rosol of Wynn Las Vegas. "…we are still looking for people who share our dedication to excellence and passion for impeccable, personalized service. These openings present an opportunity to join the only Mobil Five-Star, AAA Five-Diamond, Michelin Five Red Pavilions award-winning team in Las Vegas. Candidates should apply directly online at http://www.wynnjobs.com
M Resort Also Hiring – for their new resort to open in South Las Vegas. Property officials at the M Resort, Spa and Casino announced the resortÆs campaign to recruit up to 2,000 new team members for the $1 billion project scheduled to open March, 2009 on the southeast corner of Las Vegas Boulevard and St. Rose Parkway. Interested candidates are encouraged to apply online today at www.theMresort.com
Possibly The Best $19.78 Burger You Will Enjoy – The $19.78 Morton's and Make-A-Wish Prime Sirloin Burger is being offered on Sundays through November at Morton's (400 East Flamingo, less than a mile from The Strip). Guests can indulge in the juicy burger with fries, while helping children at the Make-A-Wish Foundation. Morton's is donating $5 from each Prime Sirloin Burger entrÚe sold to the Foundation. Available from 5 p.m. to 10 p.m. on Sundays through November.
Call Morton's at (702) 893-0703 for questions or directions. My take? With Las Vegas being he new center of gourmet burgers (Burger Bar, BLT, etc) this is an amazing chance to sample this otherwise very expensive (and worth it) prime rib house while enjoying doing something good for others.
Las Vegas Real Estate Free Fall – Plans for new home developments are being mothballed just as quickly as plans for new Strip resorts. Just a couple of years ago, it looked like the Las Vegas area would sprawl like Southern California to new communities 1-2 hours from town, and small amounts of developable land (land not owned by the federal government) around the edges of Las Vegas would blossom with new homes.á
All bets are off and new home sales are way down (partially as people discover that for the same price as a new home, they can buy in an established Las Vegas neighborhood and get a much bigger lot, a real yard, and be closer to work and play). Related articles:
Church In Sin City – For years (perhaps decades), the myth that Las Vegas has more churches per capita than any other U.S. city has made the rounds (and was debunked a number of years ago).á
However, if you want to see how they do church in Las Vegas, one of the areas biggest churches is now holding virtual services for a worldwide audience. This is more than just a podcast: Services start at set times throughout the weekend to accommodate worldwide time zones and you can (if you wish) engage in pre- and post-service chat rooms and other social networking opportunities. More at http://www.centralonlinecampus.com
á
Enjoy This Issue!

Ted Newkirk
CEO/Managing Editor
Associate Editor: Amy Rayner-Cooley
News Researcher/Editor: Mark Jacobs
---
á
---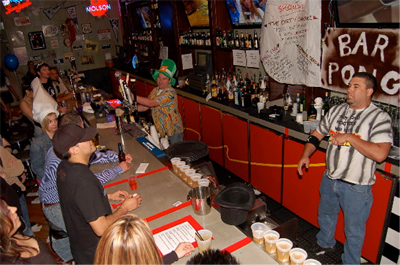 Dick's Las Resort Brews Beer Pong – The Wackiest Joint on The Strip Puts a Silly Spin on Drinking Sport. Dick's Last Resort invites you to test your skills at Bar Pong, the restaurant's very own rowdy rendition of the popular past time that is beer pong. With Dick's entertainer extraordinaire Taco acting as the rambunctious referee, the game has never been this fun. A touch of truth or dare is tossed in to add a twist as missed shots result in kooky challenges that will have everyone laughing. Whether flying solo or with friends, pick one of Dick's 18 draft beers and join in the everlasting excitement where everyone is a winner.

Stagecoach Depot's Haunted Corn Maze Opens Friday, Oct. 3rd In Glendale – Nevada's largest Halloween festivity features a humongous corn maze in the crop circle style of a fire truck and it runs from Friday, Oct. 3-31 and ends with a barbecue and entertainment. The admission prices are $12 for adults and $10 for children ages 12 and under includes entrance to the haunted corn maze. On Oct. 3 there will be an outdoor bar and "Rock Star Karaoke" by Myke and Miranda. The band Evenflow will play on Halloween night. Bring a can of food to donate to the poor and receive a dollar off admission prices. The drama department of the local high school will play the spooks. Click to Read The Full Story …
---
Las Vegas Is On Sale!
Get Great Rates At All Hotels:

California from $45,

Fremont from $38,

Gold Coast from $33,

Main Street from $38,

Orleans from $45,

Sam's Town from $29,

Sun Coast from $50,
More Savings At All Vegas Hotels!
---
Members Mania – We Love Our Readers!
Hi Ted,
We recently took both our daughter (25) and son (22)and their partners to visit Las Vegas after spending 4 days at San Francisco. We all loved San Francisco! But all loved Vegas as well! If I sound surprised, I am I was not sure they would see why we keep coming back.
We have been yearly for the last 4 years and this year came in February as well as July. They said it was like being in a nightclub for a week!!
We have stayed at the Luxor every time but its looking a little scruffy now. I know that there is a lot of construction work going on inside but its dirty and not too mention smoky inside the pyramid.
We are staying next, at The Planet Hollywood. We seem to spend a lot of our time in there and it will be nice to stay somewhere that is finished!!! Not to mention the beer in Sin City brewery is the best!!!!
Love the news letter and read it avidly every week!á
Best wishes, Kim and Glyn from Somerset England
á
Ted Responds:
Thanks for the great note! Hitting Las Vegas plus another U.S. city is a popular thing to do for those of you who have to come so far to visit us.
It is interesting how most people (even those who don't see themselves as a Vegas type of person) end up enjoying their visit here. It is like the worlds biggest indoor/outdoor nightclub for those who wish do live up the nightlife. Others prefer to be up at the crack of dawn (when it is cooler in the summer) for golf or a tour or just to see what all the casinos look like.
The Luxor is being remodeled one piece at a time, and it creates a strange mix. We'll be over to check out the progress soon as we hear things are really shaping up.
Thanks for the great note and for being a regular reader. Glad you enjoyed your trip and please do remember to tell others who are thinking about visiting (or who come here already) to subscribe as well.

---
Hi, we usually stay at Sunset Station 2 times a year when we come out but no longer will. The place needs upgrades badly and now charging for drinks at the bar when gambling. What a ripoff, the bartender told us this was managements new policy to save money. The bartender said all his regulars have left there and now go somewhere else to play there money.á
They lost the whole family of 8 of us of ever returning there, poor management is the answer. Fuck them and there comps.á
Bob from Florida
á
Ted Responds:
I hear you. The worst thing you can do is be loyal to one place no matter what. Take your business to a place that wants it!
Next time in town, perhaps stay downtown, rent a car, and check out some non-Station/Fiesta properties. South Point is really nice (and new). Arizona Charlie's on Boulder isn't bad. Orleans and Gold Coast are worth a try and close to The Strip.

---
I just came back from a second stay in Las Vegas and loved it once again! It is truly a unique vacation destination. I enjoying reading your column and I just have a question.á
Since Las Vegas is such a wonderful place to visit and family friendly, why is it that there are so many solicitors of prostitutes all along the strip. I know that prostitution is legal, but really, do they need to have hundreds of people lined up everywhere where you see people with small children and strollers and happy couples walking along the streets. All this does is bother people and create a lot of unnecessary pollution on the streets as most of those papers and cards just end up on the ground.á
I truly loved each visit to Las Vegas because of all the wonderful sights to see, shows, excellent food and service in the hotels and the surrounding natural beauty of the terrain, however I am curious to know if there has ever been any thought to just creating a red light district so that all those hustlers on the streets could be confined to one particular area where people in search of those services could go there directly rather than being such a nuisance to an otherwise wonderful place.á
I will certainly go back to Vegas again and keep up to date with your column but I was just really wondering if this point has ever been discussed with any of the city's leaders or councilmen. Please let me know if you have any thoughts or info on the subject. Thank you.á
Sincerely, Angela Salera
á
Ted Responds:
Prostitution is actually illegal in Clark County (the county that Las Vegas is in). It is legal in neighboring counties some 60-80 miles from Las Vegas. A couple of years ago, Mayor Oscar Goodman floated the thought of an actual red light district, but nothing has come of it.
The ACLU has fought for the rights of them to hand out what they want. It is a freedom of speech issue, in the same way you could hand out religious information if you wanted. Believe me, every trick in the book to get rid of them has been tried, including the thought of giving the sidewalks to the casinos (which would make them private property) but that was ruled not legal.
Las Vegas is no longer a family-friendly destination and has not marketed itself as such since the 90's. The "What happens here…" ad campaign was part of dispelling that. However, I'm an adult and would prefer not to have to deal with the solicitors.
Thanks for reading and please telling your friends!

---
We love to hear from you, and value your feedback! Here's how to participate:
Call our recorded comment line at 702-507-0055. We listen to every call.
Drop us an email at allvegastv@aol.com – We read them all!
---
More Las Vegas News – Concerts – Events
Coming Hot Holidays – The following dates are huge times to be in Las Vegas, and rooms are in high demand. Booking in advance is the best way to save. Visit our friends at Las Vegas Hotel Deals and spend one of the following hot dates having fun in Las Vegas:
Columbus Day October 11-13 (3 day weekend)
Thanksgiving Day, Canada October 11-13 (3 day weekend)
Halloween October 31
Veteran's Day November 11
Thanksgiving Day November 27-30 (4 day weekend)
Hanukkah Dec. 22 – Dec. 29
Christmas December 25
New Year's Eve-Day December 31 – January 1
Martin Luther King, Jr., Day, U.S (Observed) January 19-21 (3 day weekend)
Chinese/Lunar New Year January 26
Lincoln's Birthday, U.S February 12
Valentine's Day February 14
President's Day, U.S (Observed) February 14-16 (3 day weekend)
Washington's Birthday, U.S February 22
St. Patrick's Day March 17
Easter Sunday April 12
Cinco de Mayo May 5
Mother's Day May 10
Father's Day June 21
Canada Day, Canada July 1
Independence Day July 4
Civic Holiday, Canada August 1-3 (3 day weekend)
Labor Day, U.S September 5-7 (3 day weekend)
Labour Day, Canada September 5-7 (3 day weekend)
Jewish New Year September 19
Link To Us! – Have a home page, web page, or blog? Link to us, and give yourself and your friends a quick link to find us from your site. Simply link to http://www.accessvegas.com and name the link Access Vegas!
RSS Feed – We now have an RSS/XML feed! Most RSS programs let you visit AccessVegas.com and automatically pull the feed. For those who want to enter it manually, the feed is:
http://www.accessvegas.com/xml/whats-hot.xml
Share the info: Click to Email this newsletter to a friend!
---
For comments or questions regarding our content
or this newsletter write us at
allvegastv@aol.com
.
New to the list? See our Newsletter Archives for back issues and subscription info. Don't hesitate to forward this newsletter to friends and associates.
All contents copyright 2008 Ted Newkirk. All Rights Reserved.
Hotel Rates Published Accurate At Time Of Publication


September 24, 2008 ISSN: 1529-2770 About Us Privacy Policy