Welcome to the Insider Vibe! This is the official newsletter of AccessVegas.Com. We talk about the Las Vegas activities you really care about.
---
AccessVegas.com Quick Info Menu:
Las Vegas Essentials

Featured Shows

Photos and Wallpaper
Newkirk's Notes – comments on Las Vegas from AccessVegas.Com publisher Ted Newkirk:
Hello From Las Vegas! Appreciate the notes regarding me missing last issue for medical reasons. I'm on the mend (knock on wood) and looking forward to getting back to work on a regular basis.
Wayne Newton Returns With New Las Vegas Dates – Wayne Newton adds October 16 û 22 and November 13 û 19 dates to his performance schedule at the Hollywood Theatre inside MGM Grand. Show time is 8:30 p.m. nightly. My advice? If you are going to be in town, see the show.á
Sure… his voice isn't what it used to be. But he's still the consummate showman, performs with a full band, and one of the few ties to the glamor and "Rat Pack" days of Las Vegas. He's going strong after a health scare last year and we wish him many years of health, but he's not going to be performing forever. Click for Wayne Newton Tickets (Las Vegas and other cities).
MGM CityCenter Continues To Draw Interest – We keep getting questions about CityCenter and visitors continue to marvel at how fast it is rising on the Las Vegas Strip. For new readers (or those who missed it last time), here's some of the basics from developer MGM Grand: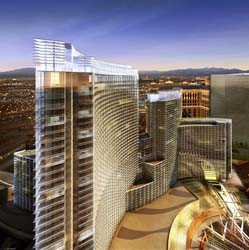 ARIA Resort & Casino will be the spectacular gaming resort that will form the core of CityCenter, a more than $8 billion dazzling vertical city currently underway on the Las Vegas Strip next to Bellagio. Opening in late 2009, ARIA will deliver an unprecedented combination of striking architecture, sustainable design, high-end service and spectacular amenities, introducing a new generation of resort experiences and redefining the Las Vegas skyline. I'd love to work with you on a story to introduce ARIA Resort & Casino.
Designed by Pelli Clarke Pelli Architects, the dramatic soaring 61-story hotel tower, casino and convention center will be CityCenter's most iconic feature. CityCenter also will feature three luxurious non-gaming hotels:
Las Vegas' first Mandarin Oriental, The Harmon Hotel, Spa & Residences and Vdara Condo Hotel; Veer Towers, the development's only strictly residential buildings; The Crystals, a 500,000-square-foot retail and entertainment district; and a $40 million public Fine Art Program that will deliver new works of art and iconic pieces by the likes of Maya Lin, Nancy Rubins and Claes Oldenburg, among others.
From luxurious accommodations and entertainment to sophisticated retail and fine art, CityCenter will raise Las Vegas' amenities and offerings to unparalleled heights and capture the world's attention as the must-see, must-experience destination across the globe when it opens in late 2009.
Long Live Laughlin – (From the Review-Journal). The latest gambit by the Las Vegas Convention and Visitors Authority to revive interest in isolated Laughlin is a $2.5 million outreach effort in California and Arizona.
It emphasizes the opportunity for visitors to spend time drinking, gambling and partying along the Colorado River at a fraction of what it costs to let loose in Las Vegas.
The ads are aimed at the 40- to 60-year-old demographic of people who, market researchers say, have disposable income but are wary of overspending. The average daily room rate in Laughlin was $46.87 in July, compared to $105.97 in Las Vegas, according to the latest Southern Nevada visitation reports.
Families Not Moving To Las Vegas? 5000 people (give or take) continue to relocate here each month. Despite the continued influx, local school enrollment is up ájust 0.3 percent over last year (basically flat) as those in construction and illegal aliens (sometimes one in the same) with families flee town for work elsewhere.á
This lack of school district growth should flatten out the school district budget needs and (hopefully) quiet some of the "tax the tourists for schools" talk which keeps floating around.
US 93 Widening Is On – Our friends from Los Angeles take it for granted that the ride to Las Vegas is all-freeway. Sometimes a very crowded freeway, but still all prime road. However, our friends who drive ináfrom Arizona, New Mexico and points southeast of Las Vegas don't have it so good with long stretches of two-lane road during the final trek.
That is changing! Many know that the Hoover Dam bypass bridge is moving along and funding has just been secured to four-lane the 15 miles of US 93 leading up to the bridge (on the Arizona side). Also, talks are getting more serious about a Boulder City bypass which could shed significant time off the journey.
Complimentary First Month With Netflix – I've been a Netflix subscriber for a long time, and love it! No due dates, no late fees, and I don't even have to turn on my car to get (or drop off) a video. Now, you can even watch many of their selections on your computer "on demand" in high quality video (looks great even on the computer connected to my big flat screen).
They want to give all of our U.S. readers one complimentary month to check the service out. Head over to Netflix One Month Complimentary Membership
Enjoy This Issue!

Ted Newkirk
CEO/Managing Editor
Associate Editor: Amy Rayner-Cooley
News Researcher/Editor: Mark Jacobs
---
Las Vegas Is On Sale!
Get Great Rates At All Hotels:

California from $45,

Fremont from $38,

Gold Coast from $33,

Main Street from $38,

Orleans from $45,

Sam's Town from $29,

Sun Coast from $50,
More Savings At All Vegas Hotels!
---
Ultimate Fighting Championship Presents UFC 91: Randy "The Natural" Couture Vs. Brock Lesnar For The UFC World Heavyweight Championship Saturday, November 15 At MGM Grand
– On November 15, the champ is back. Following a one-year hiatus from the sport, UFC« heavyweight champion Randy "The Natural" Couture will make his long-awaited return to the Octagon to defend his title against rising star Brock Lesnar.
(Tickets)
This championship bout, the biggest heavyweight title fight in years and a clash of titans destined to shake the foundations of the sport, will headline UFC 91: COUTURE vs. LESNAR, live Saturday, Nov. 15 from the
MGM Grand
Garden Arena.
Click to Read The Full Story …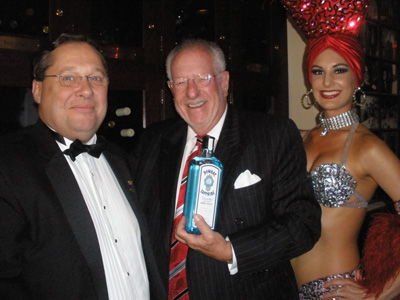 Morton's The Steakhouse Las Vegas General Manager Daniel Hurst (left) presents Las Vegas Mayor Oscar B. Goodman with a wine locker and his favorite "spirit," Bombay Sapphire Gin, at the Morton's Grand Opening of Bar 12-21. Goodman hosted the grand opening, which was complete with a Las Vegas Showgirl, the debut of the Mayor's "Oscartini" martini and a ribbon cutting ceremony.
Hypnomagician Keith Barry To Dazzle Audiences At Planet Hollywood Resort & Casino – Psychological Magician and Hypnotist Performs Live In Las Vegas October 28 û November 27. Tickets are on sale now for the limited engagement of Keith Barry: Hypnomagician at Planet Hollywood Resort & Casino. Keith, a European superstar mind illusionist who first astonished U.S. audiences with his celebrity-filled hour-long magic TV special for CBS brings his dazzling blend of magic, illusions and hypnosis to the American stage for the first time October 28 through November 27 at the Planet Hollywood Showroom. Click to Read The Full Story …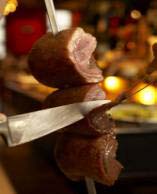 Texas de Brazil Opened First Las Vegas Location On Sept.10 – Combining the bold flavors of Southern Brazil with the generous spirit of Texas, Texas de Brazil opened its doors on Wed, Sept. 10 in Town Square Las Vegas. The Las Vegas location marks the restaurant's 14 location worldwide. "Texas de Brazil is a perfect complement to Town Square and a great spot to try a traditional Brazilian 'Churrascaria,' (steakhouse)" said David Parra general manager. "We are eager to provide our guests with beautiful rustic ambiance, flavorful food and unparalleled service." Click to Read The Full Story …
Fright Dome Prepares To Scare At Circus Circus Las Vegas – Nationally rated Halloween attraction to open at the Adventuredome October 3. Halloween festivities in Las Vegas officially begin at 7 p.m. October 3 when The Adventuredome at Circus Circus reanimates into its sinister alter ego, Fright Dome. Opening weekend festivities include special guest appearances by Sid Haig, who appeared as Captain Spaulding in Rob Zombie's "House of 1,000 Corpses" and "The Devil's Reject" horror classics, and Bill Moseley, who appeared as Otis Driftwood in both films, as well as "Halloween." Click to Read The Full Story …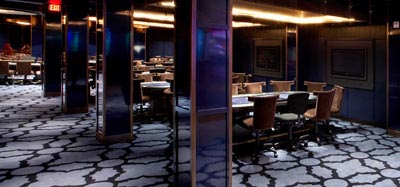 Hard Rock 'Ups The Ante' With Vegas' Premier Poker Lounge Providing Bottle Service, Masseuses, And In-Lounge Sports Betting That Players Can't Get At A Traditional Poker Room – A private bar, bottle service, certified masseuses, music, plush couches, and video poker machinesàsounds more like a nightclub than a traditional poker room. The Hard Rock Hotel & Casino has created a decadent atmosphere designed with the player's comfort in mind to attract the world's top poker players, as well as high-end bachelor parties, and private events, with Las Vegas' first Poker Lounge. The new 7,000-square foot, first of its kind, Poker Lounge is a full service poker room, with an inviting, lounge feel and the newest addition in the property's $800 million expansion and renovation. Click to Read The Full Story …
Strip House Introduces Scotch & Steak Flights This Fall – Strip House offers a selection of signature steaks paired with flights of top-shelf Scotches beginning Sept. 22, 2008. Showcasing three different brands from various areas of Scotland, the first flight allows guests to experience a wide range of flavor profiles. Priced at $30, the pairing brings together Strip House's trademark selections with Laphroaig 15 Year Islay Single Malt, Highland Park 18 Year Orkney Single Malt and Macallan Fine Oak 21 Year Highland Single Malt. Click to Read The Full Story …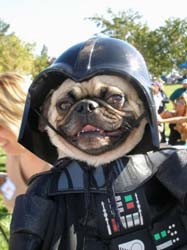 Southern Nevada Pug Rescue To Host Seventh Annual Pug-O-Rama Picnic – Southern Nevada Pug Rescue (SNPR), a non-profit organization, will host its seventh annual Pug-O-Rama Picnic on Sunday, October 26, from 11 a.m.- 3 p.m. at Hills Park in Summerlin. The Halloween-themed event will continue to feature costume contests, prizes, raffles, and a silent auction. Pug owners are encouraged to dress up their Pugs, pack a picnic, and enjoy a few hours socializing with other Pug parents. Pug-O-Rama Picnic tickets are available now for $10 per person, $7 for children 6-12, and children 5 and under are free. Click to Read The Full Story …
---
Can't Make It To Vegas?
See If A Hot Event Is Playing Near You!
Jonas Brothers, Madonna, The Cheetah Girls, ColdPlay, Mary J. Blige, Neil Young, Michael Buble, Celine Dion, Dave Matthews Band, American Idols Live, Jimmy Buffett, Radiohead, John Mayer, Rascal Flatts, Kenny Chesney, NFL Football, PGA Championship, NASCAR Sprint Cup, College Football, WWE Wrestling, Baseball, All Major Concerts and Events
---
Members Mania – We Love Our Readers!
Ted,
First, I want to compliment you on your newsletter. I look forward to getting each one of them.
I have been going to Las Vegas at least once a year for about 30 years now and have certainly seen the change from 'the old' Las Vegas to what it is now. It seems that the "new" Las Vegas wants to cater to the Hollywood types who expect to have their stays comped to the richer people who can afford to pay the extremely high food costs and room costs. I have reservations to go again this year for a week but am thinking about not going again as I don't like the 'new' Las Vegas.á
I liked the old slot machines where the reels went around and around and you knew what would pay and what wouldn't. I don't like the new type of slot machines where it has a line going all over the screen and I never understand what pays and what doesn't.
With the large, nice casino's the foot traffic down around New York, New York, MGM Grand, Paris, etc you cant even walk down the sidewalk except to get behind someone and just walk at their pace.
Maybe the owners of these places will get the message on their tight machines and things but I doubt if I will ever go back out there to know what happens.
Clearnce Fakes
á
Ted Responds:
I also won't touch the new slots. I don't have the time to figure them out and don't want to play a game unless I know what is going on. They were put in place so you could play anywhere from a penny to a couple of dollars per play on the same game (and to divert your attention to how fast they were sucking down your cash).
The "new" Las Vegas does have plenty to offer, see, and do. But I continue to suggest that people yearning for the "old" Las Vegas try a stay downtown. It will be easier on your budget and you'll probably have a better shot at winning. Plus, poke around and you just may find some of the older slot games you prefer at downtown casinos!

---
Dear Ted,

I just returned from my 24th visit to Vegas and had a wonderful time as usual. I stayed at the Flamingo and was really happy with the friendly desk staff, cage personnel, restaurant staff at the Tropical Breeze, and all the Harrahs employees at all the Vegas properties I visited.
I saw three fun and entertaining shows, The Price is Right Live, Nathan Burton and The Vinnie Favorito show. The Price is Right was the most fun I've ever had at a Vegas show. I was however subjected to the absolute worst show I have ever seen in Vegas. I went to the X-Burlesque show at the Flamingo expecting to see a tribute to burlesque. This fiasco was anything but a tribute. The music was bad and much too loud, the dancing was awful and the girls were very unattractive except for two of the six girls. This show was nothing like it was advertised and an embarrassment. I have seen Jubilee and Crazy Girls and both of these shows were top notch. X- Burlesque was a disappointing waste of money.á
Despite this disappointment Vegas was as usual a spectacular time and as usual I saw things that weren't there just a year ago.
Michael from Lowell, Indiana
---
Back in May/June I read somewhere that HooterÆs was being sold. I was wondering if you had any info on what has happened to that transaction. Did it fall through?
I am curious as we are staying there 8/22 for 2 nights for our nephewÆs 21'st birthday. Our first stay was last Thanksgiving & we had a lovely stay in one of the Bungalow rooms and we would like to stay there again this Thanksgiving.
I enjoy accessvegas.com newsletter very much. Thank you.
Shannon from Costa Mesa, CA
á
Ted Responds:
The sale fell through due to the trouble obtaining financing in the present economy. Hooters is operating as normal and recently added a new country music bar with live music and no cover. Also, both The Mentalist: Gerry McCambridge and Bobby "The Pitbull Of Comedy" Slayton continue to perform (both of which are great shows).
Thanks for reading and telling your friends!

---
Hi, I haven't been to Vegas for a couple of years. I will be visiting soon for 4 days. What new things should I see? Thanks for any advise!
Gary Nawrocki
á
Ted Responds:
That would take hours to answer. However, you can go to our newsletter archives at https://las-vegas-news-reviews.com and get up to speed on all of the great, new things to do and see.
Scroll down the right-hand sidebar and you'll see links to monthly archives of the newsletter. Work your way through those and you'll be up to speed on all the new stuff from the past couple of years!

---
We love to hear from you, and value your feedback! Here's how to participate:
Call our recorded comment line at 702-507-0055. We listen to every call.
Drop us an email at allvegastv@aol.com – We read them all!
---
More Las Vegas News – Concerts – Events
Coming Hot Holidays – The following dates are huge times to be in Las Vegas, and rooms are in high demand. Booking in advance is the best way to save. Visit our friends at Las Vegas Hotel Deals and spend one of the following hot dates having fun in Las Vegas:
Jewish New Year September 30
Columbus Day October 11-13 (3 day weekend)
Thanksgiving Day, Canada October 11-13 (3 day weekend)
Halloween October 31
Veteran's Day November 11
Thanksgiving Day November 27-30 (4 day weekend)
Hanukkah Dec. 22 – Dec. 29
Christmas December 25
New Year's Eve-Day December 31 – January 1
Martin Luther King, Jr., Day, U.S (Observed) January 19-21 (3 day weekend)
Chinese/Lunar New Year January 26
Lincoln's Birthday, U.S February 12
Valentine's Day February 14
President's Day, U.S (Observed) February 14-16 (3 day weekend)
Washington's Birthday, U.S February 22
St. Patrick's Day March 17
Easter Sunday April 12
Cinco de Mayo May 5
Mother's Day May 10
Father's Day June 21
Canada Day, Canada July 1
Independence Day July 4
Civic Holiday, Canada August 1-3 (3 day weekend)
Labor Day, U.S September 5-7 (3 day weekend)
Labour Day, Canada September 5-7 (3 day weekend)
Link To Us! – Have a home page, web page, or blog? Link to us, and give yourself and your friends a quick link to find us from your site. Simply link to http://www.accessvegas.com and name the link Access Vegas!
RSS Feed – We now have an RSS/XML feed! Most RSS programs let you visit AccessVegas.com and automatically pull the feed. For those who want to enter it manually, the feed is:
http://www.accessvegas.com/xml/whats-hot.xml
Share the info: Click to Email this newsletter to a friend!
---
For comments or questions regarding our content
or this newsletter write us at
allvegastv@aol.com
.
New to the list? See our Newsletter Archives for back issues and subscription info. Don't hesitate to forward this newsletter to friends and associates.
All contents copyright 2008 Ted Newkirk. All Rights Reserved.
Hotel Rates Published Accurate At Time Of Publication


September 17, 2008 ISSN: 1529-2770 About Us Privacy Policy