Serving Las Vegas Visitors and Residents Since 1999
Welcome to the Insider Vibe! This is the official newsletter of
AccessVegas.Com. We talk about the Las Vegas activities you really care about.
---
AccessVegas.com Quick Info Menu:
Las Vegas Essentials

Featured Shows

Photos and Wallpaper
Newkirk's Notes – comments on Las Vegas from AccessVegas.Com publisher Ted Newkirk:
Hello From Las Vegas! Doom and gloom, doom and gloom… you would think that people have simply quit visiting Las Vegas if you listen to the national media. And a few new-resident bloggers who only have the past couple of years as their reference base.
Nothing could be farther from the truth! If your visit is planned, you won't be lonely or find a shortage of amazing things to do. If you are holding off visiting, someone else WILL be enjoying that great room (and at a rock-bottom room rate) instead of you.
In fact… the bargain rates won't last forever. Soon, people will realize that the sky is not falling and everyone is going to start to want to vacation at once. My advice? Book your Las Vegas room now before that crowd starts driving up rates again.
My Personal Trip Report – To ease things during the recent move (which was a combination of personal and business move combined), I spent a couple of dirt-cheap nights in a pretty nice hotel casino. I'll put those details down in Members Mania including the $20 trick and other advice.
39,000,000 – This is the number of people projected to visit Las Vegas this year, 2009… in the midst of a "terrible" recession. (Actually, some note that the recessions of the 70's and early 80's were possibly worse when you look at economic contraction to date).
Just to compare, remember 2006? The red-hot year when everybody from no-name Florida developers to George Clooney were talking about building in Las Vegas because the city was so hot as a destination? Guess how many people visited in 2006: 38,9000,000. Which means…
More people are projected to visit Las Vegas this year than visited during the tourism "boom" year of 2006.
So why are all the gaming companies going broke? Two reasons:
1. They overbuilt. MGM Mirage has CityCenter (too ambitious), Harrah's built onto Caesars and bought a ton of land at top-of-the-boom prices, and Station Casinos built Aliante smack-dab in the middle of one of the newest (and most highly foreclosed upon) areas of North Las Vegas. For 50 years, people have been saying that Las Vegas would get over-built. It happened.
2. They strayed away from value. When you think you are getting a deal (whether it be on food or good gambling odds or whatever), you actually spend MORE money. How many times have we gone into Target (or even the grocery store) to buy a sale item and end up walking out with a $100 worth of stuff we never intended to buy? Such basic marketing, and yet so lost on many major gaming companies. Which brings me to…
Don't Be THAT Visitor – Local writer Corey "Oops, I forgot to mention Access Vegas Insider Vibe blog in a recent article" Levitan wrote a humorous piece about what it is like to live here and entertain out-of-town guests. If you live here, you'll get a kick out of it. If you don't live here, but regularly come to town to shack up with (and party with) friends that do live in Las Vegas, please… please read It's deja vu all over again when friends come to visit Las Vegas (and don't be "that guy" when you visit).
89110 Booziest Zip In Las Vegas – According to a recent article in the Review-Journal, local zip code 89110 has 56 liquor outlets. More than twice of any other Las Vegas zip code. This is an urban/suburban zip code about 3 miles from downtown, not a sprawling rural area. Needless to say, officials are looking to reduce that number. I live nowhere near that area, but I say "What better way to keep people from drinking and driving than to have a bar every two blocks!"
Still Not A Good Time To Move – We always have new readers, some subscribing because they are considering moving to Las Vegas. And we continue to say… Don't. Unemployment is headed toward 12% (as the construction bust has resulted in empty mini-malls city wide), anyone hiring will first hire locals who are out-of-work, and the federal economic stimulus package has nothing for the gaming/resort industry that drives our economy (not that it should).
Treasure Island New Ownership Means… – We reported on this a few weeks ago, and I've been meaning to comment on it but the past few weeks have been a little chaotic around here.
As many of you know, financier Phil Ruffin bought Treasure Island (TI) from MGM Mirage. This could be the first in a number of casino sell-offs as some of the gaming giants are temporarily cash-strapped.áAnd let's face it: With CityCenter opening later this year, did MGM Mirage really need Treasure Island? Does Harrah's really need all of their properties with all that great land they own to expand on?
This is a good news for the consumer. Do you know why downtown Las Vegas (Fremont Street Experience) has so many better food deals and better gambling odds than The Strip? They have to. Almost every downtown casino is owned by a different owner. Tons of competition, pure and simple.
If (and that is a big IF) more sell-offs diversify hotel ownership on The Strip, expect a return to the heavy competition that established Las Vegas as a bargain resort destination that offered a world-class experience. If you missed this story completely a few weeks ago, reference:
Enjoy This Issue!
Ted Newkirk
CEO/Managing Editor
Associate Editor: Amy Rayner-Cooley
News Researcher/Editor: Mark Jacobs
---
Las Vegas Is On Sale!
Get Great Rates At All Hotels:

Aliante from $57,

Boulder Stn from $29,

Fiesta H from $28,

Green Valley from $125,

Palace Stn from $24,

Red Rock from $125,

Sunset Stn from $50,

Texas Stn from $29,

Wild Wild W. from $23,
More Savings At All Vegas Hotels!
---
Jersey Boys Is Las Vegas' Number One Show – Jersey Boys Takes The Top Spot In Las Vegas Review-Journals' 2008 Top Ten List – The smash hit Jersey Boys
at The Palazzo Resort-Hotel-Casino has been named the number one show of the year by the Las Vegas Review-Journal, Nevada's largest newspaper. In a year of stiff competition, JERSEY BOYS claimed the top spot for entertainment in 2008 ahead of such celebrated productions as Bette Midler "The Showgirl Must Go On," Cher and Donny and Marie Osmond. Click to Read The Full Story …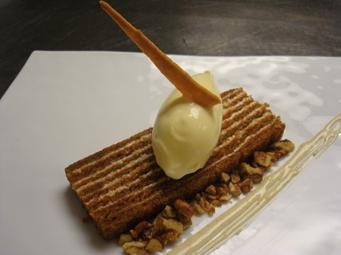 Wolfgang Puck Satisfies Dessert Cravings with the New Seasonal 15-Layer Carrot Cake – Wolfgang Puck invites patrons to indulge in the 15-Layer Carrot Cake, a unique take on the traditional dessert. Director of Pastry Kenny Magana created this mouth-watering temptation which is composed of fifteen savory layers of cake and adorned with candied walnuts, filled with a delectable cream cheese filling and complemented with ginger ice cream. For $12, the seasonal dish is available at Wolfgang Puck's Chinois and Spago, located inside The Forum Shops at Caesars, as well as at the Wolfgang Puck Bar & Grill, located inside MGM Grand. Click to Read The Full Story …
---
Members Mania – We Love Our Readers!
Ted's "Trip Report" – Living here, the one thing I admit we cover the least is the actual hotel experience. Fortunately, many of you write in with your experiences to share with everyone. We'll get back to those next issue and you can always write in your Vegas experiences to us at allvegastv@aol.com
Having spent a couple of recent hotel nights, I'll briefly share my experiences:
Needing to "get out of the way" (of movers, maintenance/construction people and everything else), I looked for three things in a hotel: Good, cheap, and near The Strip. Palace Station came to mind, and a quick search of their site showed a $25 a night rate. Not bad!
However… you should never book anywhere else without checking our friends at Las Vegas Hotel Deals. Guess what… they were doing Palace Station at "stay one night, get one free" for much of the month of January. My total for two nights with tax? $30 and change. Not bad for a place literally one mile from The Strip (The Sahara to be specific, but Sahara has a monorail stop that will get you just about everywhere else).
Now… Palace Station has their older courtyard rooms and their newer tower rooms, both of which have been extensively remodeled. Usually, booking the rock bottom rate will get you in the courtyard. Not bad… the room surround a surprisingly nice pool area. But nothing fancy. Here's where the "tip the desk clerk" situation comes into play:
Upon checking in, I took my ID and my credit card and placed a folded $10 bill in between them, with it sticking out just far enough to see the denomination. I told the clerk "if you have any tower rooms, the higher, the better (for the view), I'd appreciate it." He punched a few things up, said he could take care of me, and thanked me (for the tip) as he picked up the credit card.
The result? A 19'th floor room with great Strip view, a 42 inch flat screen, modern decor, tile shower (no bath) with upscale toiletries, granite counter tops in the bathroom, King Size bed plus all the usual nice amenities (hair drier, iron and board, safe, big closet, quietá heat/air).
Plus… make sure you ALWAYS look through a coupon book if your hotel gives you one. Mine had everything from a free beer in their Irish Pub to 25% off room service (not to mention a bunch of gambling coupons and other specials).
Final thoughts:
1. I tipped $10 at the desk because it was (after all) Palace Station and a slow Sunday night check-in to boot. Consider $20 a minimum tip anywhere on The Strip or downtown or on a weekend anywhere. Staying at one of the really nice hotels? Make it a $50 if you want them to try to pull an ámajor upgrade (to a full suite, for example).
2. Is Palace Station for the novice visitor? Maybe not unless you are really staying on a budget. There is something to be said for staying right on The Strip. However… with a free shuttle to/from both the airport and The Strip, it might be a small inconvenience for the budget-minded. In addition, you'll find the usual assortment of casino restaurants with prices well below Strip pricing, and lower table limits as well.
---
We love to hear from you, and value your feedback! Here's how to participate:
Drop us an email at allvegastv@aol.com – We read them all!
Call our recorded comment line at 702-507-0055. We listen to every call.
---
More Las Vegas News – Concerts – Events
Coming Hot Holidays – The following dates are huge times to be in Las Vegas, and rooms are in high demand. Booking in advance is the best way to save. Visit our friends at I4Vegas Discount Las Vegas Reservations and spend one of the following hot dates having fun in Las Vegas:
Lincoln's Birthday, U.S February 12
Valentine's Day February 14
President's Day, U.S (Observed) February 14-16 (3 day weekend)
Washington's Birthday, U.S February 22
St. Patrick's Day March 17
Easter Sunday April 12
Cinco de Mayo May 5
Mother's Day May 10
Father's Day June 21
Canada Day, Canada July 1
Independence Day July 4
Civic Holiday, Canada August 1-3 (3 day weekend)
Labor Day, U.S September 5-7 (3 day weekend)
Labour Day, Canada September 5-7 (3 day weekend)
Jewish New Year September 19
Halloween October 31
Veteran's Day November 11
Thanksgiving Day, U.S November 26-29 (4 day weekend)
Hanukkah Dec. 2 – Dec. 9
Christmas December 25
New Year's Eve-Day December 31 – January 2 (3 day weekend)
Martin Luther King, Jr., Day, U.S (Observed) January 18-20 (3 day weekend)
Chinese/Lunar New Year February 14
Link To Us! – Have a home page, web page, or blog? Link to us, and give yourself and your friends a quick link to find us from your site. Simply link to http://www.accessvegas.com and name the link Access Vegas!
RSS Feed – We now have an RSS/XML feed! Most RSS programs let you visit AccessVegas.com and automatically pull the feed. For those who want to enter it manually, the feed is:
http://www.accessvegas.com/xml/whats-hot.xml
Share the info: Click to Email this newsletter to a friend!
---
For comments or questions regarding our content
or this newsletter write us at
allvegastv@aol.com
.
New to the list? See our Newsletter Archives for back issues and subscription info. Don't hesitate to forward this newsletter to friends and associates.
All contents copyright 2008 Ted Newkirk. All Rights Reserved.
Hotel Rates Published Accurate At Time Of Publication


February 4, 2009 ISSN: 1529-2770 About Us Privacy Policy