Welcome to the Insider Vibe! This is the official newsletter of AccessVegas.Com. We talk about the Las Vegas activities you really care about.
---
AccessVegas.com Quick Info Menu:
Las Vegas Essentials

Featured Shows

Photos and Wallpaper
Newkirk's Notes – comments on Las Vegas from AccessVegas.Com publisher Ted Newkirk:
Ted is on medical leave this week. We hope to have him back next week. Please enjoy this issue with all of the usual features prepared by staff including news of a great deal at one of Las Vegas' historic hotel steak houses.
Associate Editor: Amy Rayner-Cooley
News Researcher/Editor: Mark Jacobs
---
Can't Make It To Vegas?
See If A Hot Event Is Playing Near You!
Jonas Brothers, Madonna, The Cheetah Girls, ColdPlay, Mary J. Blige, Neil Young, Michael Buble, Celine Dion, Dave Matthews Band, American Idols Live, Jimmy Buffett, Radiohead, John Mayer, Rascal Flatts, Kenny Chesney, NFL Football, PGA Championship, NASCAR Sprint Cup, College Football, WWE Wrestling, Baseball, All Major Concerts and Events
---
Jersey Boys At The Palazzo Las Vegas Offers Patrons The Absolut Best Seats In The House
– The best show in town just got better. JERSEY BOYS, the hit musical about Frankie Valli and The Four Seasons, now offers the "Absolut Best Seats In The House" Package.
(Tickets)
Patrons who purchase theáAbsolut Best Seats In The House Package will receive a complimentary ABSOLUT specialty cocktail and access to a private entrance into the theatre through a VIP hallway that features memorabilia from The Four Seasons and the Rock & Roll Hall of Fame.
Click to Read The Full Story …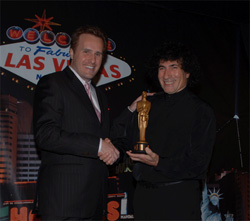 The Mentalist Wins The Magic Oscar – Gerry McCambridge Wins The Prestigious Merlin Award – The International Magicians Society, a worldwide organization, which was established in 1968 and currently has over 37,000 members presented Gerry McCambridge with the prestigious "Merlin" award for Mentalist of the Decade. The Merlin Award to the magic fraternity is what the Oscar is to the movies. Some of the past winners of the Merlin Award are Harry Blackstone, Doug Henning, Criss Angel, Siegfried & Roy and David Copperfield. Since moving to Las Vegas three years ago, Gerry has been a strip headliner with over 550 Las Vegas performances to his credit. Hooters Casino Hotel recently extended his contract keeping him headlining in the Night Owl Showroom six nights a week for the next year. (Tickets) Click to Read The Full Story …
Trevi Italian Restaurant Features A Variety Of Homemade Pizzas – Hand-Tossed Pizzas At Trevi Brina A 'Slice Of Italy' To The Table – Guests can observe the art of making pizza in the open kitchen at TREVI Italian Restaurant at The Forum Shops at Caesars. The chefs have perfected hand-tossing the dough for the variety of pizzas to tempt every taste bud. From the homemade dough and sauce to the special recipe for sausage and roasted peppers, the pizzas are incomparable. "TREVI's brick oven pizzas are made from homemade sauce, dough and fresh mozzarella," said Pete Scaturro, executive chef for TREVI Italian Restaurant. "You won't find pizza better than this. The brick oven pizzas taste better than any other because of the consistent temperature the oven holds." Click to Read The Full Story …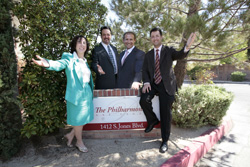 Four Of Las Vegas' Top Cantors To Perform With The Las Vegas Philharmonic In Celebration Of The Israel @ 60 Gala Concert – In honor of Israel's 60th anniversary, the Las Vegas Philharmonic will celebrate with a gala concert on Sunday, October 12, 2008 at the Artemus W. Ham Concert Hall. The Israel @ 60 celebration begins at 6:30 p.m. with a Kosher VIP reception; VIP tickets are $300 per person and include the reception and premium concert seating. The concert begins at 8 p.m. and ticket prices are $30, $60 and $90, on sale now. The Israel @ 60 concert will feature special performances by world-renowned mezzo-soprano Eugenie Grunewald, tenor Nathan Brian Wine, clarinetist Shelley Hanson, The Adelson Educational Campus Choir and four of the city's top cantors. Click to Read The Full Story …
House Of Lords At The Sahara Now Offering $75 Dusk & Dark Dinner For Two – One Of The Great Las Vegas Vintage Steakhouses – The legendary House of Lords Steak House at the Sahara Hotel & Casino is challenging the belief that Vegas fine dining has to break the bank. The Sahara now offers a special $75 Dusk & Dark Dinner for Two, which includes a first course, a main course and dessert: FIRST COURSE – Organic Green Salad: Organic farm greens, candied walnuts, roma tomatoes, sweet onion, goat cheese with champagne vinaigrette OR Sweet Lobster Corn Chowder. Click to Read The Full Story …
---
Las Vegas Is On Sale!
Get Great Rates At All Hotels:

California from $38,

Fremont from $38,

Gold Coast from $29,

Main Street from $38,

Orleans from $50,

Sam's Town from $29,

Sun Coast from $50,
More Savings At All Vegas Hotels!
---
More Las Vegas News – Concerts – Events
Coming Hot Holidays – The following dates are huge times to be in Las Vegas, and rooms are in high demand. Booking in advance is the best way to save. Visit our friends at Las Vegas Hotel Deals and spend one of the following hot dates having fun in Las Vegas:
Jewish New Year September 30
Columbus Day October 11-13 (3 day weekend)
Thanksgiving Day, Canada October 11-13 (3 day weekend)
Halloween October 31
Veteran's Day November 11
Thanksgiving Day November 27-30 (4 day weekend)
Hanukkah Dec. 22 – Dec. 29
Christmas December 25
New Year's Eve-Day December 31 – January 1
Martin Luther King, Jr., Day, U.S (Observed) January 19-21 (3 day weekend)
Chinese/Lunar New Year January 26
Lincoln's Birthday, U.S February 12
Valentine's Day February 14
President's Day, U.S (Observed) February 14-16 (3 day weekend)
Washington's Birthday, U.S February 22
St. Patrick's Day March 17
Easter Sunday April 12
Cinco de Mayo May 5
Mother's Day May 10
Father's Day June 21
Canada Day, Canada July 1
Independence Day July 4
Civic Holiday, Canada August 1-3 (3 day weekend)
Labor Day, U.S September 5-7 (3 day weekend)
Labour Day, Canada September 5-7 (3 day weekend)
Link To Us! – Have a home page, web page, or blog? Link to us, and give yourself and your friends a quick link to find us from your site. Simply link to http://www.accessvegas.com and name the link Access Vegas!
RSS Feed – We now have an RSS/XML feed! Most RSS programs let you visit AccessVegas.com and automatically pull the feed. For those who want to enter it manually, the feed is:
http://www.accessvegas.com/xml/whats-hot.xml
Share the info: Click to Email this newsletter to a friend!
---
For comments or questions regarding our content
or this newsletter write us at
allvegastv@aol.com
.
New to the list? See our Newsletter Archives for back issues and subscription info. Don't hesitate to forward this newsletter to friends and associates.
All contents copyright 2008 Ted Newkirk. All Rights Reserved.
Hotel Rates Published Accurate At Time Of Publication


September 10, 2008 ISSN: 1529-2770 About Us Privacy Policy