Serving Las Vegas Visitors and Residents Since 1999
Welcome to the Insider Vibe! This is the official newsletter of
AccessVegas.Com. We talk about the Las Vegas activities you really care about.
---
AccessVegas.com Quick Info Menu:
Las Vegas Essentials

Featured Shows

Photos and Wallpaper
Newkirk's Notes – comments on Las Vegas from AccessVegas.Com publisher Ted Newkirk:
Hello From Las Vegas! We continue to escape the bitter cold that has even enveloped South Florida this past week. Highs generally well into the 60's although we are having a couple of rainy (yes, real rain in the desert) days as I type. Should be moving through soon.
Speaking of moving… we are in the process of relocating locally to be closer to the heart of The Strip and downtown to provide even a better level of coverage for you! Because of those responsibilities, my sections will be abbreviated this week. However, this issue still has the great Las Vegas news and happenings that you come to expect from us, and we'll be back with our next issue the first week of February.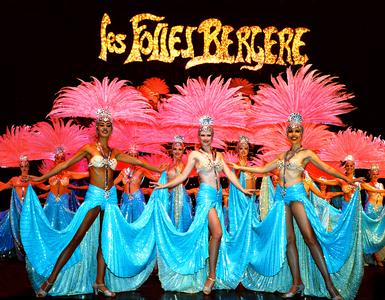 The End Of The Showgirl? – After a nearly 50 year Las Vegas run, Folies Bergere is calling it quits. The 80 person cast and crew apparently no longer works out economically for a mid-priced show. This is a true shame as we'll be losing one of the last remaining vestiges of "Old Vegas".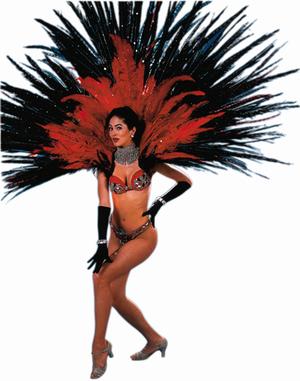 My advice? See this show while you still can. Many of you may not be able to say that you were ever in the Copa Room at The Sands (where the Rat Pack played and subsequently hosted other big name performers over the years) or that you actually drove a car down Fremont Street (the part which is now the Fremont Street Experience downtown) or that you even saw the Siegfriend and Roy show live.
If you are visiting between now and the end of March, absolutely make a point to see Folies Bergere. Whether you are 21 or 81 (or any adult age), you'll enjoy this true, living slice of the way Las Vegas used to be. Even the ticket price is easy on the wallet compared to many other Las Vegas shows. Click for Folies Bergere Las Vegas Tickets.
Side Notes: The showgirls are covered (have tops on) in some shows and are traditional (sans tops) in others.
Monday, Wednesday, Thursday –

7:30p Covered

, 10p Adult.
Tuesday & Friday – 8:30p Adult.
Saturday – 7:30p & 10p Adult.
Can't make it to town in time? Treat yourself to Jubilee! (Click for Jubilee! Las Vegas Tickets). Not quite the same, but still that Old Vegas stage show vibe and well worth seeing while it is still around.
Enjoy This Issue!
Ted Newkirk
CEO/Managing Editor
Associate Editor: Amy Rayner-Cooley
News Researcher/Editor: Mark Jacobs
---
Las Vegas Is On Sale!
Get Great Rates At All Hotels:
Aliante from $40,
Boulder Stn from $29,
Fiesta H from $29,
Green Valley from $125,
Palace Stn from $24,
Red Rock from $125,
Sunset Stn from $40,
Texas Stn from $25,
Wild Wild W. from $20,
More Savings At All Vegas Hotels!
---
Jersey Boys Is Las Vegas' Number One Show – Jersey Boys Takes The Top Spot In Las Vegas Review-Journals' 2008 Top Ten List – The smash hit Jersey Boys
at The Palazzo Resort-Hotel-Casino has been named the number one show of the year by the Las Vegas Review-Journal, Nevada's largest newspaper. In a year of stiff competition, JERSEY BOYS claimed the top spot for entertainment in 2008 ahead of such celebrated productions as Bette Midler "The Showgirl Must Go On," Cher and Donny and Marie Osmond. Click to Read The Full Story …
The Mirage Las Vegas Launches Wine Nights Featuring Half-Prices Bottles Of Wine – The Mirage Hotel and Casino, much like a fine wine, gets better with age. This year, to celebrate its 20th anniversary, The Mirage is offering its vino-loving guests the chance to purchase bottles of wine at 50 percent off the regular price. Every Tuesday and Wednesday, half-priced bottles of wine are available for purchase at Onda Wine Lounge, Kokomo's Steak and Seafood, Samba Brazilian Steakhouse, Caribe CafÚ and Cravings. With more than 900 labels available, even the most discerning palate will find a wine of their liking.Click to Read The Full Story…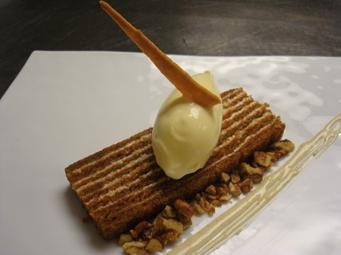 Wolfgang Puck Satisfies Dessert Cravings with the New Seasonal 15-Layer Carrot Cake – Wolfgang Puck invites patrons to indulge in the 15-Layer Carrot Cake, a unique take on the traditional dessert. Director of Pastry Kenny Magana created this mouth-watering temptation which is composed of fifteen savory layers of cake and adorned with candied walnuts, filled with a delectable cream cheese filling and complemented with ginger ice cream. For $12, the seasonal dish is available at Wolfgang Puck's Chinois and Spago, located inside The Forum Shops at Caesars, as well as at the Wolfgang Puck Bar & Grill, located inside MGM Grand. Click to Read The Full Story …
Special Performances Of The Beatles LOVE To Benefit Nevada Public Radio – Nevada Public Radio listeners and members have a special opportunity to support public radio while experiencing a little love. Two benefit performances of The Beatles LOVE at the Mirage Hotel and Casino are scheduled for 7 p.m. and 9:30 p.m. on Thursday, February 5. (Ticket Link For Non-Benefit Shows) All of the proceeds will benefit Nevada Public Radio and must be purchased through Nevada Public Radio. A special feature to this benefit is the "Help! I need somebody" section. When a single ticket is purchased through Nevada Public Radio, that seat will automatically be placed with other single public radio fans. You never know, you might just "find somebody to love." Click to Read The Full Story and Benefit Ticket Info …
Celebrate Year Of The Ox At Bellagio's Conservatory & Botanical Gardens – Bellagio's Conservatory & Botanical Gardens ushers in the Chinese New Year, the Year of the Ox, with a spectacular new exhibit. The majestic centerpiece will be a 15-foot-long ox comprised of more than 10,000 living plants. The ox is the second animal in the Asian zodiac. Just steps away, an 18-foot-tall Chinese God of Wealth and Fortune will stand amidst golden lucky coins. Visitors also will delight to discover a trio of charming, 6-foot-tall giant pandas. Made of more than 9,000 living plants, the pandas will frolic in a lush garden filled with towering bamboo. Click to Read The Full Story …
"Defending The Caveman" Settles In Permanent Cave At Excalibur – "Defending the Caveman," Broadway's smash hit about the sexes, will begin a permanent performance schedule at Excalibur Hotel Casino beginning Tuesday, January 13. (Tickets) "Defending the Caveman" performances take place at 3 p.m. Tuesday through Sunday with additional performances at 7 p.m. on Friday and Saturday. "Defending the Caveman" has experienced tremendous success in Las Vegas, racking-up an impressive 700 performances since its Las Vegas debut in June 2007. Click to Read The Full Story …
---
Members Mania – We Love Our Readers!
Memebers Mania will return next issue. This is the section where we feature reader feedback and questions and I give my personal insight to help you have a great Las Vegas vacation!
Wish me luck on this move.
---
We love to hear from you, and value your feedback! Here's how to participate:
---
More Las Vegas News – Concerts – Events
Coming Hot Holidays – The following dates are huge times to be in Las Vegas, and rooms are in high demand. Booking in advance is the best way to save. Visit our friends at Las Vegas Hotel Deals and spend one of the following hot dates having fun in Las Vegas:
Chinese/Lunar New Year January 26
Lincoln's Birthday, U.S February 12
Valentine's Day February 14
President's Day, U.S (Observed) February 14-16 (3 day weekend)
Washington's Birthday, U.S February 22
St. Patrick's Day March 17
Easter Sunday April 12
Cinco de Mayo May 5
Mother's Day May 10
Father's Day June 21
Canada Day, Canada July 1
Independence Day July 4
Civic Holiday, Canada August 1-3 (3 day weekend)
Labor Day, U.S September 5-7 (3 day weekend)
Labour Day, Canada September 5-7 (3 day weekend)
Jewish New Year September 19
Halloween October 31
Veteran's Day November 11
Thanksgiving Day, U.S November 26-29 (4 day weekend)
Hanukkah Dec. 2 – Dec. 9
Christmas December 25
New Year's Eve-Day December 31 – January 2 (3 day weekend)
Martin Luther King, Jr., Day, U.S (Observed) January 18-20 (3 day weekend)
Link To Us! – Have a home page, web page, or blog? Link to us, and give yourself and your friends a quick link to find us from your site. Simply link to http://www.accessvegas.com and name the link Access Vegas!
RSS Feed – We now have an RSS/XML feed! Most RSS programs let you visit AccessVegas.com and automatically pull the feed. For those who want to enter it manually, the feed is:
http://www.accessvegas.com/xml/whats-hot.xml
Share the info: Click to Email this newsletter to a friend!
---
For comments or questions regarding our content
or this newsletter write us at
allvegastv@aol.com
.
New to the list? See our Newsletter Archives for back issues and subscription info. Don't hesitate to forward this newsletter to friends and associates.
All contents copyright 2008 Ted Newkirk. All Rights Reserved.
Hotel Rates Published Accurate At Time Of Publication


January 21, 2009 ISSN: 1529-2770 About Us Privacy Policy