Welcome to the Insider Vibe! This is the official newsletter of AccessVegas.Com. We talk about the Las Vegas activities you really care about.
---
AccessVegas.com Quick Info Menu:
Las Vegas Essentials

Featured Shows

Photos and Wallpaper
Newkirk's Notes – comments on Las Vegas from AccessVegas.Com publisher Ted Newkirk:
Hello From Las Vegas! Welcome to the hot, hazy, humid days of a Las Vegas summer. Yes, I said humid as bands of clouds (and intermittent rain) has graced us the past week. Fortunately, this has kept temperatures a few degrees lower than usual. Think more Miami than Vegas. Temps are only going to be in the high 90's most of the coming week. That's almost downright chilly for Las Vegas this time of year!
Morris Day and The Time are getting great reviews and really generating a buzz with their run at The Flamingo. Check out the recent review There's Still Time. Their next run is July 29 – August 2, 2008: Morris Day and The Time Tickets
If Not Downtown Nor On The Strip… – We have two new photo sets this week of a couple hotel casinos often favored by visitors: Palms Las Vegas and The Orleans.
Both resorts are only a couple of miles apart, but popular for two very different reasons. The Palms is upscale/celeb/MTV meets Las Vegas with top amenities and a Los Angeles crowd in touch with everything pop culture.
The Orleans is "local, local, local" with with a popular race and sports book and a bowling center upstairs (which must be seen to be believed).
What they have in common is that The Palms has an interesting design where the west half of the casino (with a food court, lots of slots, and easy parking) brings the the area locals in with regularity, making both resorts both "local's favorites" with guest shuttles to the Las Vegas Strip.
Steve Wynn is preparing to hire 5300 people to staff his new Encore tower. Before you pack up the car and move to town with thoughts of a $100,000-a-year gig parking cars, think again: He's going to steal the cream-of-the-crop from other resorts. In addition, he'll grab the best of those laid off the past few months in the industry. And… he's probably very unlikely to hire anyone who isn't an established local (common with almost any business here right now). With higher than (U.S.) average unemployment in Nevada, he'll have plenty of qualified, experienced talent to choose from.
Will Rogers Fillies… Has Its Charm – We don't often cover local theatre here as many of you are from out of town (and outside the United States) and are simply coming for a vacation. However, a tip of the hat to our own writer DW Grant (see his Rat Pack Is Back review later in this issue) who is involved with the local Will Rogers Follies production.
Local theatre critic Anthony Del Valle says this about the show:
I got lulled into "The Will Rogers Follies: A Life in Revue" halfway through. There's something about the soft, steady flow of elegance that keeps you smiling.
The 1991 musical pays tribute to the folksy commentator in the style of a Florenz Ziegfeld extravaganza. That is, long, leggy numbers are often interrupted by jokes of wisdom by our star (Michael Brown), infiltrated by scenes of family and hearth.á
Click to Read Entire Local Will Rogers Follies Review including venue and ticket information.
Correction: The Tropicana's free pool parties are on Fridays, Saturdays, and Mondays from noon until 11 PM and are open to the public with DJ's, live entertainment, food, and drink specials.
Enjoy This Issue!

Ted Newkirk
CEO/Managing Editor
Associate Editor: Amy Rayner-Cooley
News Researcher/Editor: Mark Jacobs
---
Las Vegas Is On Sale!
Get Great Rates At All Hotels:

4 Queens from $36,

Bally's from $69,

Flamingo from $63,

Gold Coast from $34,

Planet H. from $89,

Rio Suites from $58,

Sahara from $35,

Strat. from $48,

Tropicana from $45,

Tuscany from $37,
More Savings At All Vegas Hotels!
---
Featured Review:
Cirque du Soleil's KA – Set Fire To Your Boundaries And Ignite Your Imagination!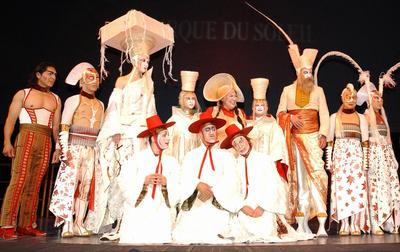 by Nicole "Niko" Acevedo
Experience another world in another time, perhaps another universe. The melodies that echo are unfamiliar yet enchanting and the passionate gestures, mastered martial artistry, and breathtaking aerial acrobatics will guide you through this journey of the Imperial Twins and their struggle through the tragedies of war, loss and separation, and the dawn of new love and reunion.
Accompanied by a powerful and enigmatic original musical score, this spectacular theatrical production will draw you into the depths of a transcendent voyage. Ka is like a compelling visionary experience and vibrant dreamscape where there are no limits to the incredible abilities of the human body, joined with the mind's imagination.
Click to Read Entire Cirque du Soleil's KA Las Vegas Review…
---
Featured Review:
Indeed, The Rat Pack Is Back In Las Vegas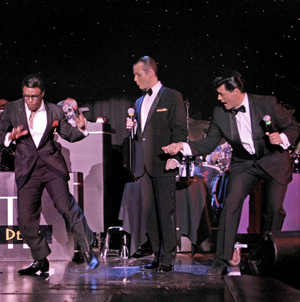 by DW Grant
Returning to 1962 to catch the greatest act in Las Vegas history is now as easy as buying a ticket. "The Rat Pack is Back," The Sands has been resurrected, Las Vegas has only one sensational act, and the production is as hot Vegas has ever been or may ever be.
Forget about blue men, tumbling clown shows, red pianos, and all Elvi. Sizzling hot Vegas nights have returned and the chaotic Corporate Canyon has been turned back to a dazzling Neon City again. The show room is gaudy red curtains, dinner booths and tuxedoed waiters dashing from table to table. The New York strip steak is worthy of praise and the live 13 piece orchestra warming up behind the half circle of gold waterfall curtains is ready to pump out gobs of showroom glitz.
Click to Read Entire The Rat Pack Is Back Las Vegas Review…
---
Comedian Chris Rock To Return To The Colosseum At Caesars Palace
– "No Apologies" Tour Slated for Two Night Engagement August 29-30.
(Tickets)
Comedic heavy-weight Chris Rock is bringing his critically acclaimed "No Apologies" tour to The Colosseum at
Caesars Palace
on Friday, August 29 and Saturday, August 30. The extended Labor Day weekend performances are presented jointly by Caesars Palace and AEG Live.
Click to Read The Full Story …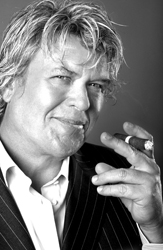 Ron White Performs His Down Home Comedy At The Mirage December 5 – 6 – Ron White, best known as the cigar smoking, scotch drinking funnyman from the "Blue Collar Comedy Tour," will perform his hilarious stand-up comedy inside the Danny Gans Theatre at The Mirage December 5 and 6 at 10 p.m. (Tickets) Guests must be at least 16 years old to attend. White, a Texas native, is known for his performances with fellow Southern comedians Jeff Foxworthy, Bill Engvall and Larry the Cable Guy during the highly acclaimed "Blue Collar Comedy Tour." Click to Read The Full Story …
Hot Buys: From Sizzling Fashions to Indulgent Beauty Treats – Look cool in the heat of summer with hot retail buys from Mandalay Place at Mandalay Bay. Check out what will be open on your next trip to The Strip:
Metropark

– Mixing contemporary fashion with a high-energy atmosphere, this edgy retailer will offer modern, urban apparel and accessories typically found only in specialty boutiques. Targeting trendsetting shoppers in search of more sophisticated fashion, Metropark will feature such brands as Obey, Affliction, Sinful, True Religion, Ed Hardy, Howe, Kid Robot and Betsey Johnson.

LUSH

– Known for its ethical and innovative approach to beauty, LUSH will offer fresh handmade cosmetic, bath and body products. Traditional and non-traditional merchandise will range from fragrant soaps to fizzing bath bombs. A self-proclaimed "cosmetic grocer," LUSH offers the atmosphere of a beauty deli with bars of soap piled high on wooden tables and ice-filled fridges full of chilled face masks.á

LUSH products are created without animal testing and are 100% vegetarian, 74% vegan and 65% preservative-free. Mandalay Place will be the first and only location to offer LUSHÆs distinct brand of beauty to Las Vegas.
---
Can't Make It To Vegas?
See If A Hot Event Is Playing Near You!
Jimmy Buffett, Neil Diamond, Rockstar Energy Mayhem Festival, Jonas Brothers, John Mayer, Dave Matthews Band, Radiohead, Rush, Kenny Chesney, The Police, Rascal Flatts, Crue Fest with Motley Crue, Kanye West, Alicia Keys, ColdPlay, Bruce Springsteen, Janet Jackson, Madonna, American Idols Live, Carrie Underwood, The Eagles, Tina Turner, Tom Petty and the Heartbreakers, James Taylor, Elton John, NASCAR, Baseball, NFL Football, College Football, All Major Concerts and Events
---
Members Mania – We Love Our Readers!
Ted,
1'st just want to mention that I checked out the i4vegas.com room prices recommended on your site, and found the room prices unbeatable.á
We always fly SW airlines, flying in from El Paso or Albuquerque…The round trip cost per person has increased about $100 in the last 5 years….but still it is a direct flight of about an hour, and Time is worth a lot….
We always stay "Downtown" on Fremont Street…because we find it more economical, and have found the food to be good, and lots of places to eat…and the availability of Casino's in close proximity to be a real benefit! Not big high rollers, staying 3 to 4 days with a gambling account of $1000. each…it is vacation money…win or lose we tend to have a great time.á
Miss the Lady Luck, and do hope it reopens eventually…very impressed with the new look of The El Cortez, and enjoyed our gambling there, also had a nice breakfast there….this is the 1'st time that we did not go to the Strip….but stayed a day longer, did not charge any meals this trip on credit cards, and stayed within the total budget.á
Best paying slots were found at Binion's, Fremont and Las Vegas Club, also did OK at the Golden Gate….love to be on Fremont Street…feel safe alone, and only 10 minutes from the room in any direction it seems…..
S. Brickey
á
Ted Responds:
Thanks for the great letter! Seems like so many are acting like they can't come here and have fun unless they are staying at The Wynn or Bellagio (both of which are also very inexpensive right now compared to their usual rates).á
But even with higher airfare, Las Vegas is still the most value-conscious vacation destination no matter what your budget. Certainly, I do agree that our friend at Las Vegas Hotel Deals very often come up with the best rates you will find. Can't hurt to look and see what they have.
Thanks for the great note, and I love hearing about how everyone continues to enjoy visiting our insane city!

---
Hi Ted,
My youngest daughter and I are coming to Las Vegas the end of October, for a mom/daughter trip (she is 35).
We are staying at the Mirage and I would like to explore Fremont Street, but have been told it is not safe, is this true? We would take a taxi to and from the area.
Looking forward to coming to Las Vegas for my second trip and daughter's first trip.
Marsha from Auburn Hills, Michigan
á
Ted Responds:
Good question! Fremont Street and that tourism/hotels area is as safe as The Strip. Maybe safer as the area is more concentrated. It is like an outdoor shopping mall (in terms of safety and everything being in close proximity). Maybe a little more energized and "wild" (in a good way) but certainly not unsafe.
You don't want to wander away from the tourism area downtown, but the same can be said for The Strip. There are areas just a few blocks east of The Strip that I wouldn't walk through at night.
Taking a cab down and back should present no issues, and a return cab home can be found at many downtown hotels (ask the cabbie to drop you off at the same place that you'll find cabs waiting to take you back).
Best advise is to check it out in the evening when the overhead light show starts up just after dusk, playing on the hour until midnight.

---
Dear Ted,
A recent newsletter had a story in your "More Las Vegas News" section about the lease Steve Wynn signed for leasing his personal villa. It stated he will be paying $540,000 per year for a 2 year lease.
I admire him for all he has accomplished. This kind of wealth is very impressive to me. (his lease for one year is 2 times the value of my home). What I am curious about is what does he get for the price? The article didn't say anything about what the villa included for the price such as size, number of rooms etc.
Is there somewhere one could read about this or if possible could you give us the details. Thanks for the great newsletter and will be looking forward to the new format.
Thank You,
Roy Winkelman
á
Ted Responds:
I'm guessing that somewhere in Wynn Las Vegas corporate documents (probably available to the public as it is a public company) are some of the details. If not, what is generally assumed on an agreement like this is the normal amenities which come with a high-end suite: Maids, butlers, limo (or similar) transportation and other use of the facilities.
Plus… as his position of CEO, he already would get free food, transportation (often including access to a jet at his disposal) and similar. Why he is leasing the suite (instead of having it included as compensation) is possibly more of a book keeping issue or something to appease stockholders.
If anyone has more insight, please do use our contact information listed below.

---
We love to hear from you, and value your feedback! Here's how to participate:
Call our recorded comment line at 702-507-0055. We listen to every call.
Drop us an email at allvegastv@aol.com – We read them all!
---
More Las Vegas News – Concerts – Events
Coming Hot Holidays – The following dates are huge times to be in Las Vegas, and rooms are in high demand. Booking in advance is the best way to save. Visit our friends at I4Vegas Discount Las Vegas Reservations and spend one of the following hot dates having fun in Las Vegas:
Civic Holiday, Canada August 2-4 (3 day weekend)
Labor Day, U.S August 30-September 1 (3 day weekend)
Labour Day, Canada August 30-September 1 (3 day weekend)
Grandparent's Day September 7
Jewish New Year September 30
Columbus Day October 11-13 (3 day weekend)
Thanksgiving Day, Canada October 11-13 (3 day weekend)
Halloween October 31
Veteran's Day November 11
Thanksgiving Day November 27-30 (4 day weekend)
Hanukkah Dec. 22 – Dec. 29
Christmas December 25
New Year's Eve-Day December 31 – January 1
Martin Luther King, Jr., Day, U.S (Observed) January 19-21 (3 day weekend)
Chinese/Lunar New Year January 26
Lincoln's Birthday, U.S February 12
Valentine's Day February 14
President's Day, U.S (Observed) February 14-16 (3 day weekend)
Washington's Birthday, U.S February 22
St. Patrick's Day March 17
Easter Sunday April 12
Cinco de Mayo May 5
Mother's Day May 10
Father's Day June 21
Canada Day, Canada July 1
Independence Day July 4
Link To Us! – Have a home page, web page, or blog? Link to us, and give yourself and your friends a quick link to find us from your site. Simply link to http://www.accessvegas.com and name the link Access Vegas!
RSS Feed – We now have an RSS/XML feed! Most RSS programs let you visit AccessVegas.com and automatically pull the feed. For those who want to enter it manually, the feed is:
http://www.accessvegas.com/xml/whats-hot.xml
Share the info: Click to Email this newsletter to a friend!
---
For comments or questions regarding our content
or this newsletter write us at
allvegastv@aol.com
.
New to the list? See our Newsletter Archives for back issues and subscription info. Don't hesitate to forward this newsletter to friends and associates.
All contents copyright 2008 Ted Newkirk. All Rights Reserved.
Hotel Rates Published Accurate At Time Of Publication


July 16, 2008 ISSN: 1529-2770 About Us Privacy Policy