Welcome to the Insider Vibe! This is the official newsletter of AccessVegas.Com. We talk about the Las Vegas activities you really care about.
---
AccessVegas.com Quick Info Menu:
Las Vegas Essentials

Featured Shows

Photos and Wallpaper
Newkirk's Notes – comments on Las Vegas from AccessVegas.Com publisher Ted Newkirk:
Hello From Las Vegas! This week, we are going to revisit a theme I briefly touched upon a few weeks ago: If you want the REAL Las Vegas (the one everyone enjoyed a number of years ago with inexpensive room rates, reasonably priced food, and a fair shot at winning some money)… try Fremont Street Downtown!
Important Note: Many long time visitors are very concerned about the "old" vs. "new" Las Vegas. What has changed and why. However, many have a visit planned and simply want to continue to enjoy our newsletter with the latest top Las Vegas information we always offer.
In this issue, we cover plenty of the "old" vs "new" that many readers are demanding. However… for the sake of keeping the newsletter a reasonable length, we will be posting some of that topic online for further review.
Loose Slots, Single Deck Blackjack, 100 Times Odds On Craps, 99% Payback Slot Bank, Full Pay Video Poker – If you've been visiting Las Vegas more than five years, the odds are that you saw similar advertisements and signs in various casinos on The Strip and Downtown. Then, Las Vegas got hot. Happening. The hip place to go.á
The Travel Channel seemed like "The Las Vegas Channel" because they showed so many Vegas-related programs. Any news out of Las Vegas made newspapers world-wide. This brought record numbers of new visitors to town.
Click to continue to read Loose Slots And How To Still Enjoy The "New" Las Vegas
Las Vegas Downtown Day and Night Views:
Click Pictures Below For More!
Looking for information on some Downtown Las Vegas hotels at great rates? Here you go!
Enjoy This Issue!

Ted Newkirk
CEO/Managing Editor
Associate Editor: Amy Rayner-Cooley
News Researcher/Editor: Mark Jacobs
---
Can't Make It To Vegas?
See Where Your Favorite Event Is Playing!
Jimmy Buffett, Neil Diamond, Rockstar Energy Mayhem Festival, Jonas Brothers, John Mayer, Dave Matthews Band, Radiohead, Rush, Kenny Chesney, The Police, Rascal Flatts, Crue Fest with Motley Crue, Kanye West, Alicia Keys, ColdPlay, Bruce Springsteen, Janet Jackson, Madonna, American Idols Live, Carrie Underwood, The Eagles, Tina Turner, Tom Petty and the Heartbreakers, James Taylor, Elton John, NASCAR, Baseball, NFL Football, College Football, All Major Concerts and Events
---
Featured Review:
Titanic: The Artifact Exhibition – Moving, Memorable & Haunting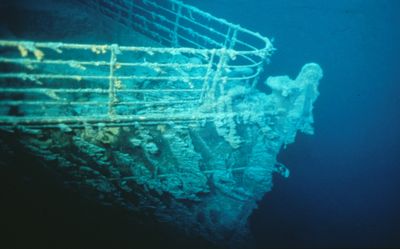 by Devon Brooke Clasen
A far cry from the flashy, showy style of so many shows and attractions in Las Vegas,áTitanic: The Artifact Exhibition at the Tropicana Resort presents a moving, memorable yet haunting historic survey of the 20th century's most infamous maritime disaster, showcased in a generously sized 25,000-square-foot retrospective.
Entering the exhibit, each visitor is outfitted with a personal audio device, supplying narrated commentary and facts as well as dramatic readings of historic quotes from figures connected to the ship's construction.
Additionally, guests are provided with a charming keepsake boarding pass for the RMS Titanic, complete with the name and personal information of an actual passenger, whose fate is to be revealed upon the exhibition's completion; a clever yet sobering touch to truly personalize the experience.
Click to Read Entire Titanic: The Artifact Exhibition Las Vegas Review…
---
Featured Review:
X Burlesque – Sharp, Sexy, and Entertaining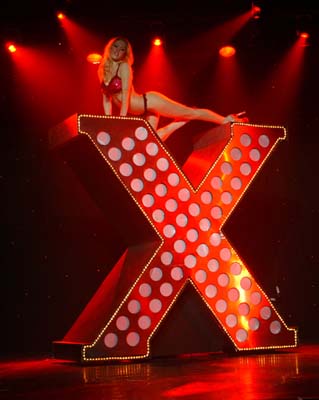 by Lincoln Hudson
What Happens in Vegas stays in Vegas, as the saying goes. At The Flamingo, nothing could be hotter than the extraordinary 75 minute high octane dance show called 'X-Burlesque.
Sharp, sexy and very entertaining to the eye, the X-Girls perform in the Second City Theatre displaying a beautiful mixture of both modern dance and the avant-garde. Sexy or adult musical revues seem to be catching on in Vegas these days and this one seems quite happy to be competing alongside Bite and Cirque Du Soleil's Zumanity.
Click to Read X Burlesque Las Vegas Review…
---
American Superstars Show Still On Top At The Stratosphere Casino Hotel And Tower
– The American Superstars show, which opened in Las Vegas with the
Stratosphere Casino Hotel and Tower
in April 1996, has signed a contract extension through November 2009.
(Tickets)
This allows the show to continue to wow audiences with its line-up of celebrity tributes, announced American Casino & Entertainment Properties officials. "The American Superstars show has thrived in the competitive Vegas entertainment market because it is quality entertainment which leaves audiences feeling entertained at a fair price," said Mark Callas, who produces American Superstars with his Springtime Productions partner, Donny Moore.
Click to Read The Full Story …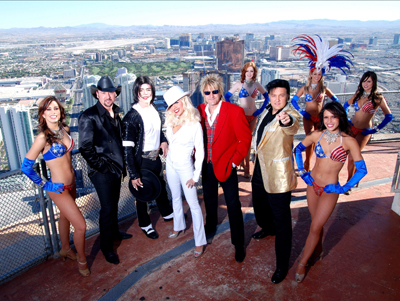 The American Superstars are Still on Top after 12 Years at the Stratosphere Hotel. Front row – Dancer Nadia Albulet, Chad Givens as Tim McGraw, Damian Brantley as Michael Jackson, Lorena Peril as Christina Aguilera, John Anthony as Rod Stewart, Darren Lee as Elvis, and dancer Teresa McAuliffe. Back row – dancer Erica Chandler, dancer Audrey Rusher, and dancer Renee Herter.
Classic Strip Favorites Offer Modern New Looks – This summer, visitors to Las Vegas are invited to check out the new room designs at some of their favorite hotels. HereÆs where to check in during your next stay:
Scheduled for completion in August, striking new room designs at The Mirage feature eye-catching color schemes, cool metals and warm woods. Standard amenities include pillow-top mattresses, down comforters, feather pillows, cordless phones and ergonomic office chairs. A dedicated media hub allows computers, video iPod/MP3 players and game systems to be displayed on each roomÆs 42-inch LCD television.
Scheduled for completion in late 2009, a contemporary room redesign at Excalibur offers a modern take on the resortÆs classic castle theme. Currently offering 2,000 newly remodeled accommodations, ExcaliburÆs Widescreen Room features a 42-inch plasma television and modern comforts such as pillow-top mattresses and iPod-compatible clock radios. A soothing color palette of soft blues, creamy yellows and deep browns creates an inviting ambiance.
Recently completed, a $60 million suite remodel at Bellagio reflects the feel of an upscale residence while providing the amenities of a luxury resort. The dramatic new look of seven suite types combines sumptuous textiles with dark woods and a rich color palette. Indulgent in-suite conveniences include high-speed Internet access, iHome clock radios, DVD players, multi-line phones, fax machines, laptop safes, automatic draperies and flat-screen, high-definition televisions.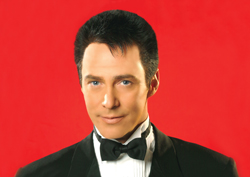 Lance Burton Master Magician Show – New Wonders Await! – Lance Burton headlines his own "Master Magician" show at the Monte Carlo Resort & Casino after 12 years there performing some of the world's greatest tricks. (Tickets) A couple of years ago Lance added some new mind-boggling illusions to wow audiences from their senses from 0 to 60 in a flash. Not only our his hands faster than a camera but his new creative illusion are so baffling that a network from Germany filmed and aired a TV special called: "Lance Burton: The Greatest Magician on Planet Earth." He recently appeared on "THE VIEW" and David Letterman. Click to Read The Full Story …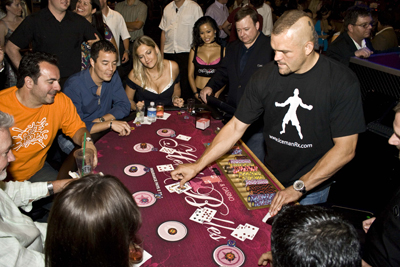 UFC fighter Chuck Liddell was at the Hard Rock Hotel & Casino July 4, 2008 and surprised fans with a special appearance at Hell's Belles where he dealt blackjack for about an hour.
Gambling Talk: Introduction To Texas Hold'em – with Victor H. Royer. Join our own "Vegas Vic" in the first of a series of poker instruction brought to you via streaming video! This week: Introduction To Texas Hold'em (broadband)
---
Las Vegas Is On Sale!
Get Great Rates At All Hotels:

4 Queens from $36,

Bally's from $69,

Flamingo from $63,

Gold Coast from $34,

Planet H. from $89,

Rio Suites from $58,

Sahara from $35,

Strat. from $48,

Tropicana from $45,

Tuscany from $37,
More Savings At All Vegas Hotels!
---
Members Mania – We Love Our Readers!
My wife and I just returned home from our Vegas trip (6 nights/5 days). We stayed for the first time at the Paris (2 nights) and then 4 nights downtown at Main Street Station. The biggest change we noticed was the lack of people.á
I know it was the 4th of July week, but the 'people' traffic was much less than before. We asked a floor person at MSS about traffic and she too said the size of the crowds were much smaller than they use to be. My guess as well as hers was, 'all about the cost of gas'.
I think the casinos are helping their bottom line by making slots much tighter, just as the airlines are charging for suitcases and giving less service. It may be time to re-think our Vegas trips. Enjoy your weekly publication.
The Kinneys,
Pleasant Garden, NC
á
Ted Responds:
I agree with you: The gaming properties tried to squeeze tourists too hard during the good times, and it is biting them back during the bad times.
For decades, people would go through hell and high water to get to Las Vegas regardless of the economy. They knew the reward would be reasonably priced rooms and food, plus a fair chance at winning some money.
It is a rude awakening for many in hotel/casino management, many whom have never been here long enough to see a downturn and thought the "gravy train" of the past few years was the norm.
My prediction? Everyone will finally see a return to some of the "old Vegas" way of doing things that attracted so many for so long.
Click to read my entire response: Lack Of Las Vegas Visitors?

---
Since reviewing things on your site as well as others, itÆs apparent that Las Vegas is experiencing a slow down in economy. Gambled money and room occupancy is down, even our paper has reported it in the Sunday travel section. My suggestion is to have the city and casinoÆs work in conjunction with the airlines to help lower the cost of flights in and out of Las Vegas.

My wife and I travel on the average 4 times a year to L.V., being that we gamble a lot, Hooters has ôcompedö us for each stay. The travel is whatÆs costing us and preventing us from going more then 2 times this year so far. An example of price fares form Cleveland to L.V. via Continental airlines û In April it was $ 198. round trip ; in May it was $ 218. round trip; now the cheapest we can travel is $ 438. round trip.

I know airlines are taking a beating on fuel cost, but if the city and casinoÆs can work with the airlines to help subsidize travel I would bet that more people would come out and reverse the decline in gambling revenue and room occupancy. ItÆs just a suggestion, for a 4day û 3 night trip we generally add $ 1,500. to the L.V. economy via gambling; food; drinks; and misc spending. Thank you for your time to review my request,

John M. Kacvinsky
á
Ted Responds:
Interesting thoughts. Actually, the hotels are starting to "subsidize" the cost of the flights by slashing their room rates. You end up paying more for your flight, but less for rooms.
I realize that doesn't help those like you who gamble enough to get your stay comped. For those of you who do play enough to get free rooms, I'd strongly suggest writing the hotel you give your action to and simply tell them "Hey… we come and gamble a lot of money, but airfare is killing us and a free room just doesn't make it worth coming out. Is there any way players at are level can get something like a rebate on our airfare, extra free play, or meals?"
Per the city or casinos subsidizing flights:
Click to read my entire response: Getting Cheaper Flights Into Las Vegas?

---
Reader Gary Johanknecht of Wisconsin alerted me to a letter he wrote to the editor of our local Review-Journal paper. You can read it at
No next time
(third letter down on that page). Believe me… the powers that be are starting to listen to you. They have no choice!

---
We love to hear from you, and value your feedback! Here's how to participate:
Call our recorded comment line at 702-507-0055. We listen to every call.
Drop us an email at allvegastv@aol.com – We read them all!
---
More Las Vegas News – Concerts – Events
Coming Hot Holidays – The following dates are huge times to be in Las Vegas, and rooms are in high demand. Booking in advance is the best way to save. Visit our friends at Las Vegas Hotel Deals and spend one of the following hot dates having fun in Las Vegas:
Civic Holiday, Canada August 2-4 (3 day weekend)
Labor Day, U.S August 30-September 1 (3 day weekend)
Labour Day, Canada August 30-September 1 (3 day weekend)
Grandparent's Day September 7
Jewish New Year September 30
Columbus Day October 11-13 (3 day weekend)
Thanksgiving Day, Canada October 11-13 (3 day weekend)
Halloween October 31
Veteran's Day November 11
Thanksgiving Day November 27-30 (4 day weekend)
Hanukkah Dec. 22 – Dec. 29
Christmas December 25
New Year's Eve-Day December 31 – January 1
Martin Luther King, Jr., Day, U.S (Observed) January 19-21 (3 day weekend)
Chinese/Lunar New Year January 26
Lincoln's Birthday, U.S February 12
Valentine's Day February 14
President's Day, U.S (Observed) February 14-16 (3 day weekend)
Washington's Birthday, U.S February 22
St. Patrick's Day March 17
Easter Sunday April 12
Cinco de Mayo May 5
Mother's Day May 10
Father's Day June 21
Canada Day, Canada July 1
Independence Day July 4
Link To Us! – Have a home page, web page, or blog? Link to us, and give yourself and your friends a quick link to find us from your site. Simply link to http://www.accessvegas.com and name the link Access Vegas!
RSS Feed – We now have an RSS/XML feed! Most RSS programs let you visit AccessVegas.com and automatically pull the feed. For those who want to enter it manually, the feed is:
http://www.accessvegas.com/xml/whats-hot.xml
Share the info: Click to Email this newsletter to a friend!
---
For comments or questions regarding our content
or this newsletter write us at
allvegastv@aol.com
.
New to the list? See our Newsletter Archives for back issues and subscription info. Don't hesitate to forward this newsletter to friends and associates.
All contents copyright 2008 Ted Newkirk. All Rights Reserved.
Hotel Rates Published Accurate At Time Of Publication


July 9, 2008 ISSN: 1529-2770 About Us Privacy Policy