Welcome to the Insider Vibe! This is the official newsletter of AccessVegas.Com. We talk about the Las Vegas activities you really care about.
---
AccessVegas.com Quick Info Menu:
Las Vegas Essentials

Featured Shows

Photos and Wallpaper
Newkirk's Notes – comments on Las Vegas from AccessVegas.Com publisher Ted Newkirk:
Hello From Las Vegas! Publishing a little late this week. With so much construction news happening (resorts on hold, resorts topping off, boozing construction workers) we wanted to sort it all out. For those just reading to find out what is hot to see on your next visit, we won't disappoint you either!
Echelon Flops and M Resort Tops – tops out, that is. Boyd Gaming's Echelon resort was abruptly put on hold last week because of market conditions. If Echelon doesn't ring a bell, that is the complex they knocked down the Stardust to build. Echelon was to have 5 hotels, clubs, shopping and more. They intend to re-start construction in about a year.
The real losers in that one? All of those who enjoyed The Stardust. Even back when Echelon was announced, many wondered why they didn't try to keep atáa piece of the Stardust or at least some use of the iconic name that is legendary in so many movies and Las Vegas lore.
I'm not sure how so many thought that Las Vegas could absorb a CityCenter, Echelon, and Plaza (complex to go where The Frontier was) even in good times. Unlike a beach destination where you sit on your hotel balcony and watch the waves, few use their Las Vegas hotel room for much more than sleeping. Even people who could afford a really nice hotel often stay in a mid-range property and save the money for top shows and celeb restaurant dining.
While other Las Vegas hotel casino projects get put on hold (or never break ground) the Marnell Company M Resort is topped off and on track to open. The M Resort, Spa and Casino will feature 390 guest rooms and suites, over 92,000 square feet of gaming, a state-of-the-art spa and fitness center, and more. Click to see more photos and read entire M Resort, Spa and Casino Las Vegas Tops Off Tower, Open Early 2009 story.
Impressionist (and newsletter member) Larry G. Jones is back. For his newly restructured show, Larry has added a number of new singing impressions and song parodies.áSome of newest voices include Tina Turner, Axl Rose and Randy Travis.á
YouÆll also get a taste of many of Las Vegas top shows like The Jersey Boys, Phantom of the Opera, The Rat Pack, Cher, Elton John, Tom Jones, Barry Manilow, The Temptations, Wayne Newton, and Neil Diamond to name a few. He's playing the Royal Hotel showroom (corner of The Strip and Convention Center Drive). Larry G. Jones Tickets
CityCenter Construction Employees Living It Up During Work? – Big news came out of an investigation by the Las Vegas Review-Journal regarding MGM CityCenter construction workers drinking and then going to the job site. The construction site has been the focus of worker safety concerns because of the number of deaths to date on the site.á
The paper observed construction workers boozing it up at various bars adjacent to the job site. So far, three of the workers have been fired. Full Story: CityCenter Construction Site Safety issues raised
Win A Scooter At Mint Mondays – During the month of August, Tropicana Las Vegas is partnering with Mike's Hard Lemonade during all upcoming Mint Monday events (public welcome at no charge) and giving away one cooler scooter each Monday of the month directly following the live band performance.
Guests will receive one raffle ticket for the cooler scooter drawing by purchasing any Mike's Hard Lemonade product at the pool. Happy hour pricing still applies from 5-7 p.m. as well. The Tropicana's Happy Hour drink prices are available anywhere on the property, both at indoor bars and at the free pool parties on Mondays.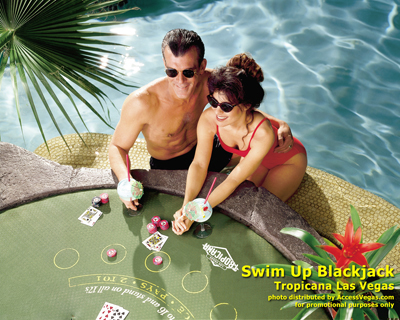 A big tip of the hat toward a legendary hotel that is bringing people in the doors the old fashioned way… great deals! PS Our own Mark Jacobs will be shooting a Mint Monday photo set this coming Monday. If you see him in our logo shirt, make sure to say hello. The Carnival Court photo set shot last week will be up soon.á
Great Locals Dining Secret (Close Enough For Tourists To Enjoy) – The Blue Martini restaurants of South Florida opened a Las Vegas location earlier this year in Town Square, just 1.5 miles south of Mandalay Bay. Their entire food menu (think a tapas menu with big portions) and all martinis are 1/2 off, 7 days a week from 4-8 PM.á
My pick? Hit Blue Martini for appetizers and a cocktail, then head over to Brio for some amazing Italian food, or Louis's Las Vegas for southern low-country fare that defines "comfort food."
Something Fun For 8/8/08: Shemaryah Monique Rothmeyer was born at 8:08 a.m., weighing 8 pounds, 2 ounces on 8.8.08 at Sunrise Children's Hospital here in Las Vegas. That is pretty cool. PS August 8 is also our own Mark Jacobs birthday, so if you see him at Mint Monday this coming week, wish him a happy belated birthday.
Enjoy This Issue!

Ted Newkirk
CEO/Managing Editor
Associate Editor: Amy Rayner-Cooley
News Researcher/Editor: Mark Jacobs
---
Can't Make It To Vegas?
See If A Hot Event Is Playing Near You!
US Open Tennis, College Football, WWE Wrestling, ColdPlay, Jonas Brothers, Eddie Vedder, Dave Matthews Band, American Idols Live, Jimmy Buffett, John Mayer, Rascal Flatts, Kenny Chesney, Madonna, Toby Keith, Journey, The Police, Bruce Springsteen, Foo Fighters, NASCAR, Baseball, NFL Football, All Major Concerts and Events
---
Featured Review:
Bette Midler's Is "The People's Diva" In The Showgirl Must Go On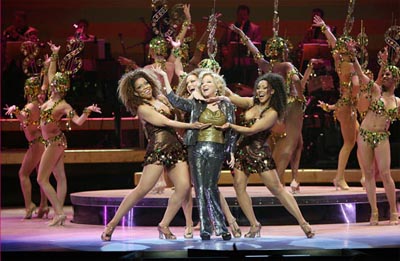 By Mara M. Mannella
"I am, after all, the People's Diva!" Yes she is, and it shows in The Showgirl Must Go On taking place at The Colosseum in Caesars Palace. Bette Midler takes the audience on a wild ride through her career, all beginning with her rocky arrival via tornado to the showroom. For 90 minutes the Divine Miss M captivates the audience with a stage presence that is the perfect mix of Vegas glitz and genuine emotion.
Set in a plush and spacious venue, there is plenty to admire before the show even begins. The stage is set for Bette with a large video image of a billboard featuring the star erected in what looks like a rural Las Vegas desert scene.
Click to Read Bette Midler The Showgirl Must Go On Las Vegas Review…
---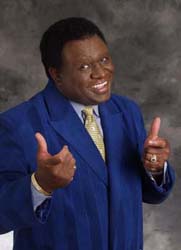 George Wallace Welcomes Jennifer Holliday As Co-Headliner August 19-30
– Singing sensation to perform at the "Best 10 p.m. Show" in Las Vegas. Broadway headliner and two-time Grammy winner Jennifer Holliday will be co-headlining the "Best 10 p.m. Show" in Las Vegas with George Wallace at the
Flamingo Hotel
, August 19-30, 2008.
(Tickets)
Jennifer Holliday has been making music for more than twenty years but is remembered most notably for her 1982 hit single "And I Am Telling You I'm Not Going." Holliday revived the song later when she delivered her show-stealing performance in the musical "Dreamgirls." Her performance in the Broadway musical "Your Arm's Too Short to Box with God" was what led to her famous performance in "Dreamgirls," an adaptation of The Supremes' saga.
Click to Read The Full Story …
From Ow! To Ahhh – Spa Solutions For Stress And Strain – Suffering from BlackBerry thumb? Computer eye? Desk chair strain? Too much work and not enough relaxation can cause a myriad of unwanted kinks, aches and pains, but soothing relief can be just one spa treatment away. MGM Grand Spa's Hand and Foot Samadhi is ideal for soothing tired soles and strained wrists. The 100-minute Avurvedic treatment, which includes a full Manicure and pedicure, uses aromatherapy oils and herbal crystals to regain balance and harmony.á
The Royal Treatment Spa at Excalibur features a Reflexology Massage perfect for relieving tension. Offered in 25- and 50-minute sessions. the relaxing service uses reflex points in the hands and feet to achieve a respite from stress. At The Spa at The Mirage, the over-worked can indulge in a soothing Relaxation Moor Mud Wrap. The 50-minute experience, legendary for its therapeutic powers, uses several thousand-year-old moor mud to revitalize tired muscles and dull skin.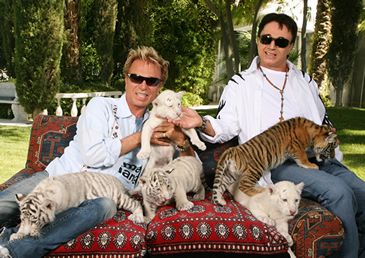 Tiger Cubs at Play at The Mirage – Siegfried & Ray's Secret Garden and Dolphin Habitat is the new home of five golden, white-striped and snow-white tiger cubs. Guests are invited to watch these adorable felines, expected to weigh up to 575 pounds each when fully grown, as they pounce and play in a specially built nursery. The cubs can be seen daily from 10 a.m. until 7 p.m. Siegfried & Roy's Secret Garden and Dolphin Habitat also features the Royal White Tigers of Nevada, the White Lions of Timbavati and a family of Atlantic bottlenose dolphins.
Gambling Talk: Introduction To Seven Card Stud – with Victor H. Royer. Join our own "Vegas Vic" in the fourth of a series of poker instruction brought to you via streaming video! This week: Introduction To Texas Hold'em (broadband)
---
Las Vegas Is On Sale!
Get Great Rates At All Hotels:

Bally's from $69,

Bill's from $48,

Caesars from $140,

Flamingo from $59,

Harrah's from $58,

Imperial from $35,

Paris from $90,

Rio Suites from $58,
More Savings At All Vegas Hotels!
---
Members Mania – We Love Our Readers!
Several friends and I just returned from Vegas, and we noticed a trend at many strip casinos. Minimums going up and up for craps. Even Sunday at noon when historically one could find low minimums, casinos had $10 minimum craps tables with no one playing. We went to several casinos that had more than one completely empty $10 table while a smaller casino right next door had $5 tables that you couldn't get near because so many people were trying to play.á
Are we missing something, or at some point doesn't it make financial sense to have overflowing $5 tables rather than empty $10 tables? I know that these casinos don't do anything unless it makes them money, maybe you can have a gaming professional explain how this works for me.á
Thanks,á
Brian from Ocala, Florida
á
Ted Responds:
A very valid question. The $5 tables at Casino Royale will be jammed but higher limit tables at the places surrounding it will have soft action.
The problem is that "gambling professionals" no longer call the shots. I remember the days when a Floor Supervisor would glance around at the tables as a way do decide whether to raise or lower limits.
Part of it may that a couple of $10 and up craps players will end up being more profitable than a table full of $5 bettors. The people betting the bigger chips are also likely to have numerous bets in action. The budget bettor isn't as likely to spread action all over the table.
However, craps (for most people) is more fun on a full table. You think they would take that into account.
It also may be a sign of how many in the gaming industry have forgotten the way things were in Las Vegas for decades: Keep the games and rooms affordable and people will spend all they have. They got spoiled the last few years when they could get away with higher room rates and tighter games.á
The current economy is a wake-up call and I think you will see some operators (especially private owners like the guy who owns The Sahara) really move back into the "old school" way of doing things and will benefit greatly. If they do, corporate Vegas may follow suit.

---
Myself and my husband are coming to vegas for the first time on the 7th July can you give us any advice?
á
á
Ted Responds:
You could spend a month in Las Vegas without ever doing the same thing twice, and everyone has different tastes and preferences on what they enjoy. Best advice is to just keep reading this newsletter every week.á
You may also want to check out our back issues for the previous few months. Go to https://las-vegas-news-reviews.com
and scroll down the right-hand sidebar to access archive links (separated by month). Important Note: Lots of great info in our back issues, but they are archives. Some of the material will be out-of-date the farther back you go.

---
Ted, can you tell me when and where Trans Siberian Orchestra will be playing for the Holiday season? My wife and I will be coming to Las Vegas in November and as of now TSO does not have its schedule out. Any help will be appreciated.
Thanks,
Jim
á
Ted Responds:
One of the most common questions we get are inquiries about who is going to be playing many months away. If we have not published the info, we have no clue. We can't list shows, concerts, or events until we've been informed about them.
Many headliner runs are set up late in the year and we'll them get a pretty extended schedule for them. Concerts are rarely booked and publicized more than a week in advance.
My suggestion to everyone? Check our concert calendar weekly for the dates you are visiting. If looking for when a specific artist will play, watch the newsletter every week and scan through the list of artists.

---
Hi, Always enjoy reading the newsletter. I just returned from another trip to Vegas. I stayed one night at Harrah's which was great. I also stayed 3 nights at Marriott Grand Chateau. It was fantastic. These two hotels were so much better than the Imperial Palace from last month's visit. Harrah's need to upgrade Imperial Palace immediately!á
I also saw "Jersey Boys" and really enjoyed the music. They could leave out the "F" word and it wouldn't be missed. I ate at many fantastic restaurants.
Sincerely,
Joan Cornell from Illinois
---
We love to hear from you, and value your feedback! Here's how to participate:
Drop us an email at allvegastv@aol.com – We read them all!
Call our recorded comment line at 702-507-0055. We listen to every call.
---
More Las Vegas News – Concerts – Events
Coming Hot Holidays – The following dates are huge times to be in Las Vegas, and rooms are in high demand. Booking in advance is the best way to save. Visit our friends at Las Vegas Hotel Deals and spend one of the following hot dates having fun in Las Vegas:
Labor Day, U.S August 30-September 1 (3 day weekend)
Labour Day, Canada August 30-September 1 (3 day weekend)
Grandparent's Day September 7
Jewish New Year September 30
Columbus Day October 11-13 (3 day weekend)
Thanksgiving Day, Canada October 11-13 (3 day weekend)
Halloween October 31
Veteran's Day November 11
Thanksgiving Day November 27-30 (4 day weekend)
Hanukkah Dec. 22 – Dec. 29
Christmas December 25
New Year's Eve-Day December 31 – January 1
Martin Luther King, Jr., Day, U.S (Observed) January 19-21 (3 day weekend)
Chinese/Lunar New Year January 26
Lincoln's Birthday, U.S February 12
Valentine's Day February 14
President's Day, U.S (Observed) February 14-16 (3 day weekend)
Washington's Birthday, U.S February 22
St. Patrick's Day March 17
Easter Sunday April 12
Cinco de Mayo May 5
Mother's Day May 10
Father's Day June 21
Canada Day, Canada July 1
Independence Day July 4
Civic Holiday, Canada August 1-3 (3 day weekend)
Link To Us! – Have a home page, web page, or blog? Link to us, and give yourself and your friends a quick link to find us from your site. Simply link to http://www.accessvegas.com and name the link Access Vegas!
RSS Feed – We now have an RSS/XML feed! Most RSS programs let you visit AccessVegas.com and automatically pull the feed. For those who want to enter it manually, the feed is:
http://www.accessvegas.com/xml/whats-hot.xml
Share the info: Click to Email this newsletter to a friend!
---
For comments or questions regarding our content
or this newsletter write us at
allvegastv@aol.com
.
New to the list? See our Newsletter Archives for back issues and subscription info. Don't hesitate to forward this newsletter to friends and associates.
All contents copyright 2008 Ted Newkirk. All Rights Reserved.
Hotel Rates Published Accurate At Time Of Publication


August 6, 2008 ISSN: 1529-2770 About Us Privacy Policy
Thanks,
Tracey from Cumbria, England