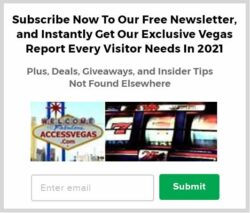 Enjoy Our Archives
Free Las Vegas Newsletter
Archived Edition:
News, reviews, and advertising offers are current at time of publication.
Updated Las Vegas Information: Click Here
December 15, 1999
Welcome to Access Vegas News and Reviews! This is the newsletter that talks about the Las Vegas attractions, dining, and shows that YOU really care about. This is not spam. If you receive this by mistake, unsubscribe information is at the bottom. Please forward this to friends who may enjoy it, but only in it's entirety.
This is the official newsletter of http://www.accessvegas.com Quality Las Vegas Tourist Information – Hotels, Casinos, Insider Tips, and more. If it's about Las Vegas, it's AccessVegas.Com!
Book Online and Save – Easy and Secure with Instant Confirmation:
* Discount Hotel Rooms – All Cities: http://www.lodging.com/affiliates/us_reservations.cgi?remote=tedinvegas
* Discount Rental Cars – All Cities: http://www.travelnow.com/cars/search.jsp?cid=2005
* Find Lowest Airfares: http://www.accessvegas.com/a-travel-center.htm
* Best Tours/Rates for Grand Canyon, Hoover, more: http://www.accessvegas.com/tours
HOTEL MESSAGE BOARDS – Help others and share your opinion of the Las Vegas hotels you stay at by posting a note to our new board at http://boards.accessvegas.com We want to hear from you!
* * * * * * * * * * * * * * * * * * * * * * * * * * * * * *
This Issue: Bellagio Buffet
Curious about a restaurant, event, or other Las Vegas attraction that looks fun? Let us review it for you first! Suggestions are always welcome at: allvegastv@aol.com
---
---
Note: If you enjoy this part of the newsletter, subscribe to the EverythingLasVegas free email newsletter. Twice a week, this list will includes links to newspaper stories, informative websites, travel specials, weekly Las Vegas entertainment updates, restaurant reviews, and more. Subscribe at http://www.onelist.com/subscribe.cgi/EverythingLasVegas
LAS VEGAS NEWS – of interest to tourists:
WHEEL … OF … FORTUNE – If you have spent any time in a casino, you hear those slot machines spit out that chant every few minutes until you are sick of it (unless you are playing and winning). Well, the real thing is coming. Kind of. Beginning Dec. 23, the world's most popular TV game show also will be played as a live, nightly attraction at the MGM. Tickets are $17.50 and audience members will be participating. Full story at http://www.lvrj.com/lvrj_home/1999/Dec-10-Fri-1999/weekly/12481186.html
THE LAS VEGAS BOWL – matches Fresno St. and Utah this Saturday Dec. 18. You can view the game on ESPN2 at 6:00 PM Eastern time and get a little of Las Vegas in your living room. Or, if you want to get away for the weekend and see some good football, tickets start at $10 and are available online at (702) 895-3900 Las Vegas Bowl stories are available at http://www.lvrj.com/lvrj_home/sports/packages/lvbowl/
RODEO – the National Finals Rodeo rolled through town for it's 12 day run and people in country attire could be seen having a good time both on the Strip and downtown. I'm not "country", but these people seem to be some of the nicest and friendliest people you will meet. The Professional Rodeo Cowboys Assn. is going to ad a nationally televised winter season beginning in January with the finals to be held at the MGM. Story at http://www.lvrj.com/lvrj_home/1999/Dec-06-Mon-1999/news/12497185.html and we are giving away the NFR guide from the Review Journal in our contests section.
ANTIQUE ORGAN – The once-adored Kimball organ sits center stage under the bright lights of Roxy's Pipe Organ Pizzeria at the Fiesta hotel-casino. A crew of 25 artists, cabinet makers and electricians resurrected the 20,000 pieces and this is a must-see. Full story at http://www.lasvegassun.com/sunbin/stories/archives/1999/dec/05/509553586.html?%22pipe+cleaners%22 and Fiesta discount rooms available at http://www.travelnow.com/s/hotel.html?ID=120406&cid=2005 The Fiesta is 10 minutes from downtown and 15 minutes from the Strip in the northwest part of town.
PLAYERS EDGE – a column written by noted gaming experts Bob Dancer and Jeffrey Compton detail the tremendous deal, giveaways, and bonus points that casinos are using to get people in the door during this slowest time of the year. Read all about it at http://www.lvrj.com/lvrj_home/1999/Dec-10-Fri-1999/weekly/12508475.html
LIVING IT UP AND DOUBLING DOWN IN LAS VEGAS – is the new book by author and attorney Anthony Martinez. He took the $50,000 advance for a book, and came to Las Vegas live out the life of a high roller for 30 days, then chronicle what happens, both good and bad. Full review at http://www.lvrj.com/lvrj_home/1999/Nov-28-Sun-1999/lifestyles/12341196.html and you can purchase the book from Amazon at http://www.amazon.com/exec/obidos/ASIN/0375501819/invegascom Amazon can still deliver by Christmas using standard shipping.
SHOPPING – is bringing people to Las Vegas for an excuse to combine Christmas preparation with pleasure. The huge shopping galleries at the Venetian, Caesars and the Fashion Show Mall are taking center stage. Plus, rooms are dirt cheap between now and Christmas and lines are almost nonexistent. Story at http://www.lvrj.com/lvrj_home/1999/Dec-09-Thu-1999/lifestyles/12484934.html
NEW YEARS EVE LAS VEGAS ROOMS – are still available and some of the prices have dropped! Call Hotel Reservations Network at (800) 666-5268 for a free price quote! NOTE: You MUST stay on the line until you get a person. HRN is NOT booking these specific dates online. We will be leaving this notice up as long as rooms continue to be available, but they are going fast.
WINNERS! – Marie Gordon of Skokie, IL won the Siegfried & Roy Calendar. Debra Barnes of Santa Ana, CA is the winner of Sahara Speedworld Motion Theater passes. Steve Current, John Pennisi, Laurie Grinbergs, Sarah Adams and Lisa Ceslikoski each won a Siegfried & Roy postcard.
* * * * * * * * * * * * * * * * * * * * * * * * * * * * * *
Quick Concert and Show Notes:
See which shows are playing during your stay and book reservations EVEN if the tickets aren't on sale yet. Let ShowVegas takes care of all your needs directly online! Search by dates at http://www.showvegas.com/svpricing.cfm?cscheme=5&amid=143
CHER – returns to the MGM on Jan. 29 with tickets priced from $40 to $150. Tickets are available at (702) 474-4000. MGM discount rooms available at http://www.accessvegas.com/las-vegas.htm (MGM link).
THE JUDDS – bring their reunion tour to the MGM on Feb. 6. Tickets run from $30 to $65 and are available at at (702) 474-4000. MGM discount rooms available at http://www.accessvegas.com/las-vegas.htm (MGM link).
CREED – plays the Thomas and Mack on March 2. All tickets are general admission $26. The Hard Rock hotel is a 4 minute walk from the Thomas and Mack. Tickets available at (702) 474-4000 and Hard Rock discount rooms available at http://www.accessvegas.com/las-vegas-other.htm (Hard Rock link).
---
---
Note: We are really enjoying the Christmas music channel available online at http://www.mediamazing.com We have no relation to the company but they have a great selection of 27 music formats, and unlike the radio, you can skip any song you don't like or mix and match 2 or more formats at a time!
---
---
Note: A reader brought to our attention that the MGM Grand Theme park, noted in last weeks newsletter as a "Top 10 Free" thing to do, is closed for the winter and will re-open in spring of 2000. Another noted that the park has varied between offering free admission and charging. The park has never been a real success, and they have been "stealing" parts of it for other ventures. We will review it when it re-opens.
Another reader names Susan noted the Bellagio Fountain show times:
>The Fountains of Bellagio Show Times:
>ááááááááááááááá Monday – Friday:
>3:00 p.m. until 7:00 p.m., every 30 minutes
>7:00 p.m. until Midnight, every 15 minutes
>áááá Saturdays, Sundays & Holidays:
>Noon until 7:00 p.m., every 30 minutes
>7:00 p.m. until Midnight, every 15 minutes.
LETTERS TO THE EDITOR:
Kit Lindsay of Warrensburg, MO wrote,
>ááá Just thought I'd drop you a note, I just booked reservations for
>Mystere' via your link that was posted at the latter half of the
>newsletter.á It is GREAT!á I have always had to have the casino guest
>services book those for me, and since I am not a super high roller there
>were times that I couldn't get a seat. This is great. I hope that things
>like this become more common in the future.á Thanks again for the
>opportunity and the great newsletter. I know it is a lot of work, and
>you do a fine job.
Thanks for the kind words! So far, we have had a 100% positive response regarding ShowVegas at http://www.showvegas.com/svpricing.cfm?cscheme=5&amid=143 For a very reasonable service fee, they do all the leg work to get the show you want on the date you want. As with any of our sponsors, all feedback is appreciated.
Regarding last weeks question about scooter or wheelchair rental:
>ááá A friend of mine said he thought he had seen a place on the s, strip. Not
>sure, just know of one of those medical rental places called Medical Mart on
>2797 S. Maryland Prkwy. 702-369-9107 I think they can deliver. I don't much
>about prices for scooters or If you can use insurance. They have not got any
>bad comments from my friends Mom. She used that service for a relative. Hope
>that helps you some.
We called them. They do rent wheelchairs, but nothing electric. They do not deliver, so your own car or a rental car (or taxi ride — they are about 3 miles from the center Strip area) is necessary to pick up and drop off. Rentals are $15 a day or $35 a week for a standard 18″ wheelchair and a credit card deposit of $150 is mandatory. You also might call ahead to your hotel and see if they can accommodate a request for a wheelchair.
++ ++ ++ ++ ++ ++ ++ ++ ++
Your input is welcome. Write us a "letter to the editor" at allvegastv@aol.com Please include your name if you wish to have it published (stating your city is optional). Also, guest article submissions are welcome with full credit to you, your website, etc. if accepted.
* * * * * * * * * * * * * * * * * * * * * * * * * * * * * *
FREE CONTESTS:
Note: You may enter every contest, but only one entry to each. Please note the expiration date and only enter if you will be in town and can use them. The 10'th entry in each contest will be the winner (unless otherwise noted). Just sent a blank email to the specified email address — we'll get your mailing address from you only if you win. Also, please do not enter if you have won within the past month.
EAGLES and JACKSON BROWNE – Enter to win a pair of tickets to their Dec. 29'th show here in Las Vegas at (contest closed) You must be a resident of NV, CA, AZ, or UT and be at least 18.
NFR Guide – If you wonder what it's like during National Finals Rodeo time, this is for you. We have one guide that was printed in advance of this year's events. Enter at (contest closed)
* * * * * * * * * * * * * * * * * * * * * * * * * * * * * *
Have a request for a review? Boggled when you come to town and see the hundreds of dining, attraction, and show opportunities? Let us know what you'd like to hear about! Unlike the tourist magazines where all of the "articles" are really paid ads, we give you the honest scoop. If you appreciate this service, please consider booking your rooms and rental cars for ALL destinations with us at http://www.accessvegas.com You get secure ordering with the convenience and savings of booking online!
* * * * * * * * * * * * * * * * * * * * * * * * * * * * * *
New to the list? Back issues can be found on the web at:
https://las-vegas-news-reviews.com
Don't hesitate to forward this newsletter to friends and associates,
but please ask for permission before reproducing the content in any
form — we would just like to know who you are, that's all. Thanks!
You may subscribe to this newsletter by going to:
https://las-vegas-news-reviews.com or sending a blank email to
below
All contents copyright 1999 Ted Newkirk
December 15, 1999
Las Vegas Gambling Tips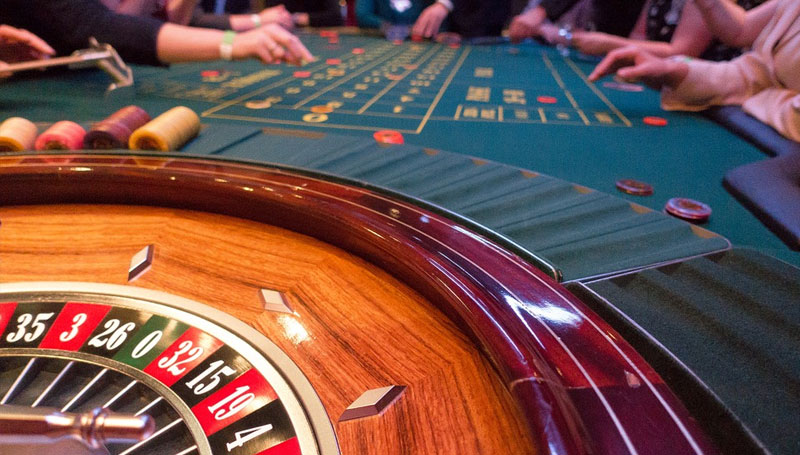 Visit World Famous Gaming Writer Victor H. Royer's
Casino Gambling Articles