Serving Las Vegas Visitors and Residents Since 1999
Welcome to the Insider Vibe! This is the official newsletter of AccessVegas.Com. We talk about the Las Vegas activities you really care about.
Need to contact us? Send feedback to
AccessVegas@AccessVegas.com
Missed an issue? Click to Read Back Issues Online.
---
AccessVegas.com Quick Info Menu:
| | |
| --- | --- |
| Las Vegas Essentials | Featured Shows |
---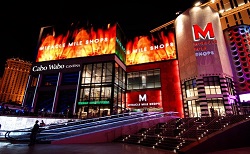 Miracle Mile Shops Inside Planet Hollywood September 2013 Events, Deals, And Promotions – Caring, Giving, Changing at Miracle Mile Shops
Miracle Mile Shops inside Planet Hollywood Resort & Casino is collecting donations in its fountain for Nevada PEP, as part of the centerÆs Caring, Giving, Changing community campaign. Throughout September, all change tossed in the popular water feature and the centerÆs indoor rainstorm will assist the statewide nonprofit that offers education and encouragement to families of children with disabilities.
---
Las Vegas Shows, Headliners, And Concerts
---
Beer And Cocktails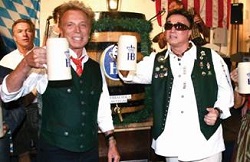 Siegfried & Roy Kick Off The 10th Annual Las Vegas Oktoberfest At Hofbrõuhaus – The wonderful aroma of quality malt and perfect hops is quickly filling the air and that can only mean Oktoberfest is approaching! Magicians of the century, Siegfried & Roy« will kick off the six-week German celebration at Hofbrõuhaus Las Vegas. Every weekend local celebrities will do the honors of tapping a keg, including Claire Sinclair, Frankie Moreno, the sultry cast of Jubilee! and many more.
Hofbrõuhaus Las Vegas offers guests endless Bavarian fun, food and, of course, Oktoberfestbier. The full-bodied lager is brewed to perfection and is the ultimate centerpiece for the exciting festivities that compare to the real Oktoberfest revelry held in Munich, Germany. Patrons can test their strength during the stein holding competitions and Jõgermeister spankings, or watch the nightly almond and pecan glazing process, adding the finishing touch to an authentic experience.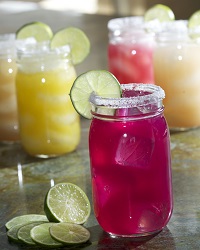 La Comida East Fremont Introduces Happy Hour – íSalud! La Comida, Downtown Las VegasÆ vibrant, new Mexican eatery, has added a dash of spice to the daily routine with the introduction of happy hour specials, available from 3 to 5 p.m., Monday through Friday.
La ComidaÆs dynamic bar, dining room and patio provide a fun setting for guests to enjoy fresh fruit margaritas and beers, each available for just $5. Margarita selections include the passion fruit margarita, prickly pear margarita, guava margarita, pomegranate margarita and tamarind margarita; all made with freshly made fruit purÚe, tequila reposado, sour mix, and garnished with a salted rim and lime wheel. La ComidaÆs bottled beer assortment includes a variety of Mexican, import and domestic favorites such as Bohemia, Negra Modelo, Dos Equis Amber, Stella, Amstel Light and Coors Light.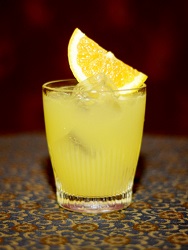 Commonwealth Downtown Las Vegas Stays Golden With September 2013 Cocktail Of The Month – Commonwealth will go for the gold with SeptemberÆs featured cocktail, ôGolden Grove.ö The refreshing concoction will be offered all month, beginning Sunday, September 1, 2013 priced at $10.
The thirst quenching cocktail, created by Master Mixologist Juyoung Kang, mixes Grey Goose Orange, fresh orange juice, Triple Sec and Orgeat Syrup and served with an orange slice. Guests will sip on the tasty libation while mingling in the pre-Prohibition era inspired cocktail bar.
---
Gambling, Gaming, And Sports Books
---
Las Vegas Attractions
---
Dining In Las Vegas
---
Downtown Las Vegas
---
Las Vegas Hotels
---
Las Vegas Economy And Real Estate
---
More Las Vegas News
---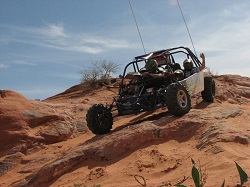 Mini Baja Buggy Half-Day Tour û This sun buggy tour adventure is definitely not tailored for the weak at heart. You will get behind the wheel of a true desert racing machine for a 30-minute ride that takes you somewhere between 10 and 15 miles over challenging terrain. On this advanced buggy adventure we want you to think of it as a roller coaster.
Choose a one or two-seater dune buggy for this tour. All buggies are custom built for NevadaÆs rugged terrain, and come equipped with roll cages, seatbelts and helmets for your safety. The buggies are similar to your regular car, has a steering wheel, brake pedal, and gas pedal. Be responsible operate the buggy safely. Highlights: 3.5 hour (approx.) door to door, 30-minute dune buggy ride, Drive 10 to 15 miles over challenging terrain, Choice of one and two-seater buggies, Choice of morning or afternoon departures, Pick-up and drop-off from Las Vegas hotels
---
Upcoming Las Vegas Events And Holidays
---
Top Tickets For All United States Events
Did you know that we not only sell premium concert and event tickets for Las Vegas, but also for the entire United States as well? If you can't make it to Vegas, treat yourself to some great seats for something near you:
---
Newkirk's Notes: The Boss Speaks…
Newkirk's Notes are comments and insight from AccessVegas.Com publisher and 20+ year Las Vegas resident Ted Newkirk:
Hello From Las Vegas! – I've been off for about 10 days house-hunting. This is a very tight, fickle market here right now (which I'll discuss in future issues). So, just a few brief notes from me and we'll get this issue out. Fortunately, it is super-packed with all the helpful information you need to get your fix of Vegas, keep up on what is going on, and help you consider what you want to do on your next visit.
We posted on our Access Vegas Twitter page last week that we may have seen the end of the 100 F degree days. We may sneak just into the triple digits for a few more days, but September's average is 94 F so even if we go a little higher, the super-scorching days are coming to an end.
ALSO, keep in mind that sunset is around 7:30 PM here right now. (We sit on the very eastern edge of our time zone, so we always get earlier sunsets than most places). If you are thinking about watching the sun set and The Strip light up from the top of the Stratosphere Tower or the Paris Las Vegas Eiffel Tower, arrange to have yourself up there by 7 PM. Highly recommended, especially from Stratosphere. Worth the cab ride to catch sunset from up there!
Football Bars – As promised, here is the link to the list of all the NFL teams who have local bars devoting themselves exclusively to that team. This means they show every single game, showing it on every single one of their TV's, and also offer food and drink specials. Is this for the average tourist? Probably not. The cab ride could run you a bit and obviously, the casinos have all games that are live on multiple TV's.
However, if you are the kind of visitor who rents a car, gets out and about, checks out the off-strip casinos (plus Hoover Dam, Red Rock and similar), you might find hunting down a bar for your team tons of fun! You'll be among a throng of like-minded people all rooting for your team. Check out the entire list: Las Vegas Valley bars pour on the enthusiasm to support their teams
Vegas Facebook – Just a reminder for you Facebook users: You can follow our Vegas-related feed at VegasFacebook.com. No, we're not going to post photos of little children or kittens. And we're not going to clutter your feed to death with a zillion stories every day. We post an average of 2-3 times per day with some fun photos and news stories about Vegas that help keep you in the loop. Some of which don't make publication deadline for the newsletter.
So head over to VegasFacebook.com, "Like" our feed and make sure to Comment and Like the posts you find interesting. We value your feedback.
Hope you are enjoying this issue!

Associate Editor / News Researcher: Rick Ziegler
Concerts and Headliners: Amy Rayner-Cooley
---
What We're Watching – Vegas Videos You'll Enjoy
---
We love to hear from you, and value your feedback! Here's how to participate:
Want to comment on a current reader post? Use the comment box on that particular web page. Many of the stories we post also have comment boxes at the end of the story. Make your voice heard!
Drop us an email at AccessVegas@AccessVegas.com – We read them all!
Call our recorded comment line at 702-507-0055. We listen to every call.
---
No related links found