Serving Las Vegas Visitors and Residents Since 1999
Welcome to the Insider Vibe! This is the official newsletter of AccessVegas.Com. We talk about the Las Vegas activities you really care about.
---
AccessVegas.com Quick Info Menu:
| | |
| --- | --- |
| Las Vegas Essentials | Featured Shows |
Newkirk's Notes – comments on Las Vegas from AccessVegas.Com publisher Ted Newkirk:
Hello From Las Vegas! – I often warn people that our temps frequently range 10 degrees above or below average, and this past week we've been in the "above" phase with us brushing up against the 100 degree F mark. Fortunately, it cools quickly into the evening as the days are getting shorter. The downside when this happens? We swing the other way. Later next week, we're looking at days that are only in the mid-70's with overnight lows in the 50's. NOOOOOOOOOOOOO!!!!!!!!! Someone tell me that is a bad joke. I don't want a preview of early November yet!
Practicing What I Preach – A few weeks ago, I noted that one of the great things about living here is quick access to all the fun stuff on The Strip. Well, I was recently sitting at home watching college football on a Thursday night (I'm a big college football fan, I'll watch regardless of who is playing). And it dawned on me: Why am I sitting watching this at home? So less than 20 minutes later I had relocated my behind to one of the comfortable couches at Rhumbar.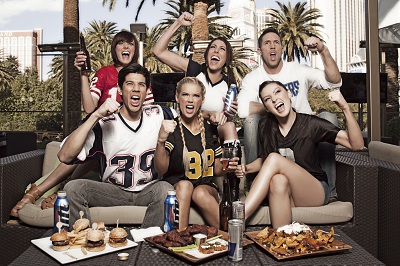 Note: I am not in this photo. We got it from Rhumbar. But if you look at the upper left side, you can see a TV bracket which (on my particular day) had a big, flat-screen TV playing the game. Side Note: They show most college and pro games. So there I sat watching the game, beautiful outdoor environment, surrounded by The Mirage, Venetian, and Harrah's as the sun went down and the hotels lit up with a cocktail in my had. Life doesn't get much better.
Musical Acts Play Musical Chairs – 2012 brings some show location changes. Barry Manilow is moving to Harrah's, which will be his third residency (Hilton, Paris) since he became a Las Vegas headliner many years ago. Jersey Boys are moving to Paris Las Vegas (the announcement of which preceded Manilow's move). Meanwhile, Donny and Marie will be around throughout 2012 although conjecture exists that they may scale back the number of days they play.
A Tale Of Two Cities – Las Vegas was recently deemed the most miserable city in the United States (followed by Riverside-CA, Sacramento-CA, Stockton-CA and Cape Coral-FL). The survey was basically based on the housing market and unemployment, not on quality of life. I think it would be fair to argue that if you are unemployed and underwater on your house, you're going to be somewhat (or very) unhappy regardless of where you live. We unfortunately have more people in that category that just about anywhere else.
Vegas Visitation Numbers And Gaming Revenue Continues Upwards – It looks as though we're going to match the all-time high of over 39 million visitors this year (a record which was set during the boom in 2007). Visitors aren't spending as much and hotel rooms are about 25% cheaper than they were at that time, but honestly we have no business comparing those numbers to boom-times. The bottom line is that nearly 40 million of you are going through the arduous process of getting on an airplane or taking a long car ride to come enjoy Las Vegas!
While gaming numbers (the amount you leave behind at the tables and machines) was up only slightly on The Strip, it was up a whopping 10% (over July of last year) downtown. It isn't because they have tightened everything up downtown. On the contrary, you'll still find the loose machines and (generally) better table games on Fremont Street. It is simply a matter-of-fact that downtown is red-hot. Weekends, weeknights, it doesn't matter. Long gone are the days when you could shoot a cannon down Fremont Street and not hit anyone.
Hilton Happy Hour Complimentary Pool Parties Still Going Strong – Guests and non-hotel guests alike are invited to enjoy pool-side happy hour and daily entertainment from 4:00PM to 8:00PM. Featuring 2-for-1 drink specials, food fresh from the baja strip, and live music plus daily drawings Date: Daily, Time: 4:00PM to 8:00PM, Price: No Fee, Location: 3rd Floor Pool Deck.
Cool By The Pool Features: 2-for-1 drink specials $2 shrimp cocktails $3 ceviche Live entertainment 5:30PM to 8:00PM Daily Drawings 7:00PM All guests are welcome! Nightly entertainment includes a live DJ and the local Las Vegas "Jimmy Buffett style" singer Tommy Rocker.
Back On The Air! – Throughout 2006 and into early 2007 I put out a podcast that received some nice comments. Between my workload at the time and the fact that internet broadcasting was still somewhat in infancy, I put it on hiatus. It seems like not a month or two goes by when I don't still have a request about re-starting it and I've hinted that we'd be doing so in 2012. In the meantime…
Scott Whitney of Living In Las Vegas (on the Vegas Video Network) has asked me to join his show with a weekly call-in segment and I'm happy to be on board! This is the chance to hear me talk about the best Vegas tips and my personal insights similar to what we do in the newsletter, but with the ability to expound on points or perhaps include information that we just couldn't squeeze in here. How to watch/listen:
Watch live online at 7:30 PM Pacific time each Tuesday at Vegas Video Network Live
The following day after each live show, you can watch it archived on the Living In Las Vegas page.
If you have iTunes, you can get the video or audio (only) version of the show. Simply go to iTunes and search for Living In Las Vegas.
If you have Roku (a really cool, simple device that let's youáwatch Netflix plus tons of online content on your TV), look for the Vegas Video Network channel.
Thank You For Your Patronage – We've had some serious discussion the past couple of weeks about our pending plan to go to a paid-subscription model with this newsletter. Around spring of 2012, we'll probably be splitting into a limited-info free model and a full-featured subscriber model (as it will take time to ramp up the new added-bonus subscriber features).
However, I'd be remiss in thanking those of you who have supported us over the years by booking through the links in the newsletter or going to AccessVegas.com to make your various reservations. In fact, I'm going to offer this to all: If you book through this newsletter (I'll specify momentarily) with any of our advertisers or featured partners between now and when we go to the subscribership model, we'll comp your first year. (And, we'll create a similar program so that loyal customers are rewarded down the road with complimentary subscriptions).
It is as simple as this. Book any one of the following (you must use the links so our advertisers know we sent you):
ANYTHING in the right sidebar of this newsletter. The hotel links, show graphics, or concerts.
The featured tour of the week (changes with each week), or any tour on our AccessVegas.com Tours area.
Booking a limo from the airport using the limo ad below this section. Quite a few of you are doing this as it isn't way more expensive than a cab, you have a driver waiting for you, and no worries about being long-hauled. Plus, what is cooler than pulling up to your hotel in a limo!
Not visiting Vegas (or are you such a player that everything is comped)? Go to Tickets.AccessVegas.com where we have tickets for just about every major sports event and concert in the United States (and beyond) and buy your tickets through that site. We get a cut of the sale, you get amazing seats, and you get your comped subscription.
If you do any of the above in the next few months leading up to our subscription model, save your confirmation email (even after the event/trip) and submit it to us once we start accepting subscribers, we'll comp your first year. Simple as that. You help us, we're pleased to help you!
Enjoy This Issue!

Associate Editor: Amy Rayner-Cooley
News Researcher/Editor: Rick Ziegler
---
---
Margaritaville is Poised to Break the Guinness World Record for The Largest Margarita Ever Made, Becoming the Toast of the Las Vegas Strip – This October, in celebration of the Grand Opening for the new Margaritaville Casino at The Flamingo (click link to book) in Las Vegas, Margaritaville will attempt to break the current World Record for the largest margarita ever made as verified by Guinness World Records. One part opening celebration and over 2000 parts tequila, the two-story margarita will certainly be the talk (and toast!) of the town.
Carrot Top, Rice, and Company Celebrates Grand Opening and Launch Of The 2012 Fantasy Calendar – Rice & Company inside Luxor Hotel and Casino (click link to book) hosted its grand opening party September 21, 2011 and helped the women of FANTASY (click link to book) celebrate their 12-year anniversary and launch of the 2012 calendar. Plenty of Vegas celebrities including Carrot Top (click link to book) , Jeff Timmons from 98 Degrees and the dashing men of Thunder From Down Under (click link to book) showed up to celebrate the occasion at Rice & Company enjoying delectable sushi and sipping on succulent cocktails.
At The Gazillionaire's Demand, Absinthe Will Make A Triumphant Return To The Shimmering Spotlight At Caesars Palace – Las Vegas has spoken! Due to critical acclaim and popular demand, ABSINTHE's (click link to book) filthy rich impresario, The Gazillionaire, has announced that Las Vegas' 'Best New Show' will return to the spotlight at the glimmering epicenter of the Las Vegas Strip, the Roman Plaza at Caesars Palace. ABSINTHE will return to Sin City late-October, where the show's outlandish acts will continue to captivate audiences and critics alike in a newly transformed venue, infused with mystique and intrigue.
Night School 4 Girls To Host Official Grand Opening At Excalibur Friday, October 7- Laura Croft, Holly Madison, Angel Porrino, Josh Strickland To Inaugurate Classes – Night School 4 Girls (click link to book) will celebrate its grand opening with a pink carpet and celebrity class hosted by Sin City party girl and reality superstar, Laura Croft, from E!'s 'Holly's World.' Croft's reality pals Holly Madison, Angel Porrino and Josh Strickland, also from E!'s 'Holly's World,' will join her for the official Night School 4 Girls debut in the newly remodeled Thunder From Down Under Showroom at Excalibur Hotel & Casino at 3:30 p.m. on Friday, Oct. 7.
Rhumbar Introduces The Apple Pie Fall Cocktail – A New Liquid Twist on the Classic American Dessert – Mom's apple pie has a little extra spice this season with the new 'Apple Pie' cocktail at RHUMBAR. The Mirage's (click link to book) stylish cocktail lounge will debut the cocktail just in time for the fall season, giving the traditional dessert a little Las Vegas kick.
The perfect mix of spiced rum and apple puree solidifies a taste that is enough to make the mouth water, while the trace of daiquiri adds delightful texture. The cocktail is creatively garnished with two slices of dried apple.
Ri Ra Las Vegas Adds Several Imported And Local Brews To The Pub's Extensive Beer Selection – RÝ Rß Las Vegas, located inside The Shoppes at Mandalay Place (click link to book), enhances its beer collection with several new imported and local brews.
Among the new beers are several imported draft selections, including Porterhouse Porter, Newcastle Brown Ale, and Ayinger Oktoberfest. For a classic light stout, Porterhouse Porter is dry, clean and bitter without any sourness. This Irish microbrew has the added complexity of a late kettle hop with a sweet malt finish. Newcastle Brown Ale, an English brew, has a dark malt flavor with hints of caramel and toffee to accompany a slightly bitter aftertaste. Ayinger Oktoberfest, imported directly from Germany, is a flavor-rich brew with Munich malt flavors. Its low hop flavors and moderately low bitterness make it lightly sweet up front with a dry finish.
---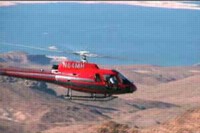 Canyon Dream Air and Land Tour û A 40-minute flight to the Grand Canyon South Rim aboard a Beechcraft 1900D aircraft starts your ultimate adventure. Upon landing, your excursion will begin with a seat on our state-of-the-art ECO-Star helicopter for an amazing 25-minute breathtaking helicopter experience over the Grand Canyon.
---
What We're Watching – Vegas Videos You'll Enjoy
---
Members Mania – We Love Our Readers!
We love all the up-dates on casinos in Las Vegas. We have been coming for 30 years. My best suggestion for Vegas would be to loosen up those slots! The word of "winning" is the supreme advertisement. In Oklahoma we have several Vegas level Native American casinos offering the same hotel and food comps. No airfare either. For us nothing is like Las Vegas, but we sure miss those Champion air $99 round trip flights.
Thanks,
Janice and Denver Flowers
Will be visiting Vegas in October. Lover your newsletter. Always very informative. Sorry to hear they are tearing down O'Shea's. It seems that all the old Vegas is being torn down. Stay at IP or Harrah's because they are centrally located.
Vegas is forgetting that the older people have kept Vegas alive. They tried to make Vegas a family place. That died. Now they are trying to make it a place for the younger set. What about us young Seniors who like to party and gamble? It seems Vegas is starting to overprice rooms, food and shows. Liked the old Vegas not all the high priced hotels and bigger shopping centers.
Will still visit Vegas until we can't afford it. Now that most of the states have gambling we don't have to go far to spend our money, receive comps and be treated well. We will have a Casino about 15 minutes away next year. We are also within a couple of hours drive for about 5 very nice Casino's.
Two young Senior Citizens.
Stayed downtown at Fitz and as usual we were satisfied. Noise at front table games on the week end is awful. They turn the music up so loud behind the table games that I had to leave. The shows outside on the stage are getting very tacky. Almost embarrassing,
Thank God for the entertaining of COOL SAX. He is terrific but the barley covered girls on the stage are pitiful. Also ate at my favorite Chicago Joe's. The food was excellent. Not too far from Fremont Experience and worth the little trip.
Gambling downtown is the best and I got very lucky at Four Queens. Love my July trip.. .will be back next year!
Barb B.
Massillon, Ohio
Ted Responds:
I usually don't bunch the responses together, but all of these letters had a similar thread.
The days of $99 flights to Las Vegas went the same place at $1.99 per gallon gasoline. I remember regularly flying home to Portland, OR on Reno Air (anyone remember Reno Air?) for $99 round trip. Have to admit, I miss it also.
No question that tight slots are a major complaint, just as the newer table game rules that aren't so player-friendly. The hotels blame the drop in how much people are playing on the recession. I blame part of it on how quickly you can burn through your entire day gaming budget. Why bother? Remember, downtown has consistently looser games than The Strip. I go to The Strip to lounge and see shows, and downtown to play.
Having said that, let's look at playing at a Native American property. Some are even as fancy and nice as Las Vegas. With one glaring exception: They usually aren't all bunched together. So… you go and you start playing and you start losing. Then what? Go eat? Walk a few laps around the joint? Sit back down and perhaps get your butt kicked some more (if you are having a particularly unlucky day)? Get in your car and drive an hour or two home again?
Despite the growth of all these other outlets, Las Vegas is on pace to welcome a near record number of visitors this year (and we might even pass the 39.2 million mark that was set in 2007). At the end of the day, there is no substitute for the real thing and your local gaming parlor isn't going to give you the sheer thrill that all of the sights and attractions of Las Vegas will, with plenty to do and see if your luck isn't happening.
No question that too many properties are forgetting that the average age of the Las Vegas visitor is 49 years old (a number I'm rapidly approaching). Look… I don't mind some modern chill and ambient music while I'm having a cocktail. But I don't want to hear DJ Scratchy-Scratch playing the best of Jay-Z and Ke$ha. I've heard of people who have been staying at Wynn/Encore since it opened and have moved on because the Encore Beach Club (pool party) draws too much of a Jersey Shore (TV show) crowd to what was an otherwise refined resort.
I was in The Stratosphere not too long ago on a weekday evening and saw something that startled me: A real live band playing the lounge. With real live people drinking, watching, and enjoying themselves. With this real live music drifting out onto the gaming floor. What a concept!
Downtown, the Fitzgerald's, Binion's Golden Gate, and Vegas Club all feature party pits with sexy ladies dealing and dancing to loud music. If that isn't your cup of tea, many other properties like Four Queens and Fremont feature traditional gaming. No question the party pits are aimed at free-spending men who see it as an alternative to the even more expensive club. The nice thing about Las Vegas (and especially downtown) is that if you don't like what you see, just walk next door! Try doing that an most Native American operations that are in the middle of nowhere.
Final piece of advice: If you've been a long-time player at a property and you don't like changes that are being made, compose a snail mail (postal service) to the manager once you get home. Explain your long-time patronage and what is driving you away. Often, the decision makers have no clue what is really happening at their properties or why people are leaving to play elsewhere.

We love to hear from you, and value your feedback! Here's how to participate:
Want to comment on a current reader post? Use the comment box on that particular web page. Many of the stories we post also have comment boxes at the end of the story. Make your voice heard!
Drop us an email at AccessVegas@AccessVegas.com – We read them all!
Call our recorded comment line at 702-507-0055. We listen to every call.
---
More Las Vegas News – Shows – Events
No related links found