Serving Las Vegas Visitors and Residents Since 1999
Welcome to the Insider Vibe! This is the official newsletter of AccessVegas.Com. We talk about the Las Vegas activities you really care about.
---
AccessVegas.com Quick Info Menu:
| | |
| --- | --- |
| Las Vegas Essentials | Featured Shows |
Newkirk's Notes – comments on Las Vegas from AccessVegas.Com publisher Ted Newkirk:
Hello From Las Vegas! – Where we're getting unseasonably hot weather with temps pushing 100 degrees F through this weekend. The first weekend of October is slated to be a much more seasonable mid-80's.
Re-Opening Of The Plaza Hotel Downtown Las Vegas
If you are a regular downtown, you know that The Plaza had seen better days. Oh sure, some improvements (like the sports book and fresh carpet) had been done in recent years. And some de-provements (if that is a word) such as the removal of the Omaha Lounge and live music. Well… The Plaza is back. With a vengeance. And already starting to do a pretty brisk business. We've visited numerous times since the re-opening and are very impressed. I'll let the pictures do most of the talking: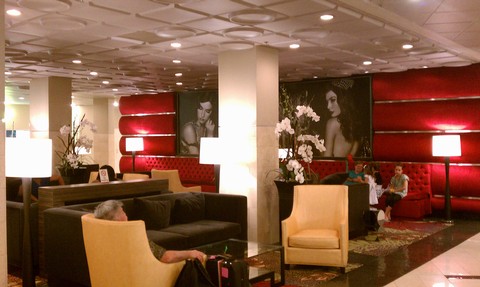 The new lobby is visually pleasing and extremely comfortable, with a coffee shop just across the walkway to the right (out of the picture).

Gaming floor with vibrant, tropical new carpet.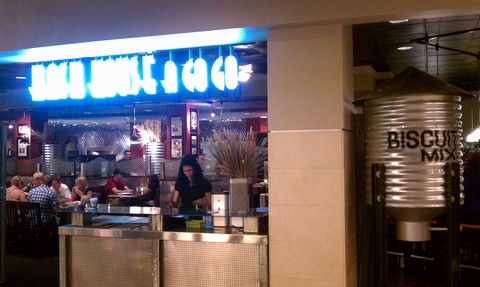 Hash House A Go Go has been a word-of-mouth hit, first off-the-Strip, then at Imperial Palace (and M Resort) and now downtown at The Plaza. Come very hungry or split an order with someone. To say that the portions are huge would be an understatement. Island Sushi and Hawaiian Grill is also proving to be very popular.

Don't quite let the name Swingers Club fool you (although the bartenders are easy on the eyes). This very large dueling piano bar just off of the gaming floor features a nightly dueling piano show on one side, beer pong and high tables (to sit and drink and converse) on the other, and a nine-hole miniature golf course running around the entire venue. Shy about walking up and saying "hi" to that group of girls or guys you are eying? Golf your way around the room and strike up a conversation when you hit the hole near their table!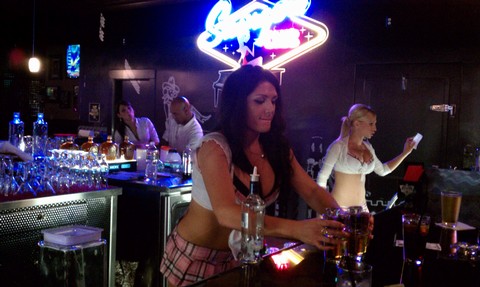 Wasting Away In Margaritaville – The steak house at Flamingo Las Vegas (which many long-time visitors will remember as Conrad's) is giving away to a Margaritaville-themed gaming area adjacent to the restaurant of the same name. The "official" grand opening parties coincide with Buffett's October 15 and 22 performances here in town (Jimmy Buffett Tickets), although I understand that it may "soft open" as early as the first week of October. We have artist renderings of what it will look like: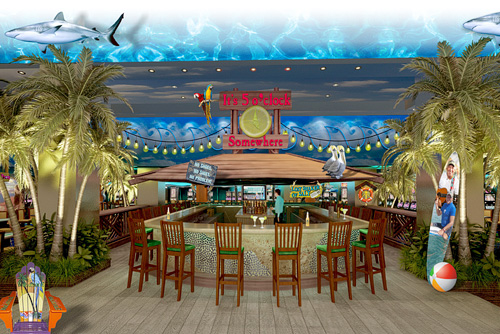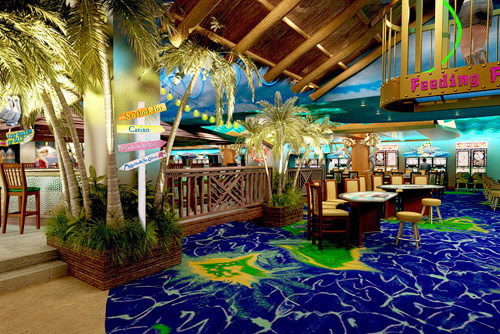 No, We're Not Going Under – When I noted our "Membership Drive" (see last week's issue), some wrote and thought that we were on financial rough times. Nothing could be further from the truth. This boils down to my frustration that we could be doing a better job of meeting reader needs/interests if I was able to hire additional help. We routinely get requests for certain types of information (which I won't divulge as our competitors read us) that would be very helpful to many of you but isn't always readily available online due to the time and effort needed to compile and update it.
In addition, everybody screams and yells if my sections (Newkirk's Notes and Members Mania) aren't here. And I love doing them! But the truth of the matter is that for now, there are weeks I need to be MIA (and/or weeks we don't publish at all) because of other responsibilities on my time. More help would fix that.
I'll discuss some of the above in greater detail down in Members Mania. But we got a very good response (people who would gladly pay a modest $24 a year for the newsletter) and we're leaning toward the following: We'll keep a complimentary version of the newsletter for those who simply refuse to help out by purchasing a subscription. But… it will be very limited. No Newkirk's notes or Members Mania (where all of the really helpful info is), and no news blurbs. Just a basic list of links to the news and stories that week. Very limited.
For subscribers, you'll continue to get the entire newsletter plus we're working on some members-only bonus features that will further help you maximize your vacation time. Also, we have had significant demand for an app. But most Vegas apps are just a mobile version of a basic Vegas website. We have a super-specialized app idea that no one else is doing, and which will meet two of your biggest constant requests for information. This is an app that will be of incredible value while you are in Las Vegas, and one I myself will use constantly as well. It will be complimentary for members. At this point, we don't have a time-frame for this change-over to membership.
Paving Over Paradise (Well, Not Exactly) – In the wake of the successful renovation of The Plaza, Golden Gate downtown is going to put up a new five-story tower on what is now their main parking lot (which is valet-only anyway). Side Note: Just use The Plaza's garage. It is usually 3/4 empty.
This will allow the Golden Gate to expand their casino floor (one of the smallest with constantly busy pit) plus add a couple of "high roller" suites. High rollers at the Golden Gate? Maybe not zillionaires, but because of the attractive, scantily clad dealers (we call it the "Boobie Pit") and old-school atmosphere, we've seen people betting reasonably serious money there on a regular basis. More on this story in What We're Watching where we link to a complete news story video.
Enjoy This Issue!

Associate Editor: Amy Rayner-Cooley
News Researcher/Editor: Rick Ziegler
---
---
Caesars Palace To Open Octavius Tower, Rooms On Sale September 15 – Hotel's sixth tower marks completion of $860 million expansion of Caesars Palace, bringing a luxurious hotel experience to Las Vegas Strip – Caesars Palace announced plans to open the Octavius Tower, a 668-room hotel tower including 60 suites and six luxury villas. The resort's sixth tower will offer a unique luxurious resort experience with a private entrance, separate hotel lobby and direct access to the Garden of the Gods pool oasis and gardens. Rooms will go on sale Thursday, September 15, for guest arrivals beginning January 2, 2012.
Tacos and Tequila Las Vegas Introduces New Fall Menu Items – Tacos & Tequila (T&T) the Mexican restaurant at Luxor Resort & Casino cools things down by introducing menu items with a sweet and spicy twist.
The ultimate fall cocktail, a pumpkin pie shooter, has been added to the menu. The delectable layered shooter comes just in time for the season change and is made with Patron XO, Bailey's Irish Cream liqueur and to really spice it up, Goldschlager cinnamon liqueur. The other mouthwatering addition to the menu is a fall take on a traditional T&T dessert, pumpkin flan. T&T took the Mexican custard, added pumpkin to the staple sweet and will serve the delicious dessert with homemade caramel and cajeta sauces.
Grape Stomp at Pahrump Valley Winery Sat. Oct. 8 and Sunday, Oct. 9 – Celebrate the fall Harvest season at the annual Grape Stomp with wine vintners Bill and Gretchen Loken at the family-owned Pahrump Valley Winery on Oct. 8-9 with gates opening at 12 noon for wine tastings, live music, food, drawings, huge annual wine sale, and the fun grape-stomping competition festivities . Stompin' grapes the old fashioned way is a juicy tradition at Pahrump Winery. General admission for public and non-stompers is $5 per person and pay at gate.
The Grape Stomp competition heats are scheduled every hour from 1:00 p.m. to 4:00 p.m. Stomp Fee is $30 entry for two and includes two commemorative Stomp T-shirts and souvenir certificate. Two-person teams compete against each other for a chance to stomp the most juice out of half barrel of grapes in two minutes, and points will be earned for most juiced within time allotted.
PBR Rock Bar And Grill To Offer Bottomless Drafts In Celebration Of Oktoberfest – PBR Rock Bar & Grill will commemorate Oktoberfest with bottomless draft beer specials in honor of the world's favorite beer-drinking festival. From Thursday, Sept. 22, until Sunday, Oct. 2, patrons can indulge in unlimited domestic draft beers from 3 p.m. until 7 p.m., and again from midnight until close, for the unrivaled price of $20 per special.
'Candy Shop Tuesdays' To Take Over Industry Night At Chateau Nightclub and Gardens – Stylish Nightclub to Enrapture Partiers with Candy Wonderland – A seductive wonderland of colors, spirit-infused sweets and luscious cocktail servers and bartenders will encompass Chateau Nightclub & Gardens with the launch of 'Candy Shop Tuesdays'. 'Candy Shop Tuesdays' will treat all locals to complimentary cover, unique playthings and sweet treats. Ladies will also have an opportunity to win cash and prizes in creative costume contests as well as weekly bikini contests by Kandy Wrappers Swimwear's signature Sugar Factory line.
The Price Is Right Live Stage Show Celebrates Five Years At Bally's Las Vegas With Celebrity Guest Host Jerry Springer – Show to Commemorate Anniversary with Exciting New Prizes, Including Guaranteed Cruise to Mexico Given Away at Every Show – The Price Is Right Live Stage Show will celebrate five years at Bally's Las Vegas this fall with Jerry Springer, who will be the special celebrity host Nov. 9 û 20 and Nov. 30 û Dec. 11, 2011. In this role, Springer will enlist audience members to play for a chance to win thousands of dollars in cash and prizes. The show, from FremantleMedia, producers of 'American Idol' and 'The Price Is Right' TV shows, features such fan-favorite games as 'Plinko,' 'Cliff Hangers,' 'The Big Wheel' and the popular 'Showcase.'
Fremont Street Experience to Host Bikefest Rockfest For Visitors to the 11th Annual Las Vegas BikeFest – Free Entertainment Sept. 29 thru Oct. 2 – Fremont Street Experience gets its motor running with BIKEFEST ROCKFEST, a series of free concerts that will complement the 11th Annual Las Vegas BikeFest. Beginning Thursday, Sept. 29 and extending through Sunday, Oct. 2 the four days will be jam-packed with entertainment by some of the world's best tribute bands of rock superstars.
On Saturday evening, movie and television star Dan Aykroyd will be signing bottles of his Crystal Head Vodka at The Fitz entrance next to 3rd Street Stage while the Blues Brothers Reborn are playing some classic hits.
Bellagio Gallery of Fine Art Offers Art Lovers Complimentary Admission During Museum Day Oct 8 – Bellagio Gallery of Fine Art (BGFA) will host its second annual free admission day on Saturday, Oct. 8 to welcome back loyal patrons and introduce new visitors to one of Las Vegas' cultural gems.
In honor of Smithsonian magazine's Annual Museum Day, which offers complimentary entry to designated museums and cultural institutions across the country, BGFA will welcome all guests free of charge to the current show, 'A Sense of Place: Landscapes from Monet to Hockney,' a revealing exploration of how landscape has been portrayed by artists throughout history.
McFadden's Host The Ultimate 'F-UNR' Tailgate Party – Say 'F' to UNR at McFadden's Saturday, Oct. 8 – There comes a time every year when UNLV fans turn on their UNR friends and family in support of the state's biggest sports rivalry. This year McFadden's Restaurant and Saloon at the Rio All-Suite Hotel & Casino is standing behind their hometown team in saying 'F-UNR.' On Saturday, Oct. 8, the Irish pub will host the ultimate tailgate party with football fare and amazing drink specials as the running Rebels take on the boys in blue.
---
Ultimate Hoover Dam Tour û This is the 'Best of the Best' Hoover Dam Tour! Your professional tour guides will educate and entertain you on all aspects of Hoover Dam in an informative and interesting way, allowing you to enjoy every moment of your visit. Not only will you join the Government's Power Plant Tour and Visitor Center Tour, the Ultimate Hoover Dam Tour is one of the only excursions from Las Vegas to offer an exclusive 45-minute Walk On The Top tour.
---
What We're Watching – Vegas Videos You'll Enjoy
---
Members Mania – We Love Our Readers!
Still donÆt know why I donÆt get all of the Access Vegas issues. They come to me sporadically, though IÆve been a member for quite awhile. But thatÆs not why IÆm writing.
IÆm writing to say that I have used many of the businesses that advertise with you, but donÆt always go to them from your web site. For instance, I usually go directly to Las Vegas Hotel Deals, (which consistently has some of the best prices around!) rather than to your site first, and then to them. Do you still get credit for having directed me to them? Same with some of the shows. IÆll get basic information from Access Vegas but may not have everything ready to book at that time.
And when I do get my ducks in a row, IÆll go directly to the hotel and book the show reservation. IÆd like to help as much as I can and keep your publication coming on a gratis basis if I can.
Bob Lee
Ted Responds:
Your internet service probably catches some of our newsletters in their spam filter. You'll have to talk to them about that as they only listen to their customers. But I would bring it up with them. They should not be blocking email you specifically request. Having said that, there are multiples ways to make sure you can read each issue.
We publish each issue at https://las-vegas-news-reviews.com and in addition Tweet each issue on the Access Vegas Twitter Feed and also link to it on our Access Vegas Facebook Page. So, you can check online each week, or simply follow us on Twitter or "like" us on Facebook and you'll never, ever miss another issue again. If you aren't reading every issue, you simply aren't trying!
As you brought up (and I'm glad you did as I'm sure many are doing the same), one of the problems we've had is that people go directly and book. And no, we don't get the credit from it whether it is a show or if you type in i4Vegas.com directly or if you go book a show without using our links. For our main advertisers especially (the shows with the graphical ads in the sidebar), you do end up going to their official site.
However, doing so through the newsletter or AccessVegas.com lets those advertisers know that their advertising with us is paying off, and makes them want to continue to be supportive (providing us the revenue we need for more staffing).
We can't ask advertisers to support this effort if they don't think we're referring anyone to them. That is why we are asking ALL of our readers to at go to AccessVegas.com to book whatever you need or at least see what we offer through our partners and advertisers. Worst that happens is that the offerings don't meet your needs. But our advertisers still know we sent someone to them who took a look around.
Thanks for the feedback.

---
We have no problem with a $24.00 a year membership charge. The amount of info packed into this site is well worth a small fee. Would hate to loose this sight over a couple of bucks a month. Being from Canada we like to stay current with whats going on in Vegas.
Thanks,
Tom and Cindy
I just read the newsletter (also liked it on Facebook and shared it on my profile) and I absolutely understand your financial problems with all the staff you need. I really like to read the newsletter so much, especially this year cause I couldn't make it to Las Vegas. My mom had to go to hospital and my parents needed me here (they are both 86). Now we are lucky that everything is fine again.
As soon as I'm retired (in about 10-15 years, I'm 47 now…) my plans are to stay at least 2-3 month in Vegas every year. That's my dream and this dream will be reality if I stay healthy. So I'm happy to read everything that's going on in the way you and your staff do it.
My idea; you could offer the newsletter for free (as your plans are so far) PLUS also ask for a membership of $ 23.95 per year on a free basis. I can't speak for other persons, but I would pay the fee today by e-banking. No idea how many % of the subscribers would pay too, but maybe it's worth thinking about the idea and publish an account-number for this in one of your next newsletters.
Thanks so much for your work and greetings from Switzerland,
Barbara Eichhorn
Ted Responds:
Thanks to both of you for the notes. They were very representative of the overall response.
I'm 45 so I understand the parent issue and are happy to hear they are doing better.
I want to make this very clear: We are not in any financial problems! But we could be doing so much more, but we face servicing some of our readers who read our info but make their reservations elsewhere. Which is fine if we had a way to still see some helpful revenue in return for helping them.
We do appreciate the social media support! Seriously, if every reader "liked" us on Facebook and occasionally commented on what we post, we could probably grow readership enough to avoid a membership fee. We go to so much work to prepare each issue. Are we really asking too much for readers to take a few seconds of their time, go to the Access Vegas Facebook Fan Page and "like" us? We're very careful not to over-do our postings there. Only good, helpful info.
With 25% of our readers from outside the U.S. we'll make sure there is an easy way for all to subscribe. We'll promise that every penny will go to expanded and better coverage. We also might set up a situation where for those who subscribe, we'll prioritize and promise to answer their personal requests for suggestions and advice. (Right now, we can't get back to everybody, which is why we are frustrated when people do their business and reservations elsewhere but then come to us for personal trip planning and advice).
Great ideas and thanks so much for the thoughts!

We love to hear from you, and value your feedback! Here's how to participate:
---
More Las Vegas News – Shows – Events