Serving Las Vegas Visitors and Residents Since 1999
Welcome to the Insider Vibe! This is the official newsletter of AccessVegas.Com. We talk about the Las Vegas activities you really care about.
Need to contact us? Send feedback to
AccessVegas@AccessVegas.com
Missed an issue? Click to Read Back Issues Online.
---
AccessVegas.com Quick Info Menu:
| | |
| --- | --- |
| Las Vegas Essentials | Featured Shows |
---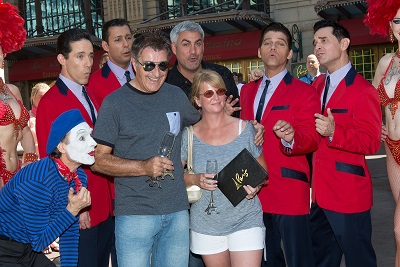 The Eiffel Tower Experience At Paris Las Vegas Celebrates Its 10 Millionth Visitor With 5,000 Balloon Launch And Headliners Taylor Hicks And Jersey Boys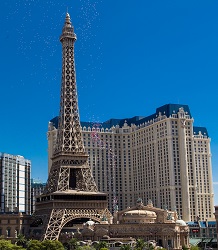 The Eiffel Tower Experience at Paris Las Vegas celebrated its 10 millionth visitor today with the launch of 5,000 red, white and blue biodegradable balloons and a special performance by Paris Las Vegas headliners. Martin Layton, the lucky guest visiting from the United Kingdom, was awarded a seven-day trip for two to Paris, France.
Atop the 460-foot high observation deck, Paris headliners including Taylor Hicks and Jersey Boys caught Layton and his bride-to-be off-guard when they broke from their tourist disguises and performed a celebratory song penned by the musicians themselves with the refrain, ôYou're our guest, you're our guest, you're our 10 millionth guest!ö A boarding pass was then presented by Regional President David Hoenemeyer, Hicks, Jersey Boys and BallyÆs Jubilee! showgirls.
---
Las Vegas Shows, Headliners, And Concerts
---
Las Vegas Art And Attractions

Hotel Art: Hidden Treasures in Las Vegas Resorts – Pablo Picasso, Andy Warhol, and James Turrell. Each a master of art, and all on display on the Las Vegas Strip. Priceless art can be found throughout many Las Vegas resorts û think lobbies, award-winning restaurants and even within guest rooms and suites. Below are a few examples of the breathtaking art located at Bellagio, Aria and Mandalay Bay.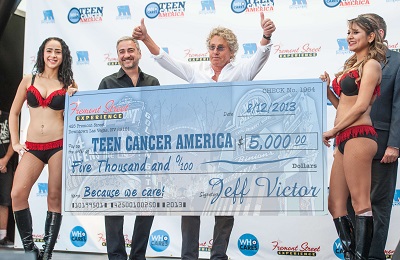 The Who Coming To Las Vegas Via Viva Vision« Show At Fremont Street Experience Downtown – Roger Daltrey, lead singer of The Who and Jeff Victor, president of Fremont Street Experience announced at a joint press conference held at Fremont Street Experience in Downtown Las Vegas that The Who will get its own Viva Vision« show. The light and sound show, titled The Who û Miles Over Vegas will contain stunning graphics built around three iconic songs: ôMy Generation,ö ôI Can See for Milesö and ôPinball Wizard.ö
ôItÆs quite exciting to get our own Viva Vision show, seven minutes of 3D video animation from our early period done in that Pop Art style and using vintage footage. I am very intrigued to see the final show,ö stated Daltrey.
---
Las Vegas Hotels
---
Gambling, Gaming, Sports Books, And Football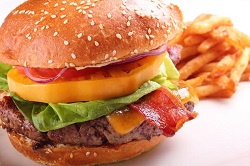 Delmonico Steakhouse Inside The Venetian Football Season Game Day Menu And Drink Specials – Football fans looking to watch the game and still eat like a champion will want to head down to Emeril Lagasse's Delmonico Steakhouse in The Venetian Las Vegas for their Game Day menu and drink specials on Saturdays and Sundays from 11:30 a.m. to 4 p.m. in the bar and lounge area. The menu includes Emeril's signature New Orleans spin on tailgating favorites and specialty cocktails to toast a victory or drown sorrows of defeat.
---
Zappos / Downtown Las Vegas
---
Dinner And Drinks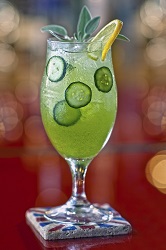 Old Homestead Steakhouse, Gordon Ramsay Pub & Grill, And Serendipity 3 Inside Caesars Palace Unveil New Flavors On Their Cocktail Menus – Delectable new cocktail creations are now available at three popular restaurants within Caesars Palace. Old Homestead Steakhouse is delighting guests with seasonal tastes and inventive infusions in its list of refreshing drinks just added to its menu. Gordon Ramsay Pub & Grill and Serendipity 3 have also added fresh new mixtures, offering a plentiful supply of thirst-quenching options.
Old Homestead Steakhouse revealed new additions to its cocktail menu right in the heat of the season debuting brisk libations with delicious flavor profiles. The menu features a variety of new drinks created by master mixologists James Demas and Carl Salisbury. From martinis to traditional concoctions with a twist, each cocktail has its own distinctive taste.
James Beard FoundationÆs Taste America ôLocal Flavor From Coast To Coastö Traveling Food Festival Comes To Las Vegas This Fall – Tickets are now on sale for The James Beard FoundationÆs Taste America«: ôLocal Flavor from Coast To Coast,ö a national traveling food festival which will visit Las Vegas on Friday, September 27 and Saturday, September 28.
The five-weekend festival will visit 10 cities from September 20 through October 19, 2013. Taste America will showcase culinary all-stars and public events exploring the nationÆs unique range of local cuisines in Las Vegas along with nine other cities including Boston, Chicago, Los Angeles, Miami, New York City, Philadelphia, Phoenix, San Francisco and Washington D.C. Taste America is presented by the James Beard Foundation (JBF) in partnership with Chase Sapphire Preferred« Visa Signature«.
---
More Las Vegas News
---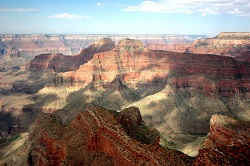 Grand Canyon Day Ground Tour û Your first stop on this Grand Canyon day trip will be the awe-inspiring Sedona, the second-most visited destination in Arizona. The lush green forest at the rim descends into Oak Creek Canyon which are comprised of rugged wilderness cliffs. Shimmering Oak Creek, a scenic byway that winds through 2,000 vertical feet of red walled canyon and the red rock monoliths that define the landscape of Sedona. You will have a chance to stretch your legs and enjoy the town's picture-postcard views.
---
Upcoming Las Vegas Events And Holidays
---
Top Tickets For All United States Events
Did you know that we not only sell premium concert and event tickets for Las Vegas, but also for the entire United States as well? If you can't make it to Vegas, treat yourself to some great seats for something near you:
---
Newkirk's Notes: The Boss Speaks…
Newkirk's Notes are comments and insight from AccessVegas.Com publisher and 20+ year Las Vegas resident Ted Newkirk:
Hello From Las Vegas! – September is flying by. Temperate weather is coming our way. By temperate, we look to be in the 80's next week. This will sound crazy to some of you, but many locals I know (including myself) start to get a little nostalgic for summer once it starts to slip away. A couple more months and we'll have to start figuring out which closets our jackets and sweaters are in before we go hit Fremont Street.
As someone who lives in short-sleeves, shorts, and flip-flops — nice ones, not the 2 for $3.99 drugstore variety — much of the year, I'll have to dig out my long pants. I'm down nearly 20 pounds since May 1 (and dearly missing my buffet ventures, but it is worth it). So, I'm looking forward to wearing some winter clothes that have been dormant for the past few years, and donating the "too big" stuff to charity.
Britney – Well, if you poke your head into a newspaper, TV morning shows, or have simply been awake the past few days, you may know that Britney Spears finally announced her 2 year run here. Want tickets? Check out Britney Spears Las Vegas Tickets. Her reported take per show? $310,000, although it isn't known if that also has to cover dancers and any musicians. We have a video promo of the announcement in our What We're Watching segment.
What we're going to be watching unfold? To date, the thought has been that people under 40 are not as likely to attend live shows, including Celine, Elton, and similar. They prefer the clubs and DJ's. On the flip side, has Las Vegas simply not been offering headliners who appeal to a younger demographic?
The club scene is pretty much maxed out, with the number of venues hitting the limit of the numbers of patrons. Las Vegas is continually looking to cater to new audiences, and some of the club people who grew up with Britney may be looking for new things to do. Also, her show is said to try to have a club vibe to it. Everyone is watching how this one will turn out!
Hope you are enjoying this issue!

Associate Editor / News Researcher: Rick Ziegler
Concerts and Headliners: Amy Rayner-Cooley
---
What We're Watching – Vegas Videos You'll Enjoy
---
Members Mania – We Love Our Readers!
We were in Las Vegas in early June…we were going down the strip when we saw something being filmed…. the couple was in a 1968 or 69 red Ford convertible. It was very neat to see something being filmed right there on the strip but now we have been curious as to what it was for. Do you know if it was a movie or what? Any info would be greatly appreciated. Thanks!
Mary Denny
PS I believe the very date was June 5, 2013 that they were filming…
Ted Responds:
I was downtown late into the evening when they were shooting Ma$e's "Feel's So Good" video (which ended up getting tons of MTV play). Even if it isn't your type of music, fun to see downtown.
I was at the old Klondike when they were setting up to film Vegas Vacation later in the evening. (I didn't stick around as I didn't have an entire overnight to devote to catching a few scenes).
I've seen car commercials and plenty of other similar productions just by happenstance. Some people made it a mission to seek out Hangover III production spots.
As you can imagine, news of these shoots is generally NOT released to the public as they like to avoid crowds. When it is, they do it on short notice and only put out a note saying they need people for crowd scenes. Your best bet is to keep your eyes open when you watch TV and make sure to go see (or Netflix) movies that are shot in Las Vegas.

---
Hi, just visited Las Vegas and had a fabulous time. We were a party of four and ate in many places during our stay. We were particularly looking forward to sampling the food at Gordon Ramsay's Bar and Grill. I had beef cheeks which were very tasty and the remaining three had fish and chips.
The fish and chip meals were disappointing. The chips were soggy and the batter on one guest's piece of fish was so salty he could not eat it. Unfortunately he did not stay until we left otherwise I would have commented to our server.
The service was good and the staff seemed knowledgeable about the food they were serving. The complimentary breads and dips were tasty and a nice touch.
We thought the menu was limited and some of the choices were expensive as were the drinks.
All in all we had much better meals during our stay particularly the ones we had a Wolfgang Puck's and unfortunately feel that we could not recommend Gordon Ramsay's Bar and Grill.
Richard from England
Ted Responds:
We've always been fans of Wolfgang Puck properties and he took the time to give us a great interview a number of years ago. Considering as a UK resident you were not impressed by the fish and chips, it sounds like their work is cut out for them.
No question that you are paying for both the Caesars location and the celeb chef name. But, one should expect the food to match the price.

We love to hear from you, and value your feedback! Here's how to participate:
Want to comment on a current reader post? Use the comment box on that particular web page. Many of the stories we post also have comment boxes at the end of the story. Make your voice heard!
Drop us an email at AccessVegas@AccessVegas.com – We read them all!
Call our recorded comment line at 702-507-0055. We listen to every call.
---
No related links found