Serving Las Vegas Visitors and Residents Since 1999
Welcome to the Insider Vibe! This is the official newsletter of AccessVegas.Com. We talk about the Las Vegas activities you really care about.
Need to contact us? Send feedback to
AccessVegas@AccessVegas.com
Missed an issue? Click to Read Back Issues Online.
---
AccessVegas.com Quick Info Menu:
| | |
| --- | --- |
| Las Vegas Essentials | Featured Shows |
---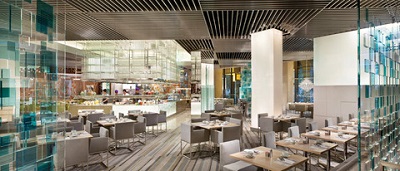 Bacchanal Buffet At Caesars Palace Celebrates Its First Birthday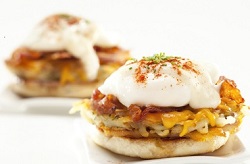 Bacchanal Buffet inside Caesars Palace was one of the most anticipated openings in the country in 2012. Its nine kitchens under one roof helmed by a team of classically-trained, Michelin-starred chefs redefined the Las Vegas buffet experience. In the first year, Bacchanal earned numerous awards including best buffet in Las Vegas by USA Today, Las Vegas Review Journal, Eating Las Vegas and Las Vegas Weekly; best desserts in the city by Vegas Seven; Stone-Cold Stunner by Eater Las Vegas and Surprise of the Year by Desert Companion.
---
Las Vegas Shows, Headliners, And Concerts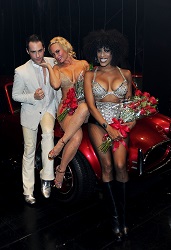 Striptease Spectacular Peepshow Concludes Four-Year Run At Planet Hollywood – On Sunday, Sept. 1, 2013, the sexy cast of Las VegasÆ only striptease spectacular, Peepshow at Planet Hollywood bid farewell to the audience as they tantalized the crowd with their sizzling performance one last time, receiving tremendous applause as they took their final bows. Alongside previous Peepshow performers, the cast received red roses and listened to heartfelt speeches given by headliner and TV reality vixen Coco, ôPeep Divaö Cheaza, vocalist Josh Strickland and Peepshow Associate Director and Co-Choreographer, Nick Kenkel. Photo: Denise Truscello/Getty Images
Peepshow came to a close after its 9:30 p.m. performance on Sunday with more than 1,500 performances completed during the four-year run.
---
Las Vegas Attractions
---
Las Vegas Celebrates
Mexican Independence Day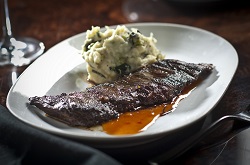 SHe By Morton's Spices Up Mexican Independence Day – SHe by MortonÆs, located just steps away from the main entrance of Aria at The Shops at Crystals, will offer a prix-fixe menu to celebrate Mexican Independence Day available from September 13-16, 2013. Diners may enjoy a Mexican-inspired three-course meal, priced at $65 per person.
---
Gambling, Gaming, And Sportsbooks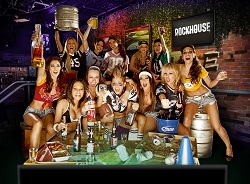 Rockhouse And PBR Rock Bar Tackle Football Season With Open Bar Specials – Pigskin-loving partygoers will get psyched-up for football season with open bar access at Rockhouse, located at Grand Canal Shoppes at The Venetian | The Palazzo, and PBR Rock Bar & Grill, inside Miracle Mile Shops at Planet Hollywood Resort & Casino.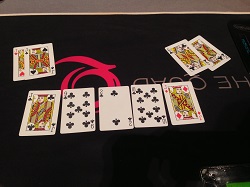 The Quad's Record-Breaking Mega Beat Progressive Poker Jackpot Hits – At 9:15 a.m. on Saturday, Aug. 31, 2013, 102 players in poker rooms across Las Vegas celebrated as a king high straight flush beat quad jacks inside the Quad Resort & Casino Las Vegas poker room. This is the fourth time the jackpot has hit since its January launch and the first time the jackpot hit at The Quad Resort & Casino. In what was one of the most exciting Texas HoldÆem hands, Micah Kreischer from Lexington, Ohio had pocket jacks while Omar Abu-Eid from Las Vegas, Nev. had the king and queen of clubs.
---
Downtown Las Vegas
---
Dining In Las Vegas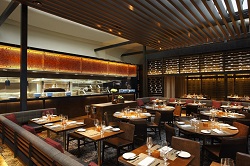 Tom ColicchioÆs Heritage Steak Brings Open Flame Cooking To The Mirage – Tom ColicchioÆs Heritage Steak, the newest restaurant from the James Beard Award-winning chef, presents open flame cooking, the culinary art of preparing meats using wood-burning ovens and charcoal grills. Now open at The Mirage, the warm and inviting 230-seat restaurant showcases ColicchioÆs passion for cooking with fire, as each dish is prepared to bring out the rich flavors in the cuisine while using the freshest ingredients available. Located within the iconic resortÆs lush garden atrium, the restaurant is open daily for dinner.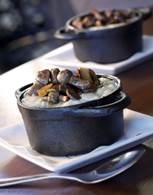 Fungi Is A Federal Flavor This September: Mushroom Grits At La Cave Wine And Food Hideaway Inside Wynn Hotel – The gritty life isn't just celebrated at breakfast in the South. When you combine a tapas-sized clay pot of ground corn, Pecorino cheese, truffle oil and a loving amount of mushrooms, you are ready to indulge in the epitome of comfort food… with class.
La Cave Wine and Food Hideaway inside The Wynn Hotel also embraces mushrooms in its beguiling cuisine with:
---
More Las Vegas News
---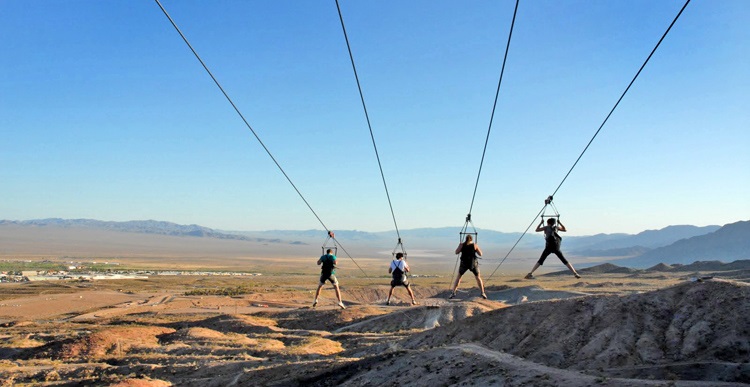 Flightlinez Bootleg Canyon Tour û Come experience the thrill and beauty of a Las Vegas zipline with Flightlinez Bootleg Canyon. Located in the historic town of Boulder City. Bootleg Canyon Park is home to over 40,000 big horn sheep, 36 miles of mountain biking trails and centuries of history.
---
Upcoming Las Vegas Events And Holidays
---
Top Tickets For All United States Events
Did you know that we not only sell premium concert and event tickets for Las Vegas, but also for the entire United States as well? If you can't make it to Vegas, treat yourself to some great seats for something near you:
---
Newkirk's Notes: The Boss Speaks…
Newkirk's Notes are comments and insight from AccessVegas.Com publisher and 20+ year Las Vegas resident Ted Newkirk:
Hello From Las Vegas! – Monsoon season won't let up, and The Strip (plus those of us who live near it) got absolutely pounded by rain recently. A big storm in a long line of days with clouds and occasional showers. Certainly not our normal weather! If there is an upside, it has taken the bite off of the heat. Evenings have been rain free with unusually comfortable temperatures in the 70's F.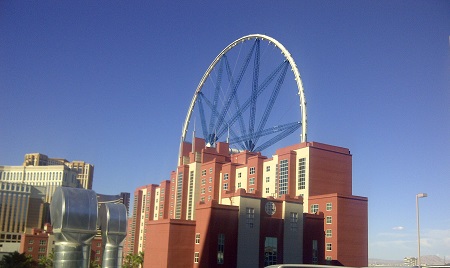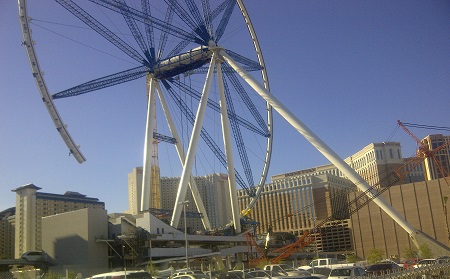 The Linq-Mobile Cometh – Staffer Rick Ziegler caught these photos of the Linq project's "High Roller" wheel (AKA The Linq-Mobile) just a couple of days ago. Ironically, just before the circumference of the wheel was completed and parent company Caesars Entertainment blasted the media with the news.
It will be the tallest of its kind in the world when it opens, but we're obviously still a ways away from that (we'll keep you updated as always). Pods — each holding up to 40 riders — still have to be brought to the site and attached. The enclosed ride will take about 30 minutes and the ride is projected to cost $30.
Our concern? From our calculations (and what we can see now), your view of The Strip will be obstructed during about half the ride by the hotels it sits behind. The view from the top should be pretty cool, though.
It appears that the Linq project will have a mix of upscale shopping along with a fair amount of dining and a hipster bowling alley which will also host big-name concerts. I believe it will be a bellwether regarding whether dining and shopping is more the future of Las Vegas now that gambling is legal in so many areas.
Closing Time? – I'm getting ready to close on a great mid-century home located toward the center of the Las Vegas valley (knock on wood). I like the charm of some of our older neighborhoods and the proximity of both The Strip and Downtown. Wish me luck.
Hope you are enjoying this issue!

Associate Editor / News Researcher: Rick Ziegler
Concerts and Headliners: Amy Rayner-Cooley
---
What We're Watching – Vegas Videos You'll Enjoy
---
Members Mania – We Love Our Readers!
My wife and I made our first visit to Las Vegas in 1965 on our way to Sacramento where I began my Air Force career at Mather AFB. Since then we have made many trips back and in the last few years have been staying in town longer and longer. We are beginning our annual journey next week and will be in Las Vegas for 30 days staying at several different casinos (4 Queens, Main Street Station, Rio, Flamingo, The Quad, and Silver Sevens) with all rooms comped.
We are not high rollers, but with players cards have managed to get the summer offers for many years. We each get offers so we are able to stay for such an extended time by moving around. This year we are even entered in 5 separate slot tournaments, compliments of the casinos.
We retired for good back in 2006 and have been traveling ever since. We do a lot of cruises because they are a great way to see the world at an affordable price and while on them we completely relax without a care in the world. Las Vegas is our cruise in the desert, and we get the same sense of relaxation without a worry in the world. We love your newsletter, and find it to be the most informative source of information about what is going on in Las Vegas.
Don & Marguerite Marburger
Ted Responds:
What a great story and thanks for sharing. In this issue (as we've done off and on over the past few months), we're included a link to a video of Las Vegas from the past.
We have a fair amount of readers who do come for 2, 3, or even four weeks at a time just like you. Those who just come for a few days, hit it hard, and practically go home in a body bag probably wonder how one can spend weeks at a time here. But, it allows you to enjoy pacing yourself because you are not under the pressure to do everything in such a short amount of time. You can get out and enjoy the "local's" casinos where the odds are better and the food is cheaper.
We often hear from people who enjoy getting down to Laughlin, where you can gamble with a view of the beautiful Colorado River (and winter temps in the 70's F). Or take the time to do a tour (or two or three). Enjoy a show or two every week instead of having to just pick one out of a town with such a great menu of live entertainment.
Here's to many great Las Vegas vacations in your future!

We love to hear from you, and value your feedback! Here's how to participate:
Want to comment on a current reader post? Use the comment box on that particular web page. Many of the stories we post also have comment boxes at the end of the story. Make your voice heard!
Drop us an email at AccessVegas@AccessVegas.com – We read them all!
Call our recorded comment line at 702-507-0055. We listen to every call.
---
No related links found