Serving Las Vegas Visitors and Residents Since 1999
Welcome to the Insider Vibe! This is the official newsletter of AccessVegas.Com. We talk about the Las Vegas activities you really care about.
Need to contact us? Send feedback to
AccessVegas@AccessVegas.com
Missed an issue? Click to Read Back Issues Online.
---
AccessVegas.com Quick Info Menu:
| | |
| --- | --- |
| Las Vegas Essentials | Featured Shows |
Las Vegas Events
---
Blue Man Group Visit The Space Shuttle in Los Angeles – The wildly popular trio Blue Man Group was spotted checking out the space shuttle endeavor in Los Angeles as it kicked off its 12-mile journey towards the California Science Center. The Blue Men are currently in Los Angeles promoting their new show at Monte Carlo Resort and Casino in Las Vegas. The new production complete with electrifying music, sensational technology, a captivating nightly procession and more opened on Wednesday, Oct. 10 after the men made their own fall from space as they landed at their new home with a mesmerizing skydive.
Tacos & Tequila Dishes Up A Mexican Spin On Thanksgiving Dinner – Tacos & Tequila (T&T) inside Luxor Hotel and Casino offers guests Thanksgiving Dinner exclusively during the month of November. Guests can choose from the two traditional turkey dinners with a twist of Mexican flavor prepared by Executive Chef Saul Ortiz. The turkey menu includes Turkey Tinga Torta and Turkey Tinga Enchiladas.
Tinga is a traditional preparation style that embraces the flavors of Mexico City. In this kind of preparation, a shredded, tender meat is sautÚed with garlic, onion, tomatoes and chipotle adobo. The savory Turkey Tinga Torta, valued at $13, is made with slow braised turkey, lettuce, tomato and chipotle aioli served on fresh bolillo bread. The delightful Turkey Tinga Enchiladas, valued at $16, is made with slow braised turkey, Oaxaca cheese blend, chile pasilla sauce and crema fresca. The restaurant offers a sweet after dinner-treat of delectable pumpkin pie shooter mixed with BaileyÆs Irish Cream, Patron XO and Goldshlager, valued at $9.
Rhumbar Offers Drink And Cigar Pairings During Big Smoke – RHUMBAR at The Mirage Hotel & Casino will offer rum and cigar pairings as well as a scotch and cigar pairing during Cigar AficionadoÆs Big Smoke Las Vegas from Nov. 9 through Nov. 11.
Named one of AOL.comÆs top Las Vegas patios, RHUMBAR is a highly stylized cocktail and cigar lounge inspired by the cool mood of the Caribbean. The plush outdoor patio is reminiscent of a tropical retreat offering a picturesque location for guests to mingle, sip cocktails and smoke cigars. Located near the main entrance of The Mirage.
Town Square Welcomes Star Chef Carla Pellegrino's Meatball Spot Restaurant – Star Chef Carla Pellegrino is opening her restaurant and bar, Meatball Spot, November 2012 across Rave Motion Pictures at Town Square Las Vegas. Guests can enjoy the restaurantÆs meatball dishes, salads, pizzas and a gelato bar. The captivating cocktail menu includes a collection of mojitos, cocktails floats and sangrias.
Pellegrino said, "Everyone will feel right at home at Meatball Spot. I created this menu with the same love and attention to detail I would put into cooking for my own family. Whether youÆre going out for date night, for dinner with friends or just want a quick bite before the movies, our salads and meatballs will keep you coming back for more."
Hard Rock Hotel Las Vegas Creates Signature Drinks For Guns N' Roses Residency – Hard Rock Hotel & Casino is gearing up for Guns NÆ RosesÆ epic residency, Appetite for Democracy, by offering its guests one-of-a-kind drinks inspired by the band now through the last show, Saturday, Nov. 24. Guns NÆ Roses will play 12 mind-blowing shows inside The Joint starting Wednesday, Oct. 31 through Saturday, Nov. 24.
Tender Steak & Seafood Harvests A Traditional Feast This Thanksgiving – TENDER Steak & Seafood will celebrate Thanksgiving on November 22, 2012 with the holiday feast prepared by Executive Chef K.C. Fazel. Guests will be delighted with the indulgent menu of the restaurant located at Luxor Hotel and Casino.
The restaurant offers guests three-course dinner priced at $49. The menu begins with a choice of Garden Greens Salad, a mixture of baby greens tossed with Persian cucumber, sun-dried tomatoes, radish, fennel and black currant balsamic vinaigrett; Butternut Squash Ravioli made with sage maple reduction and pickled ginger or Pumpkin and Fuji Apple Soup, a combination of roasted pumpkin, apples and apple cider reduction.
Senor FrogÆs Introduces æHoppy HourÆ – Se±or FrogÆs Las Vegas at Treasure Island Hotel & Casino has introduced a æHoppy HourÆ fiesta complete with a variety of two-for-one drink specials and half-priced appetizers every Monday through Friday from 3 to 6 p.m.
The dynamic restaurant and party bar features dozens of specials to get the party hoppinÆ at any of the bars, including the casino bar and outdoor bar on Se±or FrogÆs spacious patio overlooking the Las Vegas Strip.
Las Vegas Foodie Fest Features More Than 40 Food Trucks And Vendors – Beginning Friday, November 2 to Sunday, November 4, 2012, the Las Vegas Foodie Fest will be back at the Silverton Casino Hotel by popular demand featuring more than 40 food trucks.
The three-day festival starts on Friday from 4 pm to midnight. On Saturday, Las Vegas Foodie Fest will start from noon to midnight while the last day, Sunday, will start from noon to 10 p.m. Food enthusiasts will enjoy the flavors of more than 40 foot trucks and vendors. Many of the participating merchants have been featured on The Cooking Channel and The Food Network including White Rabbit, Fukuburger, The Lobster Lady, Tasty Bunz, Truck Norris, Devilicious, Jogasaki Burrito, Baby's Badass Burgers, Fluff Ice and Vizzi Truck. The vendors will be travelling to the festival all the way from Maine. Food NetworkÆs ôThe Great Food Truck Raceö finalist Nonna's Kitchenette will be featured in the festival who will debut their food truck at this yearÆs occasion. Tyler Florence hosted the Food Network show.
Million Dollar Quartet Announces Permanent Showroom Run At Harrah's – The Tony Award Winning musical, Million Dollar Quartet, will move into its permanent showroom at HarrahÆs Las Vegas starting on February 4, 2013. The smash hit musical will entertain the guests with the untold story of the four rock nÆ roll pioneers, and how they were gathered together for the greatest night ever.
Rice & Company Honors Thanksgiving With Thankful Dumpling – Rice & Company will celebrate Thanksgiving by putting a twist on traditional holiday favorites with the Thankful Dumpling, available throughout the month of November at Luxor Hotel and Casino.
Executive Chef Danny Chen expertly combined Chinese and American classics to create the Thankful Dumpling; which brings traditional Thanksgiving fare into shumai. The result is a savory delight made with tender duck breast, cornbread stuffing, dried cranberry, onion and celery wrapped in a soy sheet and topped with crispy sweet potato, micro celery and cranberry-yuzu sauce. The festive dumpling, priced at $12, is the ideal autumn dish for those looking to try a new taste of Thanksgiving.
Tacos & Tequila To Bring New Menu Items For The 2012 Fall Season – Chef Saul Ortiz is warming up with new menu items available exclusively from Oct.15 to Dec. 31 to welcome the fall season at Tacos & Tequila (T&T) inside Luxor Hotel and Casino.
Chef Saul has added his own twist to two seasonal favorite, the pumpkin flan and caramel cafÚ. The delicious creamy pumpkin custard is topped with cajeta and tequila caramel sauces, priced at $7. For the ultimate dessert, T&T will also introduce the caramel cafÚ mixed with espresso, tequila cajeta, milk, Patron XO mocha and CafÚ Navan vanilla cognac, priced at $8. The restaurant will also offer the combo taco platter featuring the spicy ghost pepper salsa with three tacos including carne, carnitas and chicken served with rice and beans, priced at $17.
---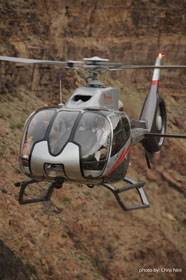 Maverick Silver Cloud Sunset Helicopter Tour û This Las Vegas helicopter flight at sunset is a must for Las Vegas sightseeing. Catch a one-of-a-kind sunset aboard our air-only Silver Cloud flight and return from the Grand Canyon as the stunning lights of Las Vegas come to life and transform the city into the "Entertainment Capital of the World." Air Tour Only (No Landing). Duration: approximately 3.5 hours.
---
X Burlesque by Guy Chapman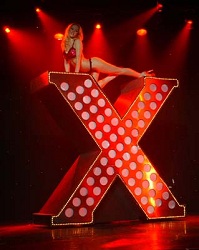 X Burlesque – The Nights Remain Hot At The Flamingo – Las Vegas is known for having some of the most beautiful women in entertainment. From dance, to performance, to something a little more sensual and exotic, there is always something to see on stage. There is one show on the Strip that combines all of these elements into one package, providing a new and exciting experience for every nightly audience. Celebrating its 10th anniversary on the Strip this year, X Burlesque at the Flamingo Las Vegas brings performances that will leave very little to the imagination (or perhaps create more). X Burlesque is very much an ôadultö oriented show, as it is a topless revue. The women that come out to entertain for the evening are nothing short of gorgeous, and definitely put on a show that is very diverse and exciting.
---
Newkirk's Notes – comments on Las Vegas from AccessVegas.Com publisher Ted Newkirk:
Hello From Las Vegas! – Usually this is where I'd tell you how we're getting temps near 80 F and perfect evenings and how you should be here. (All of which is true). However, in light of recent U.S. weather events, it is a little harder to enjoy our good fortune.
Our hearts go out to the tens of millions affected by hurricane Sandy to varying degrees. We not only saw the destruction on TV, but as of this publication date, it appears somewhere upwards of 10 million people are still without power across the Northeast United States. No heat, no ability to keep food refrigerated… I can only imagine how tough it is some areas. We hope things get back to normal for as many as possible, as soon as possible.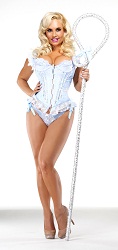 The Latest Bo Peep – Coco Austin, wife of rapper and actor Ice-T, has unveiled her look in the now famous Bo Peep outfit she'll be donning starting December 3 in the long-running hit Las Vegas show Peepshow. She follows in the footsteps of actress Kelly Monaco, former Spice Girl Melanie Brown, Broadway's Shoshana Bean, singer Aubrey O'Day, "Girl Next Door" (and mom-to-be) Holly Madison, and Holly's understudy Angel Porrino. Word is that her performance in Peepshow will play a role in her hit reality series Ice Loves Coco.
In the meantime, Angel Porrino will fill in because of Holly's early departure due to pregnancy. Honestly, if you are coming to town this month, you've got no excuse NOT to see Peepshow. Angel does a great job, singer extraordinaire Josh Strickland continues his role, and tickets through December 2 are 1/2 off if you click on the Peepshow graphic on the right sidebar of the newsletter or here: Peepshow Las Vegas Tickets.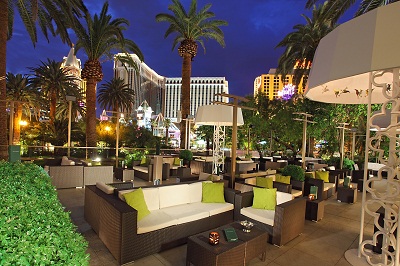 Rhumbar Fall Cocktails – Rhumbar at The Mirage (a personal favorite of ours, seen above) has added a couple of fall cocktails: Apple Cobbler and Pumpkin Spike Martini. Each at $12, and this is a steal for craft cocktails with the strip side view.
If you can't make it to Las Vegas, give them a try on your back porch on a crisp fall day!
Apple Cobbler:
4 apple cubes
1 oz simple syrup
1 oz lime juice
2 teaspoons ground cinnamon
2 oz Pyrat XO Reserve Rum
Splash of Sprite
Muddle apples and simple syrup. Combine lime juice and rum. Shake and strain, then pour over ice in a double rocks glass. Add Sprite and garnish with apple slice.
Pumpkin Spice Martini:
2 oz Montecristo Spiced Rum
2 oz oven roasted pumpkin puree
1 oz Molasses
¥ cup orange juice
Pinch of all spice
No Kaboom Yet – Legal wrangling and arguments about more testing still plague the shuttered (and never completed) Harmon Tower (better known as the big billboard between Cosmopolitan and Crystals). I still believe we'll see it imploded, but don't hold your breath for it to happen for many, many months.
It's A Wrap – The stalled Echelon project across from Wynn/Encore is going to at least get some beautification so that it quits looking like such an eyesore. A "wrap" of the building is planned (the same kind they put on a Las Vegas hotel that displays an ad on the side, or in this case most likely more similar to the wrap on the unfinished part of Palazzo which makes it at least look completed). They also plan some landscaping, which should make the general view in the area a little nicer.
Absolutely no plans are in the works to start reconstruction, the county has given them a 6 year extension, and my bet is that "when hell freezes over" may even be a better target date. I truly and simply don't see Echelon (as it was planned with three hotel towers and thousands of rooms) being viable perhaps ever. The Strip can only absorb so many luxury rooms.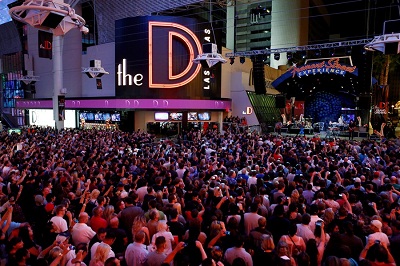 The D's New Look – The D (formerly Fitzgerald's downtown) is alive, well, and looking very impressive both inside and out (including the new rooms, which we gave you a sneak peek at a few weeks ago). If you have not yet been downtown, here's a good look at the nightime facade from a couple weeks ago during an outdoor concert by band One Republic.
Downtown and Fremont Street are attracting 17 million visitors per year, which is the same amount as Disneyland and nearly 1/2 the entire total of visitors Las Vegas (as a whole) captures each year. I admit to getting a bit of a chuckle as some downtown naysayers as recently as this spring were downplaying downtown and commenting that the plans for the Fitzgerald remodel were all-but-irrelevant. He who laughs last…
Don't bet against downtown. With the Lady Luck coming back to life next year, Fremont Street is becoming a "must do" on Vegas trips.
Speaking of… in our What We're Watching segment, we feature Episode #1 of FSE Live, a bi-weekly show shot live on Fremont Street featuring the people and excitement that make downtown amazing. If you are in bad need of a Vegas fix, make sure you click to watch it.
Hope You Are Enjoying This Issue!

Associate Editor / News Researcher: Rick Ziegler
Concerts and Headliners: Amy Rayner-Cooley
---
What We're Watching – Vegas Videos You'll Enjoy
---
Members Mania – We Love Our Readers!
I travel to Vegas 1-2 times a year but this will be my first time for Thanksgiving. I've already booked 4 nights at the Tropicana for $160 so our lodgings are set. I know that several restaurants, shows etc.. have Thanksgiving specials & I was wondering if anything has been announced yet?
You guys always seem to have information even before the direct websites. This will be my sister's second visit and I want to get as much bang for our buck as possible.
Thanks you in advance,
S Watson from Cleveland
Ted Responds:
We always put out information for holidays and special events the minute we get them. In the top area of the newsletter, we have the links (when available) to information pertaining to these dates and Thanksgiving announcements have started coming in.
We do wish we had even more information to get out weeks (and months) ahead of events and holidays. I know that many of you plan your trips months in advance and it would be helpful. However, we can only move information along to you when we get it and for some reason, the hotels (and restaurants) simply don't seem to plan special events very far out. Although, we've noticed that they are improving.
As a rule of thumb, every Las Vegas hotel restaurant including the buffets have a special Thanksgiving menu and (in addition to their regular fare). It is a popular four-day weekend here as many far-flung families gather. They can enjoy the company of each other, but also with something for just about everybody to do during the non-family times.
One word of caution: Lines can be LONG for restaurants on Thanksgiving Day. If you are going to a sit-down restaurant that takes reservations, make them ahead of time. If doing a buffet, put it off until later in the day for the least wait time.

---
Hi Ted!
We just got back from a 4 day trip to Vegas and had a great time! We stayed on Fremont St. at the D, and it was a great experience. The room was nice with a great view. The people were very nice. The price was right too! I'll stay there again!
We didn't even bother going to the Strip. All in all, it was great experience.
Love your newsletter and all of the info that you give!
Mary
Hi Ted,
Just got back from my annual trip. Lost a lot, but had a blast. Enjoyed zip line at Bootleg Canyon. Flew Southwest airlines, good experience. Pay the extra $10 for the early boarding.
Enjoyed Fremont St the best. Slots paid better. Two great buffets, M casino and Green Valley. Disapointed that fish tanks seen on Tanked have been removed from a few locations.
Can't wait till next year.
Gary from Ingleside, Illinois
Ted Responds:
Thanks for the great reports, not much to add to that. People are loving downtown!

---
So what's with all the grammatical errors in this week's newsletter? Do you need to hire a new proofreader?
I werk cheep.
Your faithful reader,
Joel
Ted Responds:
A couple of weeks ago, we had an unproofed newsletter get posted. Fortunately, we were able to make some corrections and repost is, so many never saw them. It happens from time-to-time.
As many of you know, we're not published by one of the local newspapers or a major travel company. We're not journalists nor have fancy writing degrees. So, we do appreciate the patience and good humor that our readers exhibit as we attempt to spill massive amounts of Las Vegas information your way each week!

We love to hear from you, and value your feedback! Here's how to participate:
Want to comment on a current reader post? Use the comment box on that particular web page. Many of the stories we post also have comment boxes at the end of the story. Make your voice heard!
Drop us an email at AccessVegas@AccessVegas.com – We read them all!
Call our recorded comment line at 702-507-0055. We listen to every call.
---
Latest Concerts Added This Week!
There is no better place to see your favorite acts then in Las Vegas! You're relaxed, can enjoy a fine meal, have some cocktails without the worry of driving, and no alarm is going to jar you awake all too early the next morning.
---
More Las Vegas News – Shows – Events
No related links found