Serving Las Vegas Visitors and Residents Since 1999
Welcome to the Insider Vibe! This is the official newsletter of AccessVegas.Com. We talk about the Las Vegas activities you really care about.
Need to contact us? Send feedback to
AccessVegas@AccessVegas.com
Missed an issue? Click to Read Back Issues Online.
---
AccessVegas.com Quick Info Menu:
| | |
| --- | --- |
| Las Vegas Essentials | Featured Shows |
Las Vegas Events
---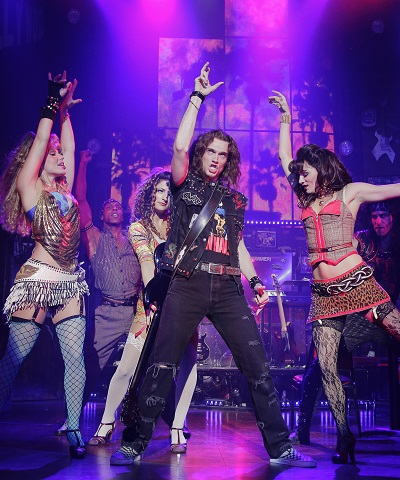 Broadway cast pictured
Rock Of Ages – A Party Featuring Music – Set in L.A.'s infamous Sunset Strip in 1987, ROCK OF AGES tells the story of Drew, a boy from South Detroit, and Sherrie, a small-town girl, both in L.A. chasing their dreams of making it big and falling in love. ROCK OF AGES takes you back to the times of big bands with big egos playing big guitar solos and sporting even bigger hair!
A hilarious, feel-good love story celebrating the great rock songs of the '80s including such sing-out-loud songs as "Every Rose Has Its Thorn", "I Wanna Know What Love Is," "Here I Go Again," "Don't Stop Believin'" and more. ROCK OF AGES has been called "Impossible to resist!" by The New York Times and "Insanely funny!" by Time Out New York.
Book Rock Of Ages Las Vegas Tickets Now
Rock Legends Guns NÆ Roses In The Midst Of First-Ever Residency – Guns NÆ Roses celebrated Halloween in true rock star fashion by launching its first-ever residency Appetite for Democracy at The Joint inside Hard Rock Hotel & Casino with a truly unforgettable show. Throughout the residency, the band will play a total of 12 mind-blowing shows now through Saturday, November 24.
Local Las Vegas band 333 opened for the legendary rock stars. Following their performance, Guns NÆ Roses entered the stage to thousands of screaming fans. The stage was lit up with not only lights but pyrotechnic displays, smoke, LED screens and more made exclusively for the groupÆs performances at The Joint. Credit: ® Erik Kabik / Erik Kabik Photography
Trevi Las Vegas To Give Thanks With Irresistible Gelato Twist – In honor of Thanksgiving, Pastry Chef Hank Sbraccia has crafted a twist to traditional holiday cranberry with his creation of cranberry gelato available exclusively on Thursday, November 22, at Trevi inside the Forum Shops at Caesars Palace.
Guests will feast on the heavenly new flavor made from a decadent combination of dried cranberries, vanilla gelato, a cranberry juice reduction and simple syrup. The festive gelato will be priced at $4.50 per scoop.
Spago Restaurant Brings Back Original Menu To Mark 20th Anniversary – Celebrity chef Wolfgang Puck will celebrate the 20th anniversary of Spago Las Vegas on December 11, 2012 by greeting guests, taking photos and cooking in the kitchen at his legendary restaurant at The Forum Shops at Caesars Palace.
To mark the occasion, the restaurant will offer a limited-time-only throwback menu with retro pricing that will feature many of Wolfgang and SpagoÆs famous dishes including House Smoked Sturgeon with crisp potato galette and horseradish cream; Cantonese Style Roasted Duck with wild huckleberries, ginger and stir-fried baby bok choy; and WolfgangÆs Kaiserschmarrn with strawberry sauce (full menu below). The menu will be available during dinner only beginning Monday, December 10 through Friday, December 14.Click to read full menu…
Qua Baths & Spa At Caesars Palace Receives Four Prestigious Spafinder ReadersÆ Choice Awards – The global spa and wellness resource SpaFinder, Inc. has awarded Qua Baths & Spa at Caesars Palace in the 2012 SpaFinder ReadersÆ Choice Awards. For the sixth consecutive year, Spa Finder Inc. has awarded the spa in four categories including as the top 10 in the world for Best Casino Hotel Spa, Best for Romance, Best for Men, and Best for Interior Design categories.
FantasyÆs Gorgeous Yesi Is November 2012's æShowgirl Of The MonthÆ – Posing seductively in classic black pumps and a sleek corset, Yesi sizzles on the pages of FantasyÆs 2012 ôUltimate Fantasyö calendar. Spicing up the sexy adult revue nightly at Luxor Hotel and Casino, the lovely Latina is FantasyÆs November ôShowgirl of the Month.ö
Hailing from Havana, Cuba, Yesi enjoys savoring her favorite Cuban cuisine and sipping pi±a coladas. When she is not working out or staying fit dancing in Fantasy, Yesi loves watching movies at home or spending a night out with friends. A gifted salsa dancer, Yesi choreographed and leads the sexy salsa number in the nightly show. The exotic knockout hopes to buy a dream home one day in her favorite Cuban city, Varadero Beach.
Tender Steak & Seafood Offering Hearty Options For Cooler Weather – Tender Steak & Seafood at Luxor Hotel and Casino offers several hearty selections and a seasonal specialty drink to warm up guests through fall and winter. Executive Chef K.C. FazelÆs Yankee Beef Pot Roast, priced at $27, is a favorite on cold days.
Rattlecan Brings Artful Burgers, Shots, And Beers To The Venetian – Rattlecan, an urban burger concept from the creators of First Food & Bar at The Venetian, is ready to topple the expectations of the burger bar concept. Chef Sam ôSammy Dö DeMarco and designer Antonio Ballatore, two notoriously creative thinkers from ManhattanÆs Lower East Side, will bring a new dimension of cuisine and creativity to the Las Vegas Strip that features unbeatable burgers, signature shots and street chic graffiti art installations by the countryÆs top street artists.
Trevi Restaurant Introduces New Fall Items To Seasonal Menu – This fall, Executive Chef Peter Scaturro has created an array of new selections with the finest Italian ingredients to welcome the Fall season at Trevi, the celebrated Italian restaurant inside The Forum Shops at Caesars Palace.
Beginning with appetizers, new fall offerings include a mozzarella carrozza, a slice of homemade mozzarella that is fried and lightly breaded with Italian seasoning and served on top of an Italian crostini with smoked prosciutto and sweet roasted tomato. The Romano chicken salad is prepared with peppery arugula, crisp field greens, tomatoes and artichoke hearts tossed in a warm pancetta balsamic dressing served on top of a pan seared Romano chicken breast. For guests looking for warmer options, the restaurant will offer the polpetta di pollo soup made with mini-chicken meatballs in a medley of fresh vegetables and Arborio rice.
---
Movie Recommendations
Deciding what to watch next? What are your friends watching?
Get movie recommendations based on your personal viewing style!
---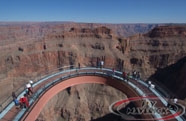 Maverick Skywalk Odyssey Grand Canyon Tour û Your direct helicopter flight to the Grand Canyon Skywalk departs from the Las Vegas Strip. Experience a bird's eye view of the Grand Canyon, Lake Las Vegas, Lake Mead, Hoover Dam and the Las Vegas Strip on your flight. Upon landing at the Grand Canyon, get ready to witness a true engineering marvel, The Grand Canyon Skywalk.
---
Newkirk's Notes – comments on Las Vegas from AccessVegas.Com publisher Ted Newkirk:
Hello From Las Vegas! – It is with a heavy heart that I bid adieu to summer. What a great run! Outdoor weather kicking in around mid-March and an unusually warm streak this past week keeping highs in the low-80's F. Moving forward, we're facing seasonable temps in the high 50's and low 60's. Another 2-3 weeks will probably bring the leaves falling off of the trees. I'm trading in the back patio for the front room couch and a warm space heater until March Madness rolls around.
This may sound strange, but many of the people I know, who truly love living here, prefer summer to winter. Once you make peace with the heat (and stay hydrated), it really ends up feeling preferable to chilly or cold weather. And yes, we do hit freezing overnights a few times per year.
Early Sunset- My Suggestions – With daylight savings time, it gets dark quickly here. We're on the far eastern edge of Pacific Time and lose light earlier than what many of you may be used to. We're in the middle of the desert at an elevation of right around 2000 feet, so once the sun goes down in the winter, it can get cold very quickly.
Right now, sunset is around 4:30 PM and will stay in that range until into January. (Our longitude and latitude result in very little change the sun sets from mid-November to mid-January). If you are headed out for the afternoon and have a bit of a hike back to your hotel before dinner, keep the dropping, post-sunset temperatures in mind when you set out.
On the flip side, a great activity this time of year is watching the sun set from atop the Stratosphere Tower. Make sure you are up there by 4 PM. Have a cocktail (or three) while watching both The Strip light up and the sun set over our jagged western mountains. The view is always spectacular, especially for those from areas of more sedate scenery). Then, since you are already halfway there, head downtown for dinner and more fun!
High Roller vs. The Neighbors – A recent local news story, Top 8 Tallest Structures in Las Vegas Valley, was an interesting read in light of the "High Roller" observation wheel under construction behind Imperial Palace and The Flamingo as part of Project Linq.
All-in-all, the following hotels are taller than the High Roller: Palazzo, Encore, Trump, Wynn, Cosmo, Aria and Elara (PH Westgate). This could be an advantage or disadvantage over time.
The views from the observation wheel may seem somewhat boxed in looking along The Strip. But, many staying on the upper floors of the hotels in question will have a great view of the wheel. This may prompt them to explore project Linq, look at the wheel, and perhaps take a ride. I guess we'll know how it all plays out in a year (or so)! From the way things are looking, expect Project Linq to be Fremont Street Experience for hipsters. They make no bones about the fact that they are targeting a younger crowd.
The "Train To Somewhere" On Track Or Delayed? – We've reported extensively on the "Train To Nowhere" (a high speed rail line running from Las Vegas to either Victorville, CA or Palmdale, CA with hopeful connections into Los Angeles). We've also covered the X Train, which would use conventional rail lines already in place for a five hour journey where you could drink, dine, lounge, watch sports or just rest up on the trip.
X Train promoters had originally planned to have it operative last year, but are now gunning for 2013. They seemed to have acquired, or are in the process of acquiring (details are fuzzy), passenger cars, They are working with Amtrak — who will operate the train — to get the rights to run over the existing freight rails (which are controlled by two different rail lines).
An interesting twist to this story: You'd think that powerful, Nevada Senator, Harry Ried (D-NV) would get behind this, get Amtrak involved, and one way or the other, provide this added way to get people from the CA to the LV. Good for tourism, right?
Actually, Ried is neck-deep into support of the high-speed train to wherever (it ends up going to), and highly unlikely to put his support behind a viable alternative using existing infrastructure. In related news, Greyhoud Bus Lines (whom I worked for as a baggage handler during my college years) has announced non-stop Las Vegas – Los Angeles service featuring reserved leather seats, power outlets, and Wi-Fi at a price 1/2 to 1/3 what X Train is planning to charge.
Having said that, there is no travel like train travel. Roomy seats, ample opportunity to stretch your legs, and the ability to kick back and eat and drink, etc. I might take the trip just for the ride. We'll continue to keep you up-to-date.
Hope You Are Enjoying This Issue!

Associate Editor / News Researcher: Rick Ziegler
Concerts and Headliners: Amy Rayner-Cooley
---
What We're Watching – Vegas Videos You'll Enjoy
Talktails #043: AmericaÆs Got Talent Winner Michael Grimm

– Kelly Clinton welcomes singer, songwriter, Michael Grimm on this weekÆs episode of Talktails. They discuss how growing up in the south and listening to his GrandmaÆs favorite country music artists influenced him, his collaboration with industry legends, and the deep symbolism of his hats. Oh, and yes. . .he sings, too!

Sneak Peak At The Marketing For Caesars Palace's Nobu Hotel

– From Friday, October 19 to Sunday, October 21, L.A.'s finest came together for the grand finale of Fashion Week. As official sponsor of the lounge, Caesars Palace, who will introduce the world's first Nobu Hotel in late 2012, invited attendees to relax in a recreated Nobu Hotel room and sample Nobu's in-room dining menu.
---
Members Mania – We Love Our Readers!
We are coming to Las Vegas for Christmas (can't wait – love Vegas at Christmas AND have tickets for Celine Dion's new show!!), and just wondered how things are going with the taxis, now the new airport terminal is up and running? Is there still a problem with long-hauling or have things improved? We have been subject to this a few times and it is very annoying (after a long flight especially).
Thanks for all the Vegas info – very much appreciated!
Kind regards,
Heather
Ted Responds:
For all my moaning about our weather, I'm sure you'll enjoy (what should be) plenty of sun and highs in the 50's F around Christmas and have an fun time. You should really enjoy Celine, she continues to put on a great performance.
There are still isolated complaints about the wait times at customs, especially on Thursday and Sunday. However, the experience of the new Terminal 3 (T3) is night and day compared to the old one, all the way around. You'll really be impressed.
Yes, the cab drivers are still evil people. Long-hauling, badgering for tips, acting like they know far more than they do (you really think that after their 12 hour shifts, they go party on The Strip?), and trying to get people to go to strip clubs that give them huge kick-backs. Now, they are lying to people using the new terminal and telling you that the freeway is quicker from that location.
The truth? T3 to Mirage via Paradise Road is 4 miles even. Via the tunnel? 8.4 miles. I'm not kidding. Check out the tunnel route on Google Maps and you can see how ridiculous it is! Simply inform the cab driver that you want 1. The shortest route 2. On surface streets. Cabbies are a necessary evil (I use them myself from time-to-time), but just be firm with them if they are trying to do a no-no.

We love to hear from you, and value your feedback! Here's how to participate:
Want to comment on a current reader post? Use the comment box on that particular web page. Many of the stories we post also have comment boxes at the end of the story. Make your voice heard!
Drop us an email at AccessVegas@AccessVegas.com – We read them all!
Call our recorded comment line at 702-507-0055. We listen to every call.
---
Latest Concerts Added This Week!
There is no better place to see your favorite acts then in Las Vegas! You're relaxed, can enjoy a fine meal, have some cocktails without the worry of driving, and no alarm is going to jar you awake all too early the next morning.
---
More Las Vegas News – Shows – Events
No related links found