Serving Las Vegas Visitors and Residents Since 1999
Welcome to the Insider Vibe! This is the official newsletter of AccessVegas.Com. We talk about the Las Vegas activities you really care about.
---
AccessVegas.com Quick Info Menu:
| | |
| --- | --- |
| Las Vegas Essentials | Featured Shows |
Newkirk's Notes – comments on Las Vegas from AccessVegas.Com publisher Ted Newkirk:
Hello From Las Vegas! – I'm not going to lie. The weather sucks. Wednesday evening saw tropical storm gusts of wind, clouds and a healthy dose of rain. The same storm trashed Los Angeles. And… the 10 day forecast shows temps in the 50's. At least sun returns for all of next week!
So Long, Western – At least for a while. The infamous Western Motel/Casino closes the doors in January after 41 years of service. Located on East Fremont Street (four blocks from the Fremont Street Experience), the renewal overtaking downtown hasn't quite made it that far yet and the neighborhood is lacking in not just population, but population with disposable income. Despite the best efforts of Metro (Las Vegas police), that part of Fremont Street is still considered a bad neighborhood. The property has been grinding it out with super cheap food and drink, plus really low limit play and just isn't currently economically viable.
I'm intimately familiar with the property from back in the 90's. A downtown trip for me would include parking at The Plaza, full pay 9/6 Jacks or better video poker (also at The Plaza), drinking my way all the way up to the El Cortez for 25 cent craps, a walk to The Western for $1 blackjack, and then hitting Binion's for the late night $1.99 complete steak dinner.
Don't expect it to be closed forever. Downtown has been undergoing a gentrification and not just with condo towers, Zappos, and the Performing Arts Center. A couple of quaint old neighborhoods in that general area are also seeing revitalization as young professionals pick the homes up cheap and make them nice again. Downtown is becoming "cool" again. I expect to see a serious remodel of the property (including re-opening the lodging portion) by 2015 as the average income for the area rises people get more comfortable with their safety on East Fremont.
We're In The Wrong Time Zone! I've been saying this for almost as long as I've been living here. In Las Vegas, it is pretty much completely dark by 5 PM for three months of the year. This item has come into the spotlight with an article by local writer David McGrath Schwartz: Is switching time zones a bright idea for Nevada? Wouldn't it make sense to give our visitors an extra hour of light and warmth? Read my latest blog post Is Las Vegas In The Wrong Time Zone? and give us your comments!
Not The Best Month For Elvis – In two pieces of unrelated news (except for the Elvis theme)…
Cirque's Viva Elvis at Aria is closing next year. After recent announcements of retooling, they've decided to trash it. Elvis will leave Aria in 2012. We've actually had about a 90% good response rate from those of you who have seen the show. But similar to Cirque's Beatle-themed Love show, it appealed more to Elvis fans and not so much to traditional Cirque fans. No news of a replacement yet, but they really need to make it a spectacular draw. People who stay at Aria (or just about anywhere in CityCenter) absolutely love it. Those who don't seem to resoundingly note that it isn't worth the hike for repeated visits.

I myself am pretty surprised that they didn't plan in some sort of tram or moving walkway to get people into CityCenter from The Strip. I'm sure that the intention was to get everybody walking through Crystals (the mall). But unless you are well into the top tax bracket, you could find Crystals more intimidating than fascinating and may set a negative mood for your Aria experience. Perhaps once they get rid of The Harmon, they can find a way to mitigate this issue.

Elvis' big Las Vegas run was at The International, which is now known as the Las Vegas Hilton. But not for long. Hilton Hotels decided to not renew the agreement to stick their name on the famed Las Vegas property. The hotel will temporarily be known as LVH (standing for Las Vegas Hotel, but no doubt a play on the soon-to-be former name). Odds are that once they figure out who owns the joint (the bankruptcy is in court), odds are the new owners will give it a permanent new name. They could go back and call it The International, but today there is some rule that you need to give hotels a trendy, unpronounceable name. We'll let you know when we know.
American Chopper Live – I'll be honest. I didn't know this show was still on the air (as I watched it years ago). Paul Teutul, Senior and Paul Teutul, Junior are going up against both each other and infamous bike builder Jesse James in a competition airing live from the Hard Rock Las Vegas. Catch it Dec. 5 and 6 at 9 PM ET/PT on The Discovery Channel.
More Details About Fitzgerald's – We've found out that the Vintage Vegas look Fitzgeralds will be giving their upstairs casino will feature a lot of wood and a darker atmosphere. Think old school steak house. They are also planning on wrapping the Vue Bar all the way around the front of the building (another great idea given the success of Golden Nugget's Gold Diggers bar).
Additionally, they will run escalators from the street level outdoors to the second floor (a completely unnecessary idea given that their upstairs gaming area is usually busy anyway). Hopefully, those escalators will work more often than the ones of the Strip pedestrian flyovers do.
Enjoy This Issue!

Associate Editor: Amy Rayner-Cooley
News Researcher/Editor: Rick Ziegler
---
Your Ad Here!
Reach nearly 50,000 active and engaged Las Vegas visitors each week. Every single reader has signed up to get our newsletter at one of our Las Vegas websites. (We do not buy, rent, or sell email addresses).
Due to pending show closures and changes, we have space available for the first time in years. Because of our reasonable rates, it is sure to go quickly. Please contact us at AccessVegas@accessvegas.com today!
---
Mean Mr. Grinch Out To Steal Christmas at Bellagio – Holiday treats large and small on display at Jean Philippe Patisserie – This Christmas, Mr. Grinch leaves his perch on Mount Crumpit to look for mischief at Bellagio's Jean Philippe Patisserie. More than a month in the making, the infamous Dr. Seuss character was brought to life using 50 pounds of chocolate and 112 pounds of fondant.
Hard Rock Hotel Spreads Holiday Cheer with Festive Fare and Cocktails – Hard Rock Hotel & Casino gets in the holiday spirit and invites guests to celebrate the season with limited-time menus at the entertainment destination's popular restaurants û 35 Steaks + Martinis, Johnny Smalls, Pink Taco, LTO Pizza & More and Mr. Lucky's Cafe. Special food offerings are available on Christmas Eve, Saturday, Dec. 24 and Christmas Day, Sunday, Dec. 25. Hard Rock Hotel & Casino sweetens the season with a little sugar and spice by offering the Santa's Helper Martini as well as the Drunken Elf on Tuesday, Dec. 13 through Christmas, Sunday, Dec. 25.
Fantasy Closes 2011 With Amber As December's Showgirl Of The Month – Heating up December is Amber, FANTASY's "Showgirl of the Month." The sexy, adult revue at Luxor recognizes one of its stars each month in conjunction with its 2011 calendar. This gorgeous, red-headed Dallas native grew up idolizing the Dallas Cowboys Cheerleaders before becoming one herself. In addition to dancing, Amber loves to travel and discover new adventures. She traveled north to Alaska to climb a glacier, south to Bora Bora to swim with sharks and has flown across the globe to skydive in New Zealand.
Wolfgang Puck's Lupo Debuts New Menu In Honor Of Michael Jackson The Immortal World Tour At Mandalay Bay – To celebrate the arrival of "Michael Jackson THE IMMORTAL World Tour" by Cirque du Soleil, Wolfgang Puck's Lupo will offer a new pre and post-theatre menu, in addition to its a la carte menu. Available all evening on show nights, guests will have a choice between a three-course menu for $55 per person and a four-course menu for $75 per person (not including beverage, tax and gratuity).
Flamingo To Reveal More Than 2,300 Fresh New Rooms – Stylish FAB rooms on-sale now, first guest arrivals January 2, 2012 – Flamingo has announced plans to refurbish 2,307 hotel rooms transforming the resort's standard rooms into stylish and contemporary accommodations. The all-new FAB rooms are on-sale now for guest arrivals beginning January 2, 2012.
McFadden's Hosts December Birthday Blowout – December Birthdays Drink Free – No one wants to party alone on their birthday, that's why McFadden's at the Rio (click link to book) will throw a giant merriment celebration for all December birthdays on Saturday, Dec. 17. The Irish party bar will dedicate the night to those born in December with a joyous birthday blowout.
Tropicana Presents iCandy Burlesque – A Unique Entertainment And Gaming Experience – Sexy New Experience Spotlights Beautiful Dancers, Singers, Unique Performances And Stunning Costumes – Tropicana presents iCandy Burlesque, a one-of-a- kind, sexy new experience which will take audiences on a wild ride with talented performances, heart-pounding music and stunning costumes.
Free Cocktail Walk and Holiday Fireworks Show This Weekend at MonteLago Christmas Village at Lake Las Vegas – MonteLago Christmas Village at Lake Las Vegas kicks-off a big Holiday Celebration this weekend with a free specialty holiday cocktail tasting for adults along with Carolers, Santa, Ice Skating and a Fireworks show. On Friday, Dec. 2nd, from 5-9 pm, the restaurants of MonteLago Christmas Village will provide free tastings of their very special holiday cocktails that have been custom-created just for the "Spirits of Christmas" Cocktail Walk.
McFadden's Celebrates Santa's List Day with Naughty and Nice Drink Specials – He's making a list, and checking it twice and McFadden's at The Rio is going to find out who is naughty or nice. Sunday, Dec. 4, the rowdy Irish hot spot will celebrate Santa's List Day with drink specials for patrons from each side of Mr. Claus' list. In honor of this pre-holiday celebration, McFadden's is offering drink specials to correspond with partygoer's behavior from the past year. Disobedient patrons who check in under the naughty list will receive $20 bottomless beers throughout the evening. Guests who claim to be on the nice list will enjoy $4 well drinks from 10 p.m. until close. Plus, all guests, both naughty and nice, will receive $5 bombs.
First Food and Bar Hosts A Month Of Holiday Themed Activities And Winter Traditions At Venetian And Palazzo – Food And Drink Specials, Children's Activities And More Surround Winter In Venice – Known for their creative, fun and approachable-for-all menu and special events, the team at FIRST Food & Bar announces a month of celebration for the holidays, including food and drink specials, kids activities and holiday traditions! The celebration will take place during The Venetian and The Palazzo's Winter in Venice which now runs through Jan. 8 featuring 49 days of holiday festivities throughout both resorts.
Bellagio's Conservatory and Botanical Gardens Transforms into Shimmering Winter Wonderland on Dec. 2 – Transforming into a magical winter wonderland, Bellagio's Conservatory & Botanical Gardens unveils its spectacular holiday display, rich in tradition and filled with picture-perfect botanical creations, on Dec 2. In the center of it all, a magnificent holiday tree will stand tall sending gazes soaring while musical sounds and seasonal colors evoke the holiday spirit.
---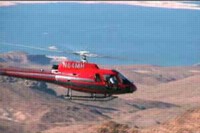 Canyon Dream Air and Land Tour û A 40-minute flight to the Grand Canyon South Rim aboard a Beechcraft 1900D aircraft starts your ultimate adventure. Upon landing, your excursion will begin with a seat on our state-of-the-art ECO-Star helicopter for an amazing 25-minute breathtaking helicopter experience over the Grand Canyon.
---
What We're Watching – Vegas Videos You'll Enjoy
Sirens of TI

– Chances are you're one of the ten million people who have seen Sirens of TI or maybe you've just simply driven past ità itÆs the acrobatic water show at the front entrance of Treasure Island Hotel and Casino… but this video crew was granted access for this rare behind the scenes look at a day in the life of those fearless pirates at TIà preparing to put on a great show for you!

Dining At The Heart Attack Grill

– When visiting Las Vegas, if you are prepared to gamble with your health as well as your hard earned cash, there's no better place than the Heart Attack Grill. Choose between the triple or quadruple bypass burger. If you manage to eat it all, one of the charming 'nurses' will assist you when you leave the premises.

Fig and Pomegranate Highball

– Wynn Las Vegas mixologist Patricia Richards shows us how to shake up our holidays with a festive Fall cocktail. Stir up a little taste of Vegas at your holiday party!
---
Members Mania – We Love Our Readers!
Just come back from Vegas yesterday after spending 10 days there. This was 5th time over the last few years.
Had an excellent time BUT was plagued by time share reps to the point where they was running after us ( husband and I). I tried everything from politely saying no to ignoring them . Nothing worked!!!!!! They were more of a nuisance than the sex card workers. Can you give advice please for when we come again.
We stayed at the Hilton Paradise Road. The taxi that took us back to the airport charged over 20 dollars and did not by any means go the quickest way.He turned onto the strip at Circus Circus and went the whole length of the strip!!!!!!!!!!!!!! Refused to tip him saying he had not chosen the quickest route. He then got very abusive. Can I ask for your advice about this 20 dollars, we usually pay 15 dollars.
Love Access Vegas!
Angela M.
Ted Responds:
Great letter and something that needs to be addressed. Yes, you were long-hauled. I went ahead and wrote and entire blog post about what to do when this happens to you. You can fight back (and it only takes a few minutes of your time). You don't have to put up with the abuse. And you'll often not only get your satisfaction but the taxi ride will end up being free.
I'll also address the timeshare peddler issue.
Click to read my post Las Vegas Taxi Took Me The Wrong Way To Airport, What To Do?
In fact, this is information that every single Las Vegas visitor should read. If you belong to other Las Vegas groups, forums, or just tweet about your love of Vegas, you can use the short URL http://x.co/bL1t to link to the post.

We love to hear from you, and value your feedback! Here's how to participate:
Want to comment on a current reader post? Use the comment box on that particular web page. Many of the stories we post also have comment boxes at the end of the story. Make your voice heard!
Drop us an email at AccessVegas@AccessVegas.com – We read them all!
Call our recorded comment line at 702-507-0055. We listen to every call.
---
More Las Vegas News – Shows – Events
No related links found