Serving Las Vegas Visitors and Residents Since 1999
Welcome to the Insider Vibe! This is the official newsletter of AccessVegas.Com. We talk about the Las Vegas activities you really care about.
---
AccessVegas.com Quick Info Menu:
Las Vegas Essentials

Featured Shows

Special Events

Photos and Wallpaper
Newkirk's Notes – comments on Las Vegas from AccessVegas.Com publisher Ted Newkirk:
Hello From Las Vegas! A cloudy Las Vegas with scattered rain showers, that is. I want to wish everyone a Happy Thanksgiving weekend. Even if you live outside the U.S. or Canada and aren't having a Thanksgiving celebration sometime during this month, take a little time to count your blessings. Life isn't perfect, but if we dig down and look around, we can all find something to be thankful for.
Fortunately, our current weather isn't miserable and the rain is infrequent enough that it shouldn't be interrupting anyone's vacation. Nice change of pace for we locals and what the heck… much warmer than most of the rest of the United States this weekend.
As I just looked out my window (literally as I type), I saw the Virgin Air 747 coming out of the clouds with a plane full of our European friends (probably some readers among them) getting ready to touch down. I'm continually thankful and appreciative of the time, cost and effort you exhibit to make the Las Vegas visit whether you are a few hours away by car or spending half a day on an airplane to visit from the other side of the world.
Phantom û The Las Vegas Spectacular continues the amazing run at Venetian Las Vegas.
A couple of months ago, Phantom passedá1,000 performances which included:
"The Phantom," has spent 1,000 hours in the make-up chair, equating to over 41 days
The delicate ingenue "Christine Daae" has had a total of 11,000 costume changes to date
Mr. Ubaldo Piangi has belted out 2,000 high Cs, the ultimate note for any tenor
More than 3,802 hours have been spent maintaining the other star of the show, the one-ton, 15-foot tall, 16-foot wide chandelier
The crew has executed 14,000 elaborate set changes, creating 13 separate locations on stage each night
Nightly, "Christine Daae" shares two kisses with "The Phantom" and three with the charming "Raoul, Vicomte de Chagny," amounting to 5,000 kisses since opening night
From the moment you enter the magnificent custom-built theatre you are immersed in the storied Paris Opera House and become part of The Phantom's world. Featuring every beloved Andrew Lloyd Webber song from the original, spectacular sets, new effects, and a breathtaking chandelier experience, Phantom is an only-in-Vegas experience.áClick for Phantom – The Las Vegas Spectacular Tickets
Historic Las Vegas Hotels and Showgirls – I found this great YouTube video with a montage of vintage Vegas stuff. Well worth a look especially if you have some extra time off this holiday weekend: http://www.youtube.com/watch?v=rkxJVeJMCGM
Hilton Grand Vacations Photos – If you are like me, you've seen this place up (more or less) across from The Sahara but never given any thought to walking inside the place. After all, it really isn't a casino or entertainment venue. When we sent Mark to shoot some current photos of The Sahara (see previous issue), I had him snap a few of the Hilton Grand Vacations. Nice place… click on any of the above photos for a quick virtual tour.
Screeching To A Halt – For the first time in 40 years, Clark County (Las Vegas area) has LOST residents. An estimated 10,000 people have left town this year. That in stark contrast to the usual 4000-5000 per month who move here each month. In addition, Nevada unemployment is at 7.6%, the highest in 23 years and headed for the 10% mark.
What does that mean to you, the visitor? Perhaps something good: Las Vegas got "hot" starting about 2002. Reality shows, non-stop coverage on travel networks and celeb-gossip programs. This brought way too many carpetbaggers to town. People who didn't care about Las Vegas, the history, the live-and-let-live tradition which attracts visitors, and who only saw visitors basically as people with wallets to be drained. Unfortunately, Las Vegas' reputation took a bit of a beating as customer service went downhill while prices went way up. This is starting to change!
Those of us who have been here many, many years and love our town and love helping and serving (and are gratefuláá for) our visitors will be here long after the present economy has flushed out those who never belonged here in the first place.
Enjoy This Issue!

Ted Newkirk
CEO/Managing Editor
Associate Editor: Amy Rayner-Cooley
News Researcher/Editor: Mark Jacobs
---
Las Vegas Is On Sale!
Get Great Rates At All Hotels:

Boulder Stn from $30,

Fiesta H from $29,

Green Valley from $90,

Red Rock from $90,

Santa Fe Stn from $50,

Sunset Stn from $50,

Texas Stn from $25,
More Savings At All Vegas Hotels!
---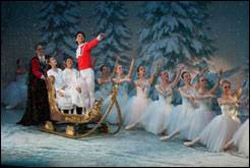 Nevada Ballet Theatre Dazzles Audiences With Its Cherished Holiday Favorite, The Nutcracker!
– The most famous cast of holiday characters, including Clara, Fritz, the Mouse King and the Sugar Plum Fairy, reunite for Las Vegas' most cherished and beloved annual event û The Nutcracker! Staged by Ballet Mistress Clarice Geissel-Rathers, with original choreography by Bruce Steivel, this annual tradition will be presented on Wednesday, December 17 through Sunday, December 28, 2008 at UNLV's Judy Bayley Theatre, 4505 Maryland Parkway. Perhaps the most famous fairytale ballet of all time, The Nutcracker premiered over 100 years ago in St. Petersburg, Russia.
Click to Read The Full Story …
'Tis the Season for Holiday Fun at Shark Reef Aquarium – This holiday season, Santa will be making his list and checking it twice at Mandalay BayÆs Shark Reef Aquarium. Children are invited to share last minute holiday wishes with "Santa in the Shipwreck" December 21-24 from 10 a.m. to 4 p.m. With each paid admission, children under the age of 12 also will receive a complimentary candy cane and photograph with jolly St. Nick to remember this unique holiday experience. Entry to Shark Reef Aquarium is $16.95 for adults and $10.95 for children ages five through 12. Children four and younger receive complimentary access. Click to view Mandalay Bay Shark Reef Pictures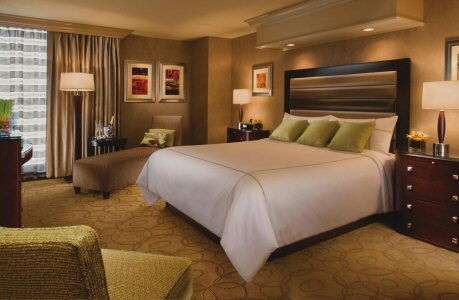 New Treasure Island (TI) Las Vegas Room Design
Rest Easy With the New Room Designs of TI and Circus Circus – This fall, Las Vegas visitors are invited to indulge in the new contemporary comforts of Treasure Island and Circus Circus. At Treasure Island, tempting new room designs pair plush luxuries with modern conveniences. Framed by soothing neutrals and draped in crisp white sheeting, each roomÆs dreamy focal point is the TI Elite Sensational Pillow-Top Bed. Specially designed to provide uniform shape, true back support and soothing comfort, the bed is so sensational, itÆs available for purchase. To keep visitors plugged in, TI also made must-have technologies standard û from 26-inch LCD flat-screen televisions to MP3/iPod-compatible clock-radios. High-speed Internet access also is available.
At Circus Circus, guests are invited to be among the first to experience a modern new room decor that combines a calming neutral palette with fun pops of vibrant color. Located in the propertyÆs West Tower, each standard accommodation features a pillow-top mattress, sleek marble-topped workstation and comfortable sitting area. Hi-tech amenities include 32-inch plasma televisions and wireless Internet access.
Fall Into Relaxation At The Spas Of MGM MIRAGE – From a revitalizing coffee pedicure to an aromatherapy massage designed to melt away the stress and strain caused by long summer days, these fall-inspired treatments leave spa-goers relaxed, refreshed and rejuvenated.
Hot Cafe y Horchata Pedicure, MGM Grand Spa û Enliven your day with this energizing foot treatment. The stimulating 50-minute pedicure includes a hot coffee foot mask and a sweet milk foot soak. ($95, Monday-Thursday; $105, Friday-Sunday)
Moroccan Jasmine Tea Manicure and Pedicure, Kim Vo Salon at The Mirage û This intoxicating 90-minute service begins with a gentle sugar scrub infused with exotic jasmine oil. Next, guests enjoy a calming manicure and pedicure before a nourishing jasmine- and green tea-infused creme leaves hands and feet silky smooth. ($155)
Relaxation Massage, The Spa at New York-New York û During each indulgent 50- or 75-minute session, a citrus aromatherapy oil awakens the senses while a gentle scalp massage melts away tensions. The latter treatment also includes an exfoliating peppermint foot scrub and massage. As a special treat, guests are invited to enjoy a delicious orange and chocolate bar after their service. ($125, 50 minutes; $185, 75 minutes)
Gambling Talk: Introduction To Poker Tournaments – with Victor H. Royer. Join our own "Vegas Vic" in the tenth of a series of poker instruction brought to you via streaming video! This week: Introduction To Poker Tournaments (broadband)
---
Members Mania – We Love Our Readers!
This will be our first trip to Vegas. We will be staying at the MGM Grand. I was actually in Vegas many years ago when I was like 13 so I don't count that. We will be in town for an expo but will have the late afternoons and evenings free. What would you say would be the things not to miss?
We are in our early 40's and still like to be on the go not couch potato kind of people. What would you say is the best place to get a great Prime Rib dinner as my fiance is a prime rib lover. Any advice you could give would be helpful as we would like to make the most of our time in Vegas.
Thanks,
Colleen from New Jersey
Ted Responds:
With so much to do and see, I try to steer clear of suggesting "must see" things to those who have never visited or have not been here in years. Also… you'll be back (trust me on that one) so don't kill yourself trying to do everything. Especially when here for a convention. Some tips:
1. DO go read the back issues of our newsletter (archive links are listed by month on the right sidebar… scroll down the site when you click to it) You'll be far better informed than most other visitors and thus be able to make the most of your time.
2. Primarily Prime Rib in the Orleans gets raves both for food and atmosphere. A quick two mile cab ride from your hotel, The Orleans is a nice, big, full-size casino with a mix of locals and tourists:áOrleans Hotel Casino Las Vegas Photo Set
3. Voodoo Lounge on top of the Rio won't scare off those over 30. Call ahead to verify but usually no cover until sometime in the evening. Moderate dress code enforced (don't show up in a t-shirt and old tennis shoes). If possible, get there 45 minutes before sunset and watch The Strip light up in front of your eyes outdoors while you enjoy a cocktail.
Many of the photos in this set were taken there at sunset (the others were taken from Stratosphere): Las Vegas At Dusk Photo Set

---
I know there are free shuttles to off strip casinos/hotels such as the Rio, Sam's Town……….but is there any free shuttles to the new Cannery or Silverton? Is there still a free one to Gold Coast? A lot of the sites are not updated on free shuttles……….. IF I am going to spend money, I would rather do it IN the hotels/casinos……….not on getting there.
Thanks!
Yankee
Ted Responds:
I absolutely agree that you'll have a better chance of winning at a "local's" casino. No guarantees… you can have a bad run of luck anywhere. But state revenue statistics seem to show that year in and year out, local's casinos pay out the best.
We stopped posting a free shuttle list some time ago because that information is subject to constant change. If you print it out and then it isn't accurate when you arrive, we get the blame!
Many off-strip hotels do have a free shuttle. Some (like South Point last time we checked) are only for guests going to and from the strip. Others are happy to take visitors from the strip to their casino and back.
My advice? Call the various hotels you wish to visit upon your arrival. Tell them you are staying on The Strip (or downtown if the case) and ask if they have a free shuttle there and back, from where, and what hours it runs.
Enjoy your visit and let us know how it went when you get back!

---
We love coming to Las Vegas. Try to come 2 times a year but the cost of a flight from Ohio is getting way out of our price. Any tips on how to save money on a flight and still have money left to gamble with?
Jeanne from Lorain, OH
Ted Responds:
You can always check your local paper travel sections for package deals (sometimes a regular charter flight deal may be available that you wouldn't find online). For example, Allegient Air has non-stopsáfrom Toledo (not too far from you) and usually has really reasonable pricing.
Also, keep in mind that airfares may be up, but hotel prices are down. If you have to spend more for air, make up the difference with your choice of hotel. Let's face it, most of the time in Las Vegas you just need a place to put your luggage and get some shut-eye. Our friends at I4Vegas continue to really have some great deals: Las Vegas Hotel Deals

---
As a long time recipient of your excellent newsletter I thought it was about time I made a small contribution. My wife and I have just returned to the UK after our latest visit to Las Vegas, (about our 12th trip in the last 10 years or so), once again we had a wonderful time.
Even though we are not big gamblers, we only play the low stake slots, we still enjoy the atmosphere and feel of the place. Our main vices are the restaurants and the shops so here are a few recommendations your readers might like to try.
Carnevino Located in the Palazzo Hotel – This is one of the best in Las Vegas, food, service, atmosphere all top class, itÆs a little pricey but well worth a visit.
The Steakhouse at Circus Circus – Best steakhouse in Las Vegas. They also have a Champagne Brunch, (Sunday 9:30, 11:30 and 1:30), itÆs the best in Las Vegas and only $35.95, don't miss it.
9 Fine Irishmen at New York New York – Great Irish bar, Saturday night live Irish Band, Magners, Guinness and a bloody good sing song not to be missed.(The foods pretty good as well).
Memphis Championship Barbecue. 2250 E.Warm Springs Road, Las Vegas, NV 8911 (702) 260-6909. www.memphis-bbq.com – The ribs are the best you will ever taste anywhere and also the service and food are great and the prices are as good as the food.
Montana Meat Co. Durango, (9135 S. Durango Dr. Las Vegas, NV 89113. (702) 407-0362 www.montanameatco.com – Excellent food, great service and above all very reasonably priced.
If anyone fancies a little road trip away from the bright lights of the strip take a trip to see the Pioneer Saloon 30 miles south of Vegas at Goodsprings you may even see the ghost. ThatÆs all, hope this is of use to someone keep up the good work and see you in Vegas come Superbowl Weekend.
John & Sheila from Leeds, England
---
We love to hear from you, and value your feedback! Here's how to participate:
Drop us an email at allvegastv@aol.com – We read them all!
Call our recorded comment line at 702-507-0055. We listen to every call.
---
More Las Vegas News – Concerts – Events
Coming Hot Holidays – The following dates are huge times to be in Las Vegas, and rooms are in high demand. Booking in advance is the best way to save. Visit our friends at Las Vegas Hotel Deals and spend one of the following hot dates having fun in Las Vegas:
Hanukkah Dec. 22 – Dec. 29
Christmas December 25
New Year's Eve-Day December 31 – January 1
Martin Luther King, Jr., Day, U.S (Observed) January 19-21 (3 day weekend)
Chinese/Lunar New Year January 26
Lincoln's Birthday, U.S February 12
Valentine's Day February 14
President's Day, U.S (Observed) February 14-16 (3 day weekend)
Washington's Birthday, U.S February 22
St. Patrick's Day March 17
Easter Sunday April 12
Cinco de Mayo May 5
Mother's Day May 10
Father's Day June 21
Canada Day, Canada July 1
Independence Day July 4
Civic Holiday, Canada August 1-3 (3 day weekend)
Labor Day, U.S September 5-7 (3 day weekend)
Labour Day, Canada September 5-7 (3 day weekend)
Jewish New Year September 19
Halloween October 31
Veteran's Day November 11
Link To Us! – Have a home page, web page, or blog? Link to us, and give yourself and your friends a quick link to find us from your site. Simply link to http://www.accessvegas.com and name the link Access Vegas!
RSS Feed – We now have an RSS/XML feed! Most RSS programs let you visit AccessVegas.com and automatically pull the feed. For those who want to enter it manually, the feed is:
http://www.accessvegas.com/xml/whats-hot.xml
Share the info: Click to Email this newsletter to a friend!
---
For comments or questions regarding our content
or this newsletter write us at
allvegastv@aol.com
.
New to the list? See our Newsletter Archives for back issues and subscription info. Don't hesitate to forward this newsletter to friends and associates.
All contents copyright 2008 Ted Newkirk. All Rights Reserved.
Hotel Rates Published Accurate At Time Of Publication


November 26, 2008 ISSN: 1529-2770 About Us Privacy Policy
No related links found