Serving Las Vegas Visitors and Residents Since 1999
Welcome to the Insider Vibe! This is the official newsletter of AccessVegas.Com. We talk about the Las Vegas activities you really care about.
---
AccessVegas.com Quick Info Menu:
Las Vegas Essentials

Seasonal Vegas Information

Featured Shows

Photos and Wallpaper
Newkirk's Notes – comments on Las Vegas from AccessVegas.Com publisher Ted Newkirk:
Hello From Las Vegas! The town is jammed during this Thanksgiving holiday time. I haven't seen so many families in the buffet lines in a long time. Instead of going to Grandma's house, far-flung families use Las Vegas as a central meeting point. Every restaurant in every hotel had Thanksgiving fare on the menu and the wide variety of activities means that every extended family member can find enjoyable things to do.
Because of the holiday week, this issue is on shorter than normal, but that doesn't mean we aren't busy! I was fortunate enough to see a number of family members over the past few months as they visited Las Vegas so myself and recently-returned staff member Rick Ziegler are reviewing and discussing a number of major improvements and upgrades to literally every aspect of AccessVegas.com. Our last makeover and upgrade was some 7 years ago, so it is about time!
Among Rick's many strong points are video and social media, so we're going heavily in that direction. We were one of the first travel sites to put out regular streaming video when we launched our All Vegas TV brand over 10 years ago. In fact, many of the oldest videos are still available in dial-up speed! But alas, the popularity of streaming internet video was still years away. Time has caught up, and we're dusting the project off and relaunching it.
We're not only going to update and upgrade every page of content, but will launch entirely new site sections based on amazing among of reader feedback we get to allvegastv@aol.com. 41,000+ subscribers give us a solid pulse on what Vegas visitors are interested in. Which is where you come in:
We're after suggestions and constructive criticism. What would you like to see more of? What would you like to see changed for the better? What do we currently not offer that you'd enjoy seeing us offer? What other travel sites do you visit (Vegas or otherwise) and what do they do or offer that you really enjoy? Any other comments or suggestions?
This is your chance to step up and make your voice heard. All emails (including complaints or constructive criticism) are welcomed at allvegastv@aol.com We'll read them ALL and respond to as many as possible!
The above shots are from a previous year's Bellagio Conservatory Harvest (Thanksgiving time) display. The current harvest display will run through the end of November and admission is complimentary. The Christmas/Holiday display debuts December 3.
My best to each and every one of you as we enter this holiday season.
Enjoy This Issue!

Associate Editor: Amy Rayner-Cooley
News Researcher/Editor: Rick Ziegler
---
Johnny Smalls Serves Up Unlimited Tapas For $19.99 At Hard Rock Hotel Las Vegas
– Small plates are the new big deal at Johnny Smalls, inside
Hard Rock Hotel & Casino
. Guests may indulge in the All You Can Eat Tapas special priced at only $19.99 and select from any of the regular menu items. Menu selections include small bites such as the mouth-watering Smalls Balls, crispy Tater Fries and scrumptious Mac n Cheese Sliders. Johnny Smalls also features an expansive specialty cocktail list, premium beers and wines.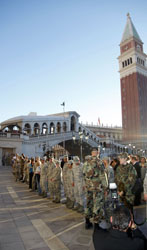 The Venetian Rolls Out The Red Carpet For America's Veterans With "Tribute to the Troops" – In celebration of Veteran's Day, The Sands Foundation honored our nation's veterans with an over-the-top weekend of entertainment, world-class dining, and relaxation at The Venetian Resort Hotel Casino. Nearly 75 wounded soldiers and their families arrived to a heartwarming red-carpet welcome in The Venetian's Grand Colonnade. More than 1,000 gracious guests and Venetian team members cheered on the veterans as they proceeded through the crowd to the welcoming ceremony.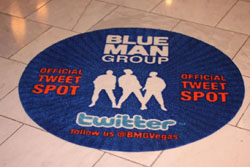 Blue Man Group Introduces Official @BMGVegas Tweet Spot At Its Theatre Inside The Venetian Las Vegas – Today, Blue Man Group Las Vegas introduced the official @BMGVegas Tweet Spot to inspire creative Twitter posts from guests attending the bald and blue trio's nightly performances inside The Venetian Las Vegas. As a member of the Twitter community, Blue Man Group Las Vegas encourages Twitter users to stop by the @BMGVegas Tweet Spot before or after the show to share their thoughts and experiences. The @BMGVegas Tweet Spot, a distinctive Blue Man-esque mat in the lobby of the theatre, gives guests on Twitter the opportunity to embrace Blue Man Group's unique style with each tweet. Guests can follow Blue Man Group Las Vegas on Twitter at @BMGVegas.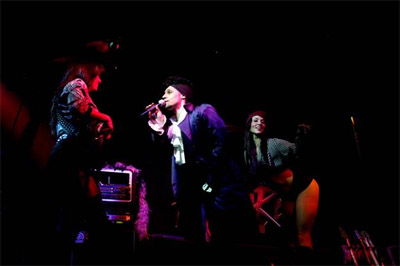 Pictured Left to Right: Sally G, Jason Tenner as "Prince"
and Adrienne Diamond
Purple Reign Celebrates One Year Reign At Hooters Casino Hotel – On Tuesday, November 16th, Purple Reign celebrated their one year anniversary at Hooters Casino Hotel with a VIP party at Dixie's Dam Bar. The evening began with cocktail and a Hooters style buffet . Strip Headliner, Kevin Burke even made an appearance at the cocktail party before heading off to his hit show "Defending the Caveman" at the Excalibur.
---
Desert Safari Hummer Adventure Tour
û Get the real rugged desert terrain experience in a seven passenger, original Hummer. See deserted mines and the ruins of old mining camps. The tour will ascend 4,000 feet for a breathtaking view of valleys and mountains! You may encounter Big Horn Sheep, Wild Burros, Mustangs and even the elusive Kit Fox on the tour.
---
More Las Vegas News – Concerts – Events