Serving Las Vegas Visitors and Residents Since 1999
Welcome to the Insider Vibe! This is the official newsletter of AccessVegas.Com. We talk about the Las Vegas activities you really care about.
---
AccessVegas.com Quick Info Menu:
Las Vegas Essentials

Seasonal Vegas Information

Featured Shows

Photos and Wallpaper
Newkirk's Notes – comments on Las Vegas from AccessVegas.Com publisher Ted Newkirk:
Hello From Las Vegas! Summer became winter literally overnight. Saturday (a week ago, Nov. 6) I spent the day on my back patio basking in 81 degree weather (F) while I watched college football.* Two days later (on a Monday, no less) highs were in the mid-60's and it was raining!
If you're headed our way, don't despair. Temps are still pushing 70 degrees, although average highs in December and January are only 57. Not pool weather, but warmer than most of the US, Canada, and Europe.
* I have an old-school 19″ TV that I picked up for $25 on Craigslist which I keep on the back patio (at that price, who cares if someone steals it and who is going to want it!) and use X10's Wireless Video Sender which beams whatever is on my cable box to the outside TV (and even lets me change cable box channels from outside).
Blue Man Group Las Vegas is calling on its Twitter followers to help the more than 250,000 Southern Nevadans currently struggling with hunger by mentioning @BMGVegas in a tweet between now and Nov. 30. Throughout November, every time @BMGVegas is mentioned in a tweet, Blue Man Group will donate $1 (up to $1,500) to Three Square Food Bank.
Suggested Tweet: Through Nov. 30, every time @BMGVegas is tagged in a Tweet they will donate $1 to @threesquareLV (up to $1,500)!
We're proud to have Blue Man Group as a longtime sponsor (click their ad on the right sidebar to save on tickets) of this newsletter. Here's a way you can promote them and help the needy as well!
Speaking Of Sponsors… The Lion King Las Vegas has also been great, long-time sponsor and we've got both good news and bad news regarding the show: The show has been extended through the end of 2011. And then it is done in Las Vegas. I've yet to meet anyone who went to see The Lion King who didn't thoroughly enjoy it. So… you might want to snap up tickets (see right sidebar) for your next trip before the show ends!
Cirque du Soleil's Michael Jackson The Immortal is the name of the long-rumored Cirque-based Micheal Jackson show. Here's the plan: Create it as a touring show, debut it in Montreal (Cirque's home), take it to Las Vegas, then take the show around North America before returning it to Las Vegas in a custom theatre a la the other Vegas-based Cirque shows.
Circus Circus Adventuredome – People sometimes complain about the cost of various entertainment in Las Vegas, but here's one you really can't beat (if you have the stomach for it): All-day ride passes at Adventuredome are $16.95 (33 inches to under 48 inches tall) and $26.95 (48 inches tall or taller). The Adventuredome features 25 rides and attractions, is open daily year-round, maintains a constant temperature of 72 degrees (nice considering chilly weather is setting in here).
Bring Back The Boardwalk! – As many of you know, CityCenter's Harmon tower (the rounded building on the north end) never opened due to construction defects. The building is now slated for demolition in 2012 (the delay due to ongoing litigation surrounding the project). This will give them a bit of a "do over" as one of the chief issues plaguing CityCenter has been that it simply isn't inviting to those strolling The Strip. Me? I miss The Boardwalk, the modest hotel which used to occupy the southern piece of what is now the CityCenter complex. Easy parking, great lounge acts, and who can forget the clown:
Enjoy This Issue!

Associate Editor: Amy Rayner-Cooley
News Researcher/Editor: Mark Jacobs
---
---
Sammy Hagar To Host 'Pro Football Thursdays' Kick Off Party At Cabo Wabo Cantina
– Cabo Wabo Cantina will kick off Pro Football Thursdays with host Sammy Hagar Thursday, November 11. The original red rocker will return to rock his Vegas cantina with killer food and drink specials as the Baltimore Ravens take on the Atlanta Falcons during NFL's official kickoff of Thursday night football. This event is open to the public.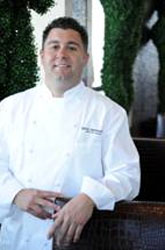 Celebrate The Holidays With "The Feast Of Seven Fishes," A Cooking Class At Nove Italiano On Dec. 4 – This holiday season, Executive Chef Geno Bernardo invites cooking enthusiasts to take a culinary adventure to experience one of Italy's bountiful traditions, "The Feast of Seven Fishes." Celebrated on Christmas Eve in Italy, the delicious holiday tradition gathers friends and family together for a festive meal served with different types of family-style fish dishes to toast the holiday season. Chef Geno brings this time honored tradition to Nove Italiano, as he hosts his intimate cooking class called "The Feast of Seven Fishes" on Dec. 4.

And The Las Vegas Luxist Awards Go Toà Restaurant Guy Savoy At Caesars Palace, Strip House At Planet Hollywood – Luxist, the AOL Web site covering the world of luxury and fine living, is showering awards on Harrah's Entertainment restaurants: Restaurant Guy Savoy at Caesars Palace has been named one of the top five restaurant in the U.S. category, "Best Domestic Restaurant" while the Strip House brand, which has a location at Planet Hollywood was named "Best Steakhouse."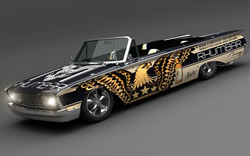 Play Social Media "I Spy" With Rhumbar – Snap A Photo Of The Rhumbar Convertible And Win – The RHUMBAR engine is roaring and ready to go with a social media game of "I Spy." Now through the end of the year, patrons that spot RHUMBAR's custom-wrapped 1960 Ford Galaxie Sunliner convertible cruising around town will be rewarded with a complimentary Sailor Jerry Rum Punch cocktail at RHUMBAR.
---

Maverick Grand Canyon Landing Sunset Tour
û This spectacular helicopter air excursion lands at the Grand Canyon and flies over Hoover Dam, Lake Mead and Fortification Hill. Relax and enjoy the views on the return sunset flight through Black Canyon to the south Las Vegas valley.
---
Members Mania – We Love Our Readers!
I am turning 50 on New Years Day. We had talked about going to Vegas for New Years but now there are only a couple hotels with rooms and they are $400 and up.
Are there any close to the strip (within walking distance) for my disabled (bad back) husband that wouldn't be so expensive?
Thanks,
Lori
Ted Responds:
Certainly a great way to celebrate a big birthday!
Using the booking box on our site AccessVegas.com, I'm finding Royal Resort (one short block from The Strip) at $121, Gold Coast (1/2 mile from strip, free shuttle) at $146, Orleans (1.5 miles, free shuttle) at $152.
On the Strip, Sahara is $169, Hooters $186, Riviera $199, Strat $206, Hilton (monorail to Strip) $224, Trump $256, etc.
These rates were per night for Dec. 31 check-in and Jan. 2 check-out.
You should be booking on our site instead of wherever you were looking! We have great deals, and supporting our travel partners helps support our newsletter.

---
Just a note to tell Las Vegas casino owners that they are NOT the only star fish in the sea. My wife and I decided to try Biloxi casinos this last week instead of Vegas. I must say food is great and reasonably priced. Slot machine play is much much better than Vegas strip casinos,and they are very generous with drinks and comps. We are thinking of returning to Biloxi next time, since we had such a good time. Wake up Vegas Casino owners or somebody else will get your customers.
Mick
Ted Responds:
Actually, some of the same companies that run many of the casinos here in Las Vegas also run the casinos in Biloxi.
Generally speaking, the properties there were built for less money (and longer ago) and they don't have to recoup the billions that have been put into many of the newer Las Vegas resorts.
Similar to downtown Las Vegas: With the exception of the Golden Nugget, nothing new has been built down there in some time. They have to work harder for customers. Hence, the looser slots, better table game rules, and lower food prices.
You can't build a place like Wynn and have $1.99 breakfast specials. Cost a lot to build, costs a lot to stay there, takes a lot of play to get comped there. And in fact, they don't want the frugal crowd in their doors.
No question that Las Vegas has turned into a resort city that offers gaming. If gaming is the basic purpose of a vacation, that can be done in a number of places now.
Las Vegas visitor numbers continue to improve slowly but surely. Certainly, you can try your luck in other places. But there is only one Las Vegas.

---
Just got back from our annual trip to Vegas and wanted to let everyone know a few things. One, if you're riding the bus, either the deuce or the gold line make sure you have a ticket before you get on the bus (also you need correct change to buy your ticket). You can't pay the driver for your ticket, you have to have it in advance.
Second, can't say enough about the fantastic steak dinner at Ellis Island Casino. For $7.99 it's one of the best steaks I've ever had. Took all our friends and everyone just raved about how good the steak was. Found a new restaurant that was also a great place, Chicago Joe's. Had a lot of fun there and the food was excellent.
As per everyone else, slots were very tight, no winners in our group.
Saw Cher, great show. Enjoyed that tremendously. Also saw Zumanity which was another great Cirque show. So far we only have Ka and Viva Elvis left to see.
Had a really good time even though the weather was awful, never had this much rain in Vegas.
One other thing, the "sandwich trick" worked for all of us (3 couples, 3 separate rooms) everyone got upgrade to a better room. Glad I read that here and told everyone about it. (they were so impressed!!!!) So thanks for all the good info you have in your newsletter. Keep up the good work!!
Monica
Ted Responds:
The Ellis Island complete steak dinner has been a long-time value. (Ellis Island is at Flamingo and Koval, basically kitty-corner from the Westin). Downside is the wait their coffee shop has during peak times, but they have an on-site brew pub and some very reasonably priced hand-crafted beer to enjoy while you wait. We've talked about Chicago Joe's (downtown) before and couldn't agree with you more.
Hint to everybody regarding the slots: Yes, you want to play all the cool, new penny slots. But they are the tightest because people get sucked into wanting to keep playing them. If you aren't winning on penny slots, try some old school quarter slots. (To win anything anyway, you have to play up to $1.00 a spin on the penny machines).
Thanks for the great trip report and good tips!

We love to hear from you, and value your feedback! Here's how to participate:
---
More Las Vegas News – Concerts – Events