Serving Las Vegas Visitors and Residents Since 1999
Welcome to the Insider Vibe! This is the official newsletter of AccessVegas.Com. We talk about the Las Vegas activities you really care about.
Need to contact us? Send feedback to
AccessVegas@AccessVegas.com
Missed an issue? Click to Read Back Issues Online.
---
AccessVegas.com Quick Info Menu:
---
Newkirk's Notes – comments on Las Vegas from AccessVegas.Com publisher Ted Newkirk:
Hello From Las Vegas! – After a very chilly Memorial Day weekend (Saturday topped out at 73 degrees, Sunday barely made it to 80), we're into the triple-digits as we crest into June. (Triple 777's on a slot machine = Good. Triple digits on the thermometer = Toasty).
June's average high is 99 degrees, so we've likely seen the last of days in the 80's, let alone 70's. The next time we'll feel cool-to-cold? Probably around September. No complaints from me! Except for the pesky electric bill for air conditioning, I'm all about the heat.
Thanks For The Kind Words – I want to thank everyone who dropped me an email regarding the 13'th anniversary of this newsletter. I need to note that as I was doing a delete of my spam folder (where newsletter replies sometimes end up), I was hitting the delete button on a pile of email when I (just a half-second too late) noted a newsletter reply from someone names Cynthia. So Cynthia, feel free to write back. I'll make sure it doesn't happen again!
Holly Madison To Leave Peepshow – Las Vegas' favorite sex symbol is ending her Peepshow (click for tix) run next week next month at the end of the year. No word on what is next for her. She really went above and beyond the call of duty, integrating herself into the Las Vegas community as a full-fledged resident and pretty much never saying no to an appearance or taking a minute with fans.
Also, don't forget that Phantom – The Las Vegas Spectacular (click for tix) ends after Labor Day weekend. This is your last chance to see the special Las Vegas production of the show in the custom special-effects theatre specifically built for the Vegas version. Click on the graphics in the right sidebar to purchase tickets to both.
Lady Luck Update – The Lady Luck (which will re-open as The Downtown Grand) looks to be on its way with reports of remodeling work going on inside and an early 2013 opening. The bars and restaurants across from it on 3'rd streetáare hot spots, the Mob Museum is next door, and the revamping of the property will be another of many dominoes in the resurgence of downtown.
Rich Or Budget? – A recent local article entitled Marketing quandary: Is Las Vegas a rich destination or budget stop? made some excellent points questioning the way Las Vegas markets itself. The average age of the visitor is 49, but most Las Vegas advertising seems to be aimed at those under 30 with endless amounts of money to spend (or at least credit cards they have not completely torched yet).
We put a poll on our Facebook page asking you if Las Vegas seems just for the rich, enjoyable on somewhat of a budget, or a good value compared to other destinations. Head on over to our AccessVegas.com Facebook Page and put your two cents in! Make sure you Like us while you are there. Not a Facebook member? Don't worry… we're working on software which will let us eventually do polls on our own site as well.
More On The Wayner – Wayne Newton Wins Restraining Order Against Landlord, Stalls Museum Plans. Wayne is striking back, and we'll see how the chips fall in court.
Hotel Noise – Las Vegas is a loud town. No question about it. Which can create a problem if you are an "early to bed, early to rise" type of person and/or simply a light sleeper. It isn't just the noisy drunks retuning to their rooms at 3 AM. We also have outdoor nightclubs with DJ's playing thump-thump music and live outdoor music venues. Downtown can be even worse, with the light show playing at 1 AM and live music on Fremont Street sometimes going until 2 AM.
Our advice? If sleep is an issue for you, let the clerk know upon check-in. Ask if there is an issue with late-night music/noise in the vicinity of the property and if there is, request that they kindly locate you as far away from it as possible. Because of the project Linq construction, this also applies to Harrah's, Imperial Palace, and The Flamingo right now.
When To Visit Downtown – We're revising our recommendations from last year, when we noted that downtown Fremont Street was pretty dull on weeknights (especially Monday and Tuesday) and busy on weekends. Well, weekends are not only busy, but just about out-of-control. Not in a bad way. Security is always good and people are usually well-behaved. However, we're starting to talk some very serious crowds. If you like elbow room, visit on a weeknight. A daytime visit will net you cheap gambling and loose slots, but not the party which downtown is famous for.
Enjoy This Issue!

Associate Editor / News Researcher: Rick Ziegler
Concerts and Headliners: Amy Rayner-Cooley
---
---
The Bourbon Room Grand Opening At The Venetian Announces Rock Of Ages – The Bourbon Room at The Venetian made its grand opening last night with a surprise flash performance announcing the newest entertainment residency. As guests were enjoying signature bourbon cocktails and listening to the tunes of classic hairband music videos, more than forty dancers joined the party in their raddest æ80s attire, jumping up on the banisters and making their way through the crowd to the tunes of ôCum on Feel the Noize,ö ôI Wanna Rockö and ôNothinÆ But a Good Time.ö Photo Credit: IS Photography/ImagesOfVegas.com
Public House To Honor Dads With Special Prix Fixe Menu And ôDrafts For Dadsö At Half-Price On FatherÆs Day – Public House, an American gastropub located in The Grand Canal Shoppes at The Venetian, will celebrate FatherÆs Day with a prix fixe menu and beer pairing priced at $48 per person and half-priced öDrafts for Dadsö on Sunday, June 17.
Discover the Hidden Gems of Las Vegas – Sin City continues to be one of the most desirable getaways in the country. While uncovering the latest trendsetting spots can be easily accomplished, finding the true hidden gems can be hard to come by.
Pianist to the Presidents at Bellagio

– Indulge in a splendid evening at BellagioÆs Petrossian Bar with live music from the pianist to Presidents of the United States. David Osborn has performed at the White House for many politicians including Presidents Carter, Bush, Clinton, Bush and Obama. Guests at Petrossian Bar can relax on one of the velvet couches overlooking the casino while enjoying beautiful music played by Osborn on the one-of-a-kind Steinway Grand. Osborn plays evenings Thursday-Sunday at the elegant lounge that gently sets the mood for sophisticated tastes and discerning palates. Talk about a hidden gem.

Wind Down at the Cigar & Cognac Lounge

– Upstairs from Andre's Restaurant inside Monte Carlo is the warm and welcoming Cigar & Cognac Lounge, a world of intimacy where guests can settle in by the fire with a drink and enjoy the seductive aroma of fine cigars. For the ultimate experience, let experts recommend a professional cognac and cigar pairing. It's the perfect way to cap off a dinner at Andre's, a show in the Monte Carlo Theatre or to simply wind down before turning in for the evening.

Complimentary Art Tours at the Bellagio Gallery of Fine Art

– Las Vegas' premier fine art exhibition venue, the Bellagio Gallery of Fine Art, offers daily docent tours beginning promptly at 2 p.m. Each tour is complimentary with the purchase of admission. The 45-minute tour takes guests through exhibitions of paintings, sculptures and works on paper by the world's most influential artists. These museum-caliber displays offer visitors a rare opportunity to view legendary works of art carefully selected from prestigious international collections.

Wine Tasting on the House at Onda

– Onda Wine Lounge at The Mirage is an Italian-inspired lounge where guests can enjoy a selection of wines available to taste by purchasing a tasting flight or individually. Every Friday afternoon, the lounge offers free wine tastings to guests. A selection of artisan cheeses and meats is also offered. All wines will be available for purchase by the glass or bottle and also by the case which can be shipped to an address of choice.

Gaming in Style on the Beach

– Directly on the sand and just feet from the crashing waves, the three-story, climate-controlled, glass-fronted Beachside Casino at Mandalay Bay offers fabulous amenities for guests. At the top sits the Villas Soleil with spectacular views of the entire Mandalay Bay Beach. Ranging in size from 250 to 500 square feet, these five villas are unlike any standard cabana in Las Vegas. Each of the contemporarily designed villas accommodates up to 16 guests and comes with cabana service and access to the private third-level pool. Each features cozy modular seating and day beds in crisp colors, a restroom, wet bar, 50-inch flat-screen television, MP3 player, safe, ceiling fan and a private deck overlooking The Beach.

Swan-side Dining at Swan Court at Aureole

– The exclusive Swan Court at Aureole offers private outdoor dining next to a lagoon where beautiful white swans glide gracefully. Guests can enjoy a menu of seasonal dishes including artisan dry-aged beef and fresh seafood that reflect Chef Charlie PalmerÆs signature progressive American cuisine. Along with dinner, rare wines from around the world can be sampled. AureoleÆs visual trademark is a four-story wine tower with its very own Wine Angel Stewards, who stylishly ascend the tower to retrieve bottles.
ôKiss The Skyö Summer Pool Parties Coming To BinionÆs Gambling Hall – BinionÆs Gambling Hall announces its summer pool party series, Kiss The Sky, with DJs, dancing, and drink specials high above Las Vegas at the historic propertyÆs 25th floor pool. Admission is free, and all guests 21 and over are invited to party under the stars every Friday night starting at 9pm from June 8 through August 31.
Rice & Company And Tender Steak & Seafood Honor Dads On FatherÆs Day – Luxor Hotel and Casino celebrates FatherÆs Day on Sunday, June 17 with a specially created menu and sushi roll designed to please even the most discerning of dads. Executive Sushi Chef Danny Chen of Rice & Company offers the spicy ôBig Daddyö sushi roll while Executive Chef K.C. Fazel of TENDER Steak & Seafood has crafted an unparalleled three-course prix fixe menu. Both are sure to make dadÆs day even more special.
The Official Blues Brothers Revue And Blues, Brews, BBQ Festival At The Cannery Casino – Humor, music and a little mayhem. YouÆll get it all in the full presentation of The Official Blues Brothers Revue at the Cannery CasinoÆs indoor concert venue on Friday, June 22, 2012 at 8 p.m. Admission is $10 at the door. The performance begins at 8 p.m.
Taylor Hicks To Headline At BallyÆs Las Vegas – As announced on ôAmerican Idolö, Taylor Hicks, winner of the showÆs fifth season, will have an eight-week engagement headlining at BallyÆs Las Vegas beginning Tuesday, June 26, 2012. Hicks becomes the first ôAmerican Idolö winner or finalist to secure a residency in Las Vegas, a testament to his talent and staying power as one of the showÆs most beloved stars.
The Great Indoors at MGM Resorts – With summer on its way, Las Vegas temperatures will soon hit the triple digits. Have no fear, MGM Resorts properties have plenty of indoor activities that will keep you entertained without breaking a sweat.
Retreat to The Adventuredome at Circus Circus Las Vegas, AmericaÆs largest indoor theme park. From a double-corkscrew roller coaster to 4-D adventures with SpongeBob SquarePants or Dora and Diego, The Adventuredome provides the thrill and excitement of a traditional theme park in a comfortably cool 72-degree setting.
Shark Reef Aquarium at Mandalay Bay is comprised of nearly 1.6 million gallons of water throughout 14 indoor exhibits. Home to more than 2,000 divinely dangerous animals including sharks, crocodiles, sawfish, piranhas and a rare Komodo Dragon, Shark Reef Aquarium is a total sensory experience that transports visitors to an undersea ocean of fantastic sights, sounds and encounters.
If itÆs 100 degrees outside, you might wear a tank top and flip-flops. However, to truly get cool you should put on a parka, boots and mittens while having a cocktail û especially in a lounge made entirely of ice. The largest ice bar in North America, Minus5 Ice Lounge at Monte Carlo is a wonderland of intricately handcrafted ice sculptures and architecture where the temperature is a constant minus 5 degrees Celsius (23 degrees Fahrenheit). Even the glasses are made of ice so bundle up!
---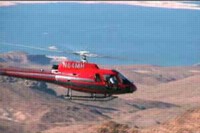 Maverick Indian Territory Grand Canyon Tour û This exciting tour begins by flying over the beautiful Lake Las Vegas, Lake Mead, the world famous Hoover dam and Fortification Hill, an extinct volcano. View the breathtaking scenery and wildlife of the southwest along the way. Maverick Helicopters will descend and land in the Hualapai Indian Territory 3,500 feet into the Grand Canyon.
---
Zumanity by Cirque Du Soleil by Sarah Jane Woodall
Zumanity: Cirque Du Soleil's Edgy And Sexual Side – Ever since the first showgirl bared her breasts at the Dunes in 1957, Vegas has been AmericaÆs go-to titillation destination. Over the decades the city has hosted countless adult-themed shows, ranging from the merely risquÚ to the downright tawdry û and in modern times, even seedy.
But now that weÆve evolved into a world-class entertainment capital with five-star restaurants and high-end shopping, even the adult entertainment has stepped up a notch. Sure, you can still wallow in lowbrow cheese… but for those who prefer an adult experience with class, now thereÆs an elegant option.
---
What We're Watching – Vegas Videos You'll Enjoy
---
Members Mania – We Love Our Readers!
Just back in u.k. after great 6th trip to Vegas but what on earth have they done to Deuce bus on the strip. When we first went to Vegas we relied on the bus <2 dollars correct money any trip>, now it is 5 dollars minimum for two hours, what do you do in two hours? Stay on the bus and ride up and down the strip?
See you again soon,
Martyn!
Ted Responds:
Unfortunately, I don't have the best news for you. Starting September 9, 2012 prices for the two-hour fare jump to $6. The two-hour fare is basically their way of instituting a "one way" bus fare. HOWEVER, you can get a 24-hour pass for only $8 (currently $7) and ride to your hearts content.
An even better deal is the 3-day pass, clocking in at $20 (which will be unchanged when the other fares increase). At the end of the day, the Regional Transit Commission is facing the same kind of budget issues everyone else is and the fare hikes were inevitable.

---
I just recently visited Las Vegas with my niece and I must say that for the first time in years they finally loosened the slot machines. It seems all the casinos we visited we made a little money.
I guess they finally figured out if they loosened the slots people will spend more money instead of going to shows and tours.
So it was a very nice trip this go round. Also anyone visiting Las Vegas, I would recommend Bill's Gamblin' Hall. I had a treat this time. They had the Elvis impersonators and the winner was from my home town. I wish him luck in Memphis at the finals.
Can't wait for next year to visit again. It will be my 10'th year in a row, hahah.
Keep up the good work on your news letter.
Thank you,
Carol From Texas
Ted Responds:
Glad to hear you had a great trip! I'm not so sure that the slots have been loosened up (I don't want to get anyone's hopes up). Keep in mind that some trips, you'll simply be more lucky than others.
I'm with you, though: When I get up a bit, I like to walk with my money. Some people by into the myth that they are "playing with the house's money". The reality is that when you have credits on a machine or chips in front of you, that is YOUR money. All yours. Keep playing it too long, and it will return to being the house's money.

---
I always get fresh information from your newsletter, especially since I quit taking the LVRJ. I remember something else other than another Walgreens being approved for the site at LV Blvd and Sahara. LV needs another Walgreens like it needs another strip shopping center. Now we see why White Cross had to close.
Ted, you sorely need a good proofreader.
Ted Responds:
We're a little surprised that they are putting one in slightly less than a mile from the Walgreens at Convention Center drive and they have another one up at Charleston. I'm guessing that they are 1. Planning ahead to when The Sahara reopens and the North Strip gets some life and 2. Plan to cater to many neighborhoods within a 5-7 minute drive of that location (which includes me).
Also, a significant amount of drive-in traffic headed to Circus Circus, Stratosphere, and Riviera drive right through that intersection when they get off the freeway at Sahara and I imagine they are hoping to pick up shoppers who want to stock up for their stay. If I were some of the various properties, I'd install an expanded on-site gift/grocery outlet and see if they can keep people out of the Walgreens.
Proofreader? We're lucky we get this things out every week as it is! In a perfect world, I'd have a staff of writers. In a perfect world, I'd have the budget for it!

---
We love to hear from you, and value your feedback! Here's how to participate:
Want to comment on a current reader post? Use the comment box on that particular web page. Many of the stories we post also have comment boxes at the end of the story. Make your voice heard!
Drop us an email at AccessVegas@AccessVegas.com – We read them all!
Call our recorded comment line at 702-507-0055. We listen to every call.
---
Father's Day Las Vegas
News, Events, and Specials
No related links found