Serving Las Vegas Visitors and Residents Since 1999
Welcome to the Insider Vibe! This is the official newsletter of AccessVegas.Com. We talk about the Las Vegas activities you really care about.
Need to contact us? Send feedback to
AccessVegas@AccessVegas.com
Missed an issue? Click to Read Back Issues Online.
---
AccessVegas.com Quick Info Menu:
| | |
| --- | --- |
| Las Vegas Essentials | Featured Shows |
---

---
Hot Hotel Happenings – Save Big Now!

Stay at Bally's Las Vegas and get choice of One Day SPA Treatments

Save up to 15% Off at Harrah's Palace Las Vegas

Caesars Palace Las Vegas Buffet of Buffets Deal! Stay 2 Nights From $134/Night & Get 2 All-Day, All Access Buffet Passes to 8 Buffets in Sin City!

Special Offers at The Palms – Entertainment Packages and Resort Packages
Click To View ALL Las Vegas Hotel Deals
Print Too Small? (Deals – Large Print)
---
This Week's Top Tours
| | |
| --- | --- |
| | Neon Dream Vegas helicopter tour, soar out to and over Hoover Dam/Lake Mead, Fremont Experience and entire Strip! |
| | Experience Grand Canyon, Hoover Dam, Lake Mead, all of Vegas by helicopter, save 30%! |
| | Richard Petty Rookie Tour: YOU drive the Vegas Motor Speedway in a V-8 NASCAR style car! |
| | Vegas Indoor Skydiving, right on Vegas Strip, winds up to 120 mph, just like the real thing |
| | Visit Grand Canyon, Mojave Desert, Black Mountains, Eagle Point, Hoover Dam photo op, more. Day tour from Vegas! |
---
Shows, Concerts, And Headliners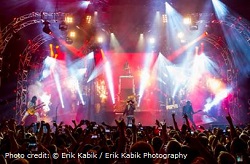 Guns N' Roses Launched Second Residency, An Evening Of Destruction. No Trickery! – They're back! Legendary rock band Guns N' Roses marked its triumphant return to launch its second residency.
Actor and friend of the band Nicolas Cage helped kicked off the sold-out show by getting concertgoers amped up as Guns N' Roses prepared to take Las Vegas by storm.
Full story/details/info: Guns N' Roses Launched Second Residency
Click to Book Tickets Now: Guns N' Roses
The Party Never Stops With Rockhouse's Endless Daiquiri Cup At Electric Daisy Carnival

Book Electric Daisy Carnival Las Vegas Tickets Now
---
Father's Day Las Vegas 2014
---
Las Vegas Dining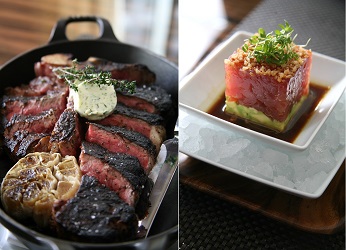 Now Open at Bally's, BLT Steak Brings Back Legendary Sterling Brunch – Now open at Bally's Las Vegas, BLT Steak brings sophisticated design, quality service and classic steakhouse fare to the revitalized hotel and casino. BLT Steak also reinstates the award-winning weekend staple, Sterling Brunch.
Regarded as the premier brunch in Las Vegas, the Bally's institution of forty years, Sterling Brunch made its triumphant return on May 24, 2014, with the same excellence in service and fare but in a more modern and stylish presentation synonymous with BLT Steak. Sterling Brunch will now be offered both Saturdays and Sundays, and will be showcased in a sleek built-in buffet space with roll-top chafers. Guests will once again be able to indulge in the finest fare of caviar, lobster tails, fresh-shucked oysters, Alaskan king crab legs, and never-ending glasses of Perrier JouÙt Champagne, mimosas and bloody marys. Gluten-free items will also be available, and a personally guided tour of all offerings will be given upon request.
Full story/details/info: BLT Steak Brings Back Legendary Sterling Brunch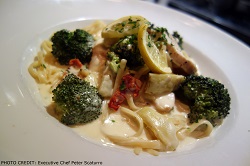 Trevi Heats Up The Season With New Italian Menu Specialties And Cocktails – Trevi Italian Restaurant inside The Forum Shops at Caesars Palace, has introduced three new specialty menu items and cocktails to enjoy during the spring and summer seasons.
Executive Chef Peter Scaturro evokes the best of land and sea with dishes including: chicken limone featuring grilled chicken spun with broccoli, sundried tomatoes and artichoke hearts in a zesty lemon cream sauce.
Full story/details/info: Trevi's New Italian Menu Specialties And Cocktails
---
More Las Vegas News
First Friday Las Vegas Celebrates The Art And Science Of Sound For "Hear, Here" On June 6 – First Friday Las Vegas, the largest arts and culture festival in the Western United States, has become the leader for family-friendly activities, art, cultural enrichment, educational efforts, imagination, community and more; mostly low cost or free of cost, for every age.
Full story/details/info: First Friday Celebrates "Hear, Here"
McCarran Medical Clinic And Pharmacy To Open Its Doors At McCarran International Airport
How to be a high roller, or pinch pennies, at Vegas' sparkly CityCenter
---
Upcoming Las Vegas Events And Holidays
---
Newkirk's Notes: The Boss Speaks…
Newkirk's Notes are comments and insight from AccessVegas.Com publisher and 20+ year Las Vegas resident Ted Newkirk:
Hello From Las Vegas! – Memorial Day is behind us, temps are pushing 100 F (38 C), and summertime is here. Depending on where you live, many of you have already seen the #VegasSeason ads (which parody all the fervor around Christmas marketing). We sit on the edge of our time zone, which means a really early sunrise this time of year. For those of you who simply can't get off of Eastern time during your visit, you'll find our 5 AM sunrises don't have you waking in the dark. For you night owls, the weather around midnight (or later) is quite comfortable. For you show-goers, shoppers, and gamblers, you'll be indoors all the time anyway!
15'th Anniversary Issue – I don't tend to make a big deal out of milestones. They are a nice way to show longevity and get a pat on the back, but as I always say, "Time flies when you don't know what you are doing!" And… our 15'th Anniversary Issue was actually last week. (I had the date wrong in my head). So, now this newsletter is 15 years and 1 week old.
You can go take a quick look here: Access Vegas Insider Vibe û May 20, 1999 We've come a long way, but that also necessitates our need to move to a paid membership program (just as you pay for other publications that provide you content and insight you enjoy). The first issue was basically one article! Click For Membership Details
The Vegas Spread – With those disinterested in baseball already focusing on NFL football, and some sportsbooks posting early lines, I'm reading articles that say "Vegas thinks this team will win x number of games…". Here's they way it actually works: Las Vegas oddsmakers simply pick a number that they feel the betting public will embrace.
For example, if the over-under on how many games a certain team will win this year is 9, that doesn't mean that Vegas experts think the team will win exactly 9 games. What that means is that Vegas thinks that half the bettors out there who may place this wager think that the team will win more than 9, and half will feel that the team will win 9 or fewer. The Vegas line is simply set so that an even amount of money gets bet on each side of a particular wager they offer.
The casino simply hands the losers money to the winners, taking a commission for their profit. Which is why you need to generally bet $11 to win $10 on games. That extra dollar goes to the casino.
Laughlin, Nevada
Laughlin Tours – You asked and we answered! We get pretty regular requests for day tours to down to Laughlin. Imagine better gambling, lower limits, a minimum of rowdy 22 year olds, and reasonably-priced food. All in a group of casinos along a beautiful river walk, one after the other.
The price? $10 gets you a round-trip experience in a luxury motorcoach, and a lunch buffet it tossed in. From there, you are free to do what you want. For those of you who have thought about taking a day tour from Las Vegas to the Grand Canyon, Valley Of Fire, or similar, this is a great way to get your toes wet (and finding out that you won't vaporize if you get off The Strip and enjoy some of our stunning desert scenery).
Details in the Ground Tours section at our tours page AccessVegas.com/Tours
Downtown Jumping The Shark? – A few years ago, while many out-of-town "Vegas" bloggers were oblivious to it, downtown Las Vegas and the Fremont Street Experience were heating up. We knew because we were down there seeing it with our own eyes. And… passing the info along to you.
However… times are changing and a few months ago I started to suggest staying away from downtown on weekends. (I don't go down there on Friday or Saturday anymore… too busy, crowded, and crazy).
Derek Stevens, the CEO of the D Las Vegas and the Golden Gate, told the council, ôI am on the front line. I don't want to belabor what we're seeing on TripAdvisor.ö He was referring to comments from people who say they'll never return to such a sleazy downtown and advising others to stay away.

ôIt's a fact that it's mass chaos on Fremont Street,ö acknowledged Councilman Stavros Anthony, a retired police captain. ôThere are bums eating out of garbage cans; people are really drunk. Ma and Pa Kettle from Iowa are not going to go back to Fremont Street.
At this point, I'm not saying to stay away. The food and liquor prices are still decent, and the gambling odds are better. If staying down there, the El Cortez, Main Street Station, California and Lady Luck Downtown Grand are a block away from the mayhem and noise. But for now, we're suggesting avoiding Fremont Street on the weekends. Too crazy and too crowded. Speaking Of…
The Strike – As we send this out, a few downtown hotels still have not settled with the union, who is threatening a June 1 strike of hotels that have not agreed to their demands. The hotels still without contracts are Four Queens and Binion's (same owners) Plaza and Las Vegas Club (same owners) and Golden Gate. Ironically, the last strike was a 9 day strike against the Golden Gate in 2002.
I'd guess that these will get settled. However, with our still high unemployment rate and plenty of qualified casino workers out-of-work, it wouldn't be difficult for properties who wanted to go non-union to do so now. The Frontier was picketed during a 6 year strike in the 90's and they still seemed to get people in their door during that time.
Ride The Las Vegas (New Mexico) X-Train – We've chronicled the push to bring upscale rail service to Las Vegas from Southern California. The train is to have comfortable luxury seating, wi-fi, two lounge cars, and more. One little glitch: They can't come to an agreement with the two railroads who own the tracks.
Instead of twiddling their thumbs, X-Train is prepping to start tourist service between Santa Fe, NM and Lamy, NM. (OK, neither is Las Vegas, NM but this is in the same general region). If you live or vacation in that area and take a ride, we'd love to hear all about it at AccessVegas@AccessVegas.com so we have an idea of what the Las Vegas – L.A. service may be like! We're bullish on the concept not just because it will be a new way for Southern Californian's to get here, but an additional way our European friends (already used to rail travel) to see the great Southwest in comfort as the pop over to Hollywood for a couple of days during their 2-3 week Vegas stay.
Great Casino Slots – Takes the Cake (aka The Lost Episode) – Regular readers remember a series we did with noted gaming author Victor Royer about some of the interesting newer slot machines available now.
This misfiled video was lost at the time, and since Takes The Cake slots have become more popular than ever. Victor wanted us to also share that at that time the game was only available with a max-bet of 225 credits. But today – as you will see from the real-money in-casino play footage – the game is available with a max-bet of 450 credits.
Hope you are enjoying this issue!

Associate Editor / News Researcher: Rick Ziegler
Concerts, Headliners, Special Events: Amy Rayner-Cooley
---
What We're Watching!
Vegas Videos You'll Enjoy
SLS Las Vegas: Reimagining the North Strip

– Take a behind-the-scenes look at the construction chapter of the SLS Las Vegas Hotel & Casino, formerly the Sahara Hotel. In recent years, the North end of the Las Vegas Strip has shown the effects of a struggling economy. Today, the area is transforming with SLS being the first hotel in years to open on the burgeoning North end of the Strip Labor Day Weekend 2014.
Chef David Walzog Brings Rare Species Of Fish From Ocean To Table

– Lakeside Restaurant at Wynn Las Vegas is redefining what 'fresh seafood' means, making rare species of fish available to Wynn Las Vegas diners, many for the first time. Join Chef David Walzog on his journey to Hawaii and see what it takes to bring the fresh fish from "Ocean to Table."
Wayne Newton: May 23rd, 1989 Full Concert Live From The Las Vegas Hilton

– "Wayne Newton: Live In Concert" Pay-Per-View Special carried live inside the Las Vegas Hilton in its entirety from May 23rd, 1989. Prepare yourself to enjoy this two-hour show!
---
Members Mania – We Love Our Readers!
Last issue, we asked our European friends why they choose to visit Las Vegas during our hot summers (as opposed to other times of year). Here is a sample of the great answers we got:
Coming from the UK, our summers are usually short, wet and very rarely does the temperature go above 85F (29C). So to visit Vegas in the summer is a must for me, The Triple digit Temperatures just add to the atmosphere, it's a desert Town, you need the heat to go with it.
Also it is a pleasure to walk around at night with temperatures still in the 90's F (32-37 C) even after midnight. Though one of the years I must visit Vegas on New Year's !!!
Darren Cresswell
————————-
In response to your question, I'm from London UK and think that maybe we Brits choose to visit in July and August because our schools shut down for 6 weeks from mid July till early September. If you want a family holiday in Vegas the kids can come with you or if you want an adult holiday away then the kids go away to Summer schools. We as parents get fined if we take our children on holiday during Term time.
We also want to be guaranteed the good weather!! The UK in July/August can still be wet, cold and windy!!
Thank for a fabulous website, I love looking at it. Keep up the good work!! Can't wait for my next visit to Vegas……..in October!
Kind regards,
Kim Barnes
————————-
I have a home in Las Vegas which I have had for a number of years after moving to Vegas from Los Angeles approximately 10 years ago. I really love it here. I have a second home in London and have lived in the UK for over 10 years and got my British citizenship a few years ago.
In regards to your question as to why Europeans visit Las Vegas in the Summer it is a tradition that many Europeans take their long vacations during that time of the year. In most European countries people by law get at least 4 weeks of paid vacation and companies expect that most of these days will be taken in the Summer. In France it is a tradition that people take the entire month of August off and go on their vacation, leaving the big cities for the countryside or for other countries. Many restaurants and shops and companies in France close during this time period so people can take their vacation then.
Have you ever tried going to Paris in August? If so, you will see a lot of shops and restaurants will be closed for that month. As this practice is quite ingrained in the culture of many European countries I wouldn't expect any quick change in peoples habits in regards to when they take their vacations.
Hope this answers your question. And, keep of the good work on your Newsletter.
gmofield2000
————————-
Thanks to everyone who wrote in. We're always working to understand your Vegas travel habits and wishes to better serve you!
Note to Darren: Yes, you must do New Years Eve at least once to knock it off your bucket list. The entire Vegas Strip is closed to traffic with fireworks going off from 7 hotel rooftops. We're the only Vegas publication that I'm aware of who devotes space each year with our advice, tips, and tricks for experiencing New Years Eve in Las Vegas.
Note To All: We have not made a big deal of it yet, but our new YouTube channel has over 300 videos on it now, including New Years Eve fireworks, poker lessons, Butch Harmon golf lessons, retro and archived video of Vegas shows and clubs, implosions and more! Go to your channel https://www.youtube.com/user/AllVegasTV/videos and make sure to bookmark it. With that much to watch, you'll want to come back time and time again!

We love to hear from you, and value your feedback! Here's how to participate:
Want to comment on a current reader post? Use the comment box on that particular web page. Many of the stories we post also have comment boxes at the end of the story. Make your voice heard!
Drop us an email at AccessVegas@AccessVegas.com – We read them all!
Call our recorded comment line at 702-507-0055. We listen to every call.
---
No related links found