Serving Las Vegas Visitors and Residents Since 1999
Welcome to the Insider Vibe! This is the official newsletter of AccessVegas.Com. We talk about the Las Vegas activities you really care about.
Need to contact us? Send feedback to
AccessVegas@AccessVegas.com
Missed an issue? Click to Read Back Issues Online.
---
AccessVegas.com Quick Info Menu:
| | |
| --- | --- |
| Las Vegas Essentials | Featured Shows |
---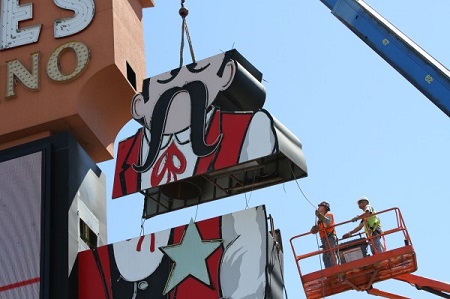 TerribleÆs Hotel & Casino Begins Transition To Silver Sevens With Removal Of Iconic Sign – TerribleÆs Hotel & Casino began uninstalling its iconic TerribleÆs Cowboy neon sign in preparation for the propertyÆs transition to a new name with the launch of Silver Sevens Hotel & Casino in July 2013.
---
Memorial Day Las Vegas 2013
---
Las Vegas Shows, Headliners, And Concerts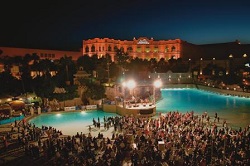 No Shirt? No Shoes? No Problem For The Concerts At Mandalay Bay Beach This Summer! – With the sun shining and temperatures rising, beach season at Mandalay Bay is in full swing. In true Las Vegas fashion, the good time doesnÆt end when the sun goes down. On select weekends through September, the sandy sanctuary of Mandalay Bay Beach will host entertainmentÆs biggest names while concert-goers wade in the surf under the desert moon.
---
Las Vegas Attractions
Las Vegas Ski & Snowboard Resort Opens For The 2013 Summer Season – Las Vegas Ski & Snowboard Resort (LVSSR) kicks off its 2013 summer season on Saturday, May 25. The resort will be open Friday through Sunday from 11 a.m. to 7 p.m. Activities include: scenic chair lift rides, disc golf, hiking, mountain biking and lawn games. LVSSR welcomes tent and RV campers. This summer, the U.S. Forest Service is renovating its campgrounds so LVSSR is offering the only sites available in Lee Canyon.
---
Dining In Las Vegas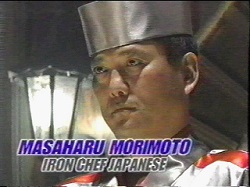 Iron Chef Masaharu Morimoto Set To Open New Restaurant At The Mirage – Masaharu Morimoto, renowned Japanese chef and star of Food NetworkÆs ôIron Chef America,ö will bring his passion for cooking to the Las Vegas Strip with the opening of Morimoto Las Vegas, a new Japanese restaurant at The Mirage. Slated to open in early 2014, Morimoto Las Vegas will feature the contemporary Japanese cuisine and signature sushi that has earned Chef Morimoto worldwide acclaim. The restaurant will take the location currently occupied by Japonais.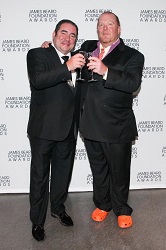 Humanitarian of the Year – Emeril Lagasse Honored by James Beard Foundation – Chef Emeril Lagasse, executive chef and owner of four Las Vegas restaurants, was awarded the James Beard Foundation Humanitarian of the Year for 2013 Monday night in New York. Lagasse received the award due to his devotion and service through the Emeril Lagasse Foundation, which he founded in 2002. To date, the Foundation has granted more than $5.5 million to children's education and culinary arts programs in New Orleans, Las Vegas, and the Gulf Coast.
Photo: Chef Emeril and longtime friend, chef and restaurant owner Mario Batali, who presented him with his award Monday. Photo Credit: Paul Porter

Krug ChefÆs Table Debuts At Restaurant Guy Savoy Inside Caesars Palace – Acclaimed French chef, Guy Savoy and Krug Champagne, the worldÆs first luxury Champagne House, have joined forces to offer an unforgettable Epicurean adventure with the debut of the Krug ChefÆs Table at the two-Michelin-starred Restaurant Guy Savoy, located inside iconic Caesars Palace. Designed for lovers of fine wine and cuisine, the six-seat ChefÆs table affords guests an intimate view of the kitchen while enjoying a tasting menu curated to pair perfectly with KrugÆs prestige cuveÚ Champagnes.
---
Gambling And Gaming
Las Vegas Live TV – Great Casino Slots – Episode 2 – Season 1
Welcome to our show: "Great Casino Slots." This is where we showcase the best and greatest of the world's slot machines. We show you what they are, how to play them, and where to find them. This episode features the very popular Wolf Run and Wolf Run II – Into The Wild. These highly interactive games feature incredible wildlife photography and great bonus events showcasing natures beauty!
---
Las Vegas Burgers And Steak
---
Las Vegas Daylife And Nightlife
Wet æNÆ Wild Announces More Details In Advance Of Grand Opening – Wet ænÆ Wild Las Vegas is in the final stages of construction and today announces additional details regarding park operating hours, special days for Gold Pass and Season Pass holders, and information on other services being offered inside the park. Gold Pass and Season Pass holders will be among the first to try the more than 25 slides and attractions at the new water park beginning Memorial Day weekend. Wet ænÆ Wild Las Vegas is located at 7055 S. Fort Apache Rd., just west of the I-215 and W. Sunset Road exit.
Park On Fremont Launches Weekend Brunch – Bottomless Mimosas, Signature Bloody Marys And A Special Menu – Guests can kick their blues at Park on Fremont with signature Bloody Marys, bottomless mimosas and savory brunch selections during ôOrange Juice Bluesö Sundays from 11:30 a.m. û 4 p.m.
Park on FremontÆs rustic dining area and blossoming outdoor patio create a whimsical atmosphere complete with hopscotch, a seesaw and a unique art collection featuring works by Mark Ryden, Peter Gronquist and Mark Mothersbaughs. To really kick off the day, patrons can enjoy bottomless mimosas for $20 including traditional mimosas and a Bellini made with fresh peach purÚe. Guests can also sip on distinctive Bloody Marys served in mason jars such as Hunting Season, a blend of Absolut Mango Vodka, diced mangos and dehydrated mango; and The Derby Breakfast Club created with bacon-infused Old Overholt Rye Whiskey, hickory liquid smoke, bacon and a pickled hard-boiled egg.
---
More Las Vegas News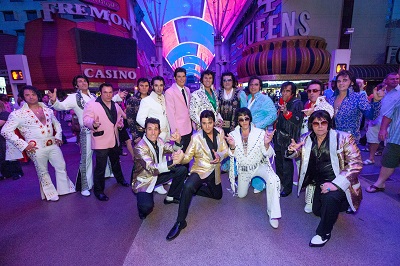 Las Vegas Ultimate Elvis Tribute Artist Crowned At Fremont Street Experience – Las Vegas Ultimate Elvis Tribute Artist Contest û Contestants competing in the 4th Annual Las Vegas Ultimate Elvis Tribute Artist Contest at Fremont Street Experience pose underneath the Viva Vision canopy. Nineteen ôElvisö contestants competed and Las Vegas Resident Chad Collins was named the Las Vegas Ultimate Elvis Tribute Artist and now qualifies to compete in the 2013 Ultimate Elvis Tribute Artist Contest presented by EPE in Memphis, Tennessee during Elvis Week 2013, held August 10-17.
---
Las Vegas Events
---
Newkirk's Notes – comments on Las Vegas from AccessVegas.Com publisher Ted Newkirk:
Hello From Las Vegas – Hello from Las Vegas! We're right up against the HUGE Memorial Day Weekend. Except for New Years Eve, both Memorial Day and Labor Day fill Las Vegas to the brim with happy visitors. But here's our hint: Come during the week after each of these U.S. holidays and you'll find more elbow room than usual. You're arriving on Monday when everyone else is leaving!
Congratulations Mac King – The venerable comedy magician just celebrated 13 very funny years with his afternoon show at Harrah's. According to the information provided to us, King has performed an unprecedented 6,760 shows to more than one million audience members at the main showroom at HarrahÆs Las Vegas. This translates to: 3,380 days of plaid suits worn, 20,280 feet of rope used for KingÆs famous rope trick, 351,520 playing cards, 20,280 magically appearing fig newton pastries, and 33,800 audience volunteers.
Tickets for Mac King and all the other great shows we have here in Las Vegas are available on our Las Vegas Shows page.
Round And Round You Go (Taxis In Las Vegas) – For years now, we've discussed "long hauling", which is a practice where some cab drivers take you a longer-than-necessary route to our destination. The biggest offenders are those who take you though the airport tunnel on the way to The Strip. The cabbies have always cried that the cab companies "force" them to do this as a way to generate more revenue.
Now, an audit has found out that the long-hauling is costing visitors upwards of $15 million per year.
Here's part of the problem: Visitors are generally very wary of calling a cab driver out when he takes the long way. You are in a different city where you don't know anyone, and he's your transportation. So, many just say nothing (or simply elect not to tip, which is appropriate when you are being being literally "taken for a ride").
An attorney from the Baltimore area (and I wouldn't be surprised if he was one of our readers) actually did speak up, filed a complaint and took action. And unfortunately, was frustrated with the way it was handled. You can read about it here: Attorney alleges runaround after long haul
You may ask why a flat rate for a certain distance isn't in affect. Many cities have cab fares where (for example) you pay a flat fee from the airport to the downtown area. Unfortunately, this won't work here. The amount of time it takes to get from the airport to a given hotel can be 3-4 times as long on Friday night as it is at 9 AM on a weekday.
Why is reform so hard to come by? The cab companies share in these excess profits and have little incentive to change anything. Most of the cab companies in Las Vegas are owned by a handful of operators. (In many cases, one parent company actually run multiple cab companies). The number of cabs allowed to be on the street is tightly regulated by the Taxicab Authority, eliminating the kind of competition which would make a certain company want to stand out for having exemplary service. The political power of the cab companies is also why we'll probably never see the monorail service the airport. Even if the numbers penciled out, it wouldn't see the light of day.
For years, we've been suggesting to either take an airport shuttle (cost effective if 1-2 travelers) or rent a limo. For not much more than the cost of being long-hauled, you can rent a limo for a one-hour flat fee. Limos are available at the airport — just follow the signs. Plus, it just looks really cool to pull up in your hotel in one!
Real Live Farmers Market – Here in Las Vegas? And actually visitor-accessible? Yes, if you are downtown. Each Friday from 9 AM to 3 PM, you can visit the market downtown just two blocks from the Fremont Street Experience. Find Casino Center Blvd. (where Binion's and The Fremont (hotel) meet. Head north (the Binion's direction) just over two blocks and you'll find it on your right (you won't miss it). More information at Downtown3rdFarmersMarket.com Note: I understand that it shuts down during the really hot summer months, so visit the site before coming to town (or just take the two block walk, it's not that long).
Hope you are enjoying this issue!

Associate Editor / News Researcher: Rick Ziegler
Concerts and Headliners: Amy Rayner-Cooley
---
What We're Watching – Vegas Videos You'll Enjoy
---
Members Mania – We Love Our Readers!
Note: Gary's note is a couple months old, hence the temperatures he's noting. Right now, we're a pretty consistent 90/60 (high/low) everyday!
Made my yearly trip to Vegas and arrived on April 15th at 4:30 pm and decided to take a taxi from the airport to Terrible's on Paradise and Flamingo.
Had a "Desert" taxi #4227, and arrived at my destination at 5:05 pm. When we pulled up to the Casino, he flipped a switch on the meter adding an additional $1.80, and said it was an airport tax, which sounded suspicious.
Being from Chicago, if it wasn't shown on the meter when I first got into the cab, which it wasn't I figure you have to eat it.
I had already pulled the original fare of $9.30 out with a nice tip, however, the additional amount brought the total to $11.10.
I thought there was a law about this kind of thing. Thought you might want to know.
Even though the weather was only 50 for 3 days and 80 the last two, had a nice time and have decided to move back to that area.(Over by the Boulevard Mall)
Gary From Chicago
P.S. Got back to Chicago and it was 37 and raining and my building had shut off the heat. And everyone wonders why I'm moving back. haha !!!!!
Ted Responds:
There is indeed an airport taxi tax. McCarran (Las Vegas airport) is owned by Clark County and offers airlines some of the lowest tenant/landing costs of any major airport to keep Las Vegas airfare as low as we can (there is only so much we can do). Hence, they have to make up the difference here and there. One of those ways is a fee on departing cabs.
The addition of the fare at the end seems a little strange. I believe that should be on the meter when you get in the cab at McCarran and he starts the meter.
One of the reasons we are going to establish a modest newsletter member fee before too long (I'll have all the deals soon) is that there is so much that affects our visitors that we'd like to look into and we simply don't have the money/manpower to do it. I'd like to have someone take 10 rides from the airport to Strip, document them, file complain forms when long-hauled, and report on what happens. Do some stories on the pros and cons of using a limo or shuttle and help walk you through the experience. Stuff the local papers and TV stations have little incentive to work on but if information our readers would find incredibly helpful!
The neighborhood behind Boulevard Mall is what I call "real" Las Vegas. No cookie-cutter homes way out in the suburbs. Nice, established neighborhood that remind one of certain areas of Palm Springs. With mature landscaping, the central location is close to The Strip, airport, shopping (of course), and all the new changes downtown. That pocket is on my short list as I'm currently home-hunting after spending some time renting in a similar area to see how I like it.

We love to hear from you, and value your feedback! Here's how to participate:
Want to comment on a current reader post? Use the comment box on that particular web page. Many of the stories we post also have comment boxes at the end of the story. Make your voice heard!
Drop us an email at AccessVegas@AccessVegas.com – We read them all!
Call our recorded comment line at 702-507-0055. We listen to every call.
---
No related links found