Serving Las Vegas Visitors and Residents Since 1999
Welcome to the Insider Vibe! This is the official newsletter of AccessVegas.Com. We talk about the Las Vegas activities you really care about.
Need to contact us? Send feedback to
AccessVegas@AccessVegas.com
Missed an issue? Click to Read Back Issues Online.
---
AccessVegas.com Quick Info Menu:
| | |
| --- | --- |
| Las Vegas Essentials | Featured Shows |
Las Vegas Events
---
Las Vegas Shows, Headliners, And Concerts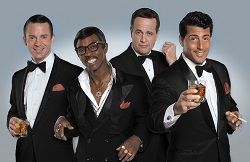 The Rat Pack Is Back! A Tribute To Frank, Sammy, Joey & Dean – Old Vegas from the Sands returns nightly in ôThe Rat Pack is Back! A Tribute to Frank, Sammy, Joey and Deanö and it headlines at 7 p.m. nightly at The Rio.
The stellar cast includes impersonators of Frank Sinatra (Brian Duprey), Sammy Davis Jr. (Kenny Jones), Joey Bishop (Mickey Joseph) and Dean Martin (Drew Anthony). ThereÆs even a Marilyn Monroe impersonator and performer (Jamie Edwards). The Lon Bronson Big Band Orchestra provides the live music for the entire show. They are legendary in Las Vegas entertainment circles.
Rock Of Ages Headlines Las Vegas Motor Speedway Pre-Race Show For March 10 Kobalt Tools 400 – Rock Of Ages will rock Las Vegas Motor Speedway prior to the Kobalt Tools 400. Cast members of the smash-hit show will perform as part of the pre-race activities at the annual NASCAR Sprint Cup Series event on Sunday, March 10. The performance will start at approximately 11:15 a.m. Pacific
Live Country Music Concerts At Fremont Street Experience Return April 5-6 – The Academy of Country Music and Las Vegas announced today that for the seventh consecutive year, ACM Weekend at Fremont Street Experience will be taking place on Friday, April 5th and Saturday, April 6th. On the heels of the ACM Party for a Cause Festival at The Orleans Hotel and Casino, this ultimate ACM after party continues in downtown Las Vegas at Fremont Street with two nights of all-star concerts headlined by Gary Allan and Jake Owen and featuring performances by Randy Houser, Chris Janson, Jana Kramer, Kip Moore, Joe Nichols and Sunny Sweeney.
Rock æNÆ Roll Fantasy Camp Presents Def Leppard Fantasy Camp Featuring Special Guest Lita Ford – Rock ænÆ Roll Fantasy Camp continues to offer its classes April 4-7, 2013 with the camp headliner Def Leppard. The camp will be joined by the bandÆs members including Joe Elliott on vocals, Vivian Campbell and Phil Collen on guitars, Rick ôSavö Savage on bass and Rick Allen on drums.
Campers will be engaged in different activities including master class which will teach them about music especially from Def Leppard. In addition, fanatics will also have a chance to jam nightly with the famous rock stars, perform live on stage as well as write and record original songs. They will also learn how to play the favorite songs of the band such as ôRock of Ages,ö ôPour Some Sugar on Meö and ôToo Late for Love.ö
The registration is already open and campers can choose either from the Recording Star package or Headliner package. Both the four day packages include scheduled classes, lunch, daily jam sessions, an opening night cocktail reception and a final concert performance DVD. On April 7, Sunday, a live concert will be hosted by the campers and counselors which will be the campÆs culmination. For registration and more information, visit www.rockcamp.com
---
Construction, Remodeling, And Renovations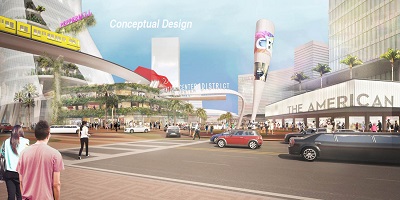 Las Vegas Global Business District Unveiled – The Las Vegas Convention and Visitors Authority unveiled its plans today for the Las Vegas Global Business District, an overarching vision for the Las Vegas Convention Center and the surrounding area.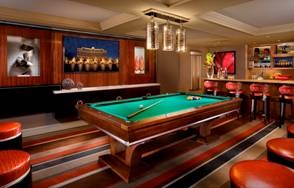 Bellagio Completes $40 Million Room And Suite Remodel In ResortÆs Spa Tower – Bellagio, one of the worldÆs most iconic resorts, recently completed the remodel of Spa TowerÆs 928 rooms and suites which will definitely elevate the guest experience.
The three new Executive Parlor Suites are also introduced which are designed with entertainment as well as technology in mind. The 2,500-square-foot suites each feature a separate high-tech home theater living area and a billiards lounge that invites guests to host interactive yet intimate events in a vibrant setting.
---
Downtown / Fremont Street Experience
---
Las Vegas Restaurants And Dining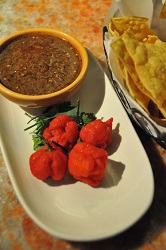 Tacos & Tequila Celebrates National Salsa Day With Salsa Sampler – Can't Make It To Vegas? Here's The Recipe! – Tacos & Tequila (T&T) will bring the heat for National Salsa Day with Chef Saul OrtizÆs salsa sampler trio Thursday, March 21, 2013 at Luxor Hotel and Casino.
Priced at $5, Chef OrtizÆs homemade salsa sampler will feature three salsas including: Scorpion Pepper Salsa which makes a tasty addition to soups and sandwiches; Salsa de Arbol, ideal for accompanying red and game meats; and Roasted Jalape±o Salsa thatÆs best served with chicken or grilled seafood items. To enjoy the flavors of Tacos and Tequila at home, guests can prepare their own version of the salsa sampler with Chef OrtizÆs salsa recipes: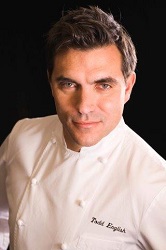 Chef Todd English Takes on Californian Bordeaux at BellagioÆs Epicurean Epicenter – Saturday, March 9, 2013 two giants in the food and wine world û celebrity Chef Todd English and Justin Winery, the pioneer of the Californian Bordeaux-style wine û will join forces at BellagioÆs Epicurean Epicenter series.
Differentiating Epicurean Epicenter from other wine dinners, Chef English of Olives has extensively worked with BellagioÆs Master Sommelier Jason Smith to craft cuisine for this event around Justin WineryÆs featured Bordeaux û instead of the other way around. The result will be imaginative dishes like the ôDuck Duck Gooseö û a Seared Duck Breast with confit leg ragu and foie gras tortellini which will perfectly accentuate the elegant, yet herbal structure of the 2010 JUSTIFICATION Paso Robles.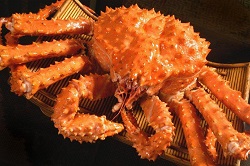 Travel+Leisure Names Gold CoastÆs Ping Pang Pong One of NationÆs Best Chinese Restaurants – In its most prestigious recognition to date, Ping Pang Pong at the Gold Coast Hotel and Casino has been named one of the ôBest Chinese Restaurants in the United Statesö by Travel+Leisure magazine.
The popular Asian cuisine hotspot was the only Las Vegas restaurant to be recognized by Travel+Leisure in the listing.
Travel+Leisure wrote: ôàyouÆll find regional specialties from across China, from dim sum served on pushcarts (Cantonese) to salt-and-pepper frog legs (Sichuan) and double-braised scallop hot pot (found throughout China). The night market fried rice is another standout, a satisfying mix of tender beef tossed with chiles, bean sprouts, and tomatoes. No matter which region theyÆre from, Chinese in Vegas can likely find their hometown specialties here.ö
---
Las Vegas Events – March 2013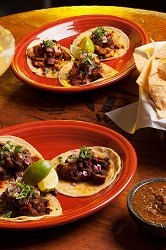 Cabo Wabo Cantina Las Vegas Gets Lucky With St. PatrickÆs Day Specials – Cabo Wabo Cantina inside Miracle Mile Shops at Planet Hollywood Resort & Casino will celebrate a Baja-style St. PatrickÆs Day with food and drink specials on Sunday, March 17.
The Las Vegas Strip-side restaurant will give Sammy HagarÆs signature Waborita an Irish twist by serving up festive Green Waboritas for $4. Live music and a DJ will keep the energy high as partygoers raise a toast to the patron saint of Ireland with $4 green beers and $4 shots of Cabo Wabo tequila. To stay fueled up for the shamrockinÆ celebration, guests can enjoy two tacos for $5 with a choice of chicken, beef or pork.
---
More Las Vegas News
---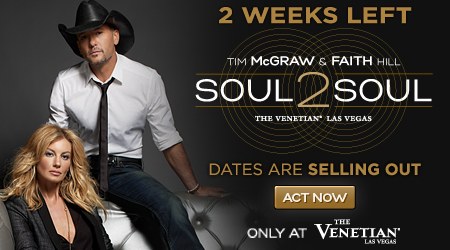 ---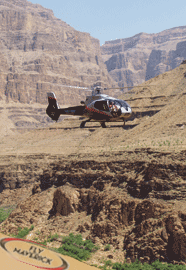 Maverick Helicopter Wind Dancer Air and Landing Tour û Landing tour with a Continental breakfast or Hors d'oeuvres on the Canyon Floor. Birds eye view of Lake Mead and Hoover Dam. Get a close look at the extinct volcano Fortification Hill. Keep an eye out for wildlife along the way. Descend deep into the Grand Canyon and land on the Hualapai Indian territory on the canyon floor for a champagne toast, beverages and hors d' oeuvres in the heart of this spectacular wonder of the world. Fly back through the Grand Canyon on your way to the Bowl of Fire full of flaming red rock formations. Conclude your journey with an exciting flight between the hotels on the Las Vegas Strip!
---
Terry Fator by Denise Almas
Terry Fator – Puppets And Personalities Capture The Human Spirit – With his entourage of puppets, Terry FatorÆs Ventriloquism in Concert captures his audience with extraordinary wit and humor, guaranteed to tickle the funny bone of even the grumpiest spectator.
Fator starts his show by introducing us to one of his most beloved puppets û Winston. Winston is a turtle with a seriously sweet personality. Crediting himself with FatorÆs success, Winston easily wins over the audience.
---
Newkirk's Notes – comments on Las Vegas from AccessVegas.Com publisher Ted Newkirk:
Hello From Las Vegas! – And, what a week it has been! I thought the lead note today would be our amazing weather the past week. Like clockwork on March 1, the warmth kicked in. I checked my digital thermometer in the shade in back of my office that afternoon and it read a very nice 77 degrees. While the next few days will see a dip into the 60's, the average high for March is 70, so (with rare exception), you can expect it to be between 60 and 80 if you visit this month. But that wasn't the big news. I then thought that it would be this announcement…
MGM Resorts To Build 20,000 Seat Arena Behind New York, New York – Out of the blue came the announcement that MGM (the company) is partnering with arena management giant AEG to build an arena and shopping district behind NY, NY and Monte Carlo. Interestingly enough, this sounds suspiciously like the plans that Caesars Entertainment had (have?) with The Linq project. All that empty space behind Harrah's is supposed to be where and arena goes. However, they've faced an uphill battle trying to get a Strip-area sales tax implemented to help fund it.
MGM Resorts is moving ahead with their plan, and financing it privatelyáshould let them start moving on it relatively quickly. We've previously documented the "renovation" wars between the two local gaming company giants, and for now it looks like MGM Resorts is not only going to win the arena war, but build their own version of Linq, using arena event traffic to drive the shopping/dining/drinking commerce. Very similar to what has been done with arenas around the country.
That was the big news until (seemingly hours later), it was announced…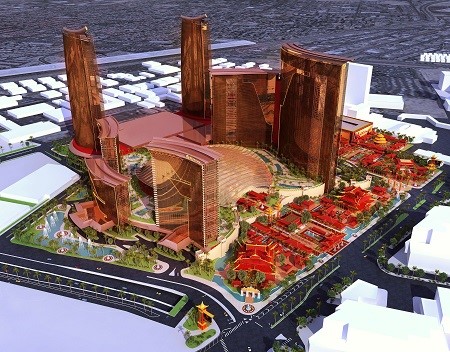 Resort World To Build On Stardust Property – Genting — a Malaysian company involved in successful business ventures around the world ranging from gaming to energy — bought the old Stardust property, including the skeleton of what was to become the Echelon project. They plan to spend $2 billion now to build a 2000-3500 (reports vary) room Asian-themed property, signifying the return of themes to The Strip. Opening is planned for 2016 and if things go well, they are willing to invest another $5 billion.
We're guessing the rendering above to be what the full build-out would look like. And for those who are still trying to picture where this is at, the property just above (upper right hand corner) is Circus Circus.
This is going to be a mid-tier property that not only woos gamblers and visitors in generalá, but specifically attracts Asians. While many Las Vegas properties cater to Asians, this will be the first one that is truly Asian-themed (especially with the demise of Imperial Palace) and actually run by Asians.
Some are questioning whether The Strip can absorb the re-opening of The Sahara and this project while visitor spending is still soft. Here's the little secret that it seems everyone else in the media and blogging world have missed:
In Las Vegas, we have a very significant Asian population living in an area bordered by Sahara (north), Flamingo (south), Jones (west) and… The Strip (east). I know… I live in the area (and have access to some of the most amazing authentic little Asian and Hawaiian restaurants you can imagine).
There is no question in my mind that by building an Asian "CityCenter" that has the true feel of Asia, they will draw nicely from this local ethnic population. Most of whom like to gamble and are at least upper middle-class. This group lives literally at the back door of this new project, and the resort will have easy back-door access to the parking garage off of Industrial, making it a very short, easy (no fighting Strip traffic) drive for these locals. We tested this drive ourselves. Piece of cake.
The media and pundits forgot to factor that in, but I bet that Genting company didn't! Even if these locals only account for 5 or 10% of the business, that will be a help.
Proud To Welcome – A couple of top performers have joined our advertising roster! We're amazingly pleased to have both Terry Fator and Soul2Soul: Tim McGraw & Faith Hill on board.
As always, booking our sponsors through the text or graphical links youáclick on in this newsletter or at AccessVegas.com not only gets you direct access all of these great shows, but that way they know you are one of our readers and this encourages them to continue supporting us, which helps us keep the lights on around here.
Note: Although the Soul2Soul ad notes 2 weeks left, they are returning for selected dates in April as well. If you like country, don't miss this special limited Vegas run!
Hope you are enjoying this issue!

Associate Editor / News Researcher: Rick Ziegler
Concerts and Headliners: Rick Ziegler
---
What We're Watching – Vegas Videos You'll Enjoy
---

We love to hear from you, and value your feedback! Here's how to participate:
Want to comment on a current reader post? Use the comment box on that particular web page. Many of the stories we post also have comment boxes at the end of the story. Make your voice heard!
Drop us an email at AccessVegas@AccessVegas.com – We read them all!
Call our recorded comment line at 702-507-0055. We listen to every call.
---
No related links found