Serving Las Vegas Visitors and Residents Since 1999
Welcome to the Insider Vibe! This is the official newsletter of AccessVegas.Com. We talk about the Las Vegas activities you really care about.
---
AccessVegas.com Quick Info Menu:
Las Vegas Essentials

Seasonal Vegas Information

Featured Shows
Newkirk's Notes – comments on Las Vegas from AccessVegas.Com publisher Ted Newkirk:
Hello From Las Vegas! Well, many weeks are great but even here in Las Vegas we sometimes hit a few road bumps. Last issue, I noted a great pending weather forecast with nice weather and highs near 70 F. Uh-oh. Clouds, wind and rain moved in the next couple of days. Fortunately, the rain was mostly in the overnight hours. Then, I lost a few days due to medical leave regarding a nagging health issue (I'll be fine). OK… I put that behind me and my main computer starts acting up for the umpteenth time. Taking an hour (or more) to boot and running slower than the weakest Windows 95 machine did back in the old days.
Side Note: This is the second time in less than a decade that I've had extreme problems with an HP computer. (It was not an operating system problem). Oh sure, they had a fix to download. Did nothing. Which means they are very aware this model has issues (online forums were full of complaints). But what do they care? Was there a recall? NO. Steer very clear of buying HP computers.
Given I had to swap out one machine, I got very ambitious and decided to re-allocate all the office machines, upgrade memory in the older ones (Windows XP still performs very well with 2+ GB of memory), new router, the entire works. And decided to do it myself with the help of staffer Rick Ziegler. Thought it would take 1/2 a day. We did finish. After three days of torture and numerous hours on the phone to tech support (the new router turned out to be defective, which took hours to figure out). Auugghhhhh!
What does this all have to do with Vegas? Nothing at all. I thought you'd just feel a whole lot better knowing that I'm not always out enjoying all that fun stuff on The Strip and downtown! Oh, also… a couple of my sections are missing this week. (Amy and Rick still did a great job on the meat of the newsletter as they always do). Trust me, it is a lot more fun to search out What We're Watching videos, answering Members Mania than fighting computers. This wasn't by choice.
March Madness Video, As Promised – Rick Ziegler went downtown the first week of March Madness to catch all the activity. People were loving the new zip line, live entertainment abounded, a 25 foot basketball basket challenged visitors (this was funny to watch) and plenty of people were simply having a good time. Click to watch Las Vegas March Madness Spring Break 2011 Video
How Did So Many Miss The Point? I read just about every print and blog story (many by writers I truly admire) on the closing of The Sahara, and am in shock about how they all missed the management angle which I noted in my article Closing Of The Sahara Las Vegas û The Real Story. (Nearly 30 people made great comments that are worth going back and reading below the story). The general mantra was "bad economy, hotel closes". The truth is that the terrible management combined with the economy cost the death. As I noted, Sahara's competitors managed to weather the worst of the recession (as did The Sahara, Vegas visitor numbers have been inching up for months now). Management killed the joint.
42 year Las Vegas resident Norm "Is There Anyone He Doesn't Know" Johnson was the other person who diligently noted that management was to fault and Norm has an immense knowledge of what was going on there. For those wanting to dig deeper (especially all the writers who wrote off the closing simply to the economy instead of doing their homework), I suggest you check out his article simply entitled The Sahara Hotel
New Contact Info – We're changing our contact email to AccessVegas@AccessVegas.com (simple enough, right)! We've been using AllVegasTV@aol.com for more than a decade. It dates back to when we were serious about launching an All Vegas TV streaming network. 9/11 happened, we never launched, but also never bothered to change the contact email. Which leads to a branding issue: People write Dear All Vegas and similar. Now, perhaps everybody will figure out that this is the official newsletter of (drum roll please) AccessVegas.com
Speaking Of Contact Us and Vegas Video Networks – 10 years later, someone finally did launch a (growing) network of Las Vegas programming. I'm a huge fan of what the Vegas Video Network is doing. Here's a little "directly contact Ted" tip/hint: I nearly always watch Living In Las Vegas at 7:30 PM (Pacific) on Tuesdays and Pub Crawl which airs at 8:00 PM (Pacific) on Wednesdays. Both shows air LIVE, and just below the video screen on the live page is a chat room. Enter your name (or internet handle) and you are into the chat. Me? I'm usually there chatting away about Vegas while I enjoy the live show. Come join us!
4100 And Counting! – We only got serious about Twitter recently and are proud to now have over 4000 followers. Pretty cool! We don't tweet 20 times a day and we don't tell you what we had for lunch or talk about our political views. It is simply all the Las Vegas news and info as we get it, including a number of very good deals every week which don't make this newsletter because of deadline issues. Go ahead and follow us. We promise you'll be glad you did: http://twitter.com/AccessVegas
Enjoy This Issue!

Associate Editor: Amy Rayner-Cooley
News Researcher/Editor: Rick Ziegler
---
Celebrity Lineup For 10th Annual Michael Jordan Celebrity Invitational In Las Vegas Continues To Grow – Charity Tournament Hosted By Aria Resort & Casino At Exclusive Shadow Creek, March 31 – April 3 – Entertainment and sports stars Larry David, Gabriel Aubry, Jerome Bettis, Sam Bradford, Stuart Scott, Brandi Chastain, Richard Dent, Paul O'Neill, Mike Piazza, Anthony Anderson, Maury Povich, Dennis Haysbert, Alan Thicke, Adrian Young, Anfernee "Penny" Hardaway, Grant Show and Boris Kodjoe join the growing list of celebrities scheduled to attend the 10th Annual Michael Jordan Celebrity Invitational (MJCI), hosted by Las Vegas' ARIA Resort & Casino, March 31-April 3.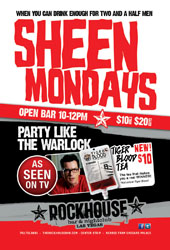 Rockhouse Hosts First Ever 'Sheen Mondays' Celebration Party Like A Warlock Every Monday Night – 'Sheen Mondays' + Rockhouse = #winning. Rockhouse is throwing the only Charlie Sheen party in Las Vegas with 'Sheen Mondays' every Monday night. Winners can partake in an open bar from 10 p.m. to midnight, $10 for girls and $20 for guys. The ultra-dive bar will also introduce its newest cocktail for warlocks with a different constitution, a different brain and a different heart; the Tiger Blood Tea.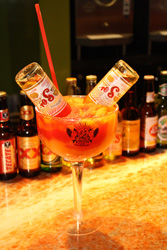 Tacos & Tequila Introduces The Ultimate Margarita – Get Your Chonga On With T&T's Newest Margarita – Tacos & Tequila has added a new margarita to the familia; introducing the "Chonga". The 54-ounce party in your mouth, frozen margarita is enough to excite any partygoer. T&T takes it a step further and tosses in two upside down 7-ounce Sol beers that flow directly into the giant margarita. T&T's signature daiquiri bar carriers an assortment of different frozen flavors. Revelers daring enough to try the "Chonga" can create up to 720 unique flavors. With over 50-ounces of fun and flavor the "Chonga" margarita is every spring breakers dream.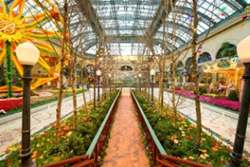 Spring Arrives At Bellagio's Conservatory & Botanical Gardens – "Carnival In The Garden" Features Carousel, Ferris Wheel And Butterflies ON Display Through May 8 – To celebrate the debut of spring, Bellagio's Conservatory & Botanical Gardens feature a spectacular floral exhibition filled with bright blooms and a playful carnival, on display through May 8. Four enchanting gardens lure guests with scents of tulips, hydrangeas and daisies, while a colorful Ferris wheel, moving carousel and greenhouse full of beautiful butterflies catch the eye and lift the spirit.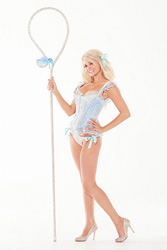 Starlet Angel Porrino Returns To Peepshow At Planet Hollywood Las Vegas Through April 3 – PEEPSHOW, Las Vegas' only striptease spectacular, welcomes back Las Vegas local and "Holly's World" co-star Angel Porrino as she takes over the role of "Bo Peep," a modern woman who discovers her sexuality. Porrino will fill in for Holly Madison during her hard-earned vacation dates through April 3, 2011. As a free upgrade to all PEEPSHOW ticketholders, audience members have the exclusive change to meet Porrino during a special post show meet & greet in the PEEPSHOW lobby following current performance. The meet & greet will provide an opportunity for fans to take their own photo with Porrino and have their favorite PEEPSHOW memorabilia autographed by the "Holly's World" co-star. Season two of "Holly's World" is now airing on E!. Photo By Denise Truscello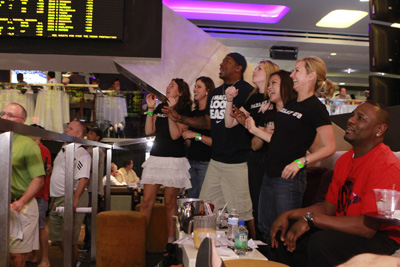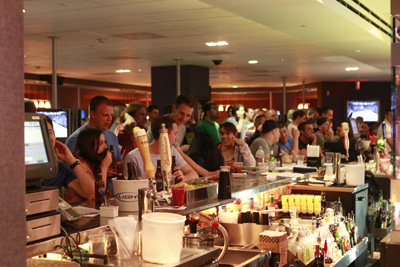 Lagasse's Stadium Las Vegas Hosts Die-Hard Basketball Fans During NCAA Tournament – Lagasse's Stadium at The Palazzo plays host to the most die-hard of college basketball fans during the NCAA men's basketball tournament. One-of-a-kind stadium seating allows guests to comfortably lounge while watching the back-to-back tournament action on one of more than 100 flat screen televisions.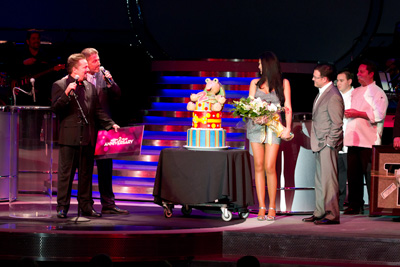 Terry Fator Celebrates Two Year Anniversary At The Mirage Las Vegas – It was a full house Friday night as unparalleled ventriloquist Terry Fator celebrated the second anniversary of his hit show, Terry Fator: Ventriloquism in Concert at The Mirage. Media, VIPs, fans and guests lined up at the entrance of Terry Fator Theatre, anxious to get in and see the incredible headliner perform after Fator announced the addition of new puppet, Berry Fabulous. Songs and dialogue never before seen or heard were also in store and as 7:30pm approached, the lights went down and the music went up as Fator took center stage.
---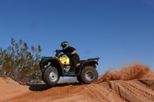 ATV Off-Road Desert Adventure Tour û Get ready for a wild all-terrain vehicle adventure in the red desert near the Valley of Fire State Park! Drive to the top of the mesas to see views of Lake Mead, the entrance to the Grand Canyon and the north side of the Valley of Fire.
---
We love to hear from you, and value your feedback! Here's how to participate:
---
More Las Vegas News – Concerts – Events