Serving Las Vegas Visitors and Residents Since 1999
Welcome to the Insider Vibe! This is the official newsletter of AccessVegas.Com. We talk about the Las Vegas activities you really care about.
---
AccessVegas.com Quick Info Menu:
Las Vegas Essentials

Seasonal Vegas Information

Featured Shows
Newkirk's Notes – comments on Las Vegas from AccessVegas.Com publisher Ted Newkirk:
Hello From Las Vegas! After an exceptionally nice week of temps flirting with 80 degrees (F), we're going to revert to the average March high of 69 for pretty much the remainder of the month. If your curious, April averages 78, May 88 and June 99.
Due to my research time on the Sahara closure and the extended amount of information in my column here this week, Members Mania will not appear. I simply didn't have the time to do it all! Members Mania will return next issue.
I Hate Kissing You Goodbye – On Friday March 18, 2011 employees of The Sahara were stunned by the announcement that this iconic Las Vegas property would be closing in 60 days (the legal notice time required). I'll be honest: I was stunned too! Although I knew of the pending Sahara announcement, I figured it would have something to do with major hotel improvements, following in the steps of some of their direct competitors. (Turns out I might have been not far off the mark after all, but time will tell).
This whole thing did not make sense to me. Sahara had weathered the recession, Vegas visitor numbers are picking up, no new competing hotel rooms are on the horizon (sans the reopening of The Plaza, which is still a long ways away). So I went over the next evening to do some poking around. Listening (overhearing) people. Talking with employees. And, I found out some information that I have not otherwise seen reported. I've put it into an article entitled Closing Of The Sahara Las Vegas û The Real Story where I combine my first-hand reports, empirical evidence, and (at the end) some substantiated conjecture about the future of the resort.
I know that we usually don't go THAT in-depth on covering the business side of Las Vegas. I'm eminently qualified to do so but I like to have fun, and it is more fun to report on the fun side of Las Vegas. Many of you don't care who owns what. You just want to enjoy it! But even if the article isn't up your alley, you may have thoughts about (or fond/interesting memories of) this legendary property. Click on over to the article and leave your thoughts and comments in the comment box.
March Madness and Spring Break, Oh The Crowds! – We spent time both downtown and on The Strip during the first weekend of March Madness (the week of the conference tournaments). I've seen this city busy… but rarely like this (apart from New Years Eve or three-day holidays). Absolutely unbelievable! I expected The Strip to be jammed, but was pleasantly surprised that Fremont Street — the entire length of it — was CROWDED. Yes, I mean a sea of people. And the downtown casinos were hopping! Rick Ziegler got some great video which we'll have for you in about a week so you can see for yourself.
Holly's World – I don't watch much reality TV (sans Dog The Bounty Hunter, Pawn Stars, and Steven Seagal: Lawman — guy stuff). But because it was Las Vegas based and PeepShow is a sponsor, I felt obligated to start watching Holly's World. I'm not much for the drama, but Holly along with co-stars Angel and Laura are easy on the eyes so I have no complaints.
Pictures: See Holly Madison Playing Beer Pong At O'Sheas Las Vegas
What's coolest to me? Despite the fact that they work at Planet Hollywood, the show actually gives a taste of what it is like to live here. Plenty of filming at Holly's "McMansion" in Southern Highlands (map dot does not indicate her house) and lately in Josh Strickland's condo (my trained eye nails it as the One Condominiums — which I lived just a few blocks from while it was in construction phase a few years ago). Plus, they've shown them at they gym, at off-strip restaurants. Like… actually living in Las Vegas! PS Tip of the hat to Celine who also really embraced living here, kept her Lake Las Vegas house when her last Caesars run ended, and has really endeared herself to our community.
Anniversaries, Anniversaries – Speaking of living here, I'm getting ready for a couple of exciting milestones myself: April 3 will mark my 18'th year living here! I do not regret a minute of it. I wouldn't leave for twice the money. I'm not sure how I'll be celebrating, but mostly likely on The Strip, very possibly at Rhumbar outdoors enjoying a celebratory cigar and libation with their incredible view of the mid-strip. (I really need to hit them up to be an advertiser… since we only take advertising I can comfortably endorse).
Then come May 27, this newsletter (which was arguably the first Las Vegas blog in its original form) celebrates our 11'the year of publishing! Oh, and we are working on a reader-appreciation event for late April, but don't want to spill the beans until all the details are in place.
Highest Poverty Rates – The metropolitan areas of the U.S. with the largest gains in people living below the poverty level:
1. Las Vegas, 2. Modesto (CA), 3. Detroit, 4. Ft. Myers (FL), and 5. Los Angeles.
My recent blog post How Retirees Will Help Las Vegas' Local Economy Rebound From Recession talks about how the area will rebound, and what part retirees moving to our area will play. Make sure to read and comment!
Las Vegas Keeps You Young? – Mis-filed away, I found a story that I meant to tell you about last year. It is entitled Irvine woman celebrates her 100th birthday Sunday and starts out by saying Mary Beatrice "Bea" Wood is an Irvine resident, regular visitor to Las Vegas, and a daily, two-hour Texas Hold'em-player, who will turn 100 years old on May 2. So you see… regular trips to Las Vegas and a couple hours a day at the poker tables might not be bad for you after all!
Is That Sign Big Enough? – The new Walgreens (next to Planet Hollywood) wants to build a sign. After all, they want people to know they have store available for you to shop at. However, this isn't your ordinary sign. The sign they are asking for variances on is 322 feet wide and 60 feet high. To put that in perspective, that is about five times the size as the neighboring Planet Hollywood sign! We'll keep you posted…
Queen Victoria British Pub At Riviera – With around 25% of our readers outside the US and a significant British readership, I wanted to check out the relatively new Queen Victoria Pub at The Riviera. They bill it as …the only British owned, British run pub on the LV Strip. We serve 24 beers on draft & 60 in bottles. British menu serving English Breakie & Fish & chips. The Queen Victoria shows ALL televised English Premier League, Scottish Premier League, Champions League, Euro 2011 Qualifiers, Carling Cup, FA Cup, World Cup and most all other live soccer (football) games shown in the USA. They also have an exceptionally large beer and libation selection and serve breakfast 24/7 (a practice that is unfortunately dwindling in Las Vegas… what happened to the Up All Night, Sleep All Day city I moved to).
Worth the trip to the Riviera? Maybe not for the average visitor (especially if you have no interest in British fare or aren't much of a drinker). But if you want to check out a couple of the newer themed bar/restaurants, you can knock two of them out in one shot: Rock 'n Rita's at Circus Circus (All-American fare, flair bartending) then stroll across the street to Queen Victoria. For those who don't want to miss their favorite (international) football or rugby game, they are probably showing it! Call them once you hit town (702) 794-9458.
Box Cutters – A couple of months ago, I noted how ineffective the Transportation Screw-Up Safety Administration is (except for making you get nekkid and turning your vacation into a miserable delay) and how most people on the front lines of aviation will tell you that if someone wanted to get on board or sabotage a plane, it could be done. Now we hear about the guy in New York who accidentally brought box cutters on a plane. The TSA missed a good-sized item like that!
A friend of an associate recently noted that his wife flew twice before realizing that she had a small knife in her carry-on (only realizing so after she gave the bag a good clean-out). We've got to find a better way. The only thing the TSA is getting done is jacking up the price of an airline ticket and making your lives miserable. These "officers" need to go back to being mall cops.
Of Ferris Wheels And Such – Evidently, the plans are back on for Harrah's Caesars (corporation) to build their Project Linq between The Flamingo and O'Sheas. Imagine the Fremont Street Experience anchored by a massive Ferris Wheel (think London Eye). In direct competition with this idea is a company who wants to take 10 acres across the street from Mandalay Bay and build an amusement park anchored by their own 500-foot Ferris Wheel.
In my lengthy time living here, I have lost count of how many of these proposals have stormed out of the gate with a big news splash, only to go nowhere. So, I'm not holding my breath and we're not going to do much talking about it here until somebody breaks ground. Don't get me wrong: I like both ideas! Harrah's has already been using the Linq site to hold holiday-themed events like the Cinco De Mayo Las Vegas Party (click for video) they did last year, and a great St. Patrick's day event (video coming soon). The amusement park idea sounds interesting. I'll just believe them when I see them.
Concerned About West Coast Radiation Affecting Your Nevada Visit? – With the incredible tragedy in Japan and the concern about radiation reaching the west coast of the United States, some of you may be understandably worried about visiting. Don't be, but don't take my word for it. Click over to the video Las Vegas Radiation Fears Unfounded for a report you'll want to see.
Enjoy This Issue!

Associate Editor: Amy Rayner-Cooley
News Researcher/Editor: Rick Ziegler
---
Caesars Palace and Nobu Hospitality Plan to Open in Las Vegas the First-Ever Nobu-branded Hotel, Restaurant, and Lounge Concept – Caesars Palace Las Vegas and Nobu Hospitality announced that they have signed a non-binding letter of intent to develop the world's first Nobu Hotel, an innovative concept that will integrate an exclusive hotel tower with the first Nobu restaurant and lounge on the Las Vegas Strip.
The planned development would further the tradition of world-class accommodations and service that is synonymous with the resort's luxury brand. In announcing this tactical relationship, Nobu Hospitality has reinforced its focused growth strategy, expanding through the complete hospitality spectrum.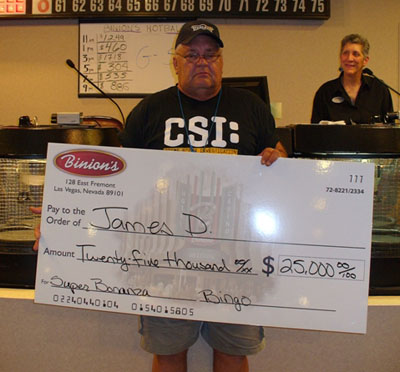 Bingo Players Score Big At Binion's With $25,000 and $5,000 Jackpots – It did not take long for players to start raking in jackpots at Binion's Bingo Hall. The iconic Las Vegas property brought bingo back to the casino on February 1, 2011 and within 26 days, two lucky winners scored big. Rasela from Hawaii was the first to hit, winning the $5,000 Bonanza Coverall on February 10. Then just 16 days later, James, a Las Vegas local, cashed a really big "BINGO" with the $25,000 Gaming Arts Super Bonanza Coverall Multi-Win. On February 26 during the 7 p.m. session, James, who plays at Binion's regularly, covered his entire card in 48 numbers to earn the prize.
CSI: The Experience To Host Spring Blood Drive In Partnership With United Blood Services On March 26 At MGM Grand – All Donors Receive Free Admission To CSI: The Experience – Did you know that more than 250 donors are needed every day to meet the needs of hospital patients throughout Southern Nevada? As part of an incentive to encourage communities to donate and make a positive difference, CSI: The Experience is partnering with United Blood Services to host a blood drive Saturday, March 26 from 10 a.m. to 3 p.m. at MGM Grand. All donors will receive a complimentary ticket to check out the intriguing and hands-on exhibit, CSI: The Experience between March 26 and April 9, 2011.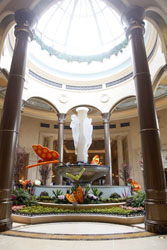 The Palazzo Las Vegas Celebrates The Arrival Of The Spring Season With Vibrant Butterfly Decor – The Palazzo Las Vegas will welcome warmer weather with colorful butterfly inspired decor throughout the resort. Bursting with bright colors and distinctive butterfly designs, guests will enjoy a charming spring atmosphere during their next visit to The Palazzo. Bright hyacinths, tulip willows, cherry blossoms, forsythia topiaries and 16-foot Amstel King Ficus trees will line the atrium waterfall while 15-foot Japanese plum blossoms and 5-foot tulips complement the lobby gardens.
Join The Madness Of March As Fremont Street Experience Celebrates College Basketball With "March Hoops" – Basketball Fans Are Invited To Enjoy The Month-Long Free Event – Join the Madness of March as Fremont Street Experience celebrates college basketball. Sports fans are invited to take part in the month-long event, March Hoops, now through Wednesday, March 30. March Hoops at Fremont Street Experience features free entertainment every night with two sexy stage shows — Hardwood Hotties and Dream Team Divas by Face Productions — and the High Hoops Zone interactive area where guests can test their skills at 20-, 25- and 30-foot basketball hoops. Debuting March 15 was the world's largest NCAA bracket on the 1,500-foot long Viva Vision screen, which will be updated daily throughout the NCAA tournament.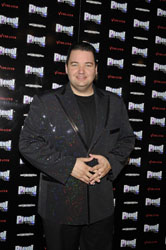 Piano! Las Vegas Starring Ryan Ahern Celebrates Grand Opening At Planet Hollywood Resort & Casino – International recording artist and world-champion pianist Ryan Ahern celebrated the grand opening of his new show Piano! Las Vegas on February 23 – marking a new residency on the Las Vegas Strip. Playing music genres from Broadway to Rock n' Roll to Boogie Woogie, Ahern amazes audiences with his diverse arrangements and mesmerizing hand speed. The show plays Saturdays ûThursdays at 2:30 p.m. at V Theater inside Miracle Mile Shops at Planet Hollywood Resort & Casino. Ryan Ahern celebrates on the red carpet during the Grand Opening of Piano! Las Vegas at Planet Hollywood Resort & Casino on the Las Vegas Strip.
---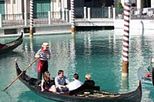 Romance Package at The Venetian Hotel Tour û Add some romance at the beautiful Venetian Hotel during your Las Vegas vacation. Propose to George Clooney at Madame Tussaud's, glide down the Grand Canal, and dine at Zeffirino's or Tintoretto's. Do it all in a day or spread out over the duration of your trip, the choice is yours!
---
What We're Watching û Vegas Videos You'll Enjoy
---
More Las Vegas News – Concerts – Events