Serving Las Vegas Visitors and Residents Since 1999
Welcome to the Insider Vibe! This is the official newsletter of AccessVegas.Com. We talk about the Las Vegas activities you really care about.
---
AccessVegas.com Quick Info Menu:
Las Vegas Essentials

Featured Shows

Photos and Wallpaper
Newkirk's Notes – comments on Las Vegas from AccessVegas.Com publisher Ted Newkirk:
Ted is taking a few well-deserved days off. (He works pretty much seven days a week). Newkirk's Notes and Members Mania will return next week. Please enjoy this issue full of Las Vegas news and deals prepared by staff.
Also, now would be a great time to visit the Access Vegas Insider Vibe Newsletter Archives and read prior issues you may have missed, especially if your trip is looming (or you just need an extra fix of Las Vegas)!
Associate Editor: Amy Rayner-Cooley
News Researcher/Editor: Mark Jacobs
---
Las Vegas Is On Sale!
Get Great Rates At All Hotels:

Bally's from $39,

El Cortez from $13,

Fitzgeralds from $23,

Hooters from $20,

Orleans from $8,

Riviera from $27,

Sahara from $23,

Stratosphere from $41,

Tropicana from $35,

Tuscany from $24,
More Savings At All Vegas Hotels!
---
Donnyáand Marie, Hot and Truly Vegas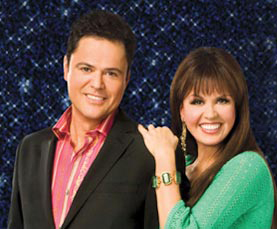 Donnyáand Marie Osmond are sizzling at the 750 seat Flamingo Showroom on the Las Vegas strip. They are still incredibly energetic and entertaining at ages 49 and 51, even after more than 5 decades of stage performances all over the world, on TV, in movies, and on Broadway. Despite premium ticket pricing and killer economic times they are playing to full houses, and really giving their all for their screaming teen-like forty to fiftyish baby-boomer fans.
The show is amazing and wonderfully exhausting. Nutra-Marie walks out on stage appearing more svelte that a mother of eight ever should look, and all over the room men gulp the wordáwow, under their breaths. Ageless Donny walks out and women become 12 or 13 again, jumping from their seats to stretch out their hands and scream for his touch. Somehow after all these years they have gone from a cute brother and sister act to sexy and sazzy sex symbols. Both Donny and Marie stir up the madness further by singing in the audience and walking on tables to touch and torture their D&Maniacs.
---
"The Circus Starring Britney Spears" Returns To Las Vegas September 26 & 27 At The Mandalay Bay Events Center
– BRITNEY SPEARS, in association with AEG Live, is bringing "The Circus Starring Britney Spears" back to Canada and the United States later this summer. Currently touring Europe, Spears will return to North America to perform in 20 cities, including two performances at the
Mandalay Bay Events Center
Saturday, Sept. 26 and Sunday, Sept. 27. Both shows are scheduled to begin at 8 p.m. "The Circus Starring Britney Spears" is a dazzling display of music, dance, magic and theatrics.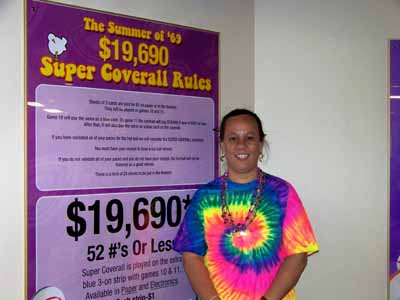 Plaza Congratulates First Winner Of Summer Of 69: $19,690 Bingo Promotion Payout – Natalie Nunoz, a native Hawaiian and Culinary Arts Instructor, was the first big winner of the Plaza Hotel & Casino's Summer of 69: $19,690 Bingo Promotion. As part of the Fremont Street Experience's "Summer of 69: Vegas or Bust" celebration, which began on Memorial Day weekend and continues through Labor Day weekend, the Plaza nearly doubled its regular $10,000 super coverall bingo prize payout to $19,690 every session, every day û by far the largest offered in Las Vegas. Featuring the only live Bingo downtown, the Plaza is already known for having the most liberal bingo coverall in Las Vegas with its regular $10,000 prize payout.
Renowned Comedian, Impersonator Dana Carvey Coming To The Orleans Showroom July 24-27 – Since bursting onto the national scene on Saturday Night Live in 1986, Dana Carvey has entertained millions with his uncanny impersonations of political leaders, entertainers and celebrities. From July 24-26, Carvey will be bringing his incomparable act to the Orleans Showroom for a three-evening engagement. All shows will begin at 8 p.m. Carvey's comedic career dates back to his days as a student at San Francisco State University, where he won San Francisco's Stand-Up Comedy Competition. But it was NBC's SNL that made Carvey into a household name.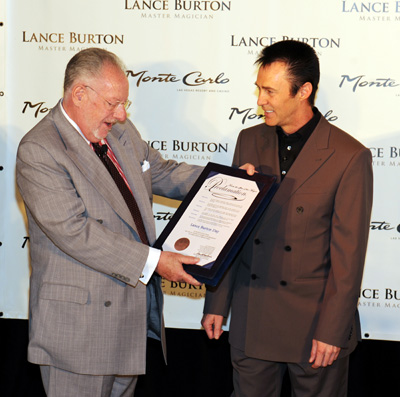 Lance Burton To Reappear At Monte Carlo For Six More Years – New Contract Marks Magical Moment For Evolving Resort – The grand illusions of legendary Master Magician Lance Burton will continue to captivate and enchant audiences at Monte Carlo through 2015. The signing of the new agreement comes at the completion of an already legendary 13-year run, which began the day the resort opened on June 21, 1996. The addition of six more years celebrates one of the longest partnerships in the history of Las Vegas entertainment and promises Monte Carlo guests almost two decades of astounding performances and mesmerizing sleight-of-hand. "We are thrilled to sign Lance Burton for another run," said Monte Carlo President & COO Anton Nikodemus.
CSI: The Experience Adds A New Home On The World Famous Las Vegas Strip – EMS Exhibits, MGM Grand and CBS Consumer Products Bring the Popular Attraction to the Hometown of the Top-Rated CBS Series. The popular CSI: The Experience interactive exhibit will open this summer at MGM Grand Hotel & Casino on the Las Vegas Strip û the setting of the original CSI television series û for the first time. EMS Exhibits, Inc., under a license from CBS Consumer Products, will produce the attraction at MGM Grand. Originally developed by the Fort Worth Museum of Science and History with a grant from The National Science Foundation (NSF) for a tour of U.S. science museums, CSI: The Experience gives guests the opportunity to play the role of a crime scene investigator, learning scientific principles and real investigative techniques as they try to solve one of three crime scene mysteries.
Music Of Frankie Valli And The Four Seasons Still Exciting Audiences 45 Years Later – July 18, 1964 marked a great milestone for Frankie Valli and the Four Seasons û when their popular song "Ragdoll" hit #1 on the Billboard Hot 100 chart. Less than two years since the release of "Sherry," "Ragdoll" brought the group back to the top of the charts amidst stiff competition from The Beatles. The unique sound of Frankie Valli and the Four Seasons, including "Ragdoll," can still be heard today in the musical JERSEY BOYS at The Palazzo, where nightly, Erich Bergen, Travis Cloer, Rick Faugno, Jeff Leibow and Deven May tell the untold true story of the most successful white doo-wop group in rock and roll history.
"Single Ladies" Dance Contest At Tryst Nightclub – Grand Prize Package Includes Front Row Tickets To Beyonce! – Wynn Las Vegas and Encore are excited to announce the Single Ladies Dance Contest, offering Beyonce fans and dancing divas the chance to win coveted tickets to her "I AMàYOURS" concert in the intimate Encore Theater. Tryst Nightclub invites groups of three dancers to compete in the qualifying round on Saturday, July 25 at 6 p.m. The final round will be held on Thursday, July 30. A panel of judges will choose the prize winners based on originality, execution, costumes and overall "fierce" factor.
Wine Dinner At Mon Ami Gabi – Thursday, July 30 – 7 p.m. – Mon Ami Gabi, a classic French bistro located inside Paris Las Vegas, to host a special wine dinner featuring a five-course dinner created by Executive Chef Terry Lynch paired with the classic wines of California's Rodney Strong Vineyards. The Thursday, July 30th event begins at 7:00 p.m. and costs $85 per person, including tax and gratuity.
---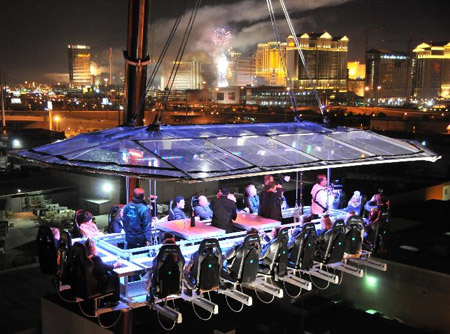 Dinner in the Sky Las Vegas is the most original fine dining adventure you'll ever experience! Seated at your dining Sky Table, you'll float gently into the air to enjoy fine food and wine, surrounded by unique views of the illuminated Las Vegas Strip. Dinner in the Sky is truly a night out in Las Vegas like no other! Click to Book Las Vegas Dinner In The Sky
---
These are only a few of the many Easy Vegas Deals we find each and every week (many of which happen too quickly for newsletter deadline). For a complete and constantly updated listing:
Bookmark and Visit EasyVegasDeals.com daily (Monday – Friday) or

Enter

http://www.easyvegasdeals.com/feed/

into your RSS feed list (for those of you who use RSS/XML feeds) or
---
We love to hear from you, and value your feedback! Here's how to participate:
Drop us an email at allvegastv@aol.com – We read them all!
Call our recorded comment line at 702-507-0055. We listen to every call.
---
More Las Vegas News – Concerts – Events
---
Coming Hot Holidays
– The following dates are huge times to be in Las Vegas, and rooms are in high demand. Booking in advance is the best way to save. Visit our friends at
Las Vegas Hotel Deals
and spend one of the following hot dates having fun in Las Vegas:
Civic Holiday, Canada August 1-3 (3 day weekend)
Labor Day, U.S September 5-7 (3 day weekend)
Labour Day, Canada September 5-7 (3 day weekend)
Jewish New Year September 19
Halloween October 31
Veteran's Day November 11
Thanksgiving Day, U.S November 26-29 (4 day weekend)
Hanukkah Dec. 2 – Dec. 9
Christmas December 25
New Year's Eve-Day December 31 – January 2 (3 day weekend)
Martin Luther King, Jr., Day, U.S (Observed) January 18-20 (3 day weekend)
Lincoln's Birthday, U.S February 12
President's Day, U.S (Observed) February 13-15 (3 day weekend)
Chinese/Lunar New Year February 14
Valentine's Day February 14
Mardi Gras February 16
Washington's Birthday, U.S February 22
St. Patrick's Day March 17
Easter Sunday April 4
Cinco de Mayo May 5
Mother's Day May 9
Memorial Day, U.S May 29-31 (3 day weekend)
Father's Day June 20
Independence Day July 4
Link To Us! – Have a home page, web page, or blog? Link to us, and give yourself and your friends a quick link to find us from your site. Simply link to http://www.accessvegas.com and name the link Access Vegas!
RSS Feed – We now have an RSS/XML feed! Most RSS programs let you visit AccessVegas.com and automatically pull the feed. For those who want to enter it manually, the feed is:
http://www.accessvegas.com/xml/whats-hot.xml
Share the info: Click to Email this newsletter to a friend!
---
For comments or questions regarding our content
or this newsletter write us at
allvegastv@aol.com
.
New to the list? See our Newsletter Archives for back issues and subscription info. Don't hesitate to forward this newsletter to friends and associates.
All contents copyright 2009 Ted Newkirk. All Rights Reserved.
Hotel Rates Published Accurate At Time Of Publication


July 22, 2009 ISSN: 1529-2770 About Us Privacy Policy
No related links found