Serving Las Vegas Visitors and Residents Since 1999
Welcome to the Insider Vibe! This is the official newsletter of AccessVegas.Com. We talk about the Las Vegas activities you really care about.
Can't see all the great photos and graphics? Click to Read This Issue Online! Need to contact us? Send feedback to AccessVegas@AccessVegas.com

Share the info: Click to Email this newsletter to a friend! Missed an issue? Click to Read Back Issues Online.
This newsletter is published exclusively for visitors to AccessVegas.Com and can only be signed up for there. We do not buy or rent lists, and this information is only for our members and guests. If you feel you have received it in error, click the unsubscribe link at the bottom. To subscribe, visit our Newsletter Site.
---
AccessVegas.com Quick Info Menu:
| | |
| --- | --- |
| Las Vegas Essentials | Featured Shows |
Newkirk's Notes – comments on Las Vegas from AccessVegas.Com publisher Ted Newkirk:
Hello From Las Vegas! Many in the U.S. are experiencing mind-numbing heat and humidity that is uncharacteristic for your region. People have often given we Las Vegan's a hard time when we note that our heat is a dry heat. However, except during our rare rain storms, the heat index here is always quite a few degrees below the actual temperature. In our June 29, 2011 edition, I published some timely information for staying hydrated here in Las Vegas. I hope those of you in the intense heat areas took it to heart for where you are living!
Caesars Palace July 3 Fireworks – As promised last week (and obviously a bit belated) are photos from the amazing display Caesars Palace put up for the holiday visitors that weekend. I caught the show from my Strip-adjacent neighborhood and was very impressed at both the length and scale.
Here's another thing I loved: They closed down part of The Strip to give people a better view. For years, I've questioned why we don't do a "mini-style New Years' Eve" on July 4 (or a weekend date close to it). While the multi-hour closure of the entire Strip is far too costly to do more than once per year, a short closure of part of the road for an event like this is a fantastic idea.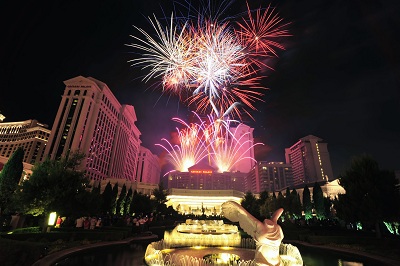 Caption: Caesars Palace Dazzles Crowds with Impressive Fireworks Display Sunday, July 3 Las Vegas Boulevard was packed with locals and tourists alike on Sunday, July 3, as crowds gathered in front of Caesars Palace to watch the fireworks display from the Roman Tower rooftop. Las Vegas Metro Police Department closed down the boulevard granting onlookers the best views on the Strip. The show dazzled audiences for 20-minutes and received an enthusiastic applause. PHOTO CREDIT: Dave Proctor/www.daplv.com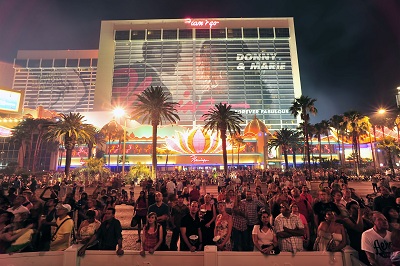 Attention Rail Fans – Inside the Historic Railroad Pass Hotel/Casino (the oldest continuously operated licensed casino in the United States) is celebrating 80 years on August 1, 2011. The museum is open 24/7, and displays photos and memorabilia dating back to its construction in 1931. Entrance to the Museum is free to the public. Railroad Pass Hotel/Casino is located at 2800 S. Boulder Highway, Henderson, NV. 89002. (Too far to cab from The Strip. Rent a car and make a day of it, seeing Hoover Dam at the same time).
McCarran Numbers At One Year High – More passengers went through Las Vegas' McCarran airport this past June than at any time during the previous 12 months. Spirit "should we charge them to use the bathroom since we charge them for everything else" Airlines accounted for a nice part of the increase with their new focus on Las Vegas. U.S. Airways also posted a significant jump. Now if U.S. Air would bring back the old America West midnight hub (the airlines since merged) that saw a huge influx of inbound and outbound planes 12 AM each night.
If you needed to get a full day of work in and still jump a plane from the east, you could get into Las Vegas in time to still do a few things. If you wanted to really extend your day and red-eye it home, it wasn't a problem. Because America West had planes in the air that would otherwise be sitting idle, they were able to keep the fares on those flights very reasonable (as making some revenue is better than making none at all).
Not The Rap Crowd – Last issue, we noted that hypnotist Anthony Cools is opening a dueling piano bar at the renovated Plaza hotel downtown. He recently came under fire for noting that the club (which will have a DJ playing both before and after the pianos) won't be playing hip-hop or rap nor be appealing to the clientele that gravitates toward that music. Local Review-Journal columnist John L. Smith took some umbrage and noted that the vast majority of people under 30 listen to hip-hop and rap.
Um… that's exactly the point. The average age of the Las Vegas visitor is 49. We regularly get questions about where one can go and NOT be subjected to modern pop music (the stuff people's kids are listening too). An escape from the guys the Jersey Shores look. Add this to your list. We think it will be a huge hit.
Enjoy This Issue!

Associate Editor: Amy Rayner-Cooley
News Researcher/Editor: Rick Ziegler
---
| | |
| --- | --- |
| Skip the airport taxi hassles and arrive at your hotel in style: Check out driver and limo service availability now! | |
---
Rhumbar And Las Vegas Weekly Fling Host 'Bondage Tuesdays: From Rhumbar With Love' – Live and Let Die at Rhumbar, Tuesday, July 26 – RHUMBAR at The Mirage and Las Vegas Weekly Fling will celebrate 'Bondage Tuesdays': From RHUMBAR With Love' on Tuesday, July 26. The stylish cocktail and cigar lounge and patio will host the Secret Agent inspired extravaganza with cocktails, costume contests and plenty of Bond.àJames Bond.
Guests will strap on their sexiest secret agent attire and sneak down to RHUMBAR for a night of forbidden fun. This special Bondage Tuesday will kick off at 9 p.m. with one hour of complimentary GoldenEye cocktails for all ladies. This mouthwatering concoction features pineapple, cranberry and smooth white rum, shaken not stirred.
First Wednesday Of Every Month To Be Whisk(E)Y Wednesdays At Andre's At Monte Carlo Las Vegas – Whiskey fans and aficionados can be found on the first Wednesday of every month at Andre's at Monte Carlo Resort and Casino. The restaurant and lounge known for its superior collection of whiskeys and cigars today announced dates for its popular Whisk(e)y Wednesdays for the remainder of 2011: Aug. 3, Sept. 7, Oct. 5, Nov. 2 and Dec. 7.
"We're often asked why there are parentheses in the event's name. It's actually very simpleùthere are no two whiskeys alike and, in fact, its name may be spelled with an E or without," says Patrick Trundle, beverage manager, Andre's. "But regardless of the spelling or the type of whiskey showcased, what remains consistent on Whisk(e)y Wednesdays is the incredible quality, selection and value guests will experience at each event."
Mandalay Bay Las Vegas hosts Third Annual Aureole Las Vegas Wine Weekend August 5-7 – Aureole, Charlie Palmer's renowned Michelin-starred restaurant at Mandalay Bay Resort and Casino, is proud to announce the dates for the Third Annual Aureole Las Vegas Wine Weekend: August 5 û 7, 2011. For three days and two nights, seven events will bring together dozens of wines and countless friends to experience delicious food and wine from around the world.
Bellagio, Picasso, and Le Cirque Honored Among Top Resorts and Restaurants In U.S. With 2012 AAA Five Diamond Award – Bellagio, Picasso, and Le Cirque have been awarded the prestigious AAA Five Diamond Award for 2012. With unsurpassed service, world-class dining and luxurious amenities, Bellagio also has the distinction of being the only hotel in the U.S. to have two AAA Five Diamond restaurants under one roof.
Disney's The Lion King At Mandalay Bay Welcomes New Cast Members To Pride Rock This Summer – Disney's THE LION KING at Mandalay Bay Resort and Casino welcomes Phindile Mkhize, Dashaun Young and Samantha Ware to the cast of the Las Vegas production this summer. Pride Rock continues its 'Circle of Life' with reprised roles from Mkhize as Rafiki and Young as Simba, while debuting Ware as the playful and determined lioness Nala.
---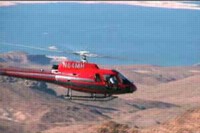 Grand Canyon Air Tour û Sit back and relax as you experience this spectacular air excursion through the Grand Canyon. Highlights of this trip include Hoover Dam, Lake Mead, Lake Las Vegas and Fortification Hill an extinct volcano. Fly through Black Canyon and on your return to the south Las Vegas valley.
---
What We're Watching – Vegas Videos You'll Enjoy
---
Members Mania – We Love Our Readers!
Love the Newsletter û keeps me in the loop with the greatest city on earth. I come out at least 2 or 3 times a year and one thing that drives me up a wall are all the ôsnappersö on the street. Those annoying people who literally shove those ôescortö cards in your face.
Walking down the boulevard you get bombarded and harassed by the hordes on every street corner. IÆm sure if one wants an ôescortö they are easily found without these bothersome, aggravating, aggressive night creatures forcing their certificates of indulgence on you.
Is there anything that can be done about this? Can the city legally prevent these pestering paper pushers?
Donald Hanko
Ted Responds:
We probably address this once or twice a year, but we always have new readers which makes it a worthy question. Numerous attempts to curtail or limit this activity have been tried over the years, including a proposal to "privatize" the sidewalks in front of each resort by giving the sidewalk to the resort which would allow each resort the ability to control this.
The "card slappers" have been found by the courts to have their right to free speech. You want to hand out Bibles on the Las Vegas Strip? Same rules apply to you. The privatization of the sidewalks was knocked down as not having a decent predecentprecedent in conjunction with the fact that unintended bad consequences could happen with the county no longer in charge of them.
By the way, they can't touch you or impede your progress. I've turned it into a game. I ignore them by walking as close as I can to them without (in turn) touching them. You should see how fast they retract the cards and step back!

---
Regarding the Cosmopolitan article in (July 29, 2011 – click to read archive, Ed.) issue, you described to a tee, our experience at a neighboring property û Aria.
We just got back from Vegas. We make three to four trips to Vegas per year. We stay at HarrahÆs properties û last several times at Caesars. We always catch a couple of shows. This time we booked the Elvis show at Aria. We always arrive quite early and play the slots before the show. After the show, we again play the slots while the crowd clears out.
The environment was beautiful, but I felt totally out of place there. A friend of mine gave me $10 to put on red at a roulette table for one spin. I walked over to an open roulette table (most were empty) and asked to put $10 on red. I was told that could not be done, as the table minimum was $15. I asked if there was a table where the minimum was $10. I was told no. I felt like a second class citizen. I went in search of some penny slots, and found the few on the floor pretty much filled.
It was readily apparent that my wife and I were totally out of our league. We happily exited the property "immediately" following a fantastic Elvis show. We will never go back.
Lee from Greeley, Colorado
Ted Responds:
First of all, you've kept the string alive regarding positive comments involving Cirque du Soleil's Viva Elvis (tickets) show at Aria. We've had tons of great comments, and no poor ones since it opened.
Obviously if you are staying at Caesars, you are no pauper. While the $5 table on The Strip has (with a few exceptions) gone the way of the dodo bird because of the simple economics (hourly cost of dealer and free drinks) combined with property values and expenses, you aren't the only one wondering why properties with tables sitting empty keep insisting on bet limits in the $15-25 range.
You'd think that if they are committed to keeping a table open (and especially if the open tables have very light play), dropping the limits would be in order. You generate play and excitement in the property (which breeds more play and excitement). In addition, many people — especially when they are winning or feel that they are on a roll — will bet well above the table limit.
Both Aria and Cosmopolitan (which although in proximity and with a similar look are not part of the same company or complex) are beautiful properties. The two newest in town and worth taking a peek at. People who stay at both properties rave about them. But if they are struggling to gain acceptance from a Caesars customers, they may wish to re-evaluate a few things.

We love to hear from you, and value your feedback! Here's how to participate:
---
More Las Vegas News – Shows – Events