Welcome to the Insider Vibe! This is the official newsletter of AccessVegas.Com. We talk about the Las Vegas activities you really care about.
---
AccessVegas.com Quick Info Menu:
Las Vegas Essentials

Featured Shows

Photos and Wallpaper
Newkirk's Notes – comments on Las Vegas from AccessVegas.Com publisher Ted Newkirk:
Hello From Las Vegas! It is July and that brings the heat. July and August are the two hottest months here with highs averaging 105. This coming mid-week? Keep hydrated… 112 is forecast.
Congratulations to Phantom – The Las Vegas Spectacular on two successful years here in Las Vegas! If you have seen Phantom of the Opera elsewhere, you haven't seen the full experience which in Las Vegas includes the exclusive $40 million state-of-the-art custom theatre (which is almost worth the price of admission by itself). Click for Phantom – The Las Vegas Spectacular Tickets
What Is Up With The Lady Luck? – This is one of the most consistent questions we've received over the past couple of years. Here's the latest:
The City of Las Vegas is trying to sweeten the pot for the Lady Luck owners to make it worth their while to get underway on the upgrades and renovation needed to re-open. The city is considering selling the city-owned land north of the hotel to the Lady Luck owners at a significant discount. However, the present economic climate might still make any construction/renovation financing tough.
Spectacular New Las Vegas Views:
Click Picture Below For More!
We have this spectacular new photo set taken from the top of the Paris Las Vegas Eiffel Tower. It includes a number of amazing Las Vegas Strip shots ranging from the airport and planes taking off to MGM CityCenter to Bellagio Fountains and much, much more! Click to view Top Paris Las Vegas Eiffel Tower 2008 Photo Set
Enjoy This Issue!

Ted Newkirk
CEO/Managing Editor
Associate Editor: Amy Rayner-Cooley
News Researcher/Editor: Mark Jacobs
---
Can't Make It To Vegas?
See If A Hot Event Is Playing Near You!
Janet Jackson, ColdPlay, Madonna, American Idols Live, Dave Matthews Band, The Eagles, Tina Turner, Jonas Brothers, Jimmy Buffett, Tom Petty and the Heartbreakers, James Taylor, Kenny Chesney, Elton John, Rascal Flatts, Rush, Carrie Underwood, NASCAR, Baseball, NFL Football, College Football, All Major Concerts and Events
---
Featured Review:
Menopause The Musical – Laughing With Life's Changes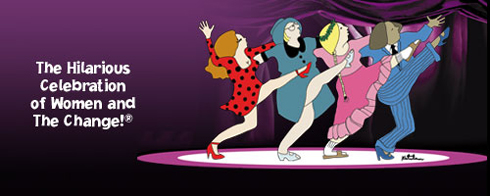 by Sarah Steinberg
Since March 2001, the hilarious show "Menopause The Musical" has entertained and inspired women from coast-to-coast and internationally. The work of writer Jeanie Linders, "Menopause The Musical" is a 90-minute production that's sure to tickle the funny bone. Whether you've been through menopause or not, this makes for an evening you'll never forget.
The show is a celebration of women who are on the brink of, in the middle of, or who have survived the dreaded change. For our four not-so-young gals, it's the dreadful change. We follow the trials and tribulations, mostly the trials, of four women: the business executive, the housewife from Iowa, the washed-up soap star and the middle-aged hippie.
Click to Read Entire Cirque du Soleil's Mystere Las Vegas Review…
Menopause The Musical Las Vegas Tickets: Call the Hilton Box Office at 800-222-5361
---
Featured Review:
Stripper 101 – Saucy, Sexy Sin City Fun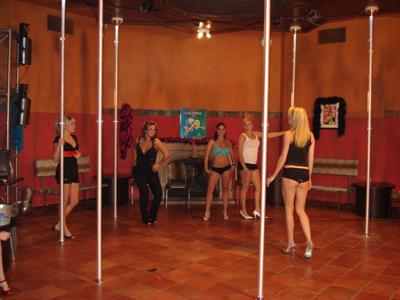 By Devon Brooke Clasen
A class not likely to be found at any university, Stripper 101 at Planet Hollywood offers lascivious ladies not only some sexy striptease skills, but also an afternoon of exercise, laughter and lessons in a truly enviable Sin City art form.
Arriving at the V theatre, attendees are directed to a small bar area for a short wait, where they may survey a variety of center stage performances staged in the Miracle Mile shops, including magic, acrobatics and comedy. Each participant is presented with a waiver release form, which they're told they must sign before participating in this physical and somewhat rigorous class. A cocktail is included with the purchase of a ticket, no doubt aiding the ladies with the release of inhibitions required to attend such a tantalizing tutorial.
Click to Read Stripper 101 Las Vegas Review…
---
3 Doors Down, Staind And Hinder Mandalay Bay Events Center Friday, August 29
– Three American rock bands, 3 Doors Down, Staind and Hinder are teaming up to take the stage at the
Mandalay Bay Events Center
Friday, Aug. 29.
(Tickets)
The concert is scheduled to begin at 7:30 p.m. with special guest Sick Puppies. Formed in Escatawpa, Miss., the resilient five-some known as 3 Doors Down has blazed a trail as the quintessential rock band. They have attained massive mainstream success without losing that small-town identity that has branded them rock's truest underdogs.
Click to Read The Full Story …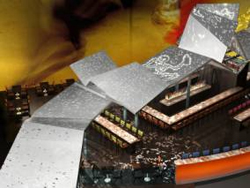 T&T Explodes At Luxor With Hot Mexican Fare And Edgy Design – T&T (Tacos & Tequila), a highly stylized restaurant with a fun, high-energy vibe and flavorful menu, will open in late August at Luxor Hotel and Casino. Utilizing their years of hospitality experience, creators and owners Michael Frey and Craig Gilbert announced T&T will be the first project under the formation of their new company, Drive This Entertainment!. Click to Read The Full Story …
Cool Ways to Heat Up Las Vegas After Dark – Some of Las VegasÆ hottest nightspots are the easiest to enjoy. HereÆs where you can party all night long without the wait or the cover charge:
88 Couples Will Find Fortune With The "Lucky 8/8/08 Wedding Package" At The Stratosphere Casino Hotel And Tower – The Package Centers around En Masse Wedding Ceremony at 8:08 p.m. Las Vegas is the city of luck and weddings, and on 8/8/88, 88 lucky couples will be married en masse in a ceremony at 8:08 p.m. on Level 108- Indoor Observation Deck of the world famous Stratosphere Tower as part of the Stratosphere Casino Hotel and Tower's "Lucky 8/8/08 Wedding Package." The cost of participation is $8.88 for the first 88 couples who contact the Stratosphere Casino Hotel and Tower Catering Office. Click to Read The Full Story …
---
Las Vegas Is On Sale!
Get Great Rates At All Hotels:

4 Queens from $36,

Bally's from $69,

Flamingo from $63,

Gold Coast from $34,

Planet H. from $89,

Rio Suites from $58,

Sahara from $36,

Strat. from $35,

Tropicana from $45,

Tuscany from $32,
More Savings At All Vegas Hotels!
---
Members Mania – We Love Our Readers!
I love the news letter and read it every time it comes out. Thank you.
I have to tell you about our last fabulous trip to Vegas. We are a little bit over average players and haunt mostly HarrahÆs properties with the occasional foray into Bellagio Mandalay Bay.
We were playing at Caesars and I hit $30,004 I ran to my wife who was thrilled, and she immediately hit $10,000 on some machine. Needless to say it was great but doesnÆt end there for a break we went to Bellagio and she hit another $10,000. Bellagio then bought us dinner and to show our thanks we hit a couple of other small jack pots. It was a great day.
We got a lock box at HarrahÆs and went to Fremont Street and damn if she didnÆt hit $10,000 at the Golden Nugget (sheÆs my favorite wife).
This trip was beyond our wildest dreams and of course I went to the Big boy room and played the big boy machines and won a little there I had Caesars cut a check so I didnÆt get drunk and blow it all.
We came home paid off every bill we had (except the cars and the house) and had enough left over to give to my good Uncle Sam on April the 15th.
I know that this was a once in a life time trip and will treasure it always, but I wanted to share it with you and say the Strip pays OK on occasion.
Jerry from Vero Beach Florida
á
Ted Responds:
Wow… that is one incredible run and the thing dreams are made of. Thank you so much for sharing it with us and let's have some of that luck rub off to the rest of our readers for their next trip here to Las Vegas!

---
Say what you will about budget hotels my wife and I have returned to the Trop every year since 2001. It's a little seedy sure, but the laid back atmosphere, the beautiful pool and old Vegas ambiance is as good as it gets. Add to that a Garden room with outdoor patio among the palm trees while enjoying a brandy and soda — heaven on earth. Good Lord willing, we'll be back — at the Trop.
Al
Ted Responds:
Mark Jacobs (our News Researcher/Editor) had his parents in town a few weeks ago. They booked before he really knew and had a chance to take care of them. (They didn't want to "trouble" us plus they had friends with them).
They stayed at Tropicana and had no problems at all, and found it a good value. The pool is great, and the location is great. Because the Tropicana is always a candidate for getting bought out and/or imploded, they aren't pouring money into upgrading it. But despite the amount of feedback we get from visitors, I can't remember the last time someone had a complaint about the "bang-for-the-buck" at Trop.

---
I recently visited Vegas for 4 days and enjoyed it. BUT the tables and slots are getting very, very difficult to win at. It is once in a blue moon that you win anything. I thoroughly enjoy Vegas and always have. I have probably made at least 15-20 trips there.á
Due to the ôtightnessö IÆll probably look elsewhere from here on in. The last few trips I keep telling myself that things will get better but they actually got worse. IÆll miss everything else about Vegas but when I gamble I need to win every once in awhile.
Thanks for the newsletter I enjoy that as well.
Christopher Kujawa
Ted Responds:
You aren't the only one. While it is still possible to come and have a great run like Jerry did or at least go home a winner, table game rules are worse and slots seem tighter. You used to be able to put $20 in a machine and know you'd get some decent play. Now it seems like you might as well set the $20 bill on fire. As I've noted before, Nevada gaming revenue is down. Perhaps if they gave you a better shot at winning (like they did for decades), people would be willing to play more.
Thanks for the input and thanks for reading. Please do tell your Vegas visiting friends about the newsletter!

---
I really look forward to receiving your wonderful news letter. I have been going to Las Vegas at least once a year for over 30 years now and I enjoy the town but I REALLY enjoy the news letter. so, keep up the outstanding good work!!á
Clearnce from Garden City, KS
---
We love to hear from you, and value your feedback! Here's how to participate:
Call our recorded comment line at 702-507-0055. We listen to every call.
Drop us an email at allvegastv@aol.com – We read them all!
---
More Las Vegas News – Concerts – Events
Coming Hot Holidays – The following dates are huge times to be in Las Vegas, and rooms are in high demand. Booking in advance is the best way to save. Visit our friends at Las Vegas Hotel Deals and spend one of the following hot dates having fun in Las Vegas:
Civic Holiday, Canada August 2-4 (3 day weekend)
Labor Day, U.S August 30-September 1 (3 day weekend)
Labour Day, Canada August 30-September 1 (3 day weekend)
Grandparent's Day September 7
Jewish New Year September 30
Columbus Day October 11-13 (3 day weekend)
Thanksgiving Day, Canada October 11-13 (3 day weekend)
Halloween October 31
Veteran's Day November 11
Thanksgiving Day November 27-30 (4 day weekend)
Hanukkah Dec. 22 – Dec. 29
Christmas December 25
New Year's Eve-Day December 31 – January 1
Martin Luther King, Jr., Day, U.S (Observed) January 19-21 (3 day weekend)
Chinese/Lunar New Year January 26
Lincoln's Birthday, U.S February 12
Valentine's Day February 14
President's Day, U.S (Observed) February 14-16 (3 day weekend)
Washington's Birthday, U.S February 22
St. Patrick's Day March 17
Easter Sunday April 12
Cinco de Mayo May 5
Mother's Day May 10
Father's Day June 21
Canada Day, Canada July 1
Independence Day July 4
Link To Us! – Have a home page, web page, or blog? Link to us, and give yourself and your friends a quick link to find us from your site. Simply link to http://www.accessvegas.com and name the link Access Vegas!
RSS Feed – We now have an RSS/XML feed! Most RSS programs let you visit AccessVegas.com and automatically pull the feed. For those who want to enter it manually, the feed is:
http://www.accessvegas.com/xml/whats-hot.xml
Share the info: Click to Email this newsletter to a friend!
---
For comments or questions regarding our content
or this newsletter write us at
allvegastv@aol.com
.
New to the list? See our Newsletter Archives for back issues and subscription info. Don't hesitate to forward this newsletter to friends and associates.
All contents copyright 2008 Ted Newkirk. All Rights Reserved.
Hotel Rates Published Accurate At Time Of Publication


July 2, 2008 ISSN: 1529-2770 About Us Privacy Policy
No related links found