Serving Las Vegas Visitors and Residents Since 1999
Welcome to the Insider Vibe! This is the official newsletter of AccessVegas.Com. We talk about the Las Vegas activities you really care about.
---
AccessVegas.com Quick Info Menu:
| | |
| --- | --- |
| Las Vegas Essentials | Featured Shows |
Newkirk's Notes – comments on Las Vegas from AccessVegas.Com publisher Ted Newkirk:
Hello From Las Vegas! – We've seen a real trend this year of the better weather on the weekdays and cold snaps (earlier in the year) and storms on the weekends. The huge July 4'th 3-day weekend as well as the following weekend were no exception. Shortly after 6 PM on Sunday July 3'rd, a huge thunderstorm carrying pelting rain and heavy winds blew in from the south and drenched the Las Vegas Strip. The 101 degree F temp fell 10 degrees in the first 10 minutes and fell to 80 within an hour as the humidity shot up from single-digits to around 40%.
Not to be out-done, the following weekend featured afternoon rains and plenty of clouds. The good news? We have yet to hit a triple-double yet (110 or above) and none on the horizon as I write. So far, both June and July have seen below-average temps. We're not complaining!
Caesars Fireworks – We tweeted that Caesars Palace July 3'rd fireworks would start at 9:15 PM. That is what the press release of June 20 stated. The display didn't go off until 10 PM. We're sorry for any confusion this caused. I was down at the end of my street (which has a clear view of 2/3 of The Strip) at 9:15 PM waiting… and waiting… and waiting. I finally huffed it home and not long afterwards heard them start. I caught most of the show and it was quite spectacular! If I can find the photo (which I've managed to misplace on my computer), we'll run it next week.
Cops… Kinda – This Sunday evening brings a new show to TruTV (cable network) called Vegas Strip. Think in terms of the show Cops, but all Vegas, every episode. I'm showing 10 PM our time but you'll want to check your local listings. Also, you'll be able to watch online here (hopefully from all countries).
Weekly Las Vegas Trivia from the upcoming book Las Vegas Legends by Greg Niemann Available September 2011:
Howard Hughes purchased the Silver Slipper casino across Las Vegas Blvd. from the Desert Inn because the lights from the rotating slipper bothered him. After management refused several requests to turn it off, Hughes purchased the casino, had the slipper filled with concrete and dismantled the rotating mechanism.
The beam of light atop the Luxor is made up of 39 individual xenon lamps, each costing $1,200 and lasting about 2,000 hours. Electric beam for Luxor beam is $51 an hour.
For more Las Vegas trivia, like Las Vegas Legends on Facebook and reserve a copy of Las Vegas Legends from the publisher at www.SunbeltBooks.com
Legionnaires' Disease At Aria – Since it opened, six people who stayed at Aria (in CityCenter) have been afflicted with Legionnaires' disease, a bacterial infection similar to pneumonia. All are fine, but treatment is a must. Aria is warning that during a recent two week stretch, those staying at the property might have been exposed. If this concerns you, click on over and read A message from ARIA. Please note that this illness is NOT contagious. If you were in town but did not stay at Aria, it appears you have nothing to worry about. But always contact a medical professional with any pneumonia symptoms.
No, The Hilton Is Not Closing – The Hilton Hotel Corporation has decided to sever their contract with the Las Vegas Hilton effective the end of 2011. This simply means that the hotel will need to remove the word Hilton from the name. Given that it is called the Las Vegas Hilton, there isn't much left of the name! The hotel is reportedly in talks with other hotel chains to affiliate with. The property originally opened at The International (which it was called during Elvis' famous run there) and it simply might revert to that name.
Plaza Set To Re-Open – We're about a month away from the soft re-opening of the Plaza downtown! I always had a soft spot in my heart for the joint. I'd park there to kick off any downtown adventure and the Center Stage Restaurant had a combination of one of the best views and best values in town (for a high end eatery). After the exit of Firefly Grill in the old Center Stage location, word is that another upscale restaurant will occupy the spot.
Of interest will be a new dueling piano bar operated by hypnotist (and entrepreneur) Anthony Cools called the Swingers Club. It is going to have (I kid you not) a 9 hole miniature golf course running through it as the perfect way to make your way around the room and mingle. Cools' first ever mention of this pending club was on the debut episode of Talktails with Chris Phillips back on May 2, 2011. You can watch him give all the details for himself on that episode.
Enjoy This Issue!

Associate Editor: Amy Rayner-Cooley
News Researcher/Editor: Rick Ziegler
---
| | |
| --- | --- |
| Skip the airport taxi hassles and arrive at your hotel in style: Check out driver and limo service availability now! | |
---
PBR Rock Bar and Grill Serves Up $3 Drafts For National Legal Drinking Age Day – PBR Rock Bar & Grill will offer a special discount on drafts all day in celebration of National Legal Drinking Age day on Thursday, July 21. Revelers who have turned 21 in 2011 can have a toast to their newfound freedom with an ice-cold draft for only $3 all day.
PBR Rock Bar & Grill is the latest spot to hit Las Vegas offering beers, bulls and plenty of babes in its sprawling, 16,800-square-foot venue. Open seven days a week from 8 a.m. until the early morning hours, PBR Rock Bar & Grill offers guests hearty, American comfort food and barbeque around the clock. Beautiful babes and bad ass bull riders are dared to attempt to defy gravity on PBR Rock Bar & GrillÆs daunting, hydraulic mechanical bull.
Tacos and Tequila Las Vegas Offers New $5 Happy Hour Menu – Just in time for summer, Tacos & Tequila (T&T), the rock 'n' roll-inspired Mexican restaurant at The Luxor Las Vegas, introduces a new $5 happy hour menu. Locals and tourists alike will enjoy a variety of libations and tasty Mexican fare, all priced at just $5, Monday through Friday, from 2 to 6 p.m.
The Palazzo Las Vegas Named One Of The 2011 Top 25 Hotels In The Us And Canada By Travel + Leisure Readers – The Palazzo Las Vegas has been named one of the Top 25 Hotels in the Continental U.S. and Canada in Travel + Leisure World's Best Awards 2011 readers' poll featured in the magazine's August 2011 issue.
Zebra Shark Pups Follow in Parents' 'Fin' Prints at Mandalay Bay's Shark Reef Aquarium – Three siblings take up residence in Touch Pool as parents did when facility opened in 2000 – Three male Zebra Shark pups are the newest additions to the Shark Reef Aquarium Touch Pool at Mandalay Bay Las Vegas, following in the paths of their parents who were among the attractionÆs original residents.
McFadden's Celebrates Christmas In July – Have a Merry McFadden's Holiday on Saturday, July 23 – McFadden's Restaurant & Saloon at the Rio All-Suite Hotel & Casino is kicking off the holiday season extra early this year with a Christmas in July celebration on Saturday, July 23. Partygoers will enjoy holiday cheer, cocktail specials, and an open bar in honor of this merry day in July.
---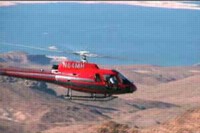 Vegas Nights Helicopter Tour û Save time and money. Our Maverick Lights tour with out the Transportation. Spend more time seeing Las Vegas and arrive at our terminal 30 minutes prior to departure time. Reserve your seats today!
---
What We're Watching – Vegas Videos You'll Enjoy
Eldorado Canyon Mine Tours

– Just 45 minutes outside Las Vegas is a piece of history dating back well over 100 years. The folks at Eldorado Canyon Mine Tours discovered an old gold and silver mine entranceàand 16 years later, theyÆre showing people what it was like to work those mines. If thatÆs not enough to entice you, theyÆll hook a canoe or kayak up to your vehicle and you can spend a relaxing day on the Colorado River at the mouth of Black Canyon.

The Pear Pearl Drink at Botero at Wynn Las Vegas

– Wynn Las Vegas' Mixologist Patricia Richards demonstrates how to make her original cocktail creation, the Pear Pearl, created specially for Botero at Encore. The Pear Pearl is a variation of the Dark & Stormy drink and the 1940's famous Moscow Mule. Try it at home tonight!

Absinthe's Gazillionaire Presents SpiegelWorld at Caesars Palace: A Tour

– The Gazillionaire, star and master of ceremonies of Absinthe inside Caesars Palace, welcomes you to his domain, an adult midway of decadent delights, surreal sights, and tasty beverages.

X Burlesque at Flamingo Las Vegas

– Andrea Tiede takes us inside Flamingo Las Vegas to see the sexy topless show X Burlesque. With its beautiful dancers and hot numbers, this burlesque adds a touch of class for the perfect late night show even the wife will enjoy.
---
Members Mania – We Love Our Readers!
I don't get it. My friends and I love the Monorail and can't understand why no one uses it. We spread our money around to all the casinos on the strip and downtown and at the end of the day are glad to be able to hop aboard for a comfortable ride back to our hotel.
With it pulling into within steps of the hotels, it just doesn't make sense. In the summer when its 104, you have a cool ride and in the winter when the wind blows right through you – you have a nice warm ride.
Again, I just don't get it. I hope something happens to save it.
Christine Takacs
Ted Responds:
The monorail has been plagued by four things:
Cost. If there is more than one in your party, a cab is the same price or cheaper and takes you door-to-door. The lack of ridership has forced them to keep the prices high, which in turn drives away repeat users.
Routing. Unless you are specifically going to one of the properties it serves, you are a long walk from other hotels. In fact, a local resident did a study recently and found that in many, many instances when you factor in walking time to and from the monorail station, it is quicker to walk than to take the monorail. Now, certainly that does not factor in the heat of the summer and chill of the winter. But much of the year, the Las Vegas Strip is comfortably walkable as far as weather is concerned.
Accessibility. The stations are located at the very rear or the hotels their serve. Out of sight, out of mind.
No airport or downtown connection, which are the two places people on the strip really want to go where walking is simply out of the question.
Not very scenic. If it went down the middle of the Las Vegas Strip, people would ride it just for the view (a la Disneyland). But unless you want to see all the apartments that Caesars (the company) knocked down behind the Imperial Palace, there simply isn't much to look at on the ride!
Look, I don't want to see the monorail fail but one can't get around the fact that it was poorly conceived with no hope for redemption in sight.

---
We have been coming to Las Vegas for many years now and quite frankly, are tired of paying the outlandish prices for food on the strip. We would like at some point in time, for you to do a segment on good food at reasonable prices off the strip. Thanks.
Linda and Rich
Ted Responds:
One of the things that many forget is inflation. Trust me, I remember the days of $5 blackjack and $3.99 breakfast specials on The Strip. But a gallon of gas was about 1/2 the price back then, and remember that 99% of what you eat here comes from somewhere else by truck or plane. That great $12.99 buffet of yesteryear is now $24.99.
If you think about it, that is still a pretty good value. Go to a decent restaurant in your area and order up all the food you usually consume during a Las Vegas buffet visit (both in terms of quantity and quality, including all the seafood, prime rib and similar) plus your coffee, juice, soft drinks, and desert. And figure what the tab would run you at home!
Having said that…
Food specials still do abound and we do talk about them in the newsletter on a pretty regular basis. In the past couple of months, we've mentioned the special at Fitzgerald's downtown (both in their cafe — including $1.99 breakfast — and in their Vue Bar) plus the ongoing off-the-menu surf-and-turf at the Hard Rock Hotel cafe plus the long-time $7.99 complete steak dinner at Ellis Island (just behind Bally's on Koval). Plus food and drink specials at the El Cortez downtown. And have repeatedly advised that (in general) the best food prices (sans local casinos) are downtown. So… you gotta be reading!
Side Note: Why don't we compile a master list? We used to but it got dated too quickly (specials are subject to change and can change often).
I am making a note to set up a part of the website where people can submit the food specials they see to us. And perhaps we'll add extra incentive by drawing one entry at random each month to win some cool stuff. If we get enough regular entries, perhaps devote a permanent part of the newsletter to it. So, thanks for the comments!

We love to hear from you, and value your feedback! Here's how to participate:
Want to comment on a current reader post? Use the comment box on that particular web page. Many of the stories we post also have comment boxes at the end of the story. Make your voice heard!
Drop us an email at allvegastv@aol.com – We read them all!
Call our recorded comment line at 702-507-0055. We listen to every call.
---
More Las Vegas News – Las Vegas Mayor Oscar Goodman
More Las Vegas News – Shows – Events
No related links found