Serving Las Vegas Visitors and Residents Since 1999
Welcome to the Insider Vibe! This is the official newsletter of AccessVegas.Com. We talk about the Las Vegas activities you really care about.
Need to contact us? Send feedback to
AccessVegas@AccessVegas.com
Did someone forward this to you and you'd like to be on our list? Sign up at AccessVegas.com
Missed an issue? Click to Read Back Issues Online.
---
AccessVegas.com Quick Info Menu:
| | |
| --- | --- |
| Las Vegas Essentials | Featured Shows |
---

---
Hot Hotel Happenings – Save Big Now!

Stay at Bally's Las Vegas and get choice of One Day SPA Treatments

Save up to 15% Off at Harrah's Palace Las Vegas

Caesars Palace Las Vegas Buffet of Buffets Deal! Stay 2 Nights From $134/Night & Get 2 All-Day, All Access Buffet Passes to 8 Buffets in Sin City!

Special Offers at The Palms – Entertainment Packages and Resort Packages
Click To View ALL Las Vegas Hotel Deals
Print Too Small? (Deals – Large Print)
---
This Week's Top Tours
Featured Tour Video From Las Vegas
You can book this amazing flight now and save $21! Neon Nights Air Tour
ALL tours listed on our AccessVegas.com tour page (link above) have been hand-selected. We only work with the top, most professional companies and operators who vow to give our readers a great experience! Because of this, we can not recommend nor vouch for tours not listed on here in the newsletter or on our tour page. Questions? Our tour page lists phone contacts where tour experts are available for live help!
---
Great Casino Deals – Win Cards – Episode 1
This is Episode 1 of our new series of Great Casino Deals with gambling expert Victor H. Royer. In this series we will profile some of the great casino deals from Casinos in Las Vegas, including the new Win Cards from The Tropicana. Get these great cards next time you are in Las Vegas to help you win more at the table games! For more great casino deals, visit: www.MoreCasinoDeals.com
---
July 2014 Events And Specials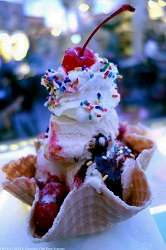 Trevi Las Vegas Makes Summer A Dream With July 2014 Specials On Pizza And Ice Cream – Trevi Italian Restaurant inside The Forum Shops at Caesars Palace will celebrate summer by offering brick oven-fired pizzas for $10 each throughout July along with introducing $5 house-made waffle sundaes to honor National Ice Cream Month.
To celebrate July as National Ice Cream Month, TREVI has introduced a gelato sundae served in a house-made waffle bowl, priced at $5 each. The sweet treat consists of a choice of gelato flavor, drizzled with a chocolate or caramel sauce, whipped cream and topped with sprinkles and a cherry.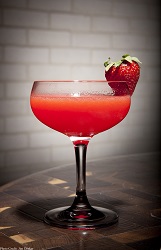 Crush Las Vegas Introduces New Summer Cocktails And Beers To Complement The Season – CRUSH eat, drink, love at MGM Grand Hotel & Casino has introduced new summer cocktails and draught beers to the menu, providing refreshing relief from the hot weather. The new seasonal cocktails include:
ò Summer Love made with Bombay Sapphire gin, Pavan Liqueur, strawberry liqueur, fresh lemon juice and prosecco priced at $14;
CRUSH, eat, drink, love, is a 7,000-square-foot restaurant serving a cosmopolitan share-plate style menu with large and small plate dishes prepared by Executive Chef Billy DeMarco. Located inside MGM Grand, CRUSH is open daily for dinner, starting at 5:30 p.m.
---
Las Vegas Hotels
---
Dining, Drinking, And Dancing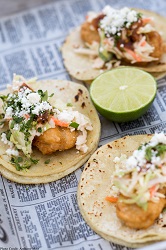 Park On Fremont Restaurant Downtown Introduces Seasonal New Menu Items – Park on Fremont welcomes the warmer weather with tasty new menu selections, adding refreshing salads, a new summer smash cocktail and deep fried sensations to the bar and restaurant's offerings, available now.
Those looking for a taste of South of the Border flavors will enjoy the fish tacos, made with tempura fried Mahi fish topped with coleslaw and chipotle dressing, priced at $9; as well as the Park Paloma, a new summer cocktail made with Cazadores tequila, Pavan liqueur, fresh lime, simple syrup and a splash of grapefruit juice, priced at $8.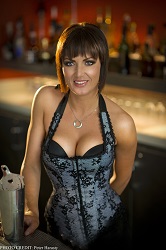 New Mixologist To Mix Up Las Vegas Rhumbar's Cocktail Menu With Exciting Elixirs – RHUMBAR, located at the The Mirage Hotel & Casino, welcomes Lillian Hargrove to its team as lead bartender and award-winning mixologist.
Recently named Campari's "Best Aperitivo" Las Vegas Champion, Hargrove brings years of mixology experience to RHUMBAR's cocktail lounge. Through her expertise, Hargrove ensures that each beverage she concocts has a special flair that is reflective of RHUMBAR's signature libations.
Already at the top of her game, Hargrove has concocted fresh new cocktails for the popular Strip-side bar.
---
Las Vegas Tours And Attractions
---
More Las Vegas News
---
Upcoming Las Vegas Events And Holidays
---
Newkirk's Notes: The Boss Speaks…
Newkirk's Notes are comments and insight from AccessVegas.Com publisher and 20+ year Las Vegas resident Ted Newkirk:
Hello From Las Vegas! – Monsoon season is here, which isn't out of the norm for July. We'll have a few days of "normal" weather (highs in the low 100's F), interrupted by a few days of 90's with some humidity and thunderstorms. Not Florida-style humidity, but more than we're used to.
MAMMA MIA! Exclusive 30% Savings To Our Readers! – Most of you got a special email from us this past week letting you know that Las Vegas' happy hit show is giving you this great opportunity to save on a show everybody love! If you missed the email, you can still click to MAMMA MIA! Exclusive Access Vegas 30% Offer
á ábyá
á
CliffMuller
á
Now, We Can Really Kiss The Las Vegas Hilton (Name) Goodbye – Westgate Time shares purchased the LVH hotel last week, and have big plans. Fortunately, they are not going to turn the whole thing into a owners-only timeshare. Although they plan to turn some of the rooms to luxury timeshare villas, it appears they pretty much still intend to operate it as a hotel casino.
New owner David Siegel may be best known to some of you from the documentary The Queen of Versailles (available streaming on Netflix) and as the man who built the PH Westgate Tower behind Planet Hollywood Hotel, which he subsequently lost it in the financial crisis.
He's planning to put hundreds of millions of dollars into refurbishment of the iconic property, widely know as the hotel where Elvis had his huge Vegas run. The old Star Trek space will be turned into a nightclub (good luck with that at this location, unless it is a more mellow affair catering to people over 30), but also of interest is that the Shimmer Cabaret is going to be used as a lounge with free live music playing day and night. Real live music, not a DJ. How cool is that!
He's keeping the property open during the renovations and while we're not the kind of publication that goes crazy posting zillions of hotel construction photos, we'll keep you in the loop on the progress. By the way, if enough people are interested in seeing more construction photos of Las Vegas, let us know. We just haven't heard the demand. Most people just want to know when it is over!
We're Not The Ones Using It! – Because of the drought here in the Southwest, many readers are asking about Las Vegas and water. Many visitors assume that because of our water features on The Strip, Las Vegas is a big user and waster of water. This leads people to further assume that the dropping levels in Lake Mead are our fault.
Unfortunately, nothing could be further from the truth. Although the Colorado River sits right outside our back door, more than 10 times the water we use is pumped up to 100 miles inland to the Imperial Valley of Southern California (Brawley, El Centro) to water crops. Because pretty much nobody lived in Las Vegas when they divided up rights to the river water, they didn't figure we needed any of it!
The reality: There are more swimming pools in Southern California filled with Colorado River water than there are in Las Vegas.
On a per person basis, the water used to keep the resorts looking lush and the water features running is well used. Yes, the lake at the Bellagio holds a fair amount of water (although not as much as you think as it isn't that deep), but tens of millions of people enjoy that same amount of water. Also, a little known fact: The lake is filled with water pumped from a well, not the river. When Steve Wynn bought The Dunes hotel (where Bellagio now sits), it came with a golf course which came with well water rights. Honestly, I'll bet the lake takes less water than the golf course did!
Having said that, if we don't start seeing some very snowy winters in Western Colorado over the next couple of years (feeding the river at its source), Southern California, Southern Nevada, Arizona and New Mexico could start to see water restrictions. Keep that in mind if you were planning to move here and you consider a big, green lawn a must. Me? I have desert landscaping. Saves a ton on my water bill and I don't have to mow it.
As a visitor? Don't worry about it. Water isn't going to be cut off to the hotels, and they are pretty water-efficient to begin with. (Saves them money). Also, shower as long as you'd like. Our wastewater is treated and then goes back into the river. (Probably just like where many of you live).
Hey Las Vegas, Can You Turn It Down? – We've been getting a more and more steady stream of complaints about how loud the music is all over Las Vegas. Attention Casinos, Pools, and Restaurants: These complaints are NOT coming from only retired people (whose gambling money you really need to do a better job of catering to). I'm talking about people in their 30's! I can absolutely understand the dayclubs and party spots blasting it out. However, it is getting to the point where you can't hold a conversation in some restaurants. Talking over a meal… what a concept!
Hope you are enjoying this issue!

Associate Editor / News Researcher: Rick Ziegler
Concerts, Headliners, Special Events: Puneet Adobe
---
What We're Watching!
Vegas Videos You'll Enjoy
MGM Resorts Presents The Park

– An artist video rendering of MGM Resorts International's project, The Park, which will connect New York-New York and Monte Carlo with an eight-acre outdoor entertainment experience. Get a peek at what is coming!
Exploring The Beauty Of Las Vegas, Nevada, USA

– The city has giant mega-casino hotels, decorated with lavish care and attention to detail to create a fantasy-like atmosphere. The casinos often have names and themes that evoke romance, mystery, and far-away and exotic destinations. If your friends think that Las Vegas is all slot machines, have them watch this!
---
Members Mania – We Love Our Readers!
Having enjoyed Las Vegas since the 50's and enjoying each and every visit since then (except for the last 4 years due to my health), I'm ready to go again—-but—–my lovely wife thinks otherwise.
She says Las Vegas is no longer for us. Las Vegas belongs now to the younger generation and my wife and I probably (skip that and insert) assuredly would no longer enjoy Las Vegas as much. She says "It's no longer the city it used to be, what with the constant changes with hotel themes, downtown is a madhouse and the young people are no longer polite,and rather push you aside than say 'excuse me'."
Judging from our last visit, I'm almost ready to agree. What say you???????
Al In Milwaukee
Ted Responds:
First of all, let me note that I'm envious that you got to enjoy Las Vegas in the days of the Rat Pack and through the era when Vegas was "Vegas" and a comp was a comp! And, I wish you returning to good health that allows you to travel regardless of your destination for many years to come.
I do think that we're going to look back on this era of Las Vegas as the "directionless" era. Steve Wynn once had grand plans to build a massive complex on all the property he owns behind Wynn and Encore (where the golf course is), but the recession scrapped that and he's busy with Macau. I bring him up because he has no equal when it comes to being a visionary about doing amazing things in Las Vegas.
This Asian-Themed Resort World (former Stardust) looks very cool, very themed, and very promising! (I hope they pin a better name on it when they are done). Perhaps it will be a wake-up call that people really, really like themed resorts. And yes, the boring names have to go. You are coming here to stay in a property that evokes some kind of emotion!
Unquestionably, the current dirty little secret is that we'll hit a new record in numbers of visitors this year, but it is because of the 20-somethings who often come just to get out of control. We continue to receive notes that the hotel hallways have gotten a bit louder the past few years.
The guys running the two main gaming companies are more bankers and statisticians then they are gambling and entertainment gurus. Having said that, the Linq project has been received better than I anticipated. (Plus, no costumed characters)
However, what is going to happen if we lose the group that has enjoyed Vegas for what Vegas has always been? These 20-somethings are not much in the way of gamblers. The clubs are sucking money out of many of them now, but when they hit 30, are they going to instantly turn into gamblers? Or are they going to go "Vegas is nice, but we have nice malls here and I don't club anymore, so no reason to return"?
That could be a huge wake-up call for a city built on gambling that needs to return to its roots. Sleeping in, brunch buffet, having some cocktails around the pool, a nice dinner, an amazing show, and then a good dance with lady luck will hopefully never go out of style.

We love to hear from you, and value your feedback! Here's how to participate:
Want to comment on a current reader post? Use the comment box on that particular web page. Many of the stories we post also have comment boxes at the end of the story. Make your voice heard!
Drop us an email at AccessVegas@AccessVegas.com – We read them all!
Call our recorded comment line at 702-507-0055. We listen to every call.
---
No related links found