Serving Las Vegas Visitors and Residents Since 1999
Welcome to the Insider Vibe! This is the official newsletter of AccessVegas.Com. We talk about the Las Vegas activities you really care about.
---
AccessVegas.com Quick Info Menu:
| | |
| --- | --- |
| Las Vegas Essentials | Featured Shows |
Coming Events Listings û WeÆve created a new site just for listing specific events at events.accessvegas.com. WeÆll always be adding to it and linking the events in each newsletter:
---
Newkirk's Notes – comments on Las Vegas from AccessVegas.Com publisher Ted Newkirk:
No rest for the wicked as I'm dealing with 2011 accounting, 2012 budgeting (it may surprise you that I actually do the boring "running the business" work) and we're also prepping to add video previews to every hotel and shows page of AccessVegas.Com (long overdue).
We're also prepping for a major site enhancements (new look and feel that is more usable) and some other very cool things we're keeping under our hat. So without further ado, we'll jump right in this week.
Legionnaires Death – You may have seen news that a Luxor guest recently died from Legionnaires Disease. Last year, an outbreak affected a number of guests at Aria as well. I don't want to play this down. I myself had a very serious respiratory illness just about a year ago that nearly killed me.
However, I want to put something in perspective: Nearly 40 million people visit Las Vegas per year. Your odds of contracting and being affected by Legionnaires Disease while on vacation here are right around 0.0000002%. Certainly not a number that should scare one from traveling.
Cab Drivers At It Again – Although isolated, recent reports note complaints against cab companies regarding drivers who are not only complaining when they don't feel they were tipped enough, but actually locking the cab doors and not allowing customers to leave the vehicle until they pony up the an amount that the driver feels he deserves.
I end up taking a cab a few times per year and while I haven't had this happen to me, I have gotten long-hauled. And, the sob stories about how slow the night is. O,r cab drivers telling me that I'm their last ride of the night and they were hoping to catch a fare to a strip club (where they get huge kickbacks for dropping off customers). But this is simply ridiculous. Here's what I'm doing about it:
Enter this phone number into your cell phone: 702-668-4000. This is the number for the Nevada Taxicab Authority here in Las Vegas. (On the very rare chance you are detained by actually being locked into a cab, call 911 first and and report that you've been kidnapped). Should you get long-hauled or have any other problem with a cabbie, call it the Taxicab Authority (TA) number.á You'll see the driver's demeanor change so fast, you won't believe it.
On the occasions I've been long-hauled and threated to call the TA, I've had drivers' faces turn white as a ghost. Even if you don't want to confront a cabbie, make a note of the taxi company name and cab number once you are out, and call them once he drives off. They take complaints very seriously.
Some other selected information about cabs in Las Vegas courtesy of the Taxicab Authority:
Passengers utilizing a credit card for payment will be charge a $3.00 fee over and above the meter charge. Not all cabs accept credit cards, so ask.
Las Vegas taxicab drivers cannot pick up passengers off of the street (flag or hailed ride). In the tourism areas, pickup is only at cab stands (every hotel has one).
Taxicab passengers can only be charged the amount shown on the taxi meter.
Taxicab fares must be paid in U.S. currency.
All passengers must wear a seat belt while in a taxicab.
The maximum number of passengers permitted in a Las Vegas taxicab (sedan style) is five.
Use of the I-215 tunnel from McCarran airport is NEVER the shortest route to ANY Las Vegas Strip hotel.
Taxicab drivers must obey the passengerÆs directions as it relates to route taken.
Taxicab passengers CANNOT be charged for the loading/unloading or transporting of their luggage.
Tips or gratuities to taxi drivers in Las Vegas are optional and NOT required.
ôLong Haulingö occurs when a taxi driver takes the least direct route without the passengerÆs permission.
Las Vegas taxicab drivers are not permitted to divert a passenger from their original destination.
Nevada Taxicab Authority enforcement personnel are on duty 24 hours-a-day, 365 days-a-year.
Airport To Strip/Downtown On The Cheap – A relatively new bus line designed to take people from Summerlin (Northwest Las Vegas) to the airport has spawned an opportunity for the budget traveler (especially if alone and no one to share a cab ride with). The Westcliff Express departs the airport and goes straight to The Strip at Tropicana (where if needed, you can catch the ever-present double-decker Deuce bus to any other Strip location). Stay on the express and the route jumps on the freeway for a very quick ride to downtown, cutting right through Fremont Street.
Fare is $2 if you don't need to use The Deuce, and $5 if you do need to make that transfer. IE, you can ride from the airport to MGM, NY NY, Trop, Hooters, Excalibur or all the way to Fremont Street for $2. (If changing to the Deuce, alert your driver so he can help you get the right ticket, and drop you off closest to The Strip). Route Map
Dream Team Divas – During March Madness of 2010, we shot some footage downtown of the various free entertainment which included the Dream Team Divas (seen in the second half of this YouTube video): Las Vegas Free Entertainment: Dancing Bartenders, Fan Halen, Dream Team Sexy Divas Shows
We we're just contacted by American's Got Talent who saw the video and are looking for the dance group. Unfortunately, we have no contact information on them. If you (or someone you know) is associated with the dance group, please contact us at AccessVegas@AccessVegas.com
P.S. Some moron actually voted the video a "dislike" (obviously someone who hates life, asámany of you find Fremont Street at nightálots of fun). If you have a minute, go check out the video, click the "Thumbs Up" to give it a like, and comment if you wish. If you enjoy that sort of thing, we'll do more videos on both The Strip and downtown as the weather gets nice!
Enjoy This Issue!

Associate Editor: Amy Rayner-Cooley
News Researcher/Editor: Rick Ziegler
---
---
Tacos and Tequila To Spice Up ValentineÆs Day With Special Prix Fixe Menu – To celebrate El Dia Del Amor, Chef Saul Ortiz has created a special ValentineÆs Day prix fixe menu for couples to share on Tuesday, Feb. 14, at Tacos & Tequila (T&T) inside Luxor Hotel and Casino. Priced at $29 per person, the menu features delicious appetizers, a choice between three entrÚes and a delectable dessert sampler.
Qua Baths and Spa At Caesars Palace To Revitalize Spa Experience With Innovative Aura-Soma Color Therapy Series – The award-winning Qua Baths & Spa at Caesars Palace will bring a new dimension of therapy to the spa industry with the launch of the AURA-SOMA« series. AURA-SOMA combines massage and aromatherapy with the natural healing powers of color and light, a trend that was predicted as one of the Top 10 2012 Global Spa Trends by SpaFinder.
Rediscover The RMS Titanic One Artifact at a Time – Artifact Feature: American Steamboat Playing Cards – As the centennial of the tragic sinking approaches, Titanic: The Artifact Exhibition invites guests to learn more about the recovered artifacts of the ôShip of Dreams.ö Soon to be sold at auction with almost 5,000 additional artifacts valued at $189 million, these American steamboat playing cards are from a pack of 52 found among the personal property of passenger Howard A. Irwin and can be found inside Luxor Hotel and Casino.
Angel Management Group And Hakkasan Ltd. Partner To Launch Fine-Dining And Nightlife Concept At MGM – Las Vegas Entertainment and Nightlife Group Joins Michelin-Starred Luxury Dining Brand to Debut Highly Anticipated Restaurant and Nightclub in December 2012. Leading entertainment and nightlife company Angel Management Group (AMG) and Hakkasan Ltd., a prestigious global restaurant brand, announced today a partnership to launch a Michelin-starred luxury-dining brand combined with a lavish new nightclub at MGM Grand Hotel & Casino.
Miracle Mile Shops Turns its fountain red for American Heart month – This February, Miracle Mile Shops at Planet Hollywood Resort & Casino turns its fountain red in honor of American Heart Month. All change collected from the fountain will be donated to the American Heart Association, as part of the centerÆs Caring, Giving, Changing community campaign.
Score A Win During March Madness At LBS Burger – Basketball Fans with æDeadÆ Sports Book Ticket will Receive Free Beer – LBS Burger Joint at Red Rock Casino Resort will feature a slam dunk special for basketball fans sulking in the sorrows of a losing team, offering one free draft beer to patrons who present a ædeadÆ sports book ticket during March Madness, from Tuesday, March 13, until Monday, April 2.
Catch 'The Big Game' and eat like a king at InsertCoin(s) Videolounge Gamebar – Watch ôThe Big Gameö at InsertCoin(s) Videolounge Gamebar and take advantage of amazing drink specials and food from Slidin' Thru. Beer buckets, gourmet sliders from SlidinÆ Thru and Stoli Vodka drink specials make for the perfect Sunday afternoon viewing.
---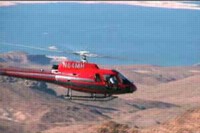 Skywalk Odyssey Grand Canyon Tour û Your direct helicopter flight to the Grand Canyon Skywalk departs from the Las Vegas Strip. Experience a bird's eye view of the Grand Canyon, Lake Las Vegas, Lake Mead, Hoover Dam and the Las Vegas Strip on your flight. Upon landing at the Grand Canyon, get ready to witness a true engineering marvel.
---
Members Mania – We Love Our Readers!
Just got back from your wonderful city, we were there right before Christmas. (Ed. note: We're a bit backlogged on email here). Here are some notes from our vacation:
Bellagio and Venetian were decorated beautifully for the holidays, didn't see much in the way of decorations at other casinos/hotels.
Two excellent restaurants that I tried for the first time were Hash House A Go Go and Border Grill. They were both great!! The Hash House that we ate at was in the Imperial Palace, and Border Grill is in Mandalay Bay.
We stayed at the Flamingo, in an old room. It was clean but in need of some repair. Loved the location and the price we paid. Used Southwest airlines, no problems, but pay the extra $10 to get an early boarding!
Saw Marc Savard's Comedy Hypnosis show for the second time, it is hilarious. A little crazy at the end, but funny.
Rented a car from Dollar with pick up and drop off at the airport, everything was fast and without problems. They seem to have it down to a science.
Friends were married at La Bella chapel in the Hilton. Very nice, great people! The minister was excellent, and so was the photographer.
A couple of honorable mentions. La Salsa Cantina still very good food. In and out Burger good fast food. Bellagio fountains magnificent as always. Love the Fremont Experience, but they have to change it, it has been the same for a while now. The new and improved Plaza was very nicely redone!!
Thanks for letting me share,
Gary from Ingleside, Illinois
---
I really enjoy your newsletter and read it when it comes out. My questions concerns the road closures behind the Flamingo, Imperial Palace and Harrah's, I typically stay at either the Flamingo or Harrah's as the access to and from the hotels in the back of the property makes things quite convenient. Do you have any idea if the closures are permanent? I can't seem to find any info other than that they are closed.
Thanks again,
Stephen Chiyka
Ted Responds:
Fortunately, we had to go over and check out the Tuscany the next evening (probably still a best kept secret). Audrie is still open behind Flamingo, Harrah's and IP from Flamingo Rd. on back. But the connector roads to Koval are closed. Long term, Harrah's wants to build their arena back there and they are already planing the Ferris wheel in that area as well. Plus, the alley between O'Sheas and Flamingo is being permanently closed for project Linq. So unquestionably we're eventually losing some of the great "behind The Strip" access.
While I'm at it, we continued to be very impressed with The Tuscany. True suites, live music in their lobby lounge every night but Monday, free wi-fi in their lobby, lobby lounge, and patio by the pool, well appointed casino, decent restaurants (plus just across the street from Restaurant Row) and some amazingly low weekday rates. Only 1/2 mile from The Strip (which is the distance from Venetian to Bellagio).
On a side note, one of the things I'm looking forward to once we get into our paid subscriber program is to be able to answer more questions like this. We were lucky to be in the area this time, but I'd like to be staffed so that we can do continual reports and updates regarding any construction affecting visitors, special short-cuts (whether you are in a car or on foot), parking garage and valet secrets, and much more. Speaking of…

---
Angry Caller – Below in our contact section, we note that we actually do read each email and listen to each call comment. Most of you have been very understanding and supportive of our pending move to a paid subscribership model, and we thank you for that. This is not directed at you. (Feel free to skip right on down the the More section if that is you).
However, a recent caller left a message noting their displeasure on the proposed membership fee and predicted that what happened to Netflix will happen to us. Since others may feel that way (and since we often have people who tune out, then start reading the couple of months before their next trip who need to get in the loop), here is my response:
Obviously, this person is a reader who enjoys all of the information. Otherwise, why would they care? I don't happen to watch the Lifetime cable network. If they went to an HBO format (paid subscription base), I wouldn't subscribe nor would care. So the reality is that this gentleman wants me and my small staff to continue work like crazy on the newsletter and ignore the major upgrades needed at our flagship AccessVegas.comájust so he can keep getting all the info.

Guess what: I'd like to walk into my favorite restaurant and eat the food free all the time. But just as the restaurant has staffing and budget constraints, so do we. And with the growth of both the site and newsletter, we simply can't maintain both at present staffing levels.

We WILL be maintaining a free version of the newsletter. Absolutely. But, it will be a bit more stripped down (no insider info from my nearly 20 years of covering this market, and we'll only guarantee to answer questions from paid subscribers as it does take time and research in many cases) and it will have more advertising. The paid edition will have all the content, very little advertising, and (over time) helpful bonus features available to paid members only.

This is really no different than your choices to watch a movie on TV. For a small fee, you can pay to subscribe to HBO and/or buy a movie pay-per-view and see the entire film relatively shortly after release, uncut and unedited.á Or, you can wait until the film comes out on network television and watch it absolutely free, but with some of the key parts edited/censored, cuts for time, and constantly interrupted by commercials.

Netflix abruptly raised subscriber prices by a pretty noticeable chunk of change. Yes, it cost them subscribers. We're in a totally different boat. Right now, we make exactly $0.00 off of subscribers. If we (for some reason) lost 20% of our subscribers, we'd still be making exactly (um, let me do the math here…) $0.00 from our subscribers.

On the flip side: If only 1875 subscribers come over to the paid subscription model, I can hire another full-time employee. If we get 3000 subscribers, I an additionally hire a couple of part-timers to help the new full-time person. Which will allow us to bring members so much more of the information that they ask for.

Let me give you an example: We frequently get emails that say I'll be in town such and such week, I like XYZ kind of music, is anything like that playing in any of the casino lounges or party bars (Margaritaville, Carnival Court, etc.). Wouldn't it be great if we had a way for paid members to search by type of music, location, or time of day and even had links to YouTube clips of the bands or acts in your category so you could tell whether it is worth going over to see them?

If you aren't into live music, simply extrapolate this concept over to what you are into. I'd love to do stuff like that. Kill to do it. We just need the staffing. And frankly, I'd rather do some amazing things for a few thousand people who are willing to help us out by subscribing then do it for 50,000 people that don't think we're worth $2 a month.
Thanks For Your Support!

We love to hear from you, and value your feedback! Here's how to participate:
Want to comment on a current reader post? Use the comment box on that particular web page. Many of the stories we post also have comment boxes at the end of the story. Make your voice heard!
Drop us an email at AccessVegas@AccessVegas.com – We read them all!
Call our recorded comment line at 702-507-0055. We listen to every call.
---
More Las Vegas News – Shows – Events
No related links found