Our Readership
Proudly Serving:
60,000 +
Vegas-Loving Subscribers!
Attention Las Vegas Tourism Marketing and PR Professionals:
Please contact us at AccessVegas@AccessVegas.com regarding guaranteed inclusion of your releases in future issues.
This Week's Top Tours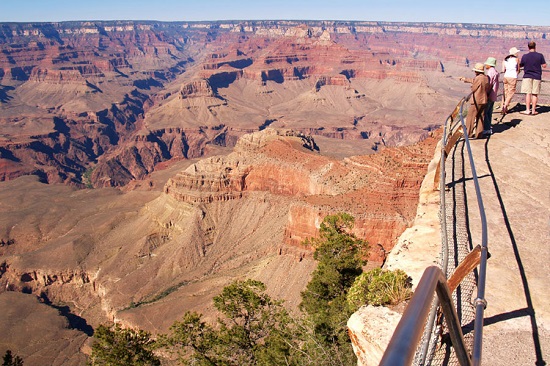 Absinthe Tickets – Click Now!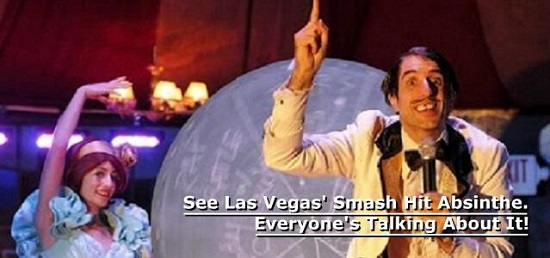 Newkirk's Notes And Members Mania
Hello From Las Vegas! – Newkirk's Notes and Members Mania is now part of our AccessVegas.com Premium Insiders Advantage, where we guarantee to answer premium subscribers questions professionally and share the help with fellow premium subscribers.
This and many other benefits are available to our Insiders Advantage subscribers. Please click here to view all benefits, including access to our exclusive "no coupon needed" Vegas Super Secret Specials Spreadsheet, which we guarantee will save you the cost of the membership.
(These are simply the latest which have been added to our list of hundreds of specials)!
Why don't you come on over and join us!

Ted Newkirk, Publisher
Editor: Rick Ziegler
Associate Editor, News Researcher, Concerts and Headliners: Amy Rayner-Cooley
Associate Editor: Rubi Monga
Las Vegas Attractions
Jersey Boys Tickets – Click Here!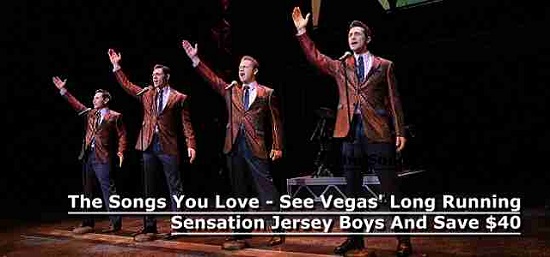 SHOWS – CONCERTS – HEADLINERS
Comedian Jerry Lewis Spotted At ABSINTHE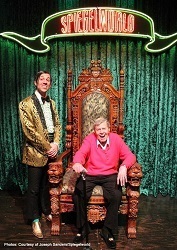 Comedian, actor, singer and recording artist Jerry Lewis was spotted attending the hit show ABSINTHE at Caesars Palace on Friday, November 27. Lewis took in the outlandish acts and hilarious antics featured in ABSINTHE during the nightÆs 8 p.m. performance. Following the show, Lewis met with The Gazillionaire and ABSINTHEÆs ôGreen Fairyö Melody Sweets for photos and to express his enjoyment of the show.
Million Dollar Quartet Celebrates Anniversary Of Historic Meeting
Garth Brooks Announces Exclusive Las Vegas Shows (with video)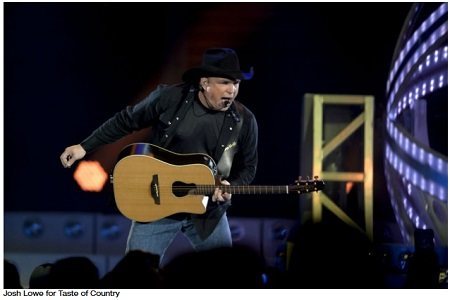 Learn All About Jennifer Lopez's Residency, Wardrobe, Dancers And More!
Don't Miss These Additional Stories:
December In Las Vegas
Britney Spears Lights The Holiday Tree At The LINQ Promenade To Start The Holiday Season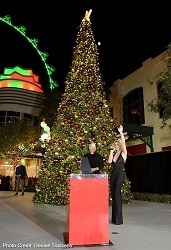 The LINQ is starting to look a lot like Christmas! Fans from around the globe collected in the LINQ Promenade on Saturday, November 21 to welcome worldwide celebrity Britney Spears as she formally began the holidays with a special tree lighting ceremony.
Don't Miss These Additional Stories:
Dining And Drinking In Las Vegas
Three New Cocktails Join The Menu At Rhumbar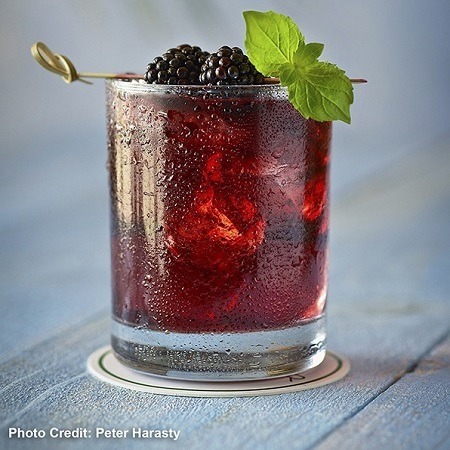 RHUMBAR inside the Mirage Hotel & Casino is stirring up its cocktail menu with the debut of three new additions, which reflect its relaxed Caribbean atmosphere.
Reservations Now Being Accepted For Mr Chow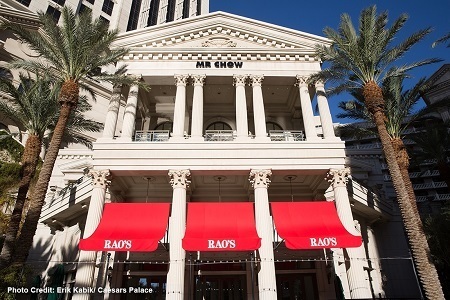 Probably the most anticipated restaurant opening of 2015, MR CHOW at Caesars Palace is accepting bookings, the very first being Saturday, December 19 at 5 p.m. The world famous restaurant will open its doorways to visitors on Tuesday, December 15, accepting only walk-ins.
Don't Miss These Additional Stories:
Las Vegas Hotels And Casinos
A Rendering Of The $4 Billion Resorts World Las Vegas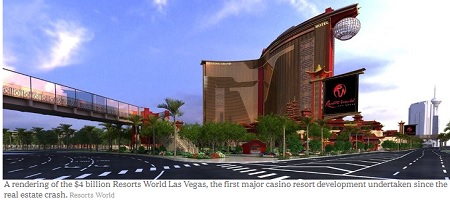 Don't Miss These Additional Stories:
More Las Vegas News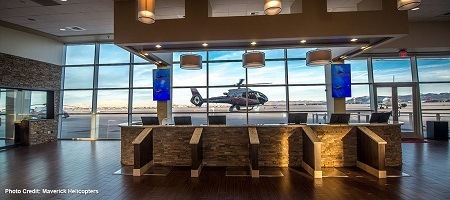 Maverick Helicopters, an award-winning division of Maverick Aviation Group, revealed its new $5 million Vegas terminal with a grand opening celebration on Thursday, November 19. The state-of-the-art facility will formally open its doorways towards the public on Monday, November 30.
Don't Miss These Additional Stories:
Uber, Lyft, And Taxi Cabs
Hi friends! Rick "Ziggy" Ziegler here with some more ride-sharing news
I've got some exciting Uber news for you all this week.
First! Uber can now pick up and drop off at the Las Vegas (McCarran) Airport. You probably all got the email with instructions, but just to re-iterate..
GETTING AN UBER FROM THE AIRPORT
Once you have collected your bags, open the Uber app and select your terminal.
Terminal 1: Head to Level 2M of the public parking garage.
Terminal 3: Head to the Valet Level of the public parking garage.
The two locations listed above are the only places you'll be able to get picked up by your driver. Your driver will be waiting in the designated Uber pick-up zone.
PRO TIP: Confirm your driver's name and license plate number match the info in the app.
Second piece of big news…
Uber is dropping its prices by 30%! That's huge! We've been told that this is a temporary reduction for the holidays, but sources say it will be permanent.
Uber questions? Email me at r.ziegler@AccessVegas.com
Latest Concerts Added This Week!
There is no better place to see your favorite acts then in Las Vegas! You're relaxed, can enjoy a fine meal, have some cocktails without the worry of driving, and no alarm is going to jar you awake all too early the next morning.
Top Tickets For United States Events
Did you know that we not only sell premium concert and event tickets for Las Vegas, but also for the entire United States as well? If you can't make it to Vegas, treat yourself to some great seats for something near you:
What We're Watching!
Vegas Videos You'll Enjoy
Downtown Grand Casino Hotel Las Vegas

– In the heart of Las Vegas Downtown and out of the ashes of the former Lady Luck casino, raises the new Grand Dame of Downtown. Totally remodeled in and out and featuring an industrial theme, it glows with luxury, comfort and good taste transforming downtown and its surrounding areas completely. The Mob museum and Fremont Street Experience are within walking of 1/2 city block.

Philip Wm. McKinley: Director Of Steve Wynn's ShowStoppers

– Phil McKinley, Director of Steve Wynn's ShowStoppers, discusses the production process, putting a musical spectacular together, and what he likes best about Wynn Las Vegas.
Featured Tour Video From Las Vegas
You can book this amazing flight now and save $21! Neon Nights Air Tour
ALL tours listed on our AccessVegas.com tour page (link above) have been hand-selected. We only work with the top, most professional companies and operators who vow to give our readers a great experience! We can not recommend nor vouch for tours not listed on here in the newsletter or on our tour page. Questions? Our tour page lists phone contacts where tour experts are available for live help!
Save Big As A Premium AccessVegas.com Insider!
You're enjoying our complimentary Insider Vibe Newsletter. Did you know we offer more? More Vegas Savings? More Vegas Help? More Vegas Advantage?
For about the price of a cup of coffee each month, you have full access to:
Vegas Super Secret Specials Spreadsheet

(list) of hundreds of "No Coupon Needed" Vegas casino food and drink specials. Want a sample? See just a few of the deals we've added in the past week: Hot New Vegas Food/Drink Specials Just Added

Our "Your Guy In Vegas" Feature

– Got a Vegas question? Instead of spending too much time looking up information you might not be certain about, fire it to us! We live here, we know Las Vegas, and we'll give you a professional answer. (Some restrictions apply).

Members Mania!

– We share the answers to great Vegas questions with all of our Premium Members, helping everyone who pitches in with a premium membership. Plus great visitor feedback that you can learn from.

The True Inside Scoop

– AccessVegas.com CEO Ted Newkirk has been writing "Newkirk's Notes" for upwards of two decades, giving members the true inside guide to everything that is going on in Las Vegas. Valuable information from someone in the know to save you time and money!
Great Casino Slots – Volume 2
"Vegas Vic" – Victor H. Royer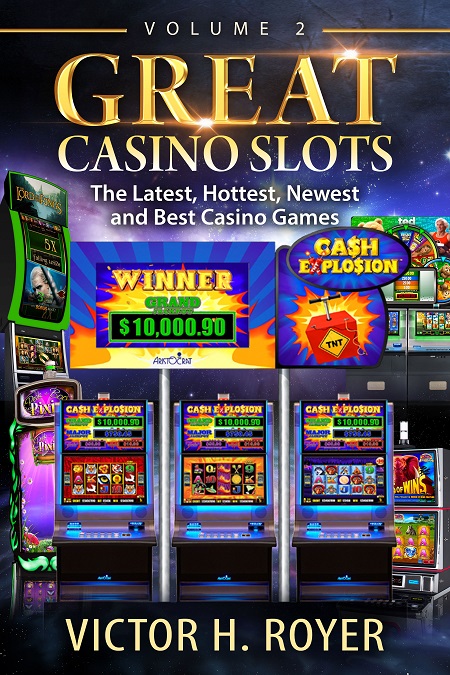 Click NOW to get Victor's new book for only $2.99! (Kindle Edition)
Great Casino Slots – Volume 2:
The Latest, Hottest, Newest and Best Casino Games!
We love to hear from you, and value your feedback!
Here's how to participate:
Want to comment on a current reader post? Use the comment box on that particular web page. Many of the stories we post also have comment boxes at the end of the story. Make your voice heard!
Drop us an email at AccessVegas@AccessVegas.com – We read them all!
Call our recorded comment line at 702-507-0055. We listen to every call.
Link To Us! – Have a home page, web page, or blog? Link to us, and give yourself and your friends a quick link to find us from your site. Simply link to http://www.accessvegas.com and name the link Access Vegas!
RSS Feed – We now have an RSS/XML feed! Most RSS programs let you visit AccessVegas.com and automatically pull the feed. For those who want to enter it manually, the feed is:
http://www.accessvegas.com/xml/whats-hot.xml
Share the info: Click to Email this newsletter to a friend!
For comments or questions regarding our content or this newsletter write us at AccessVegas@AccessVegas.com.
New to the list? See our Newsletter Archives for back issues and subscription info. Don't hesitate to forward this newsletter to friends and associates.
All contents copyright 2014 Ted Newkirk. All Rights Reserved.
Hotel Rates Published Accurate At Time Of Publication
December 9, 2015 ISSN: 1529-2770 About Us Privacy Policy
Physical Address: 3565 Las Vegas Blvd. South #411, Las Vegas, NV 89109
No related links found