Hello Access Vegas Free Subscribers!
During this crazy year and trying (for many) holiday season, we want Las Vegas New Years Eve to help take your mind off everything. How? Glad you asked. Whether you are thinking about how amazing a Last Minute visit would be, or simply would love to ring in the New Year "Vegas Style" virtually, we have you covered. Read on!
If you are even thinking about making that last-minute trip — Las Vegas is going to be a whole lot more fun that whatever you have planned — we have an inclusive deal (covers much/most, not all) that absolutely blows the doors off.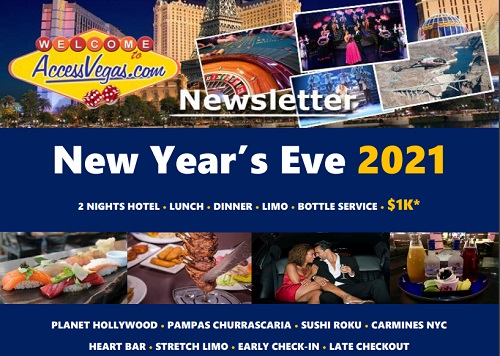 If you don't check airfare and get this booked ASAP, at this price, you'll be regretting it in future years. This is your change to live the VIP lifestyle without spending the VIP money.
2 Nights Hotel Center Strip at Planet Hollywood INCLUDING Early Check-In and Late Check-Out

Meals at:

Pampas Churrascaria Brazilian Steakhouse in Planet Hollywood

Sushi Roku in the amazing Forum Shops at Caesars

Carmines NYC Italian, also in the beautiful Caesars Forum Shops

Bottle Service (be a VIP, not one of the crowd) at Heart Bar in Planet Hollywood

Stretch Limo
It's not hard to do the math on this one! And, you try to set this up yourself on short notice. (If you do, good luck with that).
You can Book Online Now or book 24/7 with any questions by calling 855.787.4758, ext. 3 for AccessVegas Promo Deal Price!
Note: This package is brought to you by Vegas Luxury VIP.
But, I Can't Make It To Vegas Period – You are still in luck. Everybody is doing this and that virtually these days, and we have your guide to experiencing our New Years Eve at home. On your TV, computer, tablet, and more;
Remember, all times Pacific!
KNTV (ABC) Channel 13 Las Vegas:
Special coverage at starting at 11 p.m. with crews live on the Strip and at The Plaza downtown Fremont Street.
At 11:35 p.m. they will play their "Betting on '21" special looking back at past New Year's Eve celebrations in Las Vegas. They will also be taking a quick look back at 2020 and counting down to the 2021 fireworks live at the Plaza in downtown Las Vegas.
Their countdown is extra special this year. Featuring the heroes of 2020 including frontline medical workers, military, first responders, teachers, etc.
Viewers can watch live on KTNV.com and our 13 Action News Streaming App, available on Roku, Apple TV, Fire TV or your favorite streaming device.
KLAS (CBS) Channel 8:
Nexstar Television, owners of major TV stations in a zillion U.S. cities, are still doing their New Years Eve special live from Las Vegas.
Shown here locally on KLAS (our CBS affiliate), you can also turn on your very own TV and enjoy it if you live in Los Angeles, San Francisco, Denver, Sacramento, Portland, San Diego, Salt Lake City, Albuquerque, Fresno, Honolulu, Colorado Springs, Bakersfield, and Grand Junction.
You can find the channel number in your city here, and keep in mind that the show starts at 9 PM.
Not in those cities? Visit https://www.8newsnow.com just a little bit (or a lot bit) after show starting time, and you should find a very prominent link or graphic to click/tap on to start viewing.
Total Last Chance To Save – The CYBER2021 Coupon Code for our Super-Popular Membership Program is DONE at the stroke of midnight on Dec. 31, 2020.
Super-popular? Actually, yet. Despite COVID and everything else, our subscriber retention rate is over 94%. We regularly have members actually email and say "I don't know when my subscription runs out, but I don't want to miss a single issue. Please let me know!" And, despite our 60-Day, Money-Back Guarantee, less than 10 people asked for their money-back. Nearly all related to COVID restrictions canceling their plans, health issues, and similar.
Please don't delay. This is our lowest price in a long time, and it ends in a few days.
Like all of this in-depth info on how to enjoy Las Vegas New Years from where you are at?
All year long, we do this detailed research and exclusive information. Given the time, effort, and hard work, we usually only allow our Supporting (Paid) Members access. You NEED to be one of them.
As a reminder, here's our current offer:
One full year of access to everything we have to offer, including the

"nothing left out" Members Issues, for only $23.95.

Chump change per month!

Our long-standing

60-Day Money-Back

Guarantee. You'll have plenty of time to read and explore everything in the Members area.

Our "Don't Visit, Next Year Is Free" offer. If you don't visit Las Vegas during 2021, for any reason at all (COVID, you decided to go to Hawaii, you got a hangnail), we'll

comp

you 2022.
Sign up right now, right here:
Make sure to use the Coupon Code CYBER2021 to get over $10 off the next full year!
If you are new to the class, or not aware of the amazing and valuable (not to mention long) list of member help, resources, and savings, please check everything out at:
Any questions whatsoever? Reply to this email, and we're right here to help.
Wishing you an Amazing 2021! I think we all deserve it.
Best From Las Vegas,

Ted Newkirk
Founder/Managing Editor
www.AccessVegas.com
No related links found