Serving Las Vegas Visitors and Residents Since 1999
Welcome to the Insider Vibe! This is the official newsletter of AccessVegas.Com. We talk about the Las Vegas activities you really care about.
Need to contact us? Send feedback to
AccessVegas@AccessVegas.com
Missed an issue? Click to Read Back Issues Online.
---
AccessVegas.com Quick Info Menu:
| | |
| --- | --- |
| Las Vegas Essentials | Featured Shows |
---
Celebrating Christmas And The Winter Season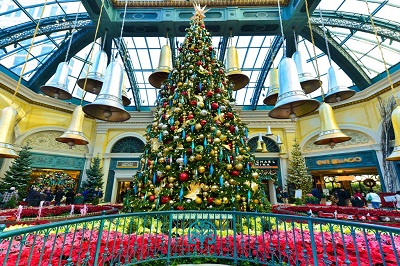 Bellagio's Conservatory And Botanical Gardens Presents A Merry Winter Wonderland – Las Vegas' Largest Indoor Tree, Topiary Polar Bears and Life-Size Chocolate House Add a Dash of Holiday Spirit This Season.
The magic of the holiday season has taken over Bellagio as the Las Vegas resort's Conservatory & Botanical Gardens unveils a glistening winter wonderland. Featuring The Strip's largest indoor holiday tree, moss-embellished reindeers, a life-size chocolate house, live seasonal music and a family of topiary polar bears, the dazzling display transports guests through a holiday dream through January 5.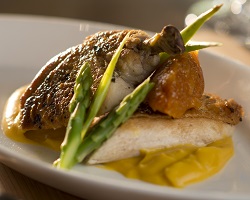 La Cave Wine And Food Hideaway Inside Wynn Las Vegas Introduces Winter Selections – La Cave Wine and Food Hideaway at Wynn Las Vegas has welcomed the cooler weather with new seasonal menu items for fall and winter created by Executive Chef William "Billy" DeMarco, as well as holiday infused cocktails.
Along with the cooler weather comes a new crop of fresh ingredients, which DeMarco has integrated into hearty winter selections such as the airline chicken breast covered with squash puree and tomato apricot chutney.
---
New Year's Eve And New Year's Day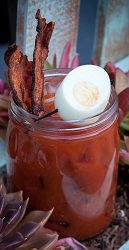 Park On Fremont Starts The New Year Right With Hangover Brunch – Whether hungover partygoers are sporting last night's outfit or pajamas, Park on Fremont's New Year's Day brunch will cure whatever ails them on Wednesday, January 1, 2014.
The Downtown eatery will serve delicious options including the Ranch Skillet, served with a bed of red potatoes, sausage, onions, peppers and cheese, topped with eggs over-easy and salsa; the French Toast, vanilla bean soaked brioche topped with drunk mixed berries, syrup and powdered sugar; and the Breakfast Waffle, homemade waffles covered with yogurt, bananas, strawberries, caramel sauce and powdered sugar.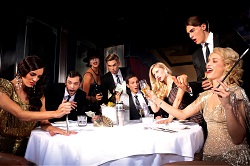 SHe By Morton's Rings In 2014 With Festive Las Vegas New Year's Eve Feasts – SHe by Morton's, located at The Shops at Crystals, just steps away from the main entrance of Aria, will offer two separate prix-fixe menus Tuesday, Dec. 31. Celebratory menus will be offered at 7pm and 9:30pm seatings.
---
Las Vegas Shows, Headliners, And Concerts
---
Las Vegas Shopping And Attractions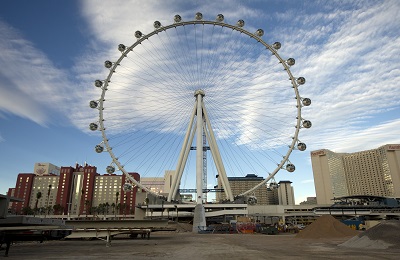 Final Cabin Attached To The Las Vegas High Roller – The Las Vegas High Roller hit another construction milestone December 3, 2013 as the observation wheel's final passenger cabin was attached to the wheel's rim. The addition of the 28th cabin is another major accomplishment in the construction and engineering of the world's tallest observation wheel which is a now a distinct feature in the Las Vegas skyline. The 550-foot tall wheel will be the focal point of The LINQ, Caesars Entertainment's $550 million outdoor retail, dining and entertainment district. Photo Credit: Denise Truscello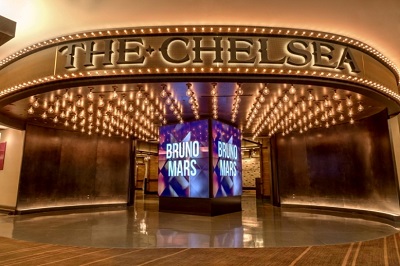 The Cosmopolitan Opens The Chelsea – A Sophisticated And Intimate Venue – The Chelsea, The Cosmopolitan of Las Vegas' new 40,000-square foot performance and event space, will debut over New Year's Eve with a performance by Grammy Award-winning recording artist Bruno Mars, bringing a more intimate and memorable guest experience to entertainment and meetings in Las Vegas.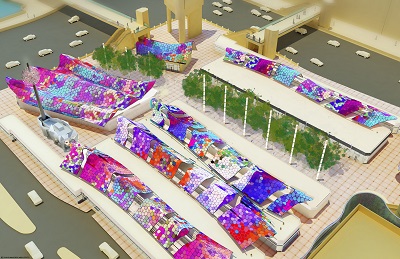 Grand Bazaar Shops Transforms Busiest Corner Of The Las Vegas Strip Into An Outdoor Retail Experience – Las Vegas is all about experiences. And what the Vegas Strip has long needed is a major retail destination which truly redefines the shopping experience. Grand Bazaar Shops™ is an innovative, uniquely merchandised venue that will give Las Vegas its first truly urban shopping scene.
---
More Las Vegas News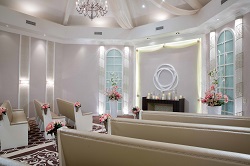 Fabulous Meets Sophistication With The New Flamingo Las Vegas Garden Chapel – Flamingo Las Vegas now offers guests a fresh new wedding experience with its beautifully redesigned Garden Chapel and all-new wedding packages.
The renovation was completed in September by Westar Architects and encompasses the chapel, lobby, reception, hallways, bridal room and restroom.
---

Navagator Plus Helicopter Combo Tour – Get an authentic taste of the Southwest during scenic Grand Canyon air tours with VegasDaze. Learn about the Hualapai Native Americans – a historic tribe dating back to as early as 600 A.D. During your Grand Canyon aerial experience you'll understand why the name "Hualapai" means, "people of the tall pine." This special Grand Canyon West Rim tour is experienced by both plane and helicopter.
---
Upcoming Las Vegas Events And Holidays
---
Latest Las Vegas Concerts Added This Week!
There is no better place to see your favorite acts then in Las Vegas! You're relaxed, can enjoy a fine meal, have some cocktails without the worry of driving, and no alarm is going to jar you awake all too early the next morning.
Top Tickets For All United States Events
Did you know that we not only sell premium concert and event tickets for Las Vegas, but also for the entire United States as well? If you can't make it to Vegas, treat yourself to some great seats for something near you:
---
Newkirk's Notes: The Boss Speaks…
Newkirk's Notes are comments and insight from AccessVegas.Com publisher and 20+ year Las Vegas resident Ted Newkirk:
Hello From Las Vegas! – No white Christmas for us (although just outside of town, Mt. Charleston had plenty of snow a couple weeks ago). We're coming in a very seasonal 60 F (give or take a couple) everyday now through Christmas, with plenty of sunshine in the forecast.
Not A Creature Was Stirring, Not Even A Mouse – This is generally a quiet time of year for news and the newsletter before Christmas has usually consisted essentially of an online Christmas card. Not so much this year, as you've seen from what you've already read. Just a few quick news bits that we may go into more detail in the future:
* Barbary Coast (Bill's Gamblin' Hall) project finally appears to have a new name: The Cromwell. Caesars Entertainment has yet to confirm it, but local news sources seem pretty confident about it. No, we're not fond of the name either. And yes… it sounds like the name of some preppy character from one of those 80's movies.
* Harmon's Slow Demise – The ill-fated Harmon Hotel (just to the south of Cosmopolitan) looks like it is coming down piece-by-piece. It simply sits too close to surrounding properties to make for a safe implosion. Many of our readers were not only hoping for an implosion, but that some extra dynamite would take out CityCenter while they were at it!
* No More NFR – Just a week or two ago, we told you all about the National Final's Rodeo and how being in town for it — even if you don't have tickets — is a must for any country fan. Ooops. The NFR is packing up and leaving after next year, after a 29 year run in Las Vegas. Orlando (Actually Kissimmee) tossed a few million more dollars at them to cover increased prize money and promised a new 24,000 seat arena.
Las Vegas still may counter with moving the event to the (soon to be constructed) 20,000 seat MGM arena behind New York, New York. But… the money is still an issue.
If we lose it, we're simply going to start a competing event. People have been coming to enjoy top rodeo in Las Vegas for nearly three decades and local organizers are counting on the fact that it is the Vegas experience and tradition that will draw visitors to the new event.
Hope you are enjoying this issue and we want to wish you a very Merry Christmas and Happy Holidays!

Associate Editor / News Researcher: Rick Ziegler
Concerts and Headliners: Amy Rayner-Cooley
---
What We're Watching – Vegas Videos You'll Enjoy
Caesars Christmas Greetings

– Enjoy a fun (and funny) greeting from cast members of various Caesars Entertainment Las Vegas shows including Donny and Marie, Chippendales, Tony 'N Tina's Wedding, Jubilee!, Legends In Concert, Jeff Civillico, Mac King, Frank Marino's Diva's, George Wallace, X Burlesque, Anthony Cools, Absinthe, Recycled Percussion, Taylor Hicks, Matt Goss, Big Elvis, Vinnie Favorito, Million Dollar Quartet, Jersey Boys, and Veronic.

Bellagio Conservatory And Botanical Gardens Holiday Tree Arrival and Time Lapse

– Follow the Bellagio Christmas Tree from its origins in the forest to the installation at the resort.

Glenn Diamond: The Cowboy's Christmas

– Our gaming writer Vegas Vic wants to wish you a Merry Christmas by sharing his alter-ego's song about the story of a lonely cowboy from long ago, who one night on the prairie saw the star of Bethlehem shining in the sky, on a bright moonlit night. It filled his soul, and that's why from then on, those of us in the American West, call this day the Cowboy's Christmas.
---
Members Mania – We Love Our Readers!
I'll be spending the weekend with a buddy at a non-gaming facility on the north end of The Strip, and I'm looking for ideas of where to go to watch the game (and possibly bet on the game, too, though I can get my bets down anyplace before the game). Are you planning to write up something about where to go, what it takes to gain admission (some are invitation only, I gather), that sort of thing?
Thanks!
Scott Pohl
Ted Responds:
Ever since the NFL cracked down on charging admission for an event you show their games at, the landscape has really changed. There are still some watching parties and events, but not like it used to be where you paid $100 to watch it on a zillion big screens set up in a ballroom with a betting station and unlimited food and drink included.
We start to get Super Bowl event listings right after the new year, and will post them without delay when we do. These days, some special venues are still set up with free admission and food and drink specials, just about bar (or bar and grill) is doing something, and the game is shown on every TV in every property.
But, we suggest getting where you are going to go well before kick-off (like 2-3 hours before) and parking yourself there so you have your seats and making a day of it. Oh… and don't even try to get a seat in any of the sports books. People set their alarms for dawn to stake those out.
Per betting in general, the #1 rule is "don't wait". You don't want to be in the long lines on Saturday and ESPECIALLY Sunday morning. All the bets will be available all week long. Make getting your bets down the first thing you do when you hit town.
For those driving in or renting a car and staying at a non-gaming property (or renting out a house), hit a locals casino (Palace Station, which is 4 minutes from The Sahara and Rivera comes to mind, Gold Coast if you are center Strip, Orleans if you are South Strip) where you'll find lots more parking and not have to navigate a mammoth Strip casino. Just remember that you have to return to cash your tickets OR mail your tickets in for redemption (info is often on the back of the ticket on how to do so).
Near downtown? Pull up to the valet at Plaza, tell the guy you are running in to make a sports bet, and hand him $5 to keep the car close. Or use their free parking garage and when the attendant asks if you are a guest of the hotel, simply state that you are there to make sports bets at their sports book. Their sports book is pretty much next to both the valet entrance and the parking garage elevators.
Obviously for those of you staying at a casino, they all have sports books on-site. But still… bet early! You really don't want to be in that weekend line.

We love to hear from you, and value your feedback! Here's how to participate:
Want to comment on a current reader post? Use the comment box on that particular web page. Many of the stories we post also have comment boxes at the end of the story. Make your voice heard!
Drop us an email at AccessVegas@AccessVegas.com – We read them all!
Call our recorded comment line at 702-507-0055. We listen to every call.
---
No related links found