Serving Las Vegas Visitors and Residents Since 1999
Welcome to the Insider Vibe! This is the official newsletter of AccessVegas.Com. We talk about the Las Vegas activities you really care about.
---
AccessVegas.com Quick Info Menu:
Las Vegas Essentials

Seasonal Vegas Information

Featured Shows

Photos and Wallpaper
Newkirk's Notes – comments on Las Vegas from AccessVegas.Com publisher Ted Newkirk:
Hello From Las Vegas! Winter fiercely rolled in during Thanksgiving weekend. Highs were in the 40's (F) and lows at freezing or below. NOT funny. Give me 100 degrees and I'm great. Freezing? You can have it. Fortunately, temps are back in the low 60's with plenty of sunshine. For the record, the average high in both Dec. and Jan. is 57. Dress appropriately.
Appreciate All The Input – Last issue, I asked for input on what you'd like to see from us in 2011. I replied to all who wrote! I'm happy to report that many of the suggestions are already on the drawing board. In addition, some great ideas we really hadn't considered were floated by various readers and we're giving them strong consideration.
We had some constructive criticism, which was also valued. In some cases, I simply had to write back and note that we are a very small outfit. We are not owned by a newspaper company (as is the largest Las Vegas website). We get exactly $0.00 per year from the Convention and Visitors Authority. We are 100% independent. Which is how I like it, but doesn't leave us with ultra-deep pockets to do everything we'd like.
A number of people noted/complained that we sometimes send a reduced issue when I'm 1. Training someone 2. Under the weather or 3. Taking a scheduled vacation. There is only so much of me to go around. I'll tell you what: I'll gladly refund your subscription price if you are one of the concerned.
The Biggest News That No One Is Talking About – Happens to be the Zappos.com takeover of Las Vegas City Hall for their corporate headquarters. Why have I yet to see even one major Las Vegas blog talk about the impact? When, what… who cares? You should! Read (and feel free to comment) on my latest blog post:
Zappos.com Moves Downtown Las Vegas, Major Boost Seen For Fremont Street Experience Area
Streamline Towers Now To Rent – Just days before the Zappos announcement and apparently unrelated (as the Zappos news was the best kept secret in town) came word that the Streamline condos — located just a couple blocks north of City Hall and one block from Fremont Street (click for Google street view) — will be turning the units into rentals until the economy improves. Prices are very reasonable considering the location and amenities:
Rent starts at $1000 a month for 847 sq. ft. When you consider that in 2006-2008 was paying $1040 a month for an upscale 950 sq. ft. apartment in an otherwise lousy location on the South Strip (Amalfi at Wigwam and Parvin — do not rent there, lousy management), this doesn't look like a bad deal. I'd consider it myself but I'm simply still renting until I find what I'm looking for in a house near downtown. You guys can have Summerlin, Aliante, and Green Valley. Give me Vintage Vegas!
Inching Up Again – Visitor numbers for the long Thanksgiving weekend were up 3% from last year. Continued small but positive signs in Las Vegas bouncing back as a travel destination. However, don't get confused and assume that tourist numbers mean an uptick in the local economy:
50,000 Still To Go – Southern Nevada's population loss isn't over yet. With no new construction on the horizon (and as I've predicted many times), officials are now projecting a loss of 50k people from our area over the next year. This will have a domino affect of keeping home prices extremely depressed throughout all of 2011.
For example, you can get aádecent 2 bed/2 bath condo in a very respectable neighborhood (I used to have a house in that general area in the early 2000's) about 7 minutes from The Strip and close toáshopping for $35,000 (listing site). This condo sold for $144,000 in 2007 and hasn't been valued this low in the past decade. 2011 is going to be a good year to buy if you plan to hold the property for some time.
Disclaimer: I'm simply using this condo as an example. I have no connection to it.
What Happens In Vegas: Bachelorette Party Video – Las Vegas is releasing a new set of the "What Happens Here…" ads focusing on playing someone you aren't. The fact that in Las Vegas, you can pretend to be whoever you want to be. What are your thoughts? Does this inspire you to visit Las Vegas? Do you think these ads help bring visitors to town? Click to watch What Happens In Vegas – Bachelorette Party Video and post your comments below it.
Enjoy This Issue!

Associate Editor: Amy Rayner-Cooley
News Researcher/Editor: Mark Jacobs
---
---
"Legends In Concert" Brings Holiday Cheer To Harrah's Las Vegas – Celebrity Tribute Spectacular Presents Holiday Version Of Popular Show Through Dec. 26
– The world's longest running celebrity tribute show, "Legends in Concert" will bring the spirit of the season to the Strip, with the return of the holiday version of the dazzling production starting Nov. 26 at
Harrah's Las Vegas
. The seasonal version of the 90-minute spectacular will showcase superstar impersonators of past and present, singing the chart-topping hits that launched their celebrity characters into superstardom, as well as a heart-warming Christmas classic.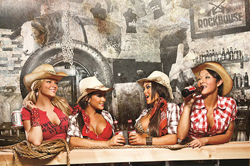 Rockhouse Las Vegas… I Really, Really Love This Bar! – Rockhouse Rocks The Rodeo December 2-11 – As the National Finals Rodeo (NFR) hits the Strip, Rockhouse Bar & Nightclub will have every cowboy in Vegas saying "I really, really love this bar!" The ultra-dive bar will rock the rodeo, welcoming cowboys and NFR fans Thursday, December 2, through Sunday, December 11, for viewing parties, drink specials and a whole lot of rodeo fun.
A Very Terry Christmas At The Mirage Las Vegas Through December 25 – Join Terry Fator as he celebrates the 2010 holiday season at The Mirage with A Very Terry Christmas. In addition to his current show Terry Fator: Ventriloquism in Concert, Fator will complement his routine with fun-filled celebrity singing impressions, unparalleled ventriloquism and 10-12 popular holiday tunes. Backed by a sizzling live band, Fator brings to life his puppet co-stars where some of them will be dressed in their own holiday garb including Winston the Impersonating Turtle, the lovable Emma Taylor, Vikki "The Cougar" and Wrex the Crash Test Dummy.
Biggest Las Vegas Gift of Lights Display Ever – 10th Annual The Gift of Lights presented by US Bank, a holiday drive-thru spectacular at the Las Vegas Motor Speedway. The biggest and brightest Gift of Lights ever! All LED displays.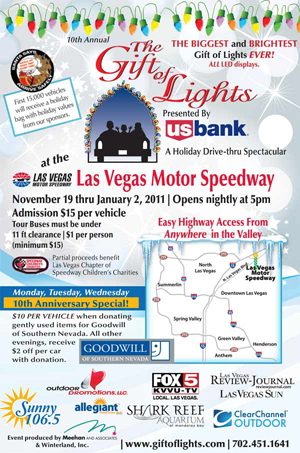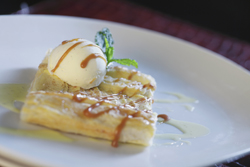 Celebrate Christmas Deliciously At Beso Steakhouse Las Vegas – Beso steakhouse, Eva Longoria Parker's signature restaurant at Crystals in CityCenter Las Vegas, invites guests to enjoy a delicious holiday menu this Christmas. On December 25, guests will enjoy a delectable three-course dinner from 4:30 p.m. until 9 p.m. The Christmas menu begins with a fresh Spinach Salad topped with shaved cremini mushroom, truffle deviled egg and a warm bacon dressing. The main course is a Prime Rib Roast complemented by horseradish popover, crawfish salad and mushroom gratin. For dessert, guests will delight in an Apple and Pear Galette, topped with cinnamon ice cream, calvados caramel and amaretto anglaise.
The One Group Arrives On The Las Vegas Strip With Its Popular STK Restaurant At The Cosmopolitan Of Las Vegas – New York-based The ONE Group seduces the city by bringing its edgy steakhouse, STK, to the Las Vegas strip this December. With siblings in Los Angeles and Miami as well, STK Las Vegas arrives December 15, 2010, at The Cosmopolitan of Las Vegas with its high-energy and sexy vibe. The ONE Group has also named Stephen Hopcraft (Bravo's 'Top Chef' and Food Network's 'Chefs vs. City') as executive chef.
---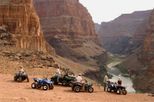 Grand Canyon North Rim Bar 10 Deluxe Air and Ground Tour
û Enjoy an airplane flight to the remote North Rim of the Grand Canyon for a day on a real working ranch. Fly over Lake Mead and Hoover Dam en route to the North Rim. A hearty western-style lunch at the ranch is included.
---
Members Mania – We Love Our Readers!
We are visiting Las Vegas in November 2011 for our 40th anniversary. When will the show schedules come out?? I want to book everything ahead of time to be sure we get the best seats for all the shows we want to see. We try to come to Vegas every 2 years, so we have seen some of the big shows…O…Celine…Cher…Mamma Mia…Phantom… Sigfried & Roy….Lance Burton…just to mane a few. We also took a helicopter and pontoon ride to the Grand Canyon
Our list includes this year includes….: Jersey Boys…Barry Manilow…Terry Fator…KA..some afternoon shows….Popovick Pets….The Price is Right…..Mac King…Nathan Burton We want to stay downtown at the Golden Nugget…anniversary dinner at the Stratosphere.
Any other suggestions???
Jane Teal
Ted Responds:
Congrats on the anniversary. Great way to celebrate a big milestone like that!
Many shows have NO WAY of knowing if they will be around 6 months from now, let alone over a year out. Lion King (a proud advertiser of this newsletter and a show that we've received 100% positive feedback about) IS playing through the end of 2011 before wrapping things up. I believe Jersey Boys has a pretty long-term deal in place. So, you may be able to get those tickets well in advance (and the earlier, the better seats).
A note to everyone: Please do book tickets for our advertised shows (see along the sidebar) by clicking on those ads. Some offer a discount, all go to the official site of the shows, and the credit we get for the booking is how they decide if they keep advertising (which keeps the newsletter complimentary).
For the rest of the shows,áI'd suggest visiting our Tickets.AccessVegas.com link it every couple of weeks and entering your dates until you see stuff start to pop up. Some shows may have tickets 6 months (or more) in advance. Others might only offer them 2-3 months out. Check back regularly and you'll be one of the first to grab tickets.
Skip the Strat for dinner. View is nice, but service not so good, food average. If you want a very special dinner with a view, do Alize at Palms instead. Long-time renowned áLas Vegas chef/owner Andre Rochat takes both food and service very seriously. If Strat is important for some reason, go up there for drinks at sunset then over to your Alize reservation.
Hope this helps. Thanks for reading and please tell your friends to subscribe!

---
First off.. I forget how I came across your newsletter, but am I ever thankful that I have. I have been to Vegas countless times and stayed almost every hotel (like to experience it all each time).
In 2011 û Fat Tuesday and my birthday are on the same day; and trying to convince my friends to make this year is one for sure to enjoy for sure. I remember HarrahÆs having a New Orleans theme to it; and Rio having a Brazilian theme (Carnival) but û where else is a good place for beads, fun and stuff? I know its not until March but in order to plan û we have to ask in January for preferred time off times and this would be my chance to get even more to join me.
Thanks for your newsletter, I do read all the content, and hope youÆve fully recovered from that nasty flu that went around (I was one of the first ones to catch that).
Best regards,
Cole
Ted Responds:
You would think that the town would really play it up. The don't. Last year, we went to Carnival Court and checked out other Strip venues. Nothing.
Downtown did have Cajun bands and similar. We tossed beads off the balcony at Fitz (and yes, some women went a little wild for them). But it wasn't anything close to a New Orleans type celebration.
I'm going to put the word out early in hopes that some properties will get on board. Harrah's Corporation Caesars Entertainment especially (and I know they are reading) has thrown parties for different events like Cinco de Mayo, St. Patrick's Day, Jimmy Buffett concert day and similar. You can view their 2010 Cinco de Mayo event video here: Cinco De Mayo Video: Las Vegas Strip 2010 Party, Music, Fun, and Food
They really need to do something the Saturday before Fat Tuesday and then again do something special for Fat Tuesday (March 8, 2011). If they get the word out early, they'd have a nice crowd.
I wish that I could tell you better news, especially since it will be your birthday. Finally bounced back from the flu… thanks for asking. I heard from many readers across the U.S. that were hit with it also. Just needed some good rest!

---
We have recently moved to Vegas and your news letter has been an excellent source of information, both before and after our move.
Our family of five is looking forward to our first Vegas New Years Eve. However two of our group are under 21. can you suggest some activities they would enjoy. They are 20 and 18, not kids but not old enough for cocktails either. Keep up the good work!
Terry Kassof
Ted Responds:
Fireworks. Fireworks. Fireworks. Fireworks. Fireworks.
They are free and your kids are above curfew age. As a veteran of many celebrations, we'll have tips on where to park and best (but least crowded) places to watch them once they announce all the details. Stay subscribed!

We love to hear from you, and value your feedback! Here's how to participate:
---
More Las Vegas News – Concerts – Events