Serving Las Vegas Visitors and Residents Since 1999
Welcome to the Insider Vibe! This is the official newsletter of AccessVegas.Com. We talk about the Las Vegas activities you really care about.
Need to contact us? Send feedback to
AccessVegas@AccessVegas.com
Missed an issue? Click to Read Back Issues Online.
---
AccessVegas.com Quick Info Menu:
| | |
| --- | --- |
| Las Vegas Essentials | Featured Shows |
---
Newkirk's Notes – comments on Las Vegas from AccessVegas.Com publisher Ted Newkirk:
Hello From Las Vegas! – If you are a long-time reader (and if you are, thanks!), just a note that I hope to be back in the saddle with my sections by the end of summer (maybe sooner). You've heard that old adage about "the best laid plans…" and we bit off quite a few new plans over the past few months, bogging us down just a little bit. I've been very busy on other projects but really look forward to getting back to contributing here.
Just a reminder, we link to many of the stories that I'd pontificate on in the More section. True, my inside knowledge and comments aren't there. But you can still click through and read the basic news stories and keep yourself up on what interests you.
We're adding a new feature this week. We always list all coming concerts and headliners in the right sidebar. But, you don't know which ones are new without reading through the entire thing. So… we're also adding a new section with ONLY the performers whose tickets have gone on sale within the past week. That way, you know what is new.
The Philippines Flooding – Our hearts go out to our readers in The Philippines, where massive flooding has displaced 20,000 people and created havoc among hundreds of thousands more.
One of my hobbies is sitting at the airport viewing area on Sunset Road and watching planes land. It is always fun when we get lucky enough to watch that massive Philippines Airlines plane land. To all of you who fly upwards of hallway around the world (or longer) to visit us, we are very grateful.
Enjoy This Issue!

Associate Editor / News Researcher: Rick Ziegler
Concerts and Headliners: Amy Rayner-Cooley
---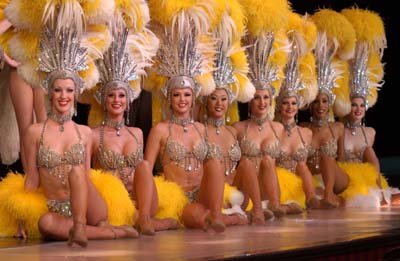 31 Years Later, Bally's Las Vegas Jubilee Showgirls Never Go Out Of Style – The last-standing exemplary showgirl show in the city celebrates its 31st anniversary today. Donn ArdenÆs Jubilee! at BallyÆs Las Vegas started in 1981 and still remains as an ultra-glamorous and iconic show. Bally's Las Vegas Jubilee Showgirls is Las Vegas StripÆs longest-running show.
Special Drink And Cigar Pairing At Rhumbar Las Vegas for National Rum Day – RHUMBAR at The Mirage Hotel & Casino celebrates National Rum Day on Thursday, August 16, 2012. The Caribbean-inspired lounge offers guests with plenty of ôrum-runningö around the bar.
Guests will surely enjoy the buy-one-get-one Bacardi cocktails offered all day- perfect for the summer. Revelers may pair the Mirage Toro cigar, valued at $20, to any of the barÆs signature cocktails. Guests can also indulge themselves by trying the Three Citrus Cooler û a mix of Bacardi O, lemon, muddled grapefruit, orange, mint topped and bubbly lemon-lime soda.
PBR Rock Bar Las Vegas Does Labor Day Weekend With Barbecue And Beer – PBR Rock Bar & Grill at Planet Hollywood Resort & Casino inside Miracle Mile Shops will celebrate Labor Day Weekend from Friday, August 31 to Monday, September 3 with beer and barbecue specials.
PBR Rock Bar & Grill offers 15 percent discount on its barbecue selections including the Ultimate Barbecue Chicken Quesadilla, Barbecue Burger, Memphis Style Barbecue Pork Sandwich and more. Revelers can also enjoy beer specials like Budweiser buckets valued at $19 while rocking out at the restaurant and the Strip-side bar. The famous mechanical bull challenge will surely let their hair fall freely in this challenge.
---
Maverick Canyon Dream Air and Land Tour û A 40-minute flight to the Grand Canyon South Rim aboard a Beechcraft 1900D aircraft starts your ultimate adventure. Upon landing, your excursion will begin with a seat on our state-of-the-art ECO-Star helicopter for an amazing 25-minute breathtaking helicopter experience over the Grand Canyon. As you soar above this natural wonder you will see beautiful scenery from the Kaibab National Forest, Tower of Ra and the mighty Colorado River. Ground transportation into the Grand Canyon National Park to enjoy the awe-inspiring vistas, panoramic overlooks and trails that can only be accessed from inside the park concludes your journey. Absorb the magnificence of the Grand Canyon and capture memories to last a lifetime as you enjoy a gourmet box lunch.
---
What We're Watching – Vegas Videos You'll Enjoy
---
We love to hear from you, and value your feedback! Here's how to participate:
Want to comment on a current reader post? Use the comment box on that particular web page. Many of the stories we post also have comment boxes at the end of the story. Make your voice heard!
Drop us an email at AccessVegas@AccessVegas.com – We read them all!
Call our recorded comment line at 702-507-0055. We listen to every call.
---
More Las Vegas News – Shows – Events
---
Latest Concerts Added This Week!
There is no better place to see your favorite acts then in Las Vegas! You're relaxed, can enjoy a fine meal, have some cocktails without the worry of driving, and no alarm is going to jar you awake all too early the next morning.
No related links found