Serving Las Vegas Visitors and Residents Since 1999
Welcome to the Insider Vibe! This is the official newsletter of AccessVegas.Com. We talk about the Las Vegas activities you really care about.
---
AccessVegas.com Quick Info Menu:
Las Vegas Essentials

Seasonal Vegas Information

Featured Shows

Photos and Wallpaper
Newkirk's Notes – comments on Las Vegas from AccessVegas.Com publisher Ted Newkirk:
Hello From Las Vegas! Wednesday brought wind. Lots and lots and lots of wind. Tropical storm force winds (with palm fronds all over the place to prove it) McCarran airport reported gusts of over 60 miles per hour. Funny… no sign of (infamous Weather Channel reporter) Jim Cantore who shows up all over Florida seemingly anytime they get winds in excess of 20 miles-per-hour.
The winds brought unseasonably cold temps in the 50's F for a couple days. I actually had to switch my house back over to heater settings instead of the air conditioning I've been using for weeks! By the time you read this, I'm happy to say that temps will be back in the 70's and 80's here. As it should be in April.
Pawn Stars Secrets – I have not had time to finish my "Secrets Of Pawn Stars" (Las Vegas based TV show) but I'll give you a few quick tips. Best time to visit is about 9:30 AM (M-F). This is a working pawn shop and the "cast" of the show are the actual owners. At this time of the morning, they have usually arrived but business is slow and you have the best chance to say hello and get an autograph. Later in the day, they pretty much stay out of site or they would be mobbed. If taking a cab, tell the cabbie the exact address: 713 Las Vegas Boulevard South. If taking the Deuce, wait until you are past the Stratosphere (where the crowds on the bus thin out), then ask the drive to let you know the stop closest to the Pawn Stars shop.
Newsy, Newsy, Newsy News – I'm still hard at work on some exciting new features and upgrades to AccessVegas.com and (if all goes well) a pending staff addition. So… the rest of my section here will kind of be a dump of stories I've typed up the past few weeks but never made it to the newsletter. I'm a news hound and end up writing blurbs on a number of Las Vegas related topics each week. I then grab a couple of them for the newsletter to insert between the travel and tourism musings.
This week, you are getting them all. If you are strictly looking for "visitor news and information" simply scroll past this first section and we'll have the usual wide range of insider tips and visitor happenings!
Unfinished Projects – Speaking of the halt in construction, the Review-Journal did a recent article chronicling local projects that got started, then came to a standstill. You can find it at High hopes turn to broken dreams for several local projects. An interesting note: Because of our dry climate, unfinished buildings can sit a minimum of 5 years (and up to 10) without experiencing any degradation of what has already been done. Which is within the time frame that many of these projects are projected to be restarted.
Shrinking Paychecks – Nevada had the second largest drop in personal income in 2009 (Wyoming edged us out). Per capita income dropped from just around $40k per year to $38.5k. Obviously, the very high unemployment factors in. But not-to-be-ignored are the many people who have seen wage reductions (including yours truly). Obviously, my job is Nevada-centric and I love it too much to look for alternate work. (I could probably do a lot more consulting… but I'm not fond of giving away my trade secrets).
Others who are established here and/or simply just enjoy living here are doing what it takes to stay and make it with concessions in number of hours worked per week or hourly wage concessions. In the long run, this might be a positive as it continues to separate the wheat from the chaff. Those who really are dedicated to Nevada vs. those who just got on board looking for the proverbial pot of gold at the end of the rainbow. For those really wanting to see what is at the end of the Rainbow (Blvd) here in Las Vegas, you can check it out: Google Maps.
Mirrors In The Desert – A huge solar energy installation has been proposed near Primm, Nevada (home ofáthe first hotel/casinos you see driving in from Southern California). It will employ 1000 union construction workers at the peak of the project. The problem? Some environmental groups are upset that it will disturb the "pristine" desert in that area. For those of you who drive in from Southern California: Next time you get around the Yates Wells Road exit (just a few miles before Primm), look east and decide for yourself if that seems like a good place for a solar installation. For the rest of you, check it out on Google Maps.
Nuke Dump – The U.S. government has spent billions of dollars building a nuclear waste dump 100 miles north of town (Yucca Mountain). Harry Reid and President Obama finally got it all but shut down but I must be quick to note just about every Nevada politician of both parties has opposed this thing. However, states are suing because their nuclear plants paid into a guarantee that the federal government would build a repository for the spent fuel. So… the dump idea isn't dead yet.
I'm one of the few Nevadans you'll fine who has had no problem with the repository. The spent waste would be carried there by train through a route that comes nowhere near Las Vegas. The isolated area was picked for the ability to store the waste long-term with little risk. (This stuff simply does not blow up and is far enough in the middle-of-nowhere that terrorism issues are highly unlikely).
And… it would bring permanent, high-paying jobs to the area. Specifically to the hard-hit Northwest Las Vegas valley where scientists and other workers would most likely live. And… nuclear energy makes us less dependent on oil. I have no ties to any energy industry. I just think the hand-wringing here in Nevada over this thing has to stop. Speaking of the north end of the valley needing economic influx…
Nevada Home Foreclosure Crisis – The Review-Journal did an excellent article on the state of real estate here, particularly in hard hit North Las Vegas. Worth a read for those thinking of investing or moving here:
Spare Change Meters Downtown – A couple of weeks ago, I noticed a yellow parking meter just outside the Golden Gate (across the street from the Plaza) that said Donation Station on it. Didn't know what it was, thought it might be a scam. Turns out that the city has placed old parking meters in a few spots around downtown and uses the money placed in them to meet the needs of the homeless. Now, my preferred charity locally in the Las Vegas Rescue Mission (not affiliated with these donation stations). But this leads to having some fun: Stick a quarter or two in one of these "donation stations" next time you see one. Then if a panhandler hits you up for change, tell him you already gave.
Downtown (on the Las Vegas Fremont Street Experience where most tourists go), you'll find one of these next to the Golden Gate casino on Main Street right by where you cross over to The Plaza. Most of the panhandler downtown make decent money at it and that is their job. I bought one a beer years ago and he told me the racket: He rents a cheap "rent by the week" room, panhandles for cash, makes an OK living without having to answer to anyone or pay taxes. He buys clothes at the thrift store, wears them a few days to a week (keeps the homeless look happening), then tosses them and buys more. I'd suggest putting some pocket change in the new donation stations and then when asked for cash by a panhandler, tell them you already donated.
Beat It, Just Beat It – You've probably heard that Cirque du Soleil is debuting a Michael Jackson show here. In 2012. Using amazing show effects that probably have not been invented yet (talk of 3D and all kinds of other stuff to actually more-or-less bring Jackson back to life). We'll let you know more as the opening date gets closer. Which is a long, long time from now…
Enjoy This Issue!

Associate Editor: Amy Rayner-Cooley
News Researcher/Editor: Mark Jacobs
---
Las Vegas Is On Sale!
Get Great Rates At All Hotels:
---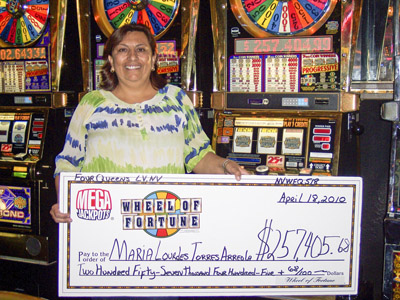 Maria Torres holding her check in front of the winning machine
Lucky Winner Pleasantly Surprised By $257,405 Wheel Of Fortune Jackpot At The Four Queens Hotel & Casino – On April 18, Four Queens customer, Maria Torres, was having fun playing $20 in her favorite slot machine, quarter Wheel of Fortune«. At around 6 p.m. she was looking up at the wheel waiting for it to spin, when an employee approached her and told her that she in fact had hit the jackpot for $257,405.68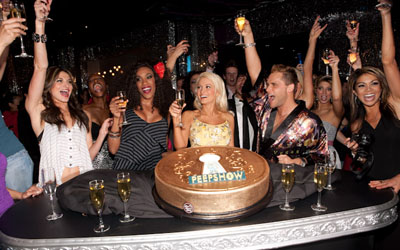 Starlet Holly Madison And The Cast Of Peepshow Celebrate First Anniversary At Planet Hollywood Resort & Casino – Blonde bombshell Holly Madison and the sexy cast of PEEPSHOW celebrated the show's first anniversary at Planet Hollywood Resort & Casino on Sunday, April 18, with a stunning signature PEEPSHOW cake and a celebratory champagne toast. Madison, star of the E! TV Series, "The Girls Next Door and the upcoming "Holly's World," stars as "Bo Peep," a modern woman who discovers her newfound sexuality. Madison performs alongside a sizzling ensemble of sexy PEEPSHOW GIRLS, showstoppers from film, TV and Broadway who were handpicked to perform in this exhilarating production.
Norah Jones And Guest Corrine Bailey Rae To Perform At The Pearl At The Palms Sunday, August 22, 2010, 8:00 p.m. – Grammy award-winning powerhouses take over The Pearl Concert Theater inside Palms Casino Resort as Norah Jones and special guest Corrine Bailey Rae perform on Sunday, August 22, 2010 at 8:00 p.m. This stop is part of Jones' 2010 U.S. tour in support of The Fall (2009) and follows a string of festival performances including Bonnaroo in Tennessee, Montreux Jazz Festival in Switzerland and North Sea Jazz Festival in Holland. The unique blend of jazz, vocal pop, bluesy country and contemporary folk, is what sets Norah Jones apart from other songstresses and has earned the vocalist and pianist multiple accolades.
M Resort Spa Casino Ushers In Pool Season With Ultra-Low Pricing And Specials – Officials at the M Resort Spa Casino are preparing to officially kick-off pool season on April 19 with the opening of its main pool deck, Villaggio Del Sole. The resort will usher in the pool season with some of the city's lowest entry and cabana prices and specials for locals and UNLV students. "We had thousands of people come to our pool last year. This year, we are looking forward to building on that success and introducing great locals pricing and truly the best prices for cabanas and bottle service in the market," said Joseph A. Magliarditi, COO, M Resort.
Cabo Wabo Cantina Kicks Off Live Rock Star Karaoke Industry Night – Sing With A Band And Party Like A Rock Star Every Sunday Night – Sammy Hagar is giving his fans something to sing about. Cabo Wabo Cantina at Miracle Mile Shops inside Planet Hollywood Resort & Casino now offers Live Rock Star Karaoke on Sunday nights, giving revelers the opportunity to party like a real live rock star. Vegas' most rockin' industry night gives the most courageous rockers the chance to step up to Hagar's personal stage to claim their 3-minutes of fame as they sing their hearts out to hits alongside the live band 3 Digit IQ. All karaoke kings and queens over the age of 21 will be graciously awarded for their talents with a complimentary shot of Cabo Wabo Tequila.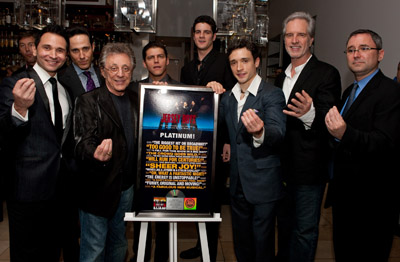 Photo Credit: Erik Kabik/Retna
Jersey Boys Celebrates 2 Years On The Strip With Platinum Record Commemoration – On Saturday, April 24, the cast and crew of JERSEY BOYS celebrated two hit years at the Palazzo Resort-Hotel-Casino with two of the Seasons themselves, Frankie Valli and Bob Gaudio. The Second Anniversary was celebrated with a Platinum Record Commemoration at the curtain call following the performance. Frankie Valli and Bob Gaudio joined the cast on-stage at the conclusion of the performance to receive the Platinum Record from Kevin Gore of Rhino Records. A signature Platinum Record cake was also presented on-stage.
Family Fun At The Forum Shops At Caesars This Summer – World-Renowned Shopping Experience Offers Activities For Every Member Of The Family – This summer, families flocking to Las Vegas will want to visit The Forum Shops at Caesars for myriad attractions. Just the sheer number of stores at The Forum Shops will keep kids' eyes roving. Below is a list of additional attractions for families: The Atlantis Aquarium: The 50,000-gallon saltwater aquarium stocked with colorful tropical fish located in the Roman Great Hall. Of heroic proportion, the hall is 160 feet in diameter and 85 feet high with more than 300 fish. Be sure to watch the aquarists feed them during dives scheduled at 1:15 p.m. and 5:15 p.m. daily. Families can take a complimentary below-the-scenes guided tour of the support facilities Monday through Friday at 3:15 p.m.
Gambling Talk: Video Slots – Mega Millioni$erÖ – with Victor H. Royer. As promised, in this issue û and the following issues û I will now write a little more about some of the favorite slots that my readers have told me they like to play, and also show you some of the great new slots that are now available in your favorite casino. In this issue, I present Mega Millioni$erÖ Mr.Cashman, by Aristocrat, and a short description of the game and how to play it.
Mega Millioni$erÖ Mr.Cashman is a penny slot machine with pay bigger pays than most others. In many jurisdictions it is a multi-site progressive, meaning the progressive jackpot grows from play in different casinos û sometimes even among many casinos in different states (as permitted by the regulatory authorities of those jurisdictions).á In Nevada, the game is linked among many casinos in the State, and so the jackpot not only grows fast, but it is also hit quite often. Click to Read Complete Article…
---
Featured Tour û Enjoy Las Vegas!
Grand Canyon South Rim Bus Tour with Optional IMAX û Sit back and relax as your coach driver takes you on a narrated journey from Las Vegas to the South Rim of the Grand Canyon. You can upgrade your tour to include discounted tickets to the incredible IMAX footage of the canyon at the National Geographic Visitor Center on the only South Rim bus tour that makes a stop at the center.
Highlights: * Excellent value for money * Fully narrated tour * Free hotel pickup and drop-off included * Lunch included * Comprehensive tour by bus/coach * Family friendly
---
Members Mania – We Love Our Readers!
We are coming to Vegas in September for start of our honeymoon. Lots of people are telling me that we HAVE to visit the Grand Canyon. Can you please give me your views, is this really awe inspiring or just a "large hole". Last year we were lucky enough to have gone on safari in Kenya and that was truly humbling, so any similar feeling from the Canyon and we would not even hesitate.
I would also like to take in a show but something a little different, we are torn between a burlesque performance and Blue Man Group. Very diverse I know but would appreciate your views on both. Thanks for the help and the regular emails are fantastic and very informative.
Regards
Brian and Sara
Ted Responds:
Our friend Mark from The Vegas Tourist is a tour guide that has taken many thousands of people all over this area. One of his favorite stories is how on bus tours that include The Grand Canyon, many people assume that it is probably just a big hole and once you've seen a photo of it, no big deal.
Then… they get off the bus, go over and actually look at the Canyon, and are so amazed and astounded that the literally run back to the bus for their camera and bemoan that they only have 1.5 hours there. You will be more than amazed. Similar experiences (although not quite as jaw-dropping) happen to those who visit Hoover Dam. OK… a big dam. So what? Just go stand on the thing. I've never had anyone visit it who wasn't awestruck.
Our suggestion? We have a Canyon bus tour listed just above. But for those who want the absolute best Grand Canyon experience, we strongly suggest the Maverick Helicopter Tours flight that actually lands you in at at the bottom of the Grand Canyon. To check out preview video of that flight, head over to our Stunning Grand Canyon Helicopter Tour Video Preview post.
Burlesque or Blue Man? Honestly, because those two are so worlds apart, I'd do them both. Blue Man Group is a unique show that you won't forget for a long time. Total overdrive sensory overload (in a good way). For burlesque, X Burlesque is actually pretty reasonably priced (making hitting both shows a viable option). You can also read our Review of X Burlesque.
Congratulations on the pending nuptials!

---
Well I'm devastated!!! looking forward to my fifth visit to Vegas on 20th April only to be scuppered by a volcano!!!!!! So it's back to reading your fantastic newsletter until I can re-schedule hopefully later this year, so keep up the good work, I can't do without my weekly read.
I'm sure there are many Brits in my position but we won't be beaten, will be back soon.
Bob from Northampton, England
Ted Responds:
Over 1000 Europeans got stuck here and couldn't get home for an extra week, which was really unfortunate and really strained them. So, I guess you can count your blessings that you weren't among them.
Having said that, looking forward to a Vegas vacation only to have it pulled out from under you is harsh! One of the reasons why I believe we have such a large international readership is because many of you come for up to two weeks (or longer) at a time, and look forward to the visit for many months while reading our newsletter and planning ideas for all the new things to see and do.
Las Vegas isn't going anywhere. You'll enjoy your next visit twice as much!

---
I have a unique solution for the problem of the porn slappers. I work for Border Patrol and so I have several T-shirts and Polo shirts that have CBP (Custom and Border Protection which is the parent agency to Border Patrol) emblems on them. Just wear one of those while walking down the strip and bang… no porn slappers try to give you anything. In fact I was purposefully trying to get some cards last year to "decorate" a colleague's desk when I got back from Vegas. I couldn't even get them to give me some when I asked… LOL. It was hilarious.
SO my suggestion is to go to one of the many outlet malls, t-shirts store, etc. and buy a Border Patrol shirt or hat. CBP, ICE, US Marshall, FBI should all do the job equally as well and it'll be fun to watch the 'slappers turn away from you!!!
David in Texas
Ted Responds:
This is certainly a new twist on turning the tables. I might give it a try myself. I'm used to just ignoring them (or walking as close as I can to them, knowing that they can't legally touch me). But I can understand the intimidation that many visitors who aren't use to them go through.
The new Arizona-type law would probably help with this issue, but it is very controversial and Nevada doesn't have the will to pass something like that at this time. I agree that they are the #1 complaint. Funny how they were able to ban a strippermobile (with clothed women inside) from driving up and down The Strip, but can't find a way to stop the porn(card) slappers.

---
We love to hear from you, and value your feedback! Here's how to participate:
Drop us an email at allvegastv@aol.com – We read them all!
Call our recorded comment line at 702-507-0055. We listen to every call.
---
More Las Vegas News – Concerts – Events
---
Coming Hot Holidays
– The following dates are huge times to be in Las Vegas, and rooms are in high demand. Booking in advance is the best way to save. Visit our friends at
Las Vegas Hotel Deals
and spend one of the following hot dates having fun in Las Vegas:
Cinco de Mayo May 5
Mother's Day May 9
Memorial Day, U.S May 29-31 (3 day weekend)
Father's Day June 20
Independence Day July 4
Civic Holiday, Canada July 31-August 2 (3 day weekend)
Labor Day, U.S September 4-6 (3 day weekend)
Labour Day, Canada September 4-6 (3 day weekend)
Jewish New Year September 9
Halloween October 31
Veteran's Day November 11
Thanksgiving Day, U.S November 25-28 (4 day weekend)
Hanukkah Dec. 2 – Dec. 9
Christmas December 25
New Year's Eve-Day December 31 – January 2 (3 day weekend)
Martin Luther King, Jr., Day, U.S (Observed) January 15-17 (3 day weekend)
Chinese/Lunar New Year February 3
Super Bowl Sunday February 6
Lincoln's Birthday, U.S February 12
Valentine's Day February 14
President's Day, U.S (Observed) February 19-21 (3 day weekend)
Washington's Birthday, U.S February 22
Mardi Gras March 8
St. Patrick's Day March 17
Easter Sunday April 24
Link To Us! – Have a home page, web page, or blog? Link to us, and give yourself and your friends a quick link to find us from your site. Simply link to http://www.accessvegas.com and name the link Access Vegas!
RSS Feed – We now have an RSS/XML feed! Most RSS programs let you visit AccessVegas.com and automatically pull the feed. For those who want to enter it manually, the feed is:
http://www.accessvegas.com/xml/whats-hot.xml
No related links found