Serving Las Vegas Visitors and Residents Since 1999
Welcome to the Insider Vibe! This is the official newsletter of AccessVegas.Com. We talk about the Las Vegas activities you really care about.
Need to contact us? Send feedback to
AccessVegas@AccessVegas.com
Missed an issue? Click to Read Back Issues Online.
---
AccessVegas.com Quick Info Menu:
| | |
| --- | --- |
| Las Vegas Essentials | Featured Shows |
Las Vegas Events
---
MGM Resorts Outlines Vision For Dynamic Entertainment District In Las Vegas Featuring World-Class Arena, Dining, Bar Scene And Retail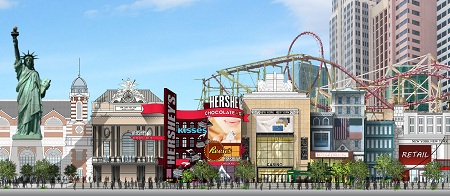 The front facades of New York-New York and Monte Carlo will be transformed into an outdoor plaza experience featuring a series of casual bars, eateries and retail destinations. New York-New York will modify its skyline and Brooklyn Bridge to create a wonderful environment brought to life through a vibrant patio culture and retailers new to the market.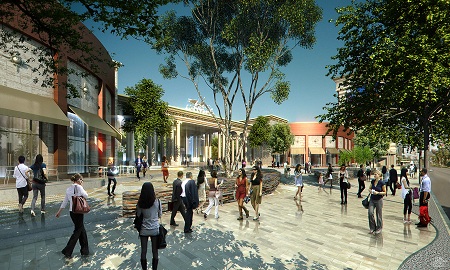 Anchoring the new experience will be HersheyÆs Chocolate WorldÖ flagship store, a two-story interactive, experiential destination that celebrates the incredible array of HersheyÆs-branded products that inspire the ôHersheyÆs Happinessö mantra. Additionally, the hotelÆs Irish pub, Nine Fine Irishmen, will be enhanced, including an expansion of its high-energy patio culture both on the casino floor and the Brooklyn Bridge.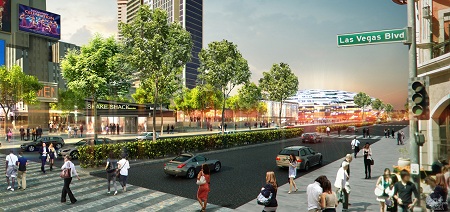 At Monte Carlo, the current formal European-style exterior features will be removed to make way for new partners, including Double Barrel, a casual roadhouse restaurant and bar concept by the leading hospitality experts at sbe; Sambalatte, the art of sipping found in the ultimate coffee experience, beloved by Las Vegas locals, and soon available to visitors; and 800 Degrees Neapolitan Pizzeria, serving build-your-own personal pizzas prepared to each guestÆs liking and baked in around a minute in an 800-degree wood-burning oven, right before their eyes.
Between the two properties and leading back to the CompanyÆs new arena will be a park environment featuring dining pavilions and performance spaces complemented by areas for quiet relaxation. At the gateway to the park will be Shake Shack, a modern day ôroadsideö burger stand known for its all-natural burgers, flat-top dogs, frozen custard, beer, wine and more by restaurateur Danny MeyerÆs Union Square Hospitality Group.
Additional partners and details surrounding both properties and the park will be announced in the coming months.
---
Las Vegas Shows, Headliners, And Concerts
---
Dining In Las Vegas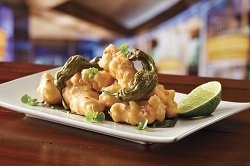 SHe By MortonÆs Introduces ôHappyö Menu – SHe by MortonÆs introduces ôHappy,ö a new bar and patio menu offering small bites and an array of drink specials available from 5 to 7 p.m. daily. Just steps away from the main entrance of ARIA at The Shops at Crystals, Eva LongoriaÆs lavish new restaurant is a stylish spot to enjoy early evening hors dÆoeuvres and cocktails after work or before a night out.
The new menu has been unveiled just in time to take advantage of Las VegasÆ gorgeous spring weather on SHeÆs lush patio. Filled with oversized furniture ideal for lounging, the patio overlooks striking water features and stunning architecture. When the weather heats up, guests can cool down in SHeÆs vibrant lounge.
---
Las Vegas Attractions
---
Las Vegas Daylife And Nightlife
---
May's Holidays
---
More Las Vegas News
---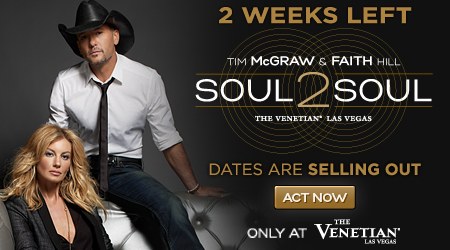 ---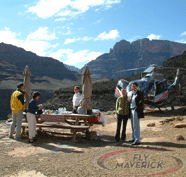 Maverick Grand Canyon Landing Tour û You will start your experience with a breathtaking flight over Hoover Dam, Lake Mead and Fortification Hill, an extinct volcano, as well as many other awe-inspiring views. After descending 3,500 feet inside the Grand Canyon on the Hualapai Indian Reservation, you will enjoy a light snack, a cool beverage and a champagne toast 300 feet above the Colorado River. Your journey will conclude with a flight through beautiful Black Canyon on your return to the South Las Vegas terminal. Operator Mustang Helicopters a division of the Maverick Aviation Group.
---
Newkirk's Notes – comments on Las Vegas from AccessVegas.Com publisher Ted Newkirk:
Hello From Las Vegas! – We're doing a mini-issue for reasons I'll explain in a moment. Still quite a bit of information, but not as much as usual. We'll be back to normal in a week.
Cold Is Done – Last week, we had one day in the 60's, but that appears to be the final cold day until probably October. Bring the swimsuit, leave the jacket at home!
MGM Resorts New York-New York/Monte Carlo (Hotel Casinos) "The Park" – Our main story is the big announcement of how the facades of both New York-New York and Monte Carlo will be redone to create a row of dining, drinking, and shops. In addition, a park area (see the pics in the story above) will be created between the two properties.
Some really like the idea, others don't think that it fits Vegas. (It isn't some kind of spectacular setting, new ride, avant-garde restaurant or similar). Here is why it will work:
MGM Resorts is building their new 20,000 capacity arena back behind that area. Those of us who follow these things have seen new arenas pop up in city after city and really revitalize the surroundings. If an event sells 15,000 tickets, you have a total of 30,000 people who will flood the arena district that evening (15,000 times two, once coming and once going).
They will be counting on people "tailgating" (eating and drinking) in this area prior to events, then once again picking up the party and/or a snack or late meal once it ends. Remember… this is Las Vegas. When you see a concert there, you don't have to run straight home and set the alarm for the next day!
This is also their shot across the bow at competitors Caesars Entertainment and their (for now arena-less) Linq project.
Who, What, When, Where, Why? – This is the inaugural sending of this newsletter using a new delivery system. We're not sure if it is going to work, so we're sending a shorter issue in case it all goes down some black hole!
You'll hopefully not see any difference, but we were having deliverability problems trying to run this growing list on the clunky old server we were leasing. (They are literally junking it now that we're done with it). Some people never got the newsletter notifications, and some only got them occasionally. Not good!
Here's what the upgrade means to you, depending on which category you fit into:
Never Heard Of You

– We don't buy or rent lists, but people do get "slammed" onto our list, either by well meaning friends (or enemies who just want someone to get a bunch of email they don't want). If that is you, either use the unsubscribe link at the bottom of the notification email or hit "reply" with a note "unsubscribe" and you will be IMMEDIATELY and PERMANENTLY removed. Sending to people not interested wastes our resources.

Like Vegas, Don't Remember

– For some of you who like Las Vegas and sign up for Las Vegas information, you may have subscribed long ago and literally never received an issue. Try us out for a few weeks and see if we are your cup of tea!

Only Sometimes

– For those of you who have complained that you get the newsletter on a hit or miss basis, you should now be getting every single issue (knock on wood).

Never Had A Problem

– For those of you who always received each issue, nothing should change and thanks to all for being part of the family!

Associate Editor / News Researcher: Rick Ziegler
Concerts and Headliners: Amy Rayner-Cooley
---
We love to hear from you, and value your feedback! Here's how to participate:
Want to comment on a current reader post? Use the comment box on that particular web page. Many of the stories we post also have comment boxes at the end of the story. Make your voice heard!
Drop us an email at AccessVegas@AccessVegas.com – We read them all!
Call our recorded comment line at 702-507-0055. We listen to every call.
---
No related links found