Serving Las Vegas Visitors and Residents Since 1999
Welcome to the Insider Vibe! This is the official newsletter of AccessVegas.Com. We talk about the Las Vegas activities you really care about.
Need to contact us? Send feedback to
AccessVegas@AccessVegas.com
Missed an issue? Click to Read Back Issues Online.
---
AccessVegas.com Quick Info Menu:
| | |
| --- | --- |
| Las Vegas Essentials | Featured Shows |
---

---
Hot Hotel Happenings – Save Big Now!
Click To View ALL Las Vegas Hotel Deals
Print Too Small? (Deals – Large Print)
---
This Week's Top Tours
---
The Cromwell Las Vegas Opens!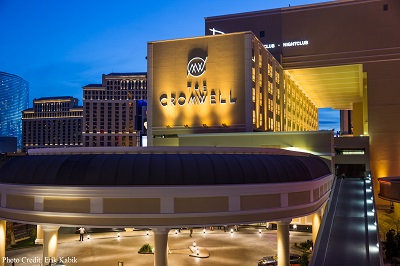 – The Cromwell sign illuminates on the side of the building as guests received their first glimpse of the standalone boutique hotel.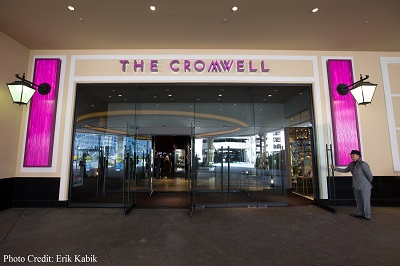 – An ambassador of The Cromwell readies to welcome the first guests to the hotel.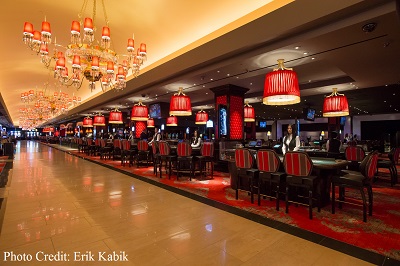 – The Cromwell's dealers prepare for their first visitors prior to doors opening on April 21, 2014.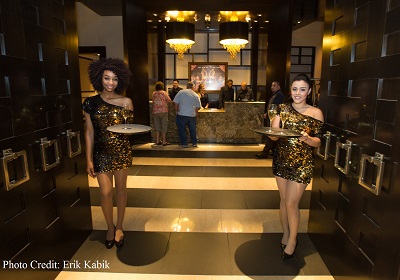 – All of The Cromwell's first guests were welcomed with a celebratory glass of champagne.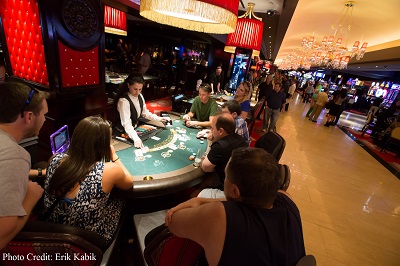 – The first game of Blackjack dealt at The Cromwell.
The Cromwell Las Vegas Celebrates Soft Opening – The Cromwell, the new and first of its kind standalone boutique hotel, celebrated its soft opening yesterday by welcoming first visitors to the 40,000-foot casino. Guests rushed in at 4 p.m. in hopes of being among the first to play and try their luck at one of the 434 slot machines and 66 table games. Photo Credit: Erik Kabik
---
Shows, Concerts, And Headliners
---
Kentucky Derby Las Vegas 2014
---
Las Vegas Dining
---
Cinco de Mayo Las Vegas 2014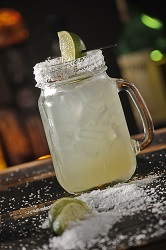 PBR Rock Bar Goes Loco For $5 Cinco De Mayo Food And Drink Specials – Tequila and margaritas will be represented in full force this Cinco de Mayo at PBR Rock Bar & Grill. Located inside Miracle Mile Shops at Planet Hollywood Resort & Casino, the Strip-side destination will offer $5 food and drink specials all day on Monday, May 5.
The festive selections will be offered all day and will include $5 tequila shots, $5 margaritas and $5 personal-sized 'nachitos.'
---
Downtown / Fremont Street Experience
---
Mother's Day Las Vegas 2014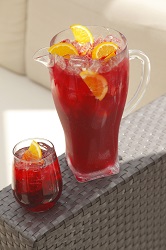 Rhumbar At Mirage Makes This Mother's Day Pitcher Perfect – RHUMBAR at The Mirage Hotel & Casino will offer $40 sangria pitchers for moms to enjoy a well-deserved day of relaxation on Mother's Day, Sunday, May 11.
Hardworking moms can sip sangria while unwinding on RHUMBAR's cool Caribbean patio, complete with panoramic Strip views. Moms will be greeted with a colorful Gerbera daisy and will have their choice of two signature sangrias to celebrate the day. For a light and refreshing option, the White Sangria blends white and port wines with apricot brandy and fresh fruit. For a more full-bodied elixir, the Red Sangria balances red wine, port and brandy with fresh fruit and clove, for an extra splash of spice.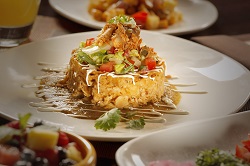 Tacos & Tequila Inside Luxor Celebrates Mother's Day With A Mexican Twist – Tacos & Tequila (T&T) at Luxor Hotel and Casino will treat all moms to a complimentary rose and serve Mariachi Brunch in honor of the day from 11 a.m. to 3 p.m. on Sunday, May 11.
In addition to breakfast items, guests may cheers to moms with two-for-one T&T Top Shelf Margaritas made with Jose Cuervo Especial tequila and Grand Marnier served on the rocks; or Bloody Marias, made with Jose Cuervo Especial tequila, Chipotle Tabasco, fresh cucumber and olive juice and garnished with a green olive, panela cheese and tomato skewer.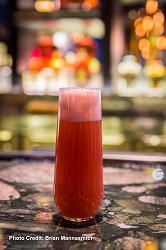 Chayo Mexican Kitchen + Tequila Las Vegas Bar To Celebrate Mother's Day With Lunch And Margaritas For Madres – Chayo Mexican Kitchen + Tequila Bar at The LINQ will celebrate Mother's Day with a four-course lunch and a complimentary Se±orita for mom on Sunday, May 11.
Mothers will be treated to a complimentary Se±orita to start the celebratory meal. The signature margarita is made with Cazadores silver tequila, fresh lime, fresh strawberry and Moscato d'Asti.
The four-course lunch, priced at $55 per person, will begin with the guacamole topped with pomegranate seeds and served with pork rinds or tortilla chips. For the second course…
---
Las Vegas Hotels & Casinos
---
More Las Vegas News
---
Upcoming Las Vegas Events And Holidays
---
Newkirk's Notes: The Boss Speaks…
Newkirk's Notes are comments and insight from AccessVegas.Com publisher and 20+ year Las Vegas resident Ted Newkirk:
Hello From Las Vegas! – As you've already seen from earlier in this issue, Barbary Bill's has a fresh coat of paint and the (how do we say this politely) "interesting" new name as The Cromwell. The casino and one bar are open. Both the rooftop Drai's dayclub/nightclub and Giada's (of Food Network fame) restaurant are still roughly a month away.
The good (so far)? A couple of $10 blackjack tables that pay the traditional player-friendly 3/2 ($15-$10 instead of the more modern 6/5 games that only pay $12 for that same $10 bet blackjack) on blackjack bets. Keep in mind that limits and rules are subject to change depending on how busy the joint is. The bad? Gone are the moderate drink prices from the former incarnation. Also gone is the sports book. You have to place your sports wagers at a betting kiosk.
"Best Of" Voting Continues – Last issue, we noted the completion of the first round of the Play-In round for "Best Of" Las Vegas hotel voting. We took a week off to fine tune a few things, and we're now ready for the second Play-In round! Many of you may want to refresh yourself with a look at the Second Round Play-In Best Las Vegas Hotel Bracket.
As a reminder, these are the second tier properties who are vying for a spot in our main 64 hotel playoffs, which will determine who our readers deem the best property in town! We're now able to unveil the brackets for the main playoffs: AccessVegas.com Best Hotel Championship Bracket. Those of you who enjoy prognosticating will surly have some fun looking at all the match-ups!
Those with sharp eyes will notice that the main bracket has room for two "play-in" winners. Because of an error, we created two spots instead of one. So, both hotels in the Play-In finals will simply be moved into the Championship bracket round.
So, enough of the talk. Go vote in the Second Round of the Best Hotel Play-In (voting will be open through April 29, 2014)!
Zip Line Getting Close – While no official date has been set yet, construction is winding down on the Slotzilla zip line, stretching from one end of the Fremont Street Experience to the other. Testing has been underway with crash test dummies, and given the negative publicity that would surround any mishaps, we understand that emphasis on safety is at a premium. (This ain't no carny ride).
Those who dare will have their choice of a shorter, lower ride stretching about 1/2 the length of the canopy and a full-on, "shot out of a cannon headfirst" experience starting out above the canopy, then ducking you just under it as you hurtle toward The Plaza. One downside that we're not thrilled with? The landing platform has obliterated most of the view of the iconic lights of The Plaza as you gaze down the Fremont Street Experience. I always liked that view.
It's Official, Temporarily – The Linq-Mobile (er, High Roller Observation Wheel) has been verified by Guinness as the tallest in the world. If you want to ride it while it holds the distinction, you'll want to do so this year. Other taller wheels are under construction.
Bummer, No Implosion – The Harmon Tower (that giant billboard next to Cosmopolitan) is coming down. Quietly. A typical Las Vegas hotel implosion simply isn't in the cards. Too great a possibility that it would wipe out part of the Cosmopolitan with it.
Unfortunately, we may have nearly seen the last of the great era of Las Vegas implosions. Many parts of The Strip are packed in more tightly than ever, refurbishing (a la Sahara and Tropicana) is more cost-effective, and while I personally wouldn't mind seeing some of the condos come down, that will pretty much never happen because every owner would have to agree to sell.
Like it or not, I think we're pretty much stuck with The Strip in its present format until Genting gets rolling on Resort World (former Stardust property) later this year. We're looking forward to it (only 5 minutes from my house, how cool is that) and will work overtime to keep you up on this huge new megaresort as it develops.
Hope you are enjoying this issue!

Associate Editor / News Researcher: Rick Ziegler
Concerts, Headliners, Special Events: Amy Rayner-Cooley
---
What We're Watching!
Vegas Videos You'll Enjoy
---
Members Mania – We Love Our Readers!
I am more than ready to subscribe but it is so difficult for us Canadians To pay for the subscribed newsletter. It seems unfair for us to have to wait until you add credit card payment .
I will not be able to take advantage of the early bird price, but I will sign up when you offer the service. I have told a number of my friends here in Canada, and they feel the same way. PayPal is not an option. Please announce when you have the ability to to help us here in Canada.
Just a note, Westjet Airlines, based in Calgary, was the first airline to pass the million passenger mark into Las Vegas.
As always,I enjoy your newsletter.
Allan Huntley
Ted Responds:
For those who have been tuned out for a while (and are now tuning back in as you prep for your next trip and/or working through back issues), we are moving to a paid subscription model on July 1 and offering a special pre-enrollment period. You can visit the Members Mania area of our April 2, 2014 issue for details.
In response to Allan's heads-up about this:
We WILL be keeping the early-bird price open long enough for readers to have a way to use credit card. Rest assured that we have many Canadian and International readers and you will not be left out in the cold (no pun intended after this past winter).
What we'll do is make credit card payments available around May 1 (Canadian Dollar, Euro, Pound, Yen, Australian, and many, many more major world currencies), and keep the pre-enrollment price in place until May 15 (instead of setting a subscriber number count on it). Things are going pretty smoothly so far (considering that this is the start of a major venture) and we certainly want to be as inclusive as possible to long-time loyal readers!
A note to the many, many of you who subscribed by check up to this point: We are currently processing them, and you will receive a confirmation note. Please keep in mind that processing time is 3-4 weeks for check orders as we work though them manually. We didn't want you to think we forgot about you!
However you pay, we appreciate it and are thrilled for your support!

---
It's been almost a year since my last visit & unfortunately I won't make it this year & am having withdrawals…but the extra $$ just aren't there right now. While the gambling (slots) were really bad the last trip, I was there for a total of 10 Days… I paid discount prices for 3 nights! Total of about $120.00.
I ALWAYS stay "Downtown" on Fremont Street, mainly because I like it there, but also because I am a Widow now, & must travel solo. My best friend used to love to go too…but I lost her also. I feel very Safe "Downtown" & usually stay at the 4-Queens, The "D", or The Plaza. My last trip, I stayed at all three establishments, and also stayed for the 1st time at The Golden Gate!
Even though I lost my gambling allowance, I still had a wonderful time. I loved the new refurbished rooms at The Plaza (Very large & comfortable), enjoyed the quaintness of the room at the Golden Gate (very small) and the average Rooms at The "D" and The Four Queens!
I go to Vegas to gamble…and average sleep is about 4-6 hours a day….Not a High Roller by any means…but I do use the Player club Cards and would just like to state that the amount of Play from the Downtown Casino's is definitely variable enough for me & the BEST PART is that when I finally decide I need a nap…..my room is usually within an 5-10 minute walk! At 63 that's plenty for me.
If I had the $$, I could have gone once a month with 4 choices of hotel rooms. This might not happen for everyone, but on my budget, I truly don't believe these offers would have rendered the same at the Strip.
I have always been treated very well by staff at all the hotels, and have very often been offered a choice of rooms as well. Also, for the most part, the rooms Downtown rent at a considerable savings over the rooms at the Strip, & those savings downtown, will more than cover the taxi ride to the Strip. So if you don't need the fanciest room, you might consider a detour this year!
Ted Responds:
Thanks for the great report! If it makes you feel any better, sometimes when I get tied up with the management side of this business and life happening and don't get downtown or to The Strip as much as I'd love to, I get withdrawals too! (They usually kick in at the one week mark).
Many have wondered about how safe downtown is, and in particular females traveling alone. While anything can happen anywhere at anytime, the amount of security and cameras in Las Vegas makes it an extremely safe place. Even for the solo female traveler!
Downtown gaming seems to simply keep inching a little higher all the time and because most of the properties are owned by competing owners, you have real competition for your gambling dollar. They are generally not as encumbered by huge debt and a bunch of bean counters trying to squeeze the visitor endlessly.
Don't get me wrong: The Strip is still the place to stay for those who come for the world-class shows and restaurants. Very few views like those from some of the rooms on The Strip. But, we've been actively encouraging people to take their wagering dollar downtown until The Strip returns to being a little more gambler friendly. As I've noted before, I want the return of big spinning cars available to be won sitting out on the sidewalks and huge neon signs that say "Our Slots Pay Back 99%"!
Few notes on Fremont Street Downtown:
1. You may wish to avoid Friday and Saturday nights now. I do. The area is now so popular that weekend evenings are super-crowded and pretty crazy. Fremont Street has the same gambling, food, and live bands seven nights per week. Go when you don't have to fight the people who are a little out-of-control.
2. Because the live music often lasts until midnight or 1 AM, light sleepers staying downtown should request a room as far away from Fremont Street as possible, preferably facing the other direction. (Main Street Station guests may want to request a room that isn't on the freeway side).
3. The old rooms at Golden Gate are really tiny. For those of you who like elbow room, something to keep in mind.
Thanks again for the great report!

We love to hear from you, and value your feedback! Here's how to participate:
Want to comment on a current reader post? Use the comment box on that particular web page. Many of the stories we post also have comment boxes at the end of the story. Make your voice heard!
Drop us an email at AccessVegas@AccessVegas.com – We read them all!
Call our recorded comment line at 702-507-0055. We listen to every call.
---
No related links found