Serving Las Vegas Visitors and Residents Since 1999
---
AccessVegas.com Quick Info Menu:
Las Vegas Essentials

Seasonal Vegas Information

Featured Shows

Photos and Wallpaper
Newkirk's Notes – comments on Las Vegas from AccessVegas.Com publisher Ted Newkirk:
Ted is on assignment this week working on AccessVegas.com expansion projects. Please enjoy this issue prepared by staff.
Associate Editor: Amy Rayner-Cooley
News Researcher/Editor: Mark Jacobs
---
Las Vegas Is On Sale!
Get Great Rates At All Hotels:
---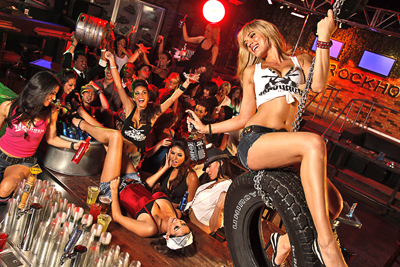 Rockhouse To Kick Off "55 Days Of Summer" On Cinco De Mayo – Guests To Enjoy Patio Party, Drink Specials, At Las Vegas' Only Ultra Dive Bar – This Cinco de Mayo Rockhouse Bar & Nightclub will launch "55 Days of Summer," featuring nearly three months of specials on Budweiser SELECT 55. The only ultra dive bar in Las Vegas will kick off the warm weather season with a fiesta of fives on the patio on Wednesday, May 5. In addition to the "55 Days of Summer" offering of two Budweiser SELECT 55s for $6, Rockhouse will feature $5 Jose Cuervo shots and margaritas throughout the "55 Days of Summer."
Aria And Mandarin Oriental Las Vegas Named Among Conde Nast Traveler's 2010 "Hot List" – Conde Nast Traveler today announced their 2010 "Hot List," naming ARIA Resort & Casino and Mandarin Oriental, Las Vegas among this year's top new hotels. Featuring 134 hotels throughout 55 countries, the 14th annual list was determined after reviewing thousands of new hotels, then anonymously staying at the most compelling ones. The centerpiece of CityCenter , ARIA features an unprecedented combination of striking architecture, sustainable design, high-end service and spectacular amenities.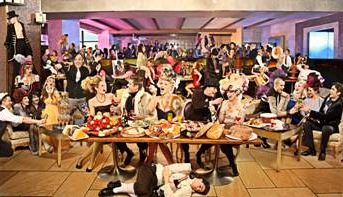 Debut of High Society: Las Vegas' Singular Dayclub – 9 Group, renowned for unparalleled dining, nightlife and lifestyle experiences, presents a provocative and innovative dayclub affair known as High Society at Nove Italiano inside Palms Casino Resort, which opened on Sunday, April 11. Creating a posh atmosphere filled with life's little luxuries in the middle of the afternoon, High Society offers partygoers a place to mix and mingle among Las Vegas' nobility while indulging in high-end libations, decadent dayclub menu and vivacious entertainment. "We are excited to present High Society to Las Vegas and the world," says managing member and co-founder of 9 Group, Michael Morton.
Second Annual "Gimme Shelter" Blues Festival To Return To The Village Lake Las Vegas – The Village and Heaven Can Wait Animal Society will co-host the Second Annual "Gimme Shelter" Blues Festival which will feature local bands including John Earl's Boogieman Blues Band, Pete Contino Quartet and Lady 'J' Huston & The Fireballs. Guests can enjoy a fun-filled night of great music, beautiful lakeside atmosphere, drink specials and the many amazing restaurants The Village has for dinner. Heaven Can Wait Animal Society, a non-profit 501 (c) (3) humane animal organization, was formed in 2000 to eliminate the senseless killing of over 30,000 animals annually in Las Vegas area shelters.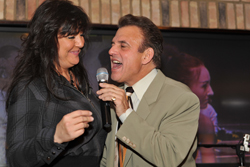 Tony Sacca Returns To His Entertainment Roots With Retro Louis Prima-style Act – Veteran performer Tony Sacca, the "Entertainment Ambassador of Las Vegas" and founder of the Las Vegas Rocks CafÚ, has returned to his entertainment roots because of his new downtown venue where there are three distinct rooms: the main dining room; the Marquee Room; and the Embassy Theatre. The Marquee Room, a relaxed, intimate, retro-Vegas-style showroom with dining tables, has created a sort of "back to the future" experience for Sacca, who is again performing on a regular basis.
Julio Iglesias Brings His "Starry Night" Tour To The Las Vegas Hilton – Grammy award-winner Julio Iglesias is performing for three nights only at the Hilton Theater inside the Las Vegas Hilton on June 10, 11 and 12 at 8 p.m. Iglesias got his start in 1968 at the Benidorm Music Festival with a performance of his original song "La Vida Sigue Igual," which landed him first prize and a record contract with an independent label. During the '70s, he toured Europe and Latin America, gaining a large fan base with hits such as "Un Canto A Galicia" and "Manuela."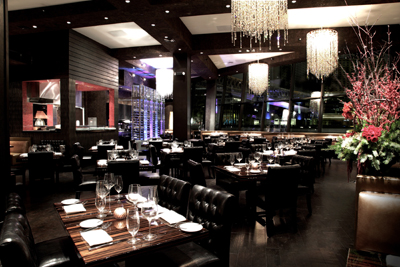 Eva Longoria Parker's Beso Steakhouse Is Named "Best New Restaurant" – Eva Longoria Parker's celebrated steakhouse, Beso, was named "Best New Restaurant" by the Las Vegas Review-Journal 2010 Annual Best of Las Vegas readers' poll. The Las Vegas interpretation, situated directly beneath her opulent nightclub Eve, is Longoria Parker's second restaurant, modeled after her popular, original Beso in Hollywood. Since opening in December 2009 at Crystals in the world-renowned CityCenter complex, Beso has quickly become a favorite hotspot among locals and celebrities alike.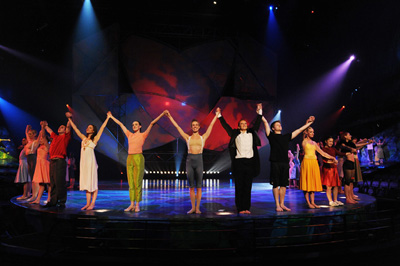 Nevada Ballet Theatre And Cirque Du Soleil Present: The 3rd Annual A Choreographers' Showcase – A Project Designed To Stimulate And Encourage Artistic Growth – Nevada Ballet Theatre, the state's largest professional ballet company, and the internationally renowned Cirque du Soleil are pleased to announce their 3rd annual A Choreographers' Showcase: A Project Designed to Stimulate and Encourage Artistic Growth. This highly anticipated production will include eleven originally choreographed works by artists from the various resident Cirque du Soleil shows as well as professional dancers from Nevada Ballet Theatre.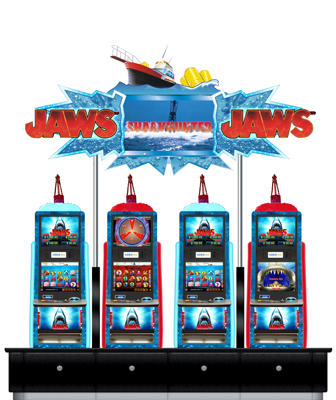 Gambling Talk: Video Slots – Jaws – with Victor H. Royer. As promised, in this issue û and the following issues û I will now write a little more about some of the favorite slots that my readers have told me they like to play, and later also show you some of the great new slots that are about to be released. In this issue, I present JAWS, by Aristocrat, and a short description of the game and how to play it.
No, this shark doesnÆt bite à it gives 3 separate Bonuses, along with Jackpots, and gives you that feeling of getting something û like money! Yes, itÆs true that when you hit the bonus round, the whole bank of machines turns blood red û but unlike in the movie, in this case the big shark is about to give you some great wins. ItÆs an awesome game, now appearing in Midwest casinos everywhere. It has been available in Las Vegas and Florida for some time. Now you can look for itÆs striking facade in your favorite casino as well. Click to Read Complete Article…
---
Featured Tour û Enjoy Las Vegas!
Las Vegas Double-Decker Bus of the Stars û Hop onboard with your favorite celebrities and tour the world-famous Las Vegas Strip! This one-of-a-kind tour takes place on an original London double-decker bus and every sightseeing show is varied, ensuring a unique experience every time!
Highlights: * Choice of several departures throughout the day * Choice of seating available * Receive discounts at selected restaurants, shops and attractions * Pick-up from a centrally located meeting point
---
Members Mania – We Love Our Readers!
Ted is on assignment this week working on AccessVegas.com expansion projects. Members Mania will return next week.
---
We love to hear from you, and value your feedback! Here's how to participate:
Drop us an email at allvegastv@aol.com – We read them all!
Call our recorded comment line at 702-507-0055. We listen to every call.
---
More Las Vegas News – Concerts – Events
---
Coming Hot Holidays
– The following dates are huge times to be in Las Vegas, and rooms are in high demand. Booking in advance is the best way to save. Visit our friends at
Las Vegas Hotel Deals
and spend one of the following hot dates having fun in Las Vegas:
Cinco de Mayo May 5
Mother's Day May 9
Memorial Day, U.S May 29-31 (3 day weekend)
Father's Day June 20
Independence Day July 4
Civic Holiday, Canada July 31-August 2 (3 day weekend)
Labor Day, U.S September 4-6 (3 day weekend)
Labour Day, Canada September 4-6 (3 day weekend)
Jewish New Year September 9
Halloween October 31
Veteran's Day November 11
Thanksgiving Day, U.S November 25-28 (4 day weekend)
Hanukkah Dec. 2 – Dec. 9
Christmas December 25
New Year's Eve-Day December 31 – January 2 (3 day weekend)
Martin Luther King, Jr., Day, U.S (Observed) January 15-17 (3 day weekend)
Chinese/Lunar New Year February 3
Super Bowl Sunday February 6
Lincoln's Birthday, U.S February 12
Valentine's Day February 14
President's Day, U.S (Observed) February 19-21 (3 day weekend)
Washington's Birthday, U.S February 22
Mardi Gras March 8
St. Patrick's Day March 17
Easter Sunday April 24
Link To Us! – Have a home page, web page, or blog? Link to us, and give yourself and your friends a quick link to find us from your site. Simply link to http://www.accessvegas.com and name the link Access Vegas!
RSS Feed – We now have an RSS/XML feed! Most RSS programs let you visit AccessVegas.com and automatically pull the feed. For those who want to enter it manually, the feed is:
http://www.accessvegas.com/xml/whats-hot.xml
No related links found