Serving Las Vegas Visitors and Residents Since 1999
Welcome to the Insider Vibe! This is the official newsletter of AccessVegas.Com. We talk about the Las Vegas activities you really care about.
Need to contact us? Send feedback to
AccessVegas@AccessVegas.com
Missed an issue? Click to Read Back Issues Online.
---
AccessVegas.com Quick Info Menu:
| | |
| --- | --- |
| Las Vegas Essentials | Featured Shows |
---

---
Hot Hotel Happenings – Save Big Now!
Click To View ALL Las Vegas Hotel Deals
Print Too Small? (Deals – Large Print)
---
This Week's Top Tours
| | |
| --- | --- |
| | Neon Dream Vegas helicopter tour, soar out to and over Hoover Dam/Lake Mead, Fremont Experience and entire Strip! |
| | Ultimate Grand Canyon South Rim tour, extensive views, lunch at historic lodge, more! |
| | Zoom around Las Vegas Speedway NASCAR track at 160 mph with pro driver, thrill of lifetime! |
| | Soar over the desert at 60 mph, seeing scenic wildlife from ziplines (close to Vegas)! |
| | Visit Grand Canyon, Mojave Desert, Black Mountains, Eagle Point, Hoover Dam photo op, more. Day tour from Vegas! |
---
Shows, Concerts, And Headliners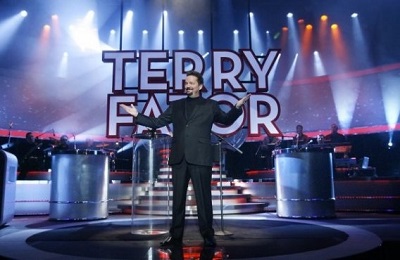 Terry Fator: The VOICE Of Entertainment Launches Updated Show In Conjunction With 5th Anniversary – When audiences last saw Terry Fator, his loveable sidekick Winston the Impersonating Turtle was looking for a new gig on the Las Vegas Strip. Fast forward to 2014 and Winston has gone Hollywood in the updated version of Terry Fator: The VOICE of Entertainment. Winston leaves the bright lights of Sin City for big budget movies in sunny California, tasking Fator to audition a cast of characters to find Winston's replacement as his right-hand man…er…turtle. Those auditioning include Vikki "The Cougar," country legend Walter T. Airedale, Duggie Scott Walker, Julius, Emma Taylor, the world's greatest Elvis impersonator Maynard Tompkins and Wrex the Crash Test Dummy.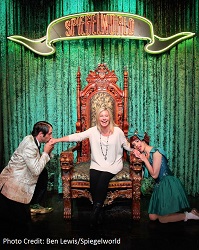 Olivia Newton-John Attends Absinthe At Caesars Palace – Film and music star Olivia Newton-John was spotted attending Las Vegas' "Best Adult Show," Absinthe at Caesars Palace, on April 3, 2014. Following the show, The Gazillionaire and his assistant Penny Pibbets welcomed the Strip's newest headliner backstage where Newton-John shared words of enthusiasm for the show and took photos with the zany duo. Photo Credit: Ben Lewis/Spiegelworld
Absinthe is an acro-cabaret variety show featuring wild and outlandish acts in a theatre-in-the-round presentation. Audiences are treated to a night of imagination and excess as the cast of eccentrics perform amazing feats of strength, balance, danger and unfathomable flexibility within mere feet of the audience surrounding the intimate stage.
---
Linq Las Vegas
---
Dining In Las Vegas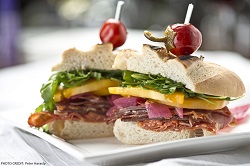 La Cave Wine And Food Hideaway Inside Wynn Las Vegas Defines Lunch With New Sandwich Menu – Corporate Executive Chef Billy DeMarco puts his spin on lunch sandwiches at La Cave Wine & Food Hideaway at Wynn Las Vegas, available Monday through Friday from 11:30 a.m. to 3:00 p.m.
Guests may now enjoy lunchtime sandwich favorites including…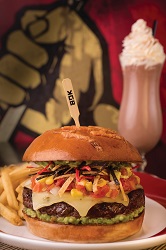 KGB: Kerry's Gourmet Burgers Inside Harrah's Serves Up Unique Monthly Burger And Shake Combos This Spring And Summer – As the temperatures climb this spring and summer, KGB: Kerry's Gourmet Burgers at Harrah's Las Vegas continues its year-long burger and shake series, keeping the menu fresh and fun. Each flavorful burger and shake creation, crafted by master chef Kerry Simon, is only available for one month. Ordered separately, the burgers are $14 and the shakes are $6, while the burger and shake of the month combo is $18.
For the month of May 2014, guests can experience the Chorizo Burger and Mexican Hot Chocolate milkshake.
---
Las Vegas Attractions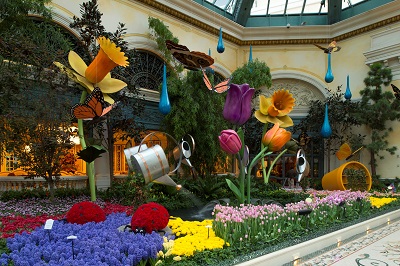 Spring Showers Bring Bountiful Flowers At Bellagio's Conservatory And Botanical Gardens – The weather around the country may still be a bit unpredictable, but springtime has officially sprung inside Bellagio's Conservatory & Botanical Gardens where it's always a pleasant 68.4 degrees. The spring display brings a bounty of more than 8,200 flowers of vibrant colors and floral creations now through May 11.
---
More Las Vegas News
---
Upcoming Las Vegas Events And Holidays
---
Newkirk's Notes: The Boss Speaks…
Newkirk's Notes are comments and insight from AccessVegas.Com publisher and 20+ year Las Vegas resident Ted Newkirk:
Hello From Las Vegas! – While winter still grips the upper Midwest, we're warm and sunny here in Las Vegas. If you follow national news, you'll learn that it isn't the weather we're currently know for. I bet it was news to some of you to learn that our area has ranching and cattle grazing! (If what I'm saying has you scratching your head, simply put the words Cliven Bundy into your favorite search engine).
by
.Larry Page
We have agriculture as well, but over in Pahrump and up in Overton (both about an hour outside of town) Vineyards in Pahrump are pictured above. In fact, Las Vegas means "The Meadows" in Spanish and at one time, springs fed vegetation in our area. So much for the myth that Las Vegas is a barren desert that no one should be living in!
The fact is, we're surrounded by breathtaking scenery. If you want to experience it on horseback (almost like a rancher would) or from the comfort of an air conditioned jeep, we have all of that (and more!) available over on our AccessVegas.com Tours Section.
The Return Of Bars And Lounges? – "Bar Rescue" (TV show) host Jon Taffer has vocalized what I've been saying (and many of you have been echoing) for a number of years now: Vegas needs more cool bars for people over 35 who don't want to do the nightclub experience. Bars where you can relax and hang and talk (which means music you can talk over).
Nightclubs get all of the attention because they are enormously profitable. One nightclub can make over a million dollars per week (and they aren't even open every day). However, these club-goers tend not to be as much into gambling (which is the easiest, cleanest money a casino can make).
I hate to sound like I'm nostalgic for the Rat Pack (before my time), but perhaps a casino atmosphere in certain areas aimed at 35+ people combined with the return of hotels having great lounges and bars might not be a bad thing to look into for the properties. You can read the entire article I've referenced at Seismic shift will rattle Vegas' nightclubs and bars
AccessVegas.com Best Of Las Vegas Hotels Play-In Round Results – Voting is finished in the First Round of our hotels Play-In round. As a refresher, these are the 16 hotels at the lower end of the price scale who are vying to be one of the 64 hotels which will playoff against each other when we get to the main round (from which the ultimate winner will be decided.
I have a few comments on the winners so far, but first go look at our Hotels Play-In Round Bracket.
We didn't have an overwhelming number of surprises. People tend to go with what they are more familiar with. We did surprisingly (considering the number of votes cast) have an outright tie: Riviera vs. Palace Station. I'm the tie-breaking vote (think of my as your US Vice President in the Senate) and I'll confess, this was a tough one:
Palace has a variety of very solid restaurants at local's pricing. They remodeled all their rooms just a few years ago, and I stayed in a tower room with an amazing Strip view just a few months ago during my move. Great view, nice room. The gaming is reasonably loose, limits are low, table game rules are old-school, and the video poker pay tables are generous.
However, Riviera simply had too much to overcome. The classic neon facade. A Strip location. Six shows plus a comedy club. A better pool (including cabana rental). And, their recent effort to offer $3 call drinks, $2 beers, and $1 blackjack helped seal the deal.
In an upset, Circus Circus fell to Boulder Station. While there is nothing wrong with Boulder, I would have thought Circus would take it based on the Strip location, amazing steakhouse, and Adventuredome. However, it has been somewhat of a perennial red-headed step-child. Interestingly enough, Boulder moves forward to take on The Riviera (which sits right across the street from Circus, for those who are geographically challenged).
Long-Hauling Update – I've been continuing to follow the long-hauling (taxi taking you the long route to run up the fare) saga so you don't have to. The cabbies are claiming that the cab companies pretty much force them to long-haul to keep their daily averages up and punish them when those averages fall.
They also have been pulling a pity-party like they always do. I remember being long-hauled from Venetian to Downtown a few years ago (the driver did not realize I lived here), and when calling him on it, got this whining story about how he's just a good, hard-working guy doing a tough job 12 hours per day.
Progress is being made regarding the placement of GPS in cabs to help cut down on the issue. The catch? The technology chosen for testing is technology owned and developed by one of our big cab companies, who arguably benefit from long-hauling and the higher fares it racks up! This makes us wonder if we have a fox guarding the hen house.
As always, we'll stay on top of this for you. If you wish to read the latest: Board recommends Las Vegas company to provide long-hauling enforcement tool
Hope you are enjoying this issue!

Associate Editor / News Researcher: Rick Ziegler
Concerts, Headliners, Special Events: Amy Rayner-Cooley
---
What We're Watching!
Vegas Videos You'll Enjoy
---
Members Mania – We Love Our Readers!
Instead of reader feedback today, just a note that we are busy, busy, busy working on the new paid-members program. (Hey, the entire reason we're doing the membership program is so we can hire more help, allowing us the time to be more involved helping our members)!
We very much appreciate those who are participating in early enrollment, which is helping to fund the basic membership set-up and has us looking at hiring a part-time researcher to better organize and hunt down all the zillions of amazing deals in Las Vegas that generally fly under the radar or come and go too often for other sources to keep up on. And, to answer your questions. Keep in mind that paid subscribers will (within reason) always get a response to Vegas questions. Due to volume, we simply can't otherwise promise that to everyone.
We are slowly but surely reaching out to everybody who has enrolled so far. Thank you for your patience as it takes time to say a personal hello. Rest assured that your info in being inputted, we will be in touch confirming and saying "Thanks", and you will be getting additional updates as the July 1 launch moves closer.
Since we always have readers tuning in as their trip nears, this may be news to some of you. To find out the benefits and take advantage of pre-enrollment pricing, please click over to our April 2, 2014 issue and scroll down to Members Mania. We still are able to offer the $14.95 pricing (if you see it there, it is still available), but will be increasing it in the near future. The early-bird who shows their support gets the proverbial worm with us!

We love to hear from you, and value your feedback! Here's how to participate:
Want to comment on a current reader post? Use the comment box on that particular web page. Many of the stories we post also have comment boxes at the end of the story. Make your voice heard!
Drop us an email at AccessVegas@AccessVegas.com – We read them all!
Call our recorded comment line at 702-507-0055. We listen to every call.
---
No related links found