Serving Las Vegas Visitors and Residents Since 1999
Welcome to the Insider Vibe! This is the official newsletter of AccessVegas.Com. We talk about the Las Vegas activities you really care about.
---
AccessVegas.com Quick Info Menu:
Las Vegas Essentials

Seasonal Vegas Information

Featured Shows

Photos and Wallpaper
Newkirk's Notes – comments on Las Vegas from AccessVegas.Com publisher Ted Newkirk:
Hello From Las Vegas! Awesome weather (high 70's) and light breezes have a smile on my face. Just got back from taking a break and enjoyed a beautiful twilight walk. Massive amount of stuff this week, so we'll dive right in:
Get On The X – A new train service from L.A. to Las Vegas called the X Train is slated to start next year. No… not the sci-fi maglev or the other Express train that they want to build to Victorville (with a transfer to Palmdale with another transfer to Los Angeles… I'm not making that up). This train will be double decker, run on existing rail lines between the two cities, have a party/bar car and plenty of big screen TV's (even in the coaches), and cost $99 round trip.
While the journey would take slightly longer than driving under normal conditions (perhaps slightly less than driving on Friday and Sunday), the Vegas Experience would start from the minute you get on the train. And… you'd get to sleep away the hungover ride home instead of driving yourself or fighting your way through airports at each end. The terminus will probably be next to The Rio (just across the freeway from Caesars and Bellagio, right in the heart of The Strip).
I've been suggesting this for some time. In fact, I'll quote a couple of blog comments I made on The Die Is Cast post Waiting on a Train back in January:
It seems like there are only two people in town (Mayor Goodman and myself) who believe that everybody is overlooking the obvious with train travel between here and Los Angeles:
Union Pacific has a perfectly good set of train tracks from downtown Las Vegas to downtown Las Vegas. Note: The "failure" of past Amtrak service is a moot point, as that route was a long-haul train route not geared for the specific needs of Vegas to L.A.
Would people ride? …no driving, the train could have a party train atmosphere, …No airport parking fees. No long drive home with a hangover. No TSA. No rip-off cab rides from McCarran.
Southern Californians, chime in: Would you ride this kind of train instead of driving of flying? Comments are always welcome at allvegastv@aol.com

Lake Las Vegas and Montelago Village
Free Shuttle To Lake Las Vegas – We were all excited upon hearing about a possible free shuttle to Lake Las Vegas. Many of you have asked about it. Unfortunately, the shuttle is ONLY for those who are staying at Lake Las Vegas. The only other way out there is by renting a car or paying a roughly $40 taxi ride each way. If you want to decide whether Lake Las Vegas is worth seeing, we've posted a couple of really good video overviews at Lake Las Vegas and MonteLago Village Resort Video Previews.

Lake Las Vegas Wine Bar
My advice? If you are a regular Las Vegas visitor and have a car, head out for a couple hours to enjoy it. Come summer, go in the morning to avoid the heat. The rest of the year, I'd go about an hour before sunset and plan on enjoying drinks and dinner out there. (If you really, really don't find a Lake Las Vegas restaurant per your desires, you are only a few minutes from Henderson, NV which has just about any dining option you'd want).
No More Star Trek Experience – I hate to be the bearer of bad news. But, it looks like the Star Trek Experience won't be coming to Neonopolis after all. In fact, some of the memorabilia have already been sold off. More at 'Trek' fans find sale a nostalgic Experience
Shooting The Shooters – Later in this issue, we have information on the National Heads-Up Poker Tournament (starts to air on NBC this weekend). I was up at Voodoo (top of Rio) the day they were shooting for the opening of the show. For those of you wondering where some of those stunning TV shots of Las Vegas come from, this is how they get them.
Home Sales Way Up – Temporarily. The combination of rock bottom prices, the federal tax credit's pending end and some owners finally giving up hope of getting much of anything out their properties (and just selling instead of holding out) really spurred a buying spree in March. My opinion? We'll see another lull soon and continued very soft home pricing.
Why? The lack of new construction (along with the finish or CityCenter) and a continued soft local economy with very high unemployment is going to create another wave of foreclosures later this year. Those who have been swooping in and paying cash for homes as in investment appear to pretty much already have done so. Housing is going to remain dirt cheap here for quite some time (and both home and apartment rental rates are exceptionally low for this area as well). How low? Recently, 1600 sq. ft. homes in this neighborhood just a mile from downtown have been selling for around $40,000. Far off their $50k and $60k asking price. However… before you plan that move:
Business Influx? – I know that we have a segment of readers who follow this not just to enhance their visits, but also in consideration of whether they may want to move their business here. I'd hold off, and I'll tell you why: Huge state budget shortfalls are starting serious talks about the implementation of broad based business taxes. The current legislature is very tax-friendly and next years' session could result in serious tax increases (both business and personal). You have a very real possibility of an end to Nevada's reputation as a tax haven for locals.
March Madness Party, Party, Party – As promised, we have the footage from some of the free festivities that took place downtown on Fremont Street during March Madness: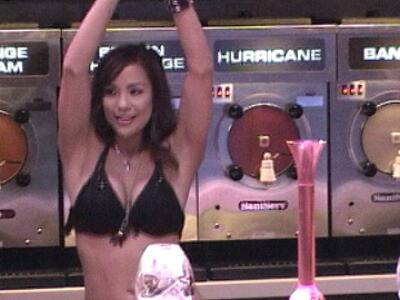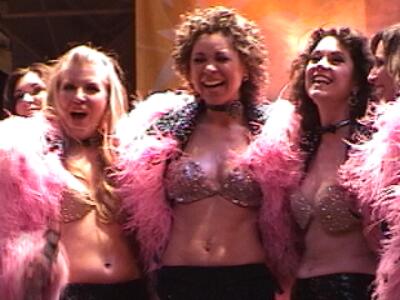 Of course, you don't have to settle for the photos. Click to enjoy video of March Madness Las Vegas Fremont Street Entertainment
Enjoy This Issue!

Associate Editor: Amy Rayner-Cooley
News Researcher/Editor: Mark Jacobs
---
Las Vegas Is On Sale!
Get Great Rates At All Hotels:
---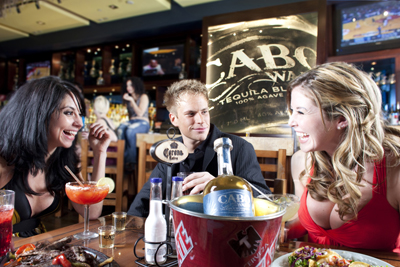 Cabo Wabo Celebrates A Rock 'N' Roll Cinco De Mayo – Great Food, Live Music, Prizes And Plenty Of Tequila – Cabo Wabo is ready to rock 'n' roll this Cinco de Mayo. The Mexican Cantina will celebrate Sammy Hagar-style on Wednesday, May 5, with Cabo Wabo Tequila specials, prizes, and plenty of partying. Plus, one lucky partier will even win a one-of-a-kind autographed Sammy Hagar guitar. Raffle tickets will be given to any customer purchasing a Cabo Wabo Tequila cocktail with between Friday, April 30 and Wednesday, May 5. The winner must be present at the time of the drawing. Cinco de Mayo revelers will also enjoy live rock 'n' roll as well as sensational food and drink specials throughout the night.
Annie Duke Wins NBC's National Heads-Up Poker Championship – Claims the $500,000 First-Place Prize. NBCÆs Broadcast to Air on Six Consecutive Sundays Beginning April 18 (check local listings). Annie Duke triumphed against the creme de la creme of the poker world to win the 6th Annual National Heads-Up Poker Championship at the Caesars Palace Poker Tournament Room. Duke defeated Erik Seidel, who has won eight World Series of Poker bracelets and ranks 9th all-time money list, in the tournamentÆs best-of-three finals to claim the championship and the $500,000 first-place prize. The National Heads-Up Poker Championship was taped for broadcast on NBC over six consecutive Sundays beginning April 18 (Noon – 1PM ET).
First Food & Bar Announces New Late Night Menu Showcasing "Size Matters" Featuring Larger-Than-Life Eats – FIRST Food & Bar – THE place for late night dining in Las Vegas. The high energy of the city is wrapped up in amazing eats and drinks in this hip restaurant and bar that allows guests to keep an eye on all the action with amazing views of The Strip. Chef Sam "Sammy D" DeMarco listened to customers who were coming in after their shifts or when winding down from a whirlwind night û they all wanted one thing û something more than a watered down late night menu. Chef responded with a creative menu full of FIRST classics like Fish & Chips, Breakfast Mini Burgers and Tuna "Nachos.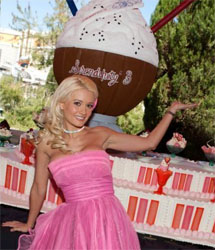 Serendipity 3 Celebrates One-Year Anniversary At Landmark Home In Front Of Caesars Palace – With more than 50 years of history at it's flagship New York location, Serendipity 3 at Caesars Palace has become a landmark destination in Las Vegas. In honor of its one-year anniversary, Las Vegas Mayor, Oscar Goodman proclaimed April 6, 2010 "Serendipity 3 Day" in the city of Las Vegas. Special guest of honor, Holly Madison, delivered Mayor Goodman's proclamation before cutting the ceremony's anniversary cake. Caesars Palace Executive Pastry Chef Randy Sebastian custom-created a dessert in Holly's name for guests to enjoy throughout the entire month of April. "Holly's Pink Peppermint Sundae" includes pink peppermint ice cream, a pink blondie brownie, seasonal berries, red berry coulis and pink cotton candy. The delicacy is available to guests throughout the entire month of April for $10.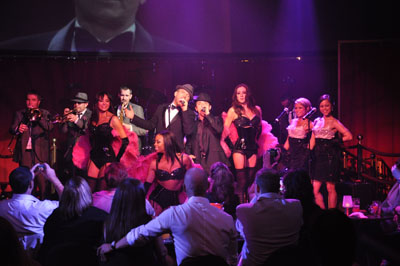 After checking out Matt Goss at Caesars Palace last week, Jersey Boy star, Rick Faugno, made a repeat visit Friday evening. Faugno joined Goss to duet on two songs including the new Strip classic "Lovely Las Vegas." Photo credit: Cashman Photo
Gambling Talk: Video Slots – The Sopranos« – with Victor H. Royer. As promised, in this issue û and the following issues û I will now write a little more about some of the favorite slots that my readers have told me they like to play, and later also show you some of the great new slots that are about to be released. In this issue, I present: The Sopranos« video slot machine from Aristocrat.
OK youse bums, listen up û I'm gonna loin you sumtin'. Settle in for some great wins, 'cause udderwise youse can fugghedaboudit. You got it? Good! Well, okay then, that's about as much as I can stand, in this kind of movie-speak. It's fun to make fun, especially if you remember a movie called "Nicky Blue Eyes". But this is a slot machine, based on the very popular TV show "The Sopranos«". It is gaming's new top boss, The Soprano« Video Double Standalone Progressive video slot machine from Aristocrat. Click to Read Complete Article…
---
Members Mania – We Love Our Readers!
I could use some advice on booking a hotel on the Vegas Strip. You see I'm coming over from Scotland for my 35th birthday so I will be in town from Jan 19 to 26 next year. I don't know about you but 35 is one of those special birthdays where I either hide form the world and cry the day away bemoaning the aging process or make the day so amazing I'm reminded of how amazing life can be, I have every faith Las Vegas won't disappoint.
I've been reading your Vegas update e-mails for so long and have finally, painstakingly, drawn up a schedule for the 7 days. Theres just sooo much to fit in just the one week. I'm so jealous of you guys who live there. There are certain things I must get done on each day but I've allowed plenty of flexibility for let say, late starts after late nights. I'm just the kinda guy who would rather have a list of things to do in a day and be happy if I only got one thing done but really enjoyed it rather than spending one precious holiday moment pondering what there is to do that day.
With all that said, I'm meeting my pal from Little Rock in Las Vegas for the week and while we are sorting out our own flights into town, I'm charged with getting the hotel.
As we have so much to get done we decided a central strip hotel would be best and I've got the Flamingo or Imperial Palace in mind. Well we'd love the Bellagio but there are some budget constraints to consider, my international flight doesn't come cheap after all.
Right now the best deals I could find for the week are: Flamingo $465, Imperial Palace $375
Las Vegas Hotel Deals doesn't have these two hotels available yet and when I spoke with one of their team they suggested waiting up until 4 or 5 months before we plan on getting there before booking a hotel as we would be more likely to get a discounted room and special offers such as their discount booklet.
As you guys know how your city works, in your opinion do the prices I've found for those two hotels seem like unbeatable value and I should just grab them now, or would it be worth my while waiting until around September to see whats on offer then?
Thanks for your e-mail updates, I really appreciate all the work you put into them.
Trey from Scotland
Ted Responds:
Yes… you are coming a long way and I know that you want to enjoy your birthday here and get the best deals. And… I appreciate you checking with Las Vegas Hotel Deals as they are our hotel partners. They are a big part of 1. Keeping this newsletter 100% free and 2. Why we have the resources to put so much work into it.
Hotel rooms are similar to airline tickets. If you want to book way in advance, you will pay the regular rate. Travel companies won't discount because they have no clue what supply and demand will be. Nor are hotels willing to tie up many rooms (until them themselves know more).
Plenty of rooms will be available in Las Vegas for the next five years (at least) because of the glut of rooms from recent construction. You can wait until the 4-5 month mark to make your hotel reservations, no problem.
And on that note, so much will change and so many new things will be happening here that your list of what you want to do and see will continue to change as well.
Hang tight, enjoy the anticipation. You can simply enjoy keeping your eyes on prices, as I know that you are traveling a long way and this is a BIG trip for you.
Thanks for reading and please tell your friends who are interested in Las Vegas to also subscribe.
P.S. I hit 45 this year, so I know what you are going through!

---
My wife and I just returned from Vegas. We went to celebrate our 20'th anniversary. We stayed downtown at MSS (Main Street Station) and really did enjoy ourselves. The folks at MSS are so friendly and always helpful. The reason for my email is this; We saw a show on the History or Discovery channel about a pawn shop in downtown Vegas and thought we would like to see for ourselves what it was like.
After driving up to the place on Las Vegas Blvd, we could not even get into the parking lot. People were lined up outside on the sidewalk. It look as they had someone controlling the door and also someone directing traffic in and around their store. We went back a couple days later and the same thing. No room to park. This must be the NEW attraction for downtown Vegas.
Thanks for your informative newsletter.
Astor Kinney
Ted Responds:
Pawn Stars (the show based around the shop) is seen by 1 out of 100 people in the U.S. Over 3 million people per week. I'm actually working on a column called Secrets of Pawn Stars (best time to get there to see the actual guys, how to get there, etc.) that I hope to have done next week.
Shortly after the show debuted, I actually went to check out the shop. Owner Rick Harrison was just sitting there doing some paperwork. Nobody in line to get in the door. Boy-oh-boy have things changed since then!

---
We just got back from 7 glorious days in Vegas. We live in New York and try to get to Vegas twice a year. This trip was mainly for "Wayniac Week". Yes, we call ourselves "Wayniacs" but are friends with Mr. Las Vegas himself, "Wayne Newton".
We had 3 days of festivities which involved Wayne and his family. Everything was at the Tropicana which is where you an catch Wayne's show "Once Before I go".
It started with a luncheon and registration at the Tropicana then we were off to Wayne's ranch for a barbecue.YES, Mr. Newton was a gracious as can be, sharing his home with us!áMicrophone in hand, Wayne took out four of his beautiful Arabian horses and told us about each one of them. It was awesome and the food was great too. Wayne, you're a marvelous host.
Then, off to Wayne's show. Next day, formal dinner at the Trop with Wayne and his family. He made the most wonderful speech as to how much his fans mean to him and they are not just fans, they are his true friends! We watched videos of ourselves and Wayne going back 30 years. What great memories!
Many thanks Wayne for everything and for being the so kind and generous to your fans! We love you!
Anyone who hasn't seen Wayne's show, you better go now — you've only got 'till April 24th! It's amazing!
Donna Dunn
Ted Responds:
Thanks for sharing your amazing trip! Time is certainly running out to see the show here. For those of you who always thought that you could see Sigfried and Roy or Danny Gans sometime down the road, you might want to get over to see Once Before I Go. For our friends in Southern California and Biloxi, Newton has one-night shows coming up in your areas. Tickets for all shows/cities available at Wayne Newton Tickets

---
We love to hear from you, and value your feedback! Here's how to participate:
Drop us an email at allvegastv@aol.com – We read them all!
Call our recorded comment line at 702-507-0055. We listen to every call.
---
More Las Vegas News – Concerts – Events
---
Coming Hot Holidays
– The following dates are huge times to be in Las Vegas, and rooms are in high demand. Booking in advance is the best way to save. Visit our friends at
Las Vegas Hotel Deals
and spend one of the following hot dates having fun in Las Vegas:
Cinco de Mayo May 5
Mother's Day May 9
Memorial Day, U.S May 29-31 (3 day weekend)
Father's Day June 20
Independence Day July 4
Civic Holiday, Canada July 31-August 2 (3 day weekend)
Labor Day, U.S September 4-6 (3 day weekend)
Labour Day, Canada September 4-6 (3 day weekend)
Jewish New Year September 9
Halloween October 31
Veteran's Day November 11
Thanksgiving Day, U.S November 25-28 (4 day weekend)
Hanukkah Dec. 2 – Dec. 9
Christmas December 25
New Year's Eve-Day December 31 – January 2 (3 day weekend)
Martin Luther King, Jr., Day, U.S (Observed) January 15-17 (3 day weekend)
Chinese/Lunar New Year February 3
Super Bowl Sunday February 6
Lincoln's Birthday, U.S February 12
Valentine's Day February 14
President's Day, U.S (Observed) February 19-21 (3 day weekend)
Washington's Birthday, U.S February 22
Mardi Gras March 8
St. Patrick's Day March 17
Easter Sunday April 24
Link To Us! – Have a home page, web page, or blog? Link to us, and give yourself and your friends a quick link to find us from your site. Simply link to http://www.accessvegas.com and name the link Access Vegas!
RSS Feed – We now have an RSS/XML feed! Most RSS programs let you visit AccessVegas.com and automatically pull the feed. For those who want to enter it manually, the feed is:
http://www.accessvegas.com/xml/whats-hot.xml
Share the info: Click to Email this newsletter to a friend!
---
For comments or questions regarding our content
or this newsletter write us at
allvegastv@aol.com
.
New to the list? See our Newsletter Archives for back issues and subscription info. Don't hesitate to forward this newsletter to friends and associates.
All contents copyright 2010 Ted Newkirk. All Rights Reserved.
Hotel Rates Published Accurate At Time Of Publication


April 14, 2010 ISSN: 1529-2770 About Us Privacy Policy
No related links found