Serving Las Vegas Visitors and Residents Since 1999
Welcome to the Insider Vibe! This is the official newsletter of AccessVegas.Com. We talk about the Las Vegas activities you really care about.
---
AccessVegas.com Quick Info Menu:
Las Vegas Essentials

Featured Shows

Photos and Wallpaper
Newkirk's Notes – comments on Las Vegas from AccessVegas.Com publisher Ted Newkirk:
Hello From Las Vegas! Well, well, well… if you hate coming here during our summer heat, have no fear: Hot temps left town. With temps around 80 degrees F with overnight lows in the mid-50's and mild winds, most of you will find this the perfect time of year to be here. Especially with snow headed for some parts of the U.S. and Canada already!
Stuff For You – We love our readers and are always working to set you up. Alize French Restaurant at the Top Of The Palms (the world renowned restaurant by chef Andre Rochet) is giving away dinner for two exclusively to our readers. Details later in this issue. On top of that, we're inviting everyone to an event featuring complimentary cocktails, Cuban food, and a special appearance by Las Vegas Mayor Oscar Goodman this coming week: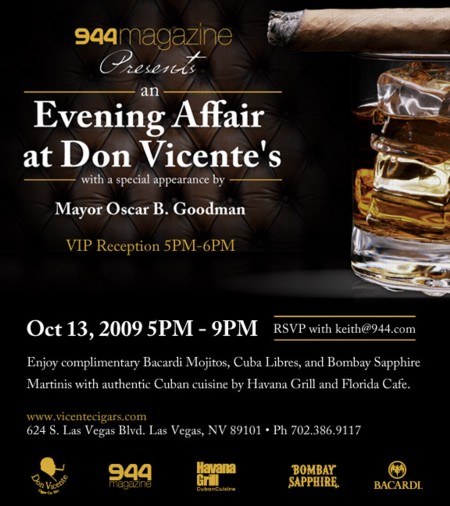 Our infamous Mayor Oscar Goodman's run is coming to an end this year. He's term-limited out, and he's been going out with a bang. He's personable and willing to talk (and take pictures with) anyone and everyone. Add meeting our mayor in with a cocktail and some excellent Cuban food and you have an event worth going out of your way for. Oh… did I mention it is complimentary to the public! But you MUST RSVP to keith@944.com
Important Notes: Don Vicente Cigar Company is just 1/2 mile from downtown's Fremont Street Experience and 1.5 miles north of The Sahara directly on Las Vegas Blvd. (at Bonneville) and directly on The Deuce bus line. If driving, we suggest parking anywhere east of LV Blvd. on neighboring side streets.
Although this is a cigar event, extensive outdoor seating (fresh air) will be available. No purchase necessary but buying one of their incredible Don Vicente cigars in encouraged. (Take it back to that friend of yours that enjoys fine cigars, or leave it as a tip for your favorite bartender, valet, waiter or whoever is helping make your stay good). More info on the cigars at Vicente Cigars
This is not a black-tie event by any means, but you obviously don't want to look like you are about to mow the lawn when meeting someone of Oscar Goodman's caliber. You too can say you had a martini with the Las Vegas Mayor. I plan to be there, and will be sporting a golden-yellow shirt with our logo (see top of newsletter) on it. If you see me, say hello!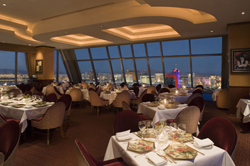 Dinner For Two At Alize Top Of Palms – One lucky reader will be the recipient of dinner for two at this amazing French restaurant high atop The Palms. You and a guest will enjoy a special (and scrumptious) five-course tasting menu while enjoying what is arguably the most amazing view of Las Vegas one can have while dining.
Football Events On The Strip (And All Over Town) – Amy has worked very hard to make an an extensive list of various football (U.S.) parties that are open to the public. Many of these feature food and drink specials. Plus… sports books are crowded and you have to stand in one spot craning your neck for hours on end. Instead, find a party on our list that sounds like your cup of tea… and enjoy! Click to Las Vegas Football Parties 2009
Boo!!! – Halloween is on us before you know it, and Amy has also been starting to compile and "all you need to know" about Las Vegas Halloween events. We'll be adding more every week, so if you live here or are planning to be in town, bookmark our >Las Vegas Halloween 2009 Events page.
What We're Working On – We've had writers and photographers out and about. Over the next few issues, we'll be flooding you with reviews of shows and attractions (many of which we are covering for the first time) plus some incredible new photo sets ranging from the fall display at Bellagio Gardens to an MMA bikini contest.
We have something for everyone, so stay subscribed and tell your friends to to go AccessVegas.com (top of page) and sign up for their subscription as well.
Enjoy This Issue!

Ted Newkirk
CEO/Managing Editor
Associate Editor: Amy Rayner-Cooley
News Researcher/Editor: Mark Jacobs
---
Las Vegas Is On Sale!
Get Great Rates At All Hotels:

Bally's from $39,

El Cortez from $21,

Fitzgeralds from $21,

Hooters from $19,

Orleans from $35,

Riviera from $27,

Sahara from $20,

Stratosphere from $27,

Tropicana from $29,

Tuscany from $20,
Click For More Savings At All Vegas Hotels!
---
KISS To Perform At The Pearl At The Palms
– Sure to be the band's most amazing tour ever, KISS has announced that their "KISS Alive 35" 2009 North American tour, which makes a stop at The Pearl Concert Theater inside
Palms Casino Resort
on Saturday, November 28, 2009. Celebrating 35 years of rocking the world like no other, KISS will treat their legions of fans to a set of some of rock's greatest hits. Buckcherry will be main support on all of the upcoming U.S. and Canadian dates.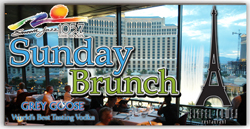 Smooth Jazz Sunday Brunch @ Eiffel Tower – The OASIS Smooth Jazz Sunday Brunch is back! Join us every Sunday from11a to 2p, at Eiffel Tower Restaurant (Las Vegas Blvd. Paris Hotel). Treat yourself to some Grey Goose and Nicolas Feuillantte Champagne specials, a fantastic brunch and live Smooth Jazz!
Call Eiffel Tower Restaurant for reservations today (702) 948-6937
Alice Cooper, The Original "Master of Shock Rock," Brings His Theatre Of Death Tour To The Orleans Showroom October 23-25 – Shock rock icon and innovative showman Alice Cooper brings his Theatre of Death Tour to The Orleans Showroom for three nights, October 23, 24 and 25-just in time for Halloween. With a stage show that features guillotines, electric chairs, fake blood and boa constrictors, Alice Cooper has drawn inspiration from horror films, vaudeville, heavy metal and garage rock to create a theatrical event that showcases his vast music catalogue.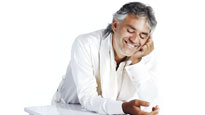 Andrea Bocelli To Perform At MGM Grand Garden Arena Saturday, December 12 – Classical and pop superstar Andrea Bocelli recently announced his Fall/Winter U.S. tour in conjunction with the November release of his highly anticipated album, My Christmas. The tour, which kicks off in Florida next month, will include a stop at the MGM Grand Garden Arena Saturday, Dec. 12. The concert is scheduled to begin at 8 p.m. Bocelli's performances will celebrate much of the repertoire the classical cross-over singer has made world-famous throughout his incredible career. They also will include music from his upcoming release My Christmas, giving his fans a sensational advanced welcome to the holidays.
Mandarin Oriental, Las Vegas To Open On December 4 – The prestigious, new Mandarin Oriental, Las Vegas is set to open its doors on December 4, bringing world-class sophistication, superlative accommodations and gracious service to the heart of the Las Vegas Strip. In celebration of its debut, the hotel has created a special opening offer for guests looking to make the most of their Vegas visit and experience the luxurious, new property.
The Swords Tour: Morrissey With Special Guest Doll & The Kicks – 2009 has been quite a year for Morrissey. He's toured relentlessly, performing to sold-out audiences around the world. His 9th studio album, Years Of Refusal, saw Morrissey tie his highest US chart debut on the Billboard 200, and he's overseen upgraded and remastered versions of his '90s works Southpaw Grammar and Maladjusted.
---
These are only a few of the many Easy Vegas Deals we find each and every week (many of which happen too quickly for newsletter deadline). For a complete and constantly updated listing:
Bookmark and Visit EasyVegasDeals.com daily (Monday – Friday) or

Enter

http://www.easyvegasdeals.com/feed/

into your RSS feed list (for those of you who use RSS/XML feeds) or
---
Members Mania – We Love Our Readers!
I monitor and do blog searches to find out what people are saying about Las Vegas. A while back, I came across an amazing trip report from the Iowa Girl Eats blog. She made three huge posts about her entire trip along with tons of great photos. Whether your visit is coming close, or you are just dreaming of Las Vegas, I highly suggest checking these out:

---
My husband and I love Vegas!! We come from San Diego 3 or 4 times a year. We have had our room comped most of the time. We have stayed at Imperial Palace, Paris, Hilton, and even Wynn!
This trip was last minute, so all we could book was Flamingo. Hey, as long as itÆs clean, we are cool with the older properties. Well, not only was it not clean, it was filthy!!! They were at ô98%ö capacity and all they had left was a handicapped room. That was fine until we got in and saw how filthy the carpet was. Then, the bathroom had a roll in shower with a tiny hand held faucet that couldnÆt reach a person standing up. And, the tiles were at one time white, but now black.
The worst of all was the bed. My husband pulled the top sheet back to sit on the bed while he phoned the front desk. There was a HUGE brown mystery blob on the box spring!!
He told the "manager" Frederick about these things and he said there was nothing he could do, we had checked in too late. 5:00pm is hardly late, when check in begins at 4:00pm. After 30 minutes of pleading, he moved us to a different room, stating he was going to close the dirty room we were in. We were on our way down the hall when another couple went into that very room!! The next room was cleaner, but not clean enough. The smell alone made it unbearable. We decided to leave.
On our way out of town, we stopped to check out the new M resort. It was FABULOUS, and we stayed for 3 nights!! We enjoyed the beautiful suite, gorgeous pools, great restaurants and fabulous casino. We won more than ever before. It is not on the strip exactly, but 10 minutes by car is so easy. We have definitely found our favorite place in the M!!!
Bonnie from San Diego
Ted Responds:
Due to the economy, casinos have been cutting payroll and this is unfortunately an occasional result of that. There is no excuse for it. Properties are in the hospitality business and hospitality involves taking care of your guests.
Hopefully, this is an isolated incident. Fortunately, you had a car and had the option of getting out of there. Many don't. If this happens to anyone else, here's what you do:
Most people now have a camera (digital or cell phone). Before going to the front desk to complain, take some photos (if it is an issue of cleanliness). Show the pics to the manager. That will get their attention! For all they know, you'll be posting those all over the internet, sending them to your friends, writing people like me.
IF they give you the run-around or aren't attentive, tell them that you'll be posting the photos to the travel websites you participate in and sending them to everyone you know and reiterate that the conditions are NOT acceptable.
Most Las Vegas Strip hotels are owned by a company that owns a number of hotels. If a manager gives you some kind of "we are full" excuse, tell him you are willing to be WALKED to another one of their properties with equal or better accommodations. "Walking" is an industry term where one hotel is over-booked and they put you on a cab to another one of their hotels.
If you still get the run-around and are not satisfied at the end of your stay, follow through when you get home:

DO post a trip report and the photos to a travel blog, travel site or other website you participate in.
DO post the information to any/all of your social networks.
DO make hard copies of all your internet postings and then send them with a snail mail letter (actual written letter) to the manager of the hotel via the postal service. We still get reports that some hotels can be pretty inattentive to their email, but pay lots of attention to actual mail. In fact, I'd send it Priority Mail so it stands out.
At the end of the day, you'll probably be contacted by the hotel with an offer to make it right, either financially or in terms of a free stay next time. But they must see the evidence so they know you aren't simply trying to scam a freebie out of them.
Can't agree with you more about The M, and M Resort has a free shuttle to/from The Strip. Look up M in the phone book when you are there, call and ask about the shuttle details, and anyone can go down and check it out. Also check out our M Resort Las Vegas Grand Opening Picture Gallery.

---
Please send me the calendar of Cher in 2010.
Clarice from Brasil
Ted Responds:
With 25% of our readership international (which we continue to greatly appreciate), we know that many of you are planning your visits months and months in advance. We post concert and event info when we get it. Generally speaking, headliner dates for a calendar year are planned out and released very late in the year (for the coming year). Sometimes concerts are not announced until just a few weeks before they occur, other times they are announced months in advance.
My advice? Go to the appropriate month of our Las Vegas Entertainment, Concerts, and Events calendar and bookmark the specific month (or week) you are interested in. If you are flexible with your dates, simply follow the concert/headliner listings on the right sidebar of this newsletter.
Hope this helps,

---
I read your newsletter every time it comes to my computer. We have been going to Vegas since the early 1980's at least 3 to 4 times a year. I'm planning another trip (our third this year) and can't wait. I really enjoy the news and the reports on the construction and the news of the city.
I couldn't live in Vegas… I love the video poker too much! We own our own business and use it as aágetaway. To us it's a great place to visit and leave the worries behind for a couple of days.
Keep up the great work. I really enjoy your newsletter!
Thanks,
Tom from Jefferson City, Missouri
---
We love to hear from you, and value your feedback! Here's how to participate:
Drop us an email at allvegastv@aol.com – We read them all!
Call our recorded comment line at 702-507-0055. We listen to every call.
---
More Las Vegas News – Concerts – Events
---
Coming Hot Holidays
– The following dates are huge times to be in Las Vegas, and rooms are in high demand. Booking in advance is the best way to save. Visit our friends at
Las Vegas Hotel Deals
and spend one of the following hot dates having fun in Las Vegas:
Halloween October 31
Veteran's Day November 11
Thanksgiving Day, U.S November 26-29 (4 day weekend)
Hanukkah Dec. 2 – Dec. 9
Christmas December 25
New Year's Eve-Day December 31 – January 2 (3 day weekend)
Martin Luther King, Jr., Day, U.S (Observed) January 18-20 (3 day weekend)
Super Bowl Sunday February 7
Lincoln's Birthday, U.S February 12
President's Day, U.S (Observed) February 13-15 (3 day weekend)
Chinese/Lunar New Year February 14
Valentine's Day February 14
Mardi Gras February 16
Washington's Birthday, U.S February 22
St. Patrick's Day March 17
Easter Sunday April 4
Cinco de Mayo May 5
Mother's Day May 9
Memorial Day, U.S May 29-31 (3 day weekend)
Father's Day June 20
Independence Day July 4
Civic Holiday, Canada July 31-August 2 (3 day weekend)
Labor Day, U.S September 4-6 (3 day weekend)
Labour Day, Canada September 4-6 (3 day weekend)
Jewish New Year September 9
Link To Us! – Have a home page, web page, or blog? Link to us, and give yourself and your friends a quick link to find us from your site. Simply link to http://www.accessvegas.com and name the link Access Vegas!
RSS Feed – We now have an RSS/XML feed! Most RSS programs let you visit AccessVegas.com and automatically pull the feed. For those who want to enter it manually, the feed is:
http://www.accessvegas.com/xml/whats-hot.xml
Share the info: Click to Email this newsletter to a friend!
---
For comments or questions regarding our content
or this newsletter write us at
allvegastv@aol.com
.
New to the list? See our Newsletter Archives for back issues and subscription info. Don't hesitate to forward this newsletter to friends and associates.
All contents copyright 2009 Ted Newkirk. All Rights Reserved.
Hotel Rates Published Accurate At Time Of Publication


October 7, 2009 ISSN: 1529-2770 About Us Privacy Policy
No related links found